There's no escaping the fact that Delhi can be a little overwhelming. That said, it's also one of the most incredible cities in India! Our Delhi travel guide helps you get the best out of the city while avoiding some of the "nuisances" that may present yourselves. We've had our fair share of Delhi learnings ourselves – as a multi-time foreign visitor and Indian couple, we've experienced all sides of Delhi – read this Delhi blog for how to get ahead in this mighty capital.
What's in this Guide:
hide
Delhi Travel Guide – Learning to Love New Delhi
Delhi is the first taste of India for so many travellers, and it was mine, too in October 2015.
Feeling unprepared for my trip, I turned to my guidebooks in a flurry of last minute reading, but they didn't exactly set my heart at rest – filled, mostly, with instructions for avoiding Delhi's infamous scams and tricksters (who it seemed from my reading would all be poised at the doors of Delhi airport to welcome me).
Directions from my tour company to absolutely not leave the airport terminal until I had been met by the ground rep did not exactly help.
Like many, I was nervous visiting New Delhi for the first time.
On my first trip to India I spent only two days in India's capital, and did not have to plan my own things to do in Delhi. Along with the others in my group, I was guided through the winding lanes of Old Delhi to the fragrant and colourful spice market, towards the stunning Jameh Masjid mosque. My eyes gawking at the mass of dangling power cables and narrow streets as cycle rickshaws hurried past, threatening to keel over at any time in my jet-lagged brain.
ⓘ TIP: Planning a trip to India? Join our free India Travel Facebook group here!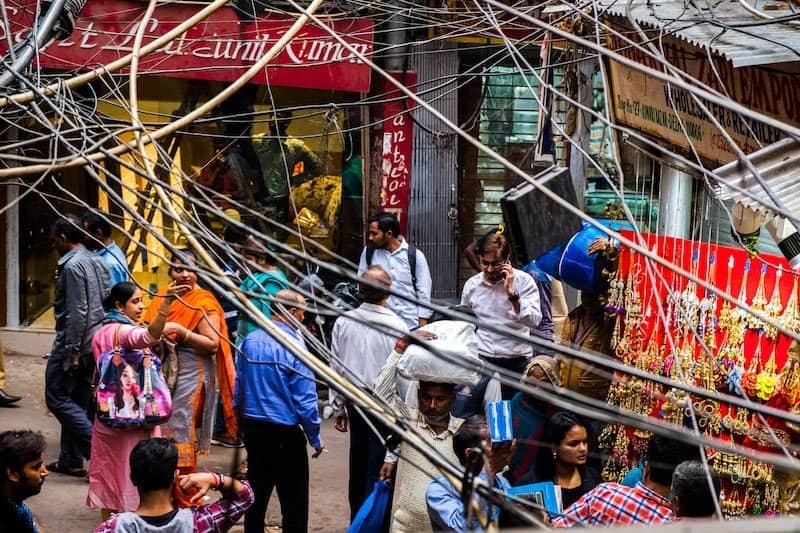 But I also noticed the cold and prying eyes of Old Delhi – the cold, incessant stares that did not seem like the friendly stares one finds in other places in India. Was I not welcome here?
From that first visit, as part of a tour, to many subsequent visits to Delhi (often solo), it has taken me some time to appreciate – and even learn to love – Delhi.
Much of that learning has been with the help of tips from friends – both local Delhiites and international friends who know the city. So here is why Delhi is a firm favourite on my India itinerary, and some top tips for things to do in Delhi that will hopefully give you – too – that feeling of appreciation for this crazy city of contrasts.
Why Should you Visit Delhi?
Despite its less than wonderful reputation as a travel destination, to miss out on visiting Delhi during a trip to India would be a bit of a sin. There are plenty of reasons to given India's capital a chance, from its food, to its lush parks in the south of the city, to its mish-mash of cultures and languages that represent the varied tapestry that the sub-continent of India covers.
Delhi is a summary of all that India is – from its super modern metro to its crumbling havelis (historic stately homes), from its dusty spice markets to its gleaming and luxurious shopping malls.
But if there's one reason that stands out most to us as a reason to visit, it's Delhi's history. Delhi is one of the longest-serving capitals in the world, and has witnessed the rise and fall of empires. A walk through Delhi can take you past monuments from the late 1100s to the present day, in a city heavily influenced by the Mughals, the British and many others.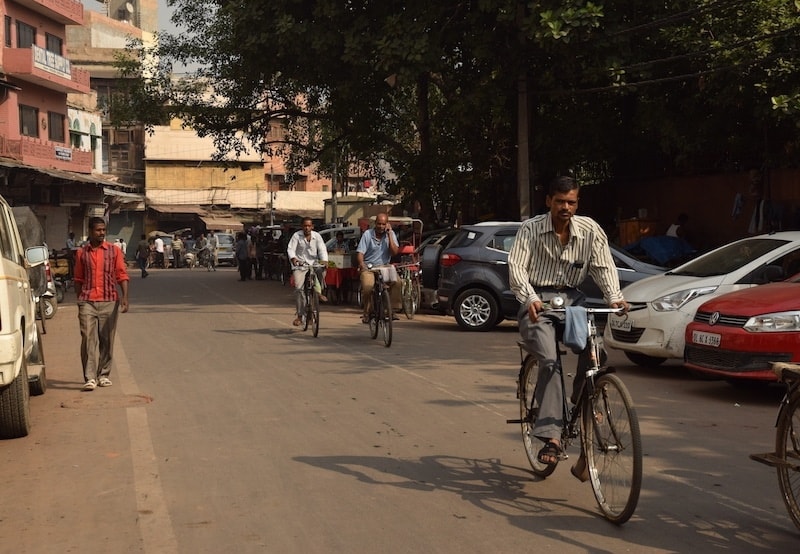 Is Delhi Safe?
The best answer to this question is that most visitors to Delhi are unlikely to encounter any serious problems in Delhi. You're most likely to experience some staring and possibly getting short changed or approached by touts – that's all.
The high profile rape cases from Delhi were isolated incidents, but Delhi is still not the easiest place in India for female travellers. Dressing conservatively is advised, and I do not recommend solo women to go out alone at night in Delhi (which may be on the more cautious side but this has served me well) – see more in our tips for women below.
It also makes a huge difference where you stay as to how you're likely to feel about Delhi: Check out our where to stay in Delhi tips below!
READ MORE: A guide to Solo Female Travel in India – with tips from local women.
Air Pollution in Delhi
As I update this article in October 2019, Delhi is suffering yet another bout of toxic smog, as pleas to stop Diwali firecrackers fall on deaf ears, farmers in nearby regions burn their crops, and the government does little to work on the issue of environmental pollution.
Over the last few years, this has happened every year immediately after Diwali. The air in Delhi (and some other cities notably Agra and Varanasi) is a serious problem, although it causes a lot less harm to visitors than those who have to deal with it on a daily basis.
For that reason we don't advise going to Delhi just after Diwali. Try to go earlier or later in winter if you can.
We also highly recommend packing an anti-pollution mask – you'll need one that is effective at filtering out particulate (PM2.5) such as an N95 respirator.
Essential New Delhi Travel Tips – Know Before you Go
Delhi is the entry point to India for so many visitors, and yet despite its charms, it is not the easiest place to arrive in India. Touts and con-artists are used to tourists who've just arrived in the city – it's not something to be nervous about, but more a reason to do your research and use common sense.
Here are some of our tried and tested Delhi travel tips for newcomers.
If you're staying in a mid-range or upscale hotel (which is a good idea), arrange an airport pickup directly with them for a smooth landing (more tips on airport transportation below).
If you're flying long-haul, build in some time to rest and take it easy – Delhi can be overwhelming, especially when you're tired.
Organise a tour for your first day in Delhi – Helps you to get your bearings and ease in to the pace of Delhi with the comfort of someone showing you around. (Book tours via reputable companies with good reviews, we don't recommend using the guides loitering outside famous monuments in Delhi). See our recommendations below.
Ignore offers of "free" tuk-tuk rides or shopping tours. Anything that is "free" will invariably lead to you being taken to a number of shops, where the driver will earn a commission for taking you there and on any of your purchases.
Just after Diwali is

not

the ideal time to visit Delhi. Every year, the city gets covered in toxic smog. It's better to visit later in the winter if you can.
If you have a few minutes at the airport, get an Airtel or Vodafone Simcard for your mobile phone – as this will make travel and communication in India much easier! The booths are located inside the arrivals hall.
Generally ignore people who come up to you at railway stations asking to see your ticket or at monuments – they are usually touts although their sales pitch may not come immediately.
The key with Delhi is to be cautious but not paranoid – hold your head up high, walk like you know where you're going, and you'll likely find people leave you alone!
Arriving in Delhi
Many of us arrive in India's capital under cover of darkness – that is to say that many inter-continental flights arrive in the small hours of the morning. Fortunately the immigration process seems to be much quicker than it used to be – if you have an E-visa, head straight to the far end for quicker processing. In the arrivals hall is where the fun begins.
Tips for Avoiding the Airport Scams
For travel from the airport, I do not recommend taking a regular pre-paid taxi (and definitely ignore anyone that approaches you offering a taxi or ride).
The "your hotel has burnt down / is closed / Delhi is closed due to smog" (yes, really) scam is still going as strong as ever, and revolves around taking unwitting travellers to a remote location in the middle of the night, claiming not being able to find your hotel, and instead taking you to one that pays commission. Or worse.
Safe Transport Options from Delhi Airport
One of the best options for a safe transfer from the airport is to have your hotel arrange a transfer. Make sure they'll be inside the terminal with a sign with the hotel's name, or with a "password" and check their identity carefully before leaving with your driver or ask them for your names to be sure they're the real deal and not just a random person with a sign.
Sakha Cabs, powered by Women on Wheels offer transfers and taxi services for women travellers, by women drivers. The Azad Foundation behind the Women on Wheels initiative started it in Delhi in 2008 to bring economic empowerment to women by enabling them to become professional drivers. Do your bit to support them by arranging an airport transfer with them!
If that fails, I have used Meru cabs from New Delhi Airport while travelling alone in Delhi – there's a separate desk for them when exiting arrivals. They're a little more expensive than regular cabs but I have found them to be reliable and safe.
Culture Shock in New Delhi
New Delhi is a city of 20 million.
It's sprawling, big, dusty, noisy, dirty, charming, beautiful and chaotic all at once. You might find yourself gazing at a beautiful building with scenes of shocking poverty right next to it.
You might encounter cows chomping on plastic waste right outside a gleaming 5* hotel.
As India's capital city, Delhi is home to a tapestry of cultures and attracts migrants from around India and beyond. It's a melting pot where you can find influences from around the world. But it can also be a bit overwhelming for the first time visitor. Our best advice is to take things slow, stay in a good part of town, join group tours and activities for added comfort when you feel like it, and if it all gets too much retire to a nice cafe to read a book for a bit.
The Best Way to Get Around Delhi.
Prepare to jump a few hundred years as you step from bustling Old Delhi into the New Delhi Metro – our recommended way to travel around Delhi during daytime.
At night, its better to travel around Taxi / Uber / Ola for mixed groups.
The super fast and efficient Delhi Metro is a great (and cheap) way to get around the city and there's a ladies carriage at the front of each train (solo ladies – use it!).
For short hops (auto)rickshaws / "tuktuks" are useful – in Delhi Rickshaw Wallahs seem to have universally forgotten what the meter is so you'll have to negotiate. Expect to pay 50 Rupees for a short hop, and more for longer rides. I love to open up the Uber app to get an idea of the going rate for an Uber and then use that price to negotiate with the rickshaw guys. I do not recommend taking a rickshaw for solo ladies at night (see more below).
Uber itself has been involved in some scandals in Delhi, and personally I try to avoid Uber due to their (un)ethical policies – an Indian alternative is the OLA app, which is a good way to pre-book rickshaws and arrange taxis for the evening.
If a rickshaw driver offers you a free ride or offers to take you to a friend's shop then the trip will certainly involve stop offs at stores that pay commission to the driver. Best avoided, unless you are up for some uncompetitively priced shopping..
Travel in Delhi as a (Solo) Female Traveller
Some extra precautions are required here, although it depends which area of Delhi you are in somewhat – with South Delhi being more relaxed and "safer".
After dark, it's generally advisable to avoid travelling alone if you can.
I recommend travelling with friends if you can, or getting a recommended driver from your hotel. f you do need to go out alone then avoid walking and rickshaws, and take an OLA or driver that you know. Make sure you have a working local SIM card so you can check google maps, etc. Phoning someone (even if the person you're calling is imaginary) and making a show of reading out the licence plate in front of the driver is often helpful. Just make sure your phone doesn't ring while you're on the call 😉
If you don't like the sound of travelling in Delhi as a woman, you can try Mumbai instead – which is much more female friendly!
What to Wear in Delhi
Ladies need to dress more conservatively in Delhi, even by Indian standards. That means covering your legs, shoulders and everything in between, and avoid tight clothes. Carry a loose cotton scarf to drape around your chest. You can buy an Indian "kurta" or tunic (I love Fab India stores) and pair it with jeans or leggings
Men usually wear loose, light pants or jeans and a t-shirt.
For men and women we recommend a pair of shoes that are covered, easy to walk in, and easy to slip on/off to go in and out of temples.
Delhi gets cold during the evenings during winter so carry a sweater / light jacket.
What to Pack for Delhi
Your time in Delhi will be easier with the right preparation! Here are some of our must – haves for going to Delhi:
Clothing for Women – sorry guys, you can pretty much wear what you want – see more on the what to wear in Delhi section below.
ⓘ TIP: Travel Insurance is a must for India – we use and recommend World Nomads – Get your quote here!
Toiletries
Ladies – Tampons are available in the big cities, but not beyond and are expensive. It's better to avoid use of sanitary napkins due to inadequate waste disposal and the plastic waste they create. We recommend using non-polluting protection such as a menstrual cup, washable pads, or period underwear.
Try to bring plastic-free, organic/chemical free soap and shampoo bars, as often waste goes straight into the water.
Electronics
India's power sockets are a fun mix – including 2 round pin european style, 3 round pin and 3 square pin. So a multi way travel adaptor (or 3) is a must!
Make sure to bring a power bank for long bus and train journeys
Staying Healthy in India
First off – not everyone gets sick in India, but some charcoal tablets can work wonders for an upset stomach.
A first aid kit is highly recommended for India – bring disinfectant liquid, cream, plasters, broad spectrum antibiotics, mosquito repellant, sunscreen and meds for stomach upsets. In case you do need medical help, the major cities such as Delhi, Mumbai, Kolkata and Bangalore have world-class medical facilities.
Travel Insurance! A must for India – don't leave home without it. We use & recommend World Nomads – get a quote here.
Water filtration / purification equipment & water bottle as tap water is not safe to drink in India (but commonly available filtered (RO) water is fine – I have drunk it for many months) – Check out our Steripen and favourite water bottle for travel in India here.
READ MORE: Guide to Safe Drinking Water in India
ⓘ TIP: Travel Insurance is a must for India – we use and recommend World Nomads – Get your quote here!
Where to Stay in Delhi
Like my overall experience with Delhi, understanding where to stay in Delhi has been something of a learning curve.
If you're in a hurry, these are some of our recommended accommodation options for Delhi:
Bloomrooms @Janpath (Connaught Place). We love the colourful, clean and great value rooms here, right in the heart of Delhi! Check rates and book here.
The Imperial, New Delhi (Connaught Place). If you want the best luxury in Delhi, stay here. A Delhi institution, this hotel may just spoil you forever – it's one of the most beautiful hotels I've been in and the cocktails are amazing! Worth a splurge. Check rates and book here.
Prakash Kutir B&B, (Hauz Khas, south Delhi) – see my full write up below. Situated in leafy south Delhi, this family run, clean and comfortable B&B is great for those staying a little longer in Delhi. We love this part of Delhi for its parks, markets and trendy eateries. Check rates and book here.
Which Area to Stay in Delhi
Unfortunately Delhi's best known areas to stay aren't always the best choice! Here's our breakdown of where we do and don't recommend staying in the city.
Paharganj
While I have not experienced staying in the backpacker ghetto of Paharganj first hand, frankly I would not recommend it unless you have a very short overnight before taking the train elsewhere (Paharganj is located just opposite New Delhi / NDLS Railway Station).
Paharganj is ground zero for Delhi's tourist scams and hustle, and is home to possibly the grottiest of accommodation. Proceed with caution and check reviews carefully.
Karol Bagh
My first experience of staying in Delhi was in Karol Bagh, which is where many tour groups stay. While it undoubtedly has more going for it than Paharganj (It has a local market, is close to the huge Hanuman temple, as well as being close to the Metro) I also don't really recommend Karol Bagh.
The hotels here are cheap but they attract a very mixed crowd, and during my stay I did not feel particularly relaxed (or very safe) in this part of town. I would not recommend walking around alone at night. There have also been issues with hotel fires in Karol Bagh. Stay elsewhere if you can.
Connaught Place "CP"
Connaught Place is in central Delhi, has lots of restaurants and shopping close-by and is a central place to explore from. It's also home to some beautiful high end hotels such as The Imperial and the Shangri La. It's also home to some dodgy places though, so check reviews carefully before booking!
CP is convenient for a night or two, but touts tend to hang around here so I don't recommend CP for longer stays unless you're in a high end hotel.
South Delhi
It was on my third trip to Delhi that I was pointed in the direction of South Delhi – perhaps the most beautiful and leafy green part of Delhi – and recommended Prakash Kutir B&B which has since become one of my favourite places to stay in Delhi.
Prakash Kutir is located just off Hauz Khas market which is perfect for getting to grips with Delhi local life, enjoying a good espresso, and is handily connected to the city by Metro – there's currently a new line under construction to the airport too. I loved the experience of staying with an Indian family in their home, waking up to the musical calls of the local vegetable wallahs outside, and getting to know the family better over breakfast each morning. It's also a very safe part of the city. The Gupta family offer a truly comfortable and charming home from home in Delhi. Check rates and availability for Prakash Kutir here.
My favourite budget/hostel accommodation in south Delhi is Madpackers Hostel in Panscheel Park, which is comfortable, clean, and comes with great chai included.
If you're prepared to base yourself outside of Delhi itself but want to be nearby, then Casa Delhi in nearby Noida (and connected by metro) is an eco retreat and farm stay is a truly unique opportunity to experience life on an organic farm – with a focus on yoga, meditation and community living. This place is on my list for my next trip to the capital!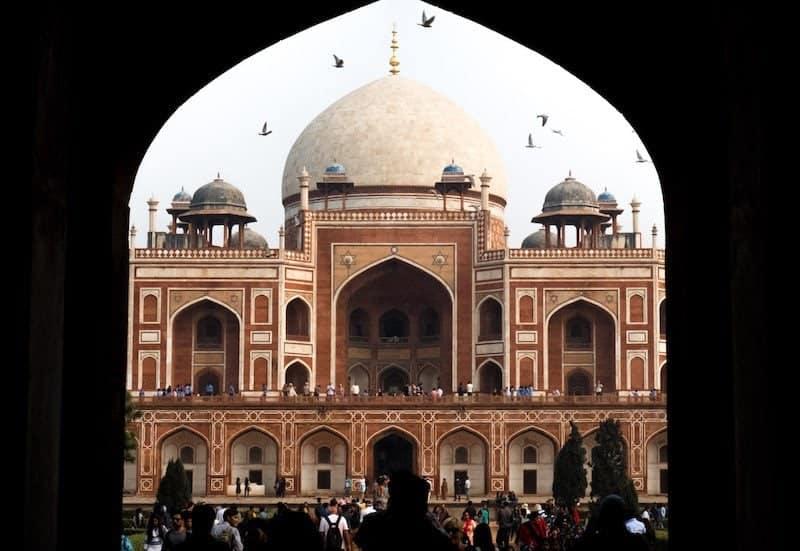 Things to do in Delhi
There are plenty of things to do in Delhi to make you want to extend your stay – from exploring the city's tombs and Mughal architecture, to the bungalows of Lutyens, to exploring bazaars, to sipping world class cocktails in trendy bars.
My Delhi "Must Sees"
Old Delhi. You can't visit Delhi without seeing it's historic heart, winding lanes and the Jameh Masjid (Mosque). We recommend taking a guided walking tour of this area to take in Chandni Chowk, the Spice Market, Mosque and Red Fort. If it's your first day or two in India, you might want to go easy on the street food in this area of Delhi – it can be delicious, but doesn't always go down the best with un-acclimatised stomachs!
Search Old Delhi tours here on Get Your Guide!
Red Fort. In our opinion, well worth a visit although it is a mirror of the Fort at Agra, and the Delhi version receives fewer visitors. There are some great views over to the Fort from the Jameh Masjid. The Red Fort is included in many Old Delhi walking/tuk-tuk tours.
Humayan's Tomb. Tomb to the Mughal Emperor of Delhi, Humayun, this tomb is a beautiful UNESCO heritage sight, and one of the best examples of Persian influenced architecture in Delhi. Spend an hour or two here wandering the grounds and enjoying the structure – for fewer crowds & better photos come early in the morning.
India Gate & Rajpath. For Lutyens Delhi at its finest and a sense of history, visit the India Gate (not to be confused with the Gateway of India in Mumbai!) and gaze down the Rajpath towards the government of India. The India Gate is illuminated in the evenings between around 7pm and 9pm.
Qutub Minar. Dating from 1197, Qutub Minar is one of Delhi's oldest monuments, with a beautiful red sandstone tower that is 73m high.
Swaminarayan Akshardham Temple. Located on the East Bank of the Yamuna river, this is the largest Hindu temple in the world and can't fail to leave an impression. Try to visit during the week if you can as it gets very crowded at weekends, especially Sundays.
If you have a little more time in Delhi, we suggest exploring the lovely Lodhi gardens – filled with tombs – and nearby Khan market for some shopping.
Responsible Tourism Activities in Delhi
Delhi is, after all, a perfect mirror image of India where contrasts are visible and the city's poorest sleep on streets or under a tin roof, meters away from the city's wealthiest villas and fanciest members clubs.
If you feel compelled to leave a footprint for good and help some of the less fortunate in Delhi, there are some great options for responsible tourism in Delhi that give back. These are some of my most memorable experiences from exploring the capital.
Go on a Street Walk of Delhi – with Delhi Street Kids.
My first taste of Paharganj was not by staying there, but by going on a walk lead by former street kids of the area that I found on responsible tourism website I-likelocal.com. It is this area – adjacent to the main railway station of Delhi that many kids – usually in search of a better life in the big city – that is the first image of Delhi that most street kids see. Many kids who have run away from abuse, hardship and appalling conditions find themselves sleeping rough, in the train station and soon get prayed upon by gangs.
NGO Salaam Baalak Trust has set up help centres around the station and in nearby paharganj. Adolescent street kids who have been through the recovery programme are trained as tourist guides, and you can support the work by booking a walk around Delhi (it takes about two hours).
Find more information about I-like Local and the walk with street kids here.
Visit Sanjay Colony with Reality Travel & Tours.
Award-winning Reality Travel and Tours started their work in the slums of Dharavi, Mumbai and expanded to Delhi in 2014 and began working in Sanjay Colony in South Eastern Delhi. This is one of the city's largest garment manufacturing areas, and while visiting Reality Travel's operations in the colony you can see many of the garments made by slum-dwellers for sale, as well as some of the processes for recycling waste fabric.
80% of revenue from Reality Tours & Travel activities goes directly to Reality Gives, which funds projects in Sanjay Colony such as their computer program which allows access for IT learning for residents. The tour in Sanjay Colony – like Dharavi – comes with a strict no photography policy out of respect for all residents. We saw some of the harsh reality of a slum just next door being demolished, where its residents had become homeless literally overnight. This kind of activity serves as a harsh reminder of the struggles that many of India's city-dwellers face on a day to day basis. If you'd rather not go to a slum area, then you can still support Reality Tours in their work by going on one of their Old Delhi tours or tours to nearby areas including India's golden triangle.
Find more information about Reality Tours & Travel activities here.
Open Eyes run a number of Delhi day tours that support local communities, and are actively involved in training more women to become tour guides in India. More information on their website here.
Enjoy a Home-Cooked meal in an Indian Home.
Delhi is well known for its rich, spicy and oily food. Delicious to many, but not the easiest food to digest for a stomach that has just arrived in India. I recommend going easy on the street food in Old Delhi (few seem to escape unscathed from personal experience 😉 ) and instead head to a home for a sampling of culture through food.
One of the best ways to go deeper into Indian culture (and get a load of local travel tips!) is to visit an Indian home – and even better – to share home cooked food. Last summer I had the chance to do just that through platform Authenticook, who offer the chance to visit an Indian home to travellers, make new friends through your fellow diners – and perhaps most importantly, enjoy lots of delicious home cooked food. Visiting a home in Delhi was a great way to arrive in the city, re-aclimatise, and get my bearings. Two hours later I was too full to move!
For those with fears about "Delhi-belly" or getting sick during their travels, this is also a great way to get familiar with the local cuisine in a way that is safe and friendly on your stomach!
Find more information about Authenticook dining experience here.
Delhi has an array of organic eateries and ethical shopping options perfect for souvenirs. For a completely different dining experience, Tihar Jail has opened a restaurant – Tihar Food Court – which is run by inmates and is part of the jail's rehabilitation efforts, preparing prisoners for life in the outside world.
For shopping, Dastkar Bazaar / Market is the perfect place to shop for responsibly sourced handicrafts and eco friendly products. Anokhi is the place to go for hand block-printed fabrics, and Organic India is the perfect place to pick up healthy, environmentally friendly teas, herbs and foods.
Pin Me!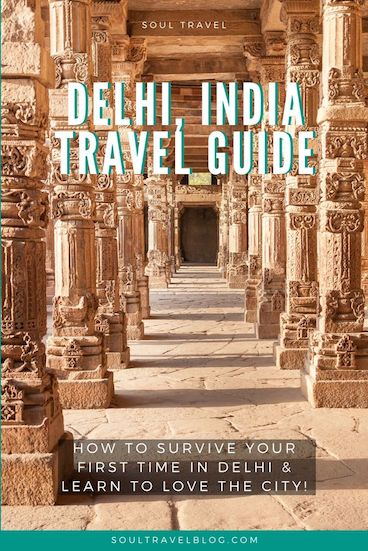 Enjoying the Best of Delhi
Despite some of the tourist scams and hustle, Delhi is one of the best places for experiencing all that India has to offer. For best results, get up early to see Delhi's sites in the magical morning light, complete with plenty of birds. Delhi gets uncomfortably hot outside of winter months (and surprisingly cold during winter!) so be sure to check the weather and pack accordingly.
Last but not least, relax and enjoy the scene.
Have you been to Delhi? What are your tips for getting the most of your visit, or do you have eco-friendly / responsible options to add? Let us know in the comments below!
ⓘ TIP: Planning a trip to India? Join our free India Travel Facebook group here!
Recommended for you on Soul Travel:
A Complete Guide to Travel in India for First-Timers
Solo Female Travel in India – Essential Tips from Local Women
Ultimate Guide to Train Travel in India
Pin this Post on Pinterest!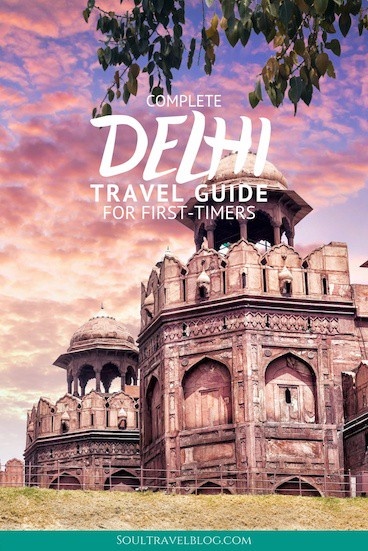 Soul Travel blog is a participant in the Amazon Services LLC Associates Program, an affiliate advertising program designed to provide a means for sites to earn advertising fees by advertising and linking to amazon.com, amazon.co.uk, amazon.ca, and as an affiliate I earn from qualifying sales. Amazon and the Amazon logo are trademarks of Amazon.com, Inc. or its affiliates.
[activecampaign form=3]