The perfect break from India's bustling cities, our brief guide to Hampi looks at how to get the best out of your visit to Hampi.
This is a guest post contributed by Karen Turner of Wanderlusting K. All photos in this post are copyright to Karen unless otherwise stated.
This post may contain compensated affiliate links. More info in our disclosure.
Visiting Hampi, Karnataka
One of my favorite places that I visited in India had to be Hampi.
This ancient city destroyed by the Mughal empire was one of India's biggest medieval cities with more than 500,000 residents. It was long covered up by banana plantations, however, its recent UNESCO recognized status is likely to draw visitors to its quiet beauty.
Hampi truly still shines as a destination for history lovers, wannabe Lara Craft archeologists, and Hindus looking to step back in time. I hope that these Hampi tips help you prepare for your trip go off without a hitch.
How to get to Hampi
If you're visiting Hampi, it's easy to take the overnight train to/from Bangalore or Mysore. (It is possible to fly from Bangalore or Mysore to Hubli, which is three hours away.)
The train does not run every day, so be sure to check the schedule. Those looking for a bit of comfort will want to book first-class for a bit more privacy and the ability to lock the door at night while you're sleeping. If you can sleep well under any conditions, second-class AC or third-class AC work well enough and save you quite a bit of money.
Your train will arrive at Hospet Junction, which is the closest station to Hampi. We paid 1,600 rupees for our one-way journey in third-class air-conditioning on the train from Mysore to Hampi and 4,000 rupees for a one-way train journey in first-class for two people.
From the train station, it's a 20-40 minute ride with a rickshaw to Hampi Bazaar. This newly constructed village surrounding the ruins was constructed after UNESCO officials said that the village of Hampi was too close to the ruins. It's otherwise a very quiet and peaceful place surrounded by banana plantations and sugarcane plantations. It's hard to imagine the ruins as you travel here by rickshaw. We were picked up by our guesthouse with a smiling driver with a card for a small fee.
If you're travelling from Goa to Hampi you can take the Howrah Express train from Vasco da Gama station in Goa to Hospet, passing through the stunning Dudhsagar waterfalls. If trains are full, there are several bus services available, the most recommended AC Volvo service being run by Paulo Travels. Search and book train tickets here.
Or you can book a tour from Goa such as this one.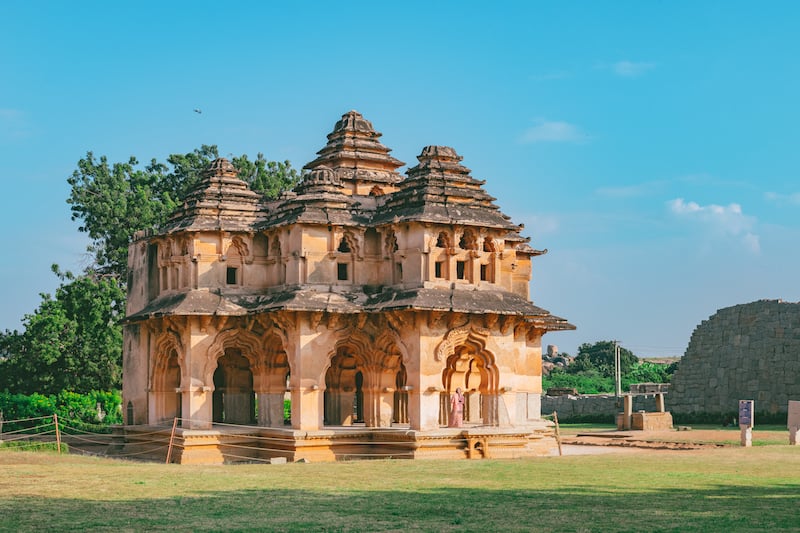 How Long to Spend in Hampi
We spent two full days and one night in Hampi, with arriving in the morning and departing in the evening on the second day. It was just enough time, but I'd recommend giving yourself more time, especially if you're a climber.
Three full days and two nights would have been perfect as two days felt rushed, or three nights if you really want to slow down and savour the experience.
Where to Stay in Hampi
Accommodation at Hampi is split between Hampi Bazaar which is close to the ruins and home to most of the budget accommodation, or Hospet has some more upmarket options.
---
Accommodation in Hampi Picks:
– Gopi Guest House (Budget) – Great views on a budget – click here for rates
– Padma Guest House (Budget) – Alternative great value option in Hampi Bazaar with air conditioning – click here for rates
– Evolve Back Hampi (Luxury) – Beautiful award winning high end accommodation, in the grounds of a palace just 4km from Hampi – click here for rates
---
We stayed at Gopi Guest House, which took care of all the details for us from our pick-up at Hospet to finding us a driver to explore the ruins to our final drop-off with an ATM detour. They also happily fed us drinks with an incredible view of Virupaksha Temple to savor as you enjoy a fresh mango juice.
Listening to the temple music as the sunset was absolutely one of the most memorable moments of our trip. Gopi Guest House was a quintessential Indian guest house: The basics with air conditioning with warm hospitality.
For a bit of luxury, look outside of Hampi Bazaar at hotels such as Evolve Back Hampi.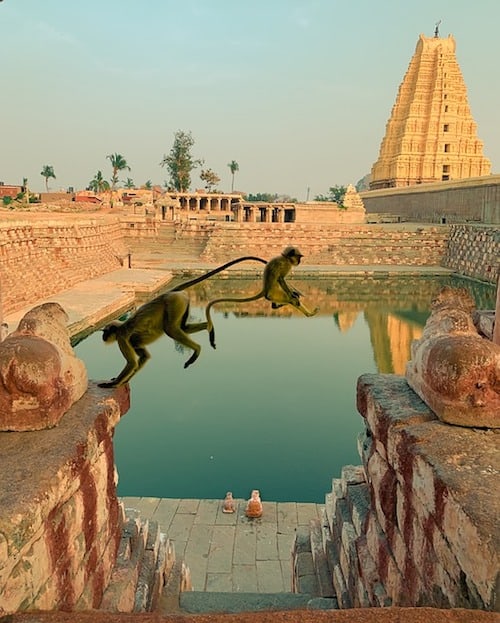 Visiting the Temples at Hampi
Hampi is absolutely beautiful to explore, however, you'll be exposed to the sun quite a bit as there's little shade. Be sure to wear sunscreen and bring plenty of water with you.
Hampi is a sprawling site of 3.2 acres.
Although you could walk it, enter the 21st century and hire a rickshaw to take you around. We hired a driver via our guesthouse for one day to wait for us outside of the temples as we explored them on your own.
You can pick up books in town about history and guide yourself, or you can opt for a true guide who will walk you around the sights who will accompany you in your rickshaw. You'll pay less for simply a rickshaw driver.
Be warned that the rickshaw drivers can be a bit overly enthusiastic outside the site and you'll be asked by what seems like a million drivers if you need a ride if you pop out of a temple without a driver next to you.
If you have a bit of a fear of monkeys, Hampi can be a bit of a challenge as monkeys are in many parts of the park, however, they were not generally aggressive. Still, take caution in interacting with monkeys.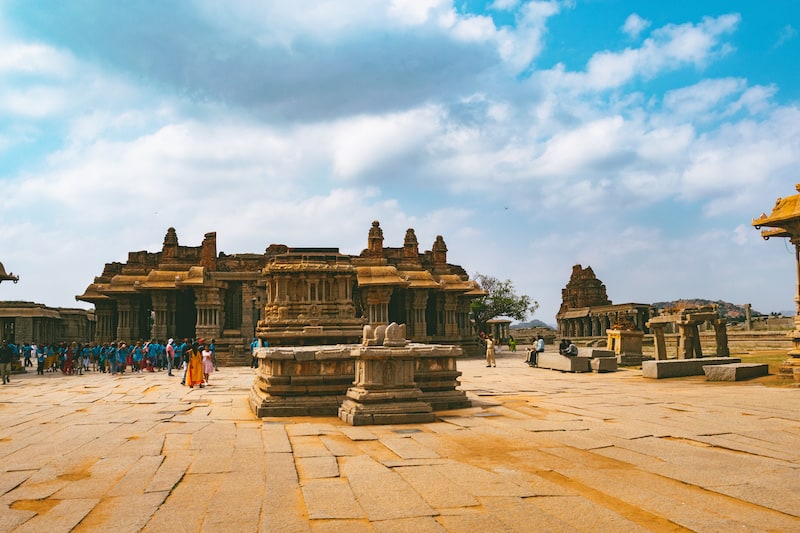 One of the most famous temples in Hampi is the Monkey Temple, the birthplace of Hanuman. Not surprisingly, there are lots of monkeys. Many people come here for the view close to sunset although be careful and watch out for sunglasses and other shiny things that the monkeys like to grab.
The Vittala Temple and the most famous monuments of Hampi are included in the Hampi ticket, which costs 600 rupees for foreigners (2019) and less for Indian nationals. This also includes admission to the Lotus Mahal and the elephant stables, definitely a highlight. I also loved the step-well.
Similarly, it might be worthwhile to step into the impressive Virupaksha Temple, a beautiful 7th-century temple. The shoe fee is 2 rupees although there is a camera/video fee.
It should be noted that the Virupaksha Temple has a temple elephant. The temple elephant stands all day blessing pilgrims to this temple and a deeper dig into the animal welfare of temple elephants led me to choose not to get an elephant blessing. Please research this issue! If you want to see Lakshmi in a happier environment, she takes a bath in the mornings in the river–and she is a typical elephant at this moment.
Any decent guide will cover most of the attractions in one day. I found the architectural museums less interesting than the actual sights, but those into history might enjoy them more. I especially loved the quiet Underground Shiva Temple, which gave me some serious Lara Croft vibes.
Many of the temples in Hampi are free to visit, so be sure to ask your guide to cover all of the paid admission sites (e.g. Lotus Mahal) within one day to maximize your ticket. You can visit the rest on a second or third day. It's said that UNESCO will be making more notable changes in the coming years to Hampi to make it more tourist-friendly.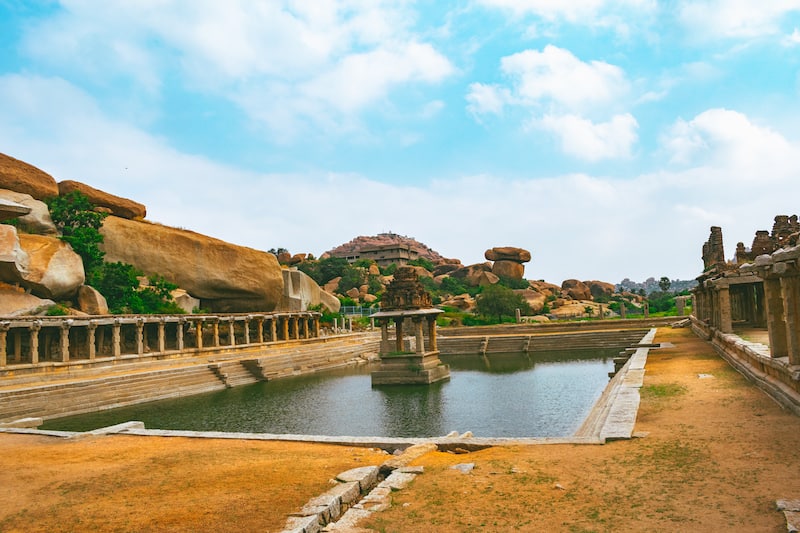 Practical Tips for Hampi
Hampi Opening Hours: Most temples and sights are open from morning until dusk. After this point, security guards will kick out everyone who is around. Although various things online mentioned about sunrise and sunset, be aware that access might not be allowed if it's too dark out. The view from sunset point Hemakuta was lovely without being too far from Hampi Bazaar.
What to Wear for Visiting Hampi: You'll be walking a lot while in Hampi, so be sure to wear comfortable shoes with a good grip. You'll be walking up boulders, within abandoned temples, and along stone paths, which can be slippery if wet. Although many of these temples are abandoned, visitors should still be aware that these are still religious sights important to many Hindus and Indian visitors. It's best to cover up with a long breathable skirt or loose trousers. The heat might get to you, even in winter!
Solo Female Travel in Hampi: Solo female travelers should be okay in Hampi, however, they should be careful exploring more remote parts of Hampi on their own. Some caves and temples can be very dark/remote. It's very easy to meet fellow travelers at guesthouses, so don't be afraid to strike up conversations as it will bring down the price and allow you to have a travel companion.
Money at Hampi: Most importantly, we highly recommend bringing all the cash that you think that you'll need with you. We spent over 5,000 rupees ($70 USD) for two full-days with touring Hampi, all meals, all drinks bouldering for one, transit to/from the station, and our accommodations with a view of the temple. There are ATMs in Hospet and notably, the State Bank of India ATM is the best for foreign cards.
Where to Eat & Other Things to do in Hampi
We had a nice thali lunch at Green Restaurant where you can sample the local vegetarian specialties. Western options were also available here and food was prepared with filtered water. This is close to the Lotus Mahal.
In the Hampi Bazaar, my favorite restaurant was Mango Tree Restaurant with its reclined seats, comfy pillows, and delicious juices. It should be noted that alcohol is illegal in Hampi.
Across the river, you'll find Hippie Hampi or the village of Virupapura Gadde. You can cross the river in a traditional riverboat for a small amount. Many of the more hippie-oriented things are on this side of the river, including Hampi's most famous places to boulder. The rocks surrounding Hampi are famous for bouldering.
While in Hampi, you'll want to look up Hampi Adventures (next to Pradeep Campsite). Tom is a great climber who intimately knows many of the bouldering routes, so call him at least a day before to see if you can come with if you can boulder. (Tom and Jerry used to run a bouldering outfit together, but have now split off into Golden Boulders and Hampi Adventures just down the road from each other. Both are located across the river from Hampi Bazaar.
You can rent all the essential bouldering equipment (crash pads, chalk, shoes) from them, but bring your own exercise clothes!
Final Thoughts
Overall, Hampi was a dreamy destination away from the hustle and bustle of other Indian cities. If you are visiting the south of India, it is worth making a detour for Hampi, especially once you experience your first sunset here…
This is a guest post by Karen Turner from Wanderlusting K, an adventure travel blog. All photo copyrights belong to Karen Turner unless otherwise stated. The usage of these images without permission for commercial usage is NOT permissible.