Most people searching for a Rajasthan Desert Safari head straight to Jaisalmer, but there are better options away from the crowds, that allow a more genuine taste of desert life in Rajasthan… as I found out.
Rajasthan Desert Safari near Jodhpur, Rajasthan
Away from the crowds at Jaisalmer (which has a bit of a reputation for packing all the camel-ready tourists on to one lonely sand dune), I found some quieter and more authentic alternatives for exploring Rajasthan's Thar desert near Jodhpur, and the small Rajasthani town of Osiyan.
Dotted with huts, buildings and endless scrub, I'd left any romantic visions of mountainous sand dunes and empty Rajasthan desert at home.
After all, this is India and not Arabia. Spotless and dramatic sand dunes are few and far between.
India's Desert State, Rajasthan, is the largest in India and covers over 342,000 square kilometres. The Thar Desert, or Great Indian Desert forms a total of 10% of India's landmass, the remaining parts of the desert spilling into neighbouring Pakistan to the north and west.
The Thar Desert is the 17th largest in the world.
ⓘ TIP: Planning a trip to India? Join our free India Travel Facebook group here!
Desert experiences in Rajasthan and Jaisalmer (a town in the far north of Rajasthan) are almost inseparable. Most desert camps, camel rides, and even sunset watching from the dunes take place in Jaisalmer. Jaisalmer, however, as I found out for myself has come under a lot of pressure from the number of tourists in recent years. Finding a quiet spot in the sand for yourself may prove to be mission impossible.
Worry not.
There is another side to the Thar Desert. One that does not involve jostling for space in the sand and being chased by would-be camel safari guides.
Ethical Camel Safaris in Rajasthan
When looking for a desert safari in Rajasthan, ethics might not be top of your list – and understandably so. Although much has been made of the wrongs of elephant tourism around the world, little has been done to promote the welfare of our humped – friends who spend more of their time carrying tourists than anything else these days.
Camel riding is arguably as controversial as elephant riding, although much less is made of it. But recent reports have shown that there's a huge amount of cruelty in how camels (as well as horses) are broken in for riding and tourism entertainment – including beating, castration of males, and being forced to work despite being malnourished.
It can be hard to know if a camel is being well-looked after during a short stay in the desert. Some owners might treat their animals decently in the presence of tourists, but not behind the scenes.
Fortunately, some people are waking up to the need of more ethical tourism that involves camels. Here are some initiatives we are aware of that support better welfare for camels and local farmers in Rajasthan:
Hara Experiences run an ethical camel safari from Bikaner – where minimal riding of camels is involved and the trip is created in collaboration with local farmers who treat their animals well.
Camel Charisma offer experiences to learn more about Camels in Rajasthan and their Raika (keepers) as this traditional way of life in Rajasthan comes more under threat.
Discovering the Thar Desert near Osiyan, Rajasthan.
About an hour and a half outside of Jodhpur, Osiyan (or Osian as it's sometimes spelt) is great alternative to the hustle of Jaisalmer. Firstly It's a lot more centrally located in Rajasthan. From Jodhpur it's possible to get the train or a local bus to Osiyan, or arrange a pick up direct from where you are staying in Jodhpur.
Osiyan is home to a number of desert operators who will be happy to organise trips for you, but I chose to visit HACRA because of their responsible travel credentials. More on that below.
ⓘ TIP: Travel Insurance is a must for India – we use and recommend World Nomads – Get your quote here!
The desert near Osiyan forms part of the Thar Desert that covers much of Rajasthan. It's very much a living desert.
I find that we tend to think of deserts as barren, empty and desolate places. But the opposite is true in India. The Thar Desert is a region in which many people live, and even farm in. The 'real' desert in India is arguably not the one that is full of visitors sitting atop camels in, but the one that people live and work in every day. Life in the Thar Desert shows how creativity and resourcefulness can mean that even the most inhospitable places are ultimately 'liveable'.
HACRA Desert Stay in Rajasthan
Through HACRA and the sustainable tourism model that they have put in place, I was able to experience life in a desert village just outside of Osiyan.
HACRA was set up by Gemar Singh to provide a chance to experience life in a Rajasthani desert village community—as opposed to passing through as a tourist. Revenue from guests is reinvested into the village community through a model that was created together with input from ethical tourism operators Village Ways.
HACRA teaches English to some of the villagers so that they can become local guides for the guests, and employment opportunities.
It's not your "typical" desert experience.
I stayed at HACRA for three days. Accommodation is in traditional huts, but there are added comforts for guests. Such as comfortable beds! Built in the traditional style, the huts are made from local mud bricks which keeps them cool in the intense desert summer.
Over the three days I had the chance to get more familiar with the surrounding area and the people. On my first afternoon one of the villagers, who'd been taught some English showed me around.
There was no real agenda, no tourist sights to see, no "attractions" as such—instead I met people living in the surrounding area and got to hang out with them. Chatting was difficult because of the language barrier, but we still managed to have a good time (or at least I did)—a combination of chai and taking pictures and sharing them providing most of the entertainment.
HACRA offers desert camps (available to those staying longer than I did), jeep safaris, camel safaris, and a number of other activities that you can arrange directly with them depending on your time and preferences.
Desert Wildlife and Culture During my Stay at HACRA
I expected to wake up early each day, as I tend to do when I'm surrounded by nature. But something about the solid mud huts and lack of sunlight creeping in meant I slept soundly most mornings!
Thanks to the high levels of scrub and vegetation, the Thar desert is full of different types of wildlife.
It started on my journey to HACRA. Before reaching the village on the way from Jodhpur, we happened upon a caravan of wild camels, happily grazing in the trees.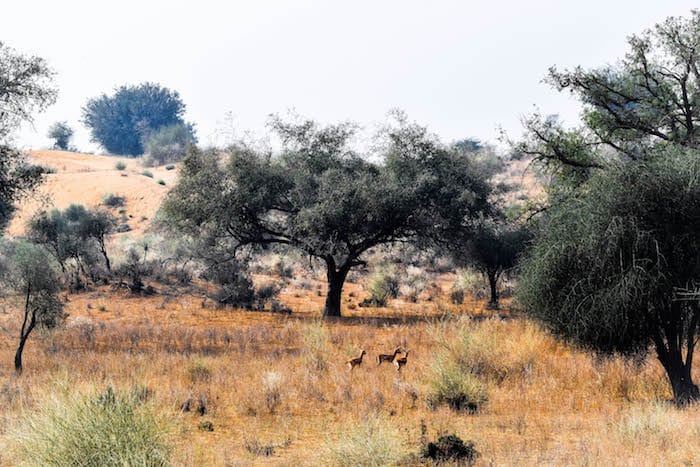 One morning, my host took me for a walk around the desert area, and we did not have to go far to see blue bull (Nilgai). They're Asia's largest antelope that appear to be half cow half horse. The females are a fawn brown colour while the males have a distinctive navy blue hue. Extremely skittish, it's best to admire from a distance. There's also an abundance of Chinkaras—the beautiful Indian Gazelles—who wandered gracefully past my hut each morning. Those interested in birds will also find themselves with plenty of choice, including the colourful parakeets and peacocks.
One of the highlights of my stay was getting to help the owner's wife in the Kitchen and watching her prepare traditional meals together with other ladies from the village. The food is simple and vegetarian and absolutely delicious. When I wasn't allowed to help we'd sit together on the kitchen floor and try to communicate in our different languages!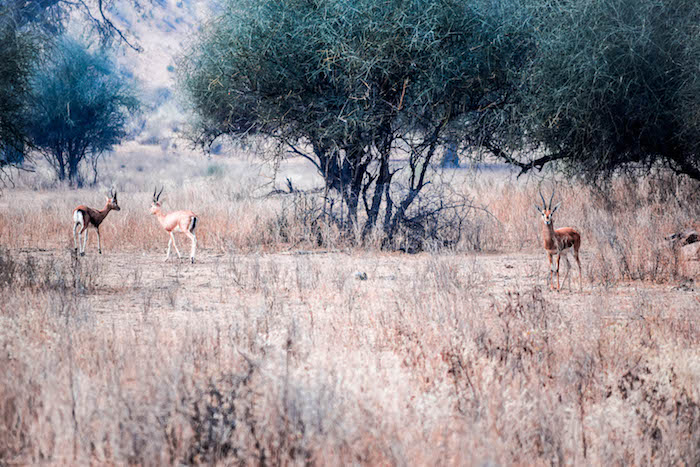 Water Shortages in the Rajasthani Desert
I should make it clear that HACRA is not a luxurious place to stay. The huts and beds are very comfortable, and there is a bathroom block for guests, but HACRA does not have running water. Like many villages in rural Rajasthan access to water and electricity are still a challenge. Water is pumped from deep underground. The pumps have to reach deeper every single year due to years of poor monsoon and water poverty in many parts of India. This is particularly the case in northern desert areas.
There are additional comforts provided for guests compared to what many locals have, and the bathroom block is proof of this. Although there is no running water, water pumped from the wells is provided in buckets so that guests can have bucket showers.
I have never been more aware of my water consumption in my life than I was here.
The idea of having taps even though no water comes out of them delivers a stark and powerful message. Some places would no doubt find a way to hook up water to showers and taps so that guests could use them, but I like the fact that HACRA has not done this.
In Thar Desert areas and India in general, (clean) water is an extremely precious commodity, and one that is coming under ever increasing pressure as population continues to balloon, monsoons become unreliable, and booming development leads to water injustice and poverty. You can read more about the problem in other parts of the country here and here.
Ethical Tourism at HACRA
HACRA does promote itself as an eco/responsible tourism initiative, and justifiably so. HACRA is an example of truly local tourism. Everything benefits the surrounding community. The only employees are locals and profits are shared with the community as a whole. The impact is minimal as all food is local, and accommodation is simple. The use of plastic bottled drinking water and waste disposal is a challenge, as it is across much of India.
When I went to HACRA I had not yet visited Jaisalmer, but I am certainly glad I went to HACRA first. I feel that I got much more of a taste for desert life in Rajasthan by staying here than I ever would have by heading in to the desert amongst the masses there (which I decided not to do).
Editorial: I would like to thank HACRA for part-hosting my stay with them. As usual, all my thoughts and opinions are my own.
Have you been to the desert in Rajasthan? Have you found any ethical camel safaris? If so, let us know in the comments below!
Read more about Travel in India on Soul Travel India:
ⓘ TIP: Planning a trip to India? Join our free India Travel Facebook group here!
Pin this Post on Pinterest for Later:
[activecampaign form=3]