Our Goa travel guide covers the best of Goa – aka Goa with fewer crowds! Once a hippy-paradise with swaying palms and the occasional coco-hut, Goa is one of India's highlights. Over recent years, though it has become a victim of its own success, and we'd heard many reports saying that Goa had been ruined by over tourism and over construction. Was it true? We went to find out.
A Guide to Off Beat Goa Travel
Mention the word "Goa" and scenes of lazily swaying palms, golden sands, dread-locked-beer-swilling-hippies, dance parties and yoga retreats probably come to mind. This beachside jewel of India was established as a firm favourite on the Hippy Trail of the '70s, and the rest as they say… is history.
Beach shacks and cocohuts have been (mostly) "upgraded" to makeshift plywood and in some places concrete: built supposedly to attract high-rollers; only the high-rollers didn't really make it. Instead, mass, package-tourism has floated into Goa over recent decades, leaving a high tide of trash behind.
Much of the coastline has fallen to mass tourism: At first from Europe, then from Russia, and now from with India, too. In a way, it's Goa's own fault: once known as the land of hedonism, people flocked to get a taste for themselves.
Along with the mass construction came minimal planning: Waste was thrown out of sight and out of mind without proper disposal, sewage ebbed out directly into the sea..
Tourism in Goa has created as many problems as it has opportunities: But is there still a way to travel in Goa without the mass tourism?
As a destination that is often the first taste of India for holiday-makers and travellers, I had been hesitant to come here on my travels to India, but ultimately we wanted to find out: Is it possible to still enjoy Goa? (Keep reading for the answer 😉 )
ⓘ TIP: Planning a trip to India? Join our free India Travel Facebook group here!
Goa Travel: A Different Story
Among the stories of woe from mass tourism growth, we heard of pockets of Goa that had a better story to tell. Of eco friendly resorts in Goa that were trying to reverse the trend and offer a more sustainable alternative to the mass tourism in Goa. We wanted to find out if these stories were true.
We had other reasons for visiting, too. Ravi's family come from south Goa, near Canacona, and so it holds a special place in his heart. We wanted to visit to see for our selves: if there was another side of coastal Goa to be discovered that had yet to be "ruined". We wanted to see what options remain in Goa for the discerning traveller who cares about their impact.
This guide is a result of that first and subsequent visits to Goa. It's not for those looking for tips on where to party or in search of mass-tourism attractions; instead here you'll find our recommendations on eco resorts in Goa, ethical tour companies in Goa, options for ecotourism in Goa and some of the state's best nature. We've also included a section on yoga in Goa too! We'd love to hear about your experiences travelling to Goa – get in touch with us via the comments down below.
Is it too late to visit Goa? Not necessarily. But as with many places in the world, the best parts are often the harder ones to get to, and for good reason.
Goa is truly a stunning part of India, but you have to choose carefully: And that's where we come in with this guide.
Enjoy!
Ecotourism in Goa & Responsible Travel
Although Goa is best known as a beach destination, there's plenty more to the beauty of Goa than cocohuts and cocktails.
Goa's interiors are rich in biodiversity and wildlife (where they haven't been threatened by development as much as on the coast, but increasingly development *is* posing a threat). Goa is home to six national parks and wildlife sanctuaries, stretching from north to south. We don't recommend all of these, as some of the wildlife sanctuaries seem to be little more than zoos, with animals kept on chains. Beautiful Netravali Wildlife Reserve, however we can vouch for (see our things to do in South Goa section below).
The interiors and ghats offer some beautiful nature retreats in Goa, or you can stay closer to the beaches and explore the backwaters of Goa (yes Goa does have backwaters) and – largely ignored by visitors but critically important – mangroves.
Fishermen offering dolphin watching trips can be found on most beaches in Goa, but unfortunately dolphin watching trips have led to challenges of their own. In many cases dolphins find themselves being aggressively pursued for the sake of satisfied customers rather than being watched from a respectful distance.
It is possible to enjoy this side of beautiful Goa responsibly though; here we list some of the best operators that you can support.
Given the large number of people that flock to Goa, it's especially important to be mindful of our impact in Goa. Here are some important ways we can help limit our impact on Goa:
The Best Resorts in Goa
We cover our favourite places to stay below, but if you're in a hurry, here are some of our favourite resorts and boutique accommodations in Goa:
Where to Stay in Goa
This guide looks to highlight accommodations that are having a positive impact. From eco resorts in Goa, to family-run homestays, to sustainable glamping (luxurious camping) we've included some of our favourites.
Geographically this guide covers a few spots in North Goa, and principally South Goa. We don't cover central Goa – for good reason (in our opinion). Central Goa and the areas surrounding Baga, Calangute, Majorda, and Colva beaches have become the most mass-touristed; they are popular with groups of men on "lads weekends" and have seen the most cases of harassment for women on the beach. We stayed well clear.
In general it's fair to say that the far ends of the state are home to some of the most beautiful parts of coastal Goa.
Homestays in Goa
One of the best ways to experience Goa is by staying in a local home with a Goan family. Not only will you be guaranteed the best of Goan home cooking, but you also get a glimpse of the local culture, too. Many homestays are located in the North of Goa along the Konkan coast, bordering Maharashtra. You'll also find a homestays in Panjim (Panaji) and in the south of Goa towards Karnataka.
Although we did not have the chance to use them, Nativefolks are a company helping travellers experience the local side of Goa and offer a mix of homestays and excursions throughout the state. You can find more info here.
Check rates and find more information on Goa Homestays here.
North Goa
North Goa's coastline is packed with resorts and backpacker enclaves; what used to be hippy hangouts Goa's early days have largely been replaced by not-so-hip-but-cheap tin shacks. Bars, shops selling dreamcatchers and spiritual music, next door to pizza joints line the beaches where babes in skimpy bikinis stroll past fully clothed families (and more than a few guys not-so-sneakily clicking photos). It's an odd dynamic, but regardless what you make of it, one thing is for sure: Chances to experience local Goan culture are limited in most of the northern resorts.
On our first trips to Goa, we completely avoided the North having heard bad things about it. On our most recent trip, however we had reason to venture here: We'd heard of several companies actively involved in reforming tourism in North Goa to create a positive impact, and some beautiful eco resorts as well.
Stopover in Delhi? Checkout our Delhi travel guide here.
Where to Stay in North Goa
The only spots we'd recommend from personal experience in north Goa are Ashwem and Panjim. That's not to say that other good options are not available, but these are the ones we are happy recommending based on our time there.
Where to stay in Ashwem
One of our favourite things from our time in North Goa was our stay at Yab Yum Resort. Yab Yum is a beautiful eco resort set behind Ashwem beach, in grounds covered in greenery and swaying palms. Every room is a "hut" – but there's nothing ramshackle about these ones. Lovingly moulded out of local mud and covered in a traditional thatch of palm leaves, the effect is staying in a nourishing cocoon that is cooling yet warm and homely at the same time. The resort uses local produce for its delicious meals.
The beach of Ashwem is quiet in comparison to surrounding beaches in North Goa: early in the morning we had the beaches purely to ourselves – and the local beach dogs who came up and licked our faces during our morning meditation! One of the highlights for us was the daily yoga at Yab Yum.
Check rates and availability at Yab Yum Resort here!
Where to Stay in Panjim (Panaji)
Panjim is sometimes overlooked by travellers in favour of the beach, but we loved taking a day to wander and explore the old Latin quarter of Panjim: Fontainhas. Here the coloured houses, galleries and neat streets whisk you away to another continent – where the Portuguese history and influence is clear.
Fontainhas is home to some beautifully restored and characterful boutique hotels, such as Panjim Inn and Hospiteria Abrigo de Botelho, although there are no eco-friendly hotels in Panjim per se.
Things to Do in North Goa
Things to do in Panjim
Whether you have just a few hours or a few days in Panjim, we found that Panjim has plenty of charm. Take time to wander around Panjim's Fontainhas pausing for photos of the colourful buildings and sip a fresh lime soda on one of the cafe's balconies away from the hustle and bustle of the streets. The Gallery Gitanjali at the Panjim Inn is home to a wide range of art works from international painters.
Wander further north for a good look at the Our Lady of Immaculate Conception Church, a walk that will take you alongside the Mandovi River promenade where you can see a range of shipping – from the moored casinos on the quay to the huge cargo ships that dock. Stop by Cafe Tato's for a delicious Goan style Pau Bhaji.
Panjim has it's own beach – Miramar beach – but you probably won't want to go for a swim here given the amount of shipping traffic that heads past into Panjim port. Instead, it's a nice spot to watch the sunset.
In the Miramar beach area you can also take a cooking class with Authenticook and learn more about traditional Goan cuisine.
Mangueshi temple – located halfway between Panjim and Vasco de Gama, is Goa's most famous and one of its busiest. The main temple is dedicated to Bhagavan Manguesh, an incarnation of Lord Shiva. The temple complex is over 500 years old.
Things to do in Morjim and Ashwem
Exploring the Mangroves
One of our favourite things to do in Morjim (and in North Goa) was our excursion with Konkan Explorers into the mangroves. Konkan Explorers run boat trips in Goa, with a difference. You can either venture out to sea or inland; we chose the inland option to sail down the Morjim river (in their state-of-the-art solar powered boat) where we transferred to kayaks to explore the mangrove creeks.
Konkan Explorers have set up their trips to show a side of Goa that too few visitors get to see – and it's well worth it. We learned about the importance of the mangrove ecosystem and the role it plays in protecting Goa's coastline. Mangroves not only have the ability to grow where no other tree can (due to the salinity of the water) but they provide a breeding ground and safe habitat for thousands of species. Mangroves secure topsoil and help prevent erosion, and also help to filter toxic chemical run off into the water from farmland. They also help protect coastlines from tsunamis and storms.
It's perhaps no longer surprising that as Mumbai destroys its mangroves it continues to experience worse than ever monsoon floods.
Konkan Explorers trips are operated by a crew of locals alongside Bengali-French owners, support local communities and look to minimise their impact alongside educating locals and visitors alike on the importance of Mangroves.
Find more information about tours with Konkan Explorers here!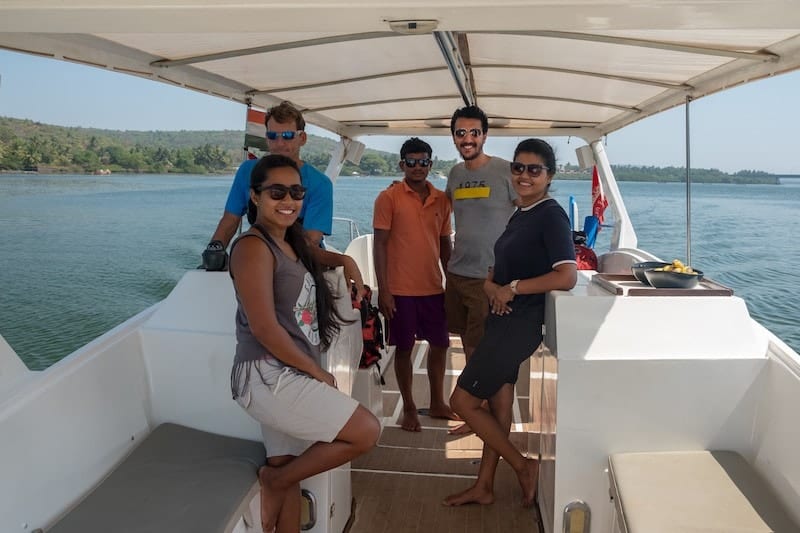 Dolphin Watching
If taking to the water is your thing then it is also possible to take a dolphin watching trip. Many fishermen will approach you on beaches with offers, or you can find operators in most resort towns. Unfortunately dolphins have been adversely affected by many boat operators chasing down dolphins and getting too close: be vocal about the need to respect a good distance between the boat and dolphins. For further information on responsible dolphin watching as well as diving, Terra Conscious are a good source of information and offer longer-term volunteering placements.
Get a taste of the Local Brew
For those curious for a taste of the local Feni a visit to Madame Rosa's distillery farm in Valpoi is recommended! Find out all about their Big Boss brand and the process of distilling from cashew nuts. You can contact them on tel: +91-9823029032.
Things to do in Arambol & the North Goa Coast
Lined with cliffs, sweeping bays and winding roads North Goa is beautiful to explore on the back of a scooter (2-wheeler). Take care, however check the quality of your bike before heading out – we had several rental scooters that were far from *ahem* "ideal". Wear your helmet at all times and go slow.
The flea markets at Arambol and Anjuna (the original hippy paradises of Goa) make for some great shopping, although unfortunately they are becoming increasingly flooded with cheap tat produce from China. Arambol street market is permanent and lines the street for about 3km down to the beach.
Arambol Drum Circle (on the beach) also has a separate flea market that starts every evening at about 5pm.
Further south, Anjuna Beach hosts its legendary flea market every Wednesday, where artisans travel from not only all over Goa, but all over India come to sell their handicrafts. The best time to visit is late afternoon when the sun is not too strong and live music starts at some of the nearby beach shacks. Anjuna flea market runs from November – March from 9am – 6pm (Wednesdays).
South Goa
South Goa is the original part of Goa that we fell in love with – for its lush paddy fields, laid-back vibes, and occasional hidden corner of empty beach. Whether it stays that way remains to be seen – beaches such as Palolem and Agonda are already well established on the tourist map – and although they may be "quiet" compared to the madness at Calangute – Palolem is already very crowded.
Our first stop was the town of Agonda – sleepy compared to some of the manic resorts further to the north – but with a nice vibe and traveller bustle. Although there are no eco-friendly options as such, we enjoyed staying at Ramsons Resort right on the beach for its chilled atmosphere and proximity to town.
Further south of the town of Canacona there remain some real gems to be found, for those willing to travel the extra mile. We hope that this part of Goa remains pristine for all to enjoy well into the future – for tips on how we can do this check out our responsible travel in Goa section below!
Where to Stay in South Goa
Our favourite place to stay in South Goa was La Mangrove, a chic glamping resort and eco lodge just south of Galgibag at the southern tip of Goa. Nestled back from the coast and facing onto a river and mangroves, this resort is still just a few minutes from Galgibag beach – one of the few beaches in Goa to be completely unspoiled (and empty even in high season).
La Mangrove describes itself as an "Eco Luxury Boutique Hotel" and they manage to achieve just that feel. The accommodation consists of teepee style tents – stylishly decorated on the inside complete with full size beds and even hanging wardrobe space to store your clothes. The only thing to note is that you do have to bend down to get into the tents – good practice for morning yoga!
We loved waking up to the sounds of the birds in the mangroves in this peaceful spot that is really a unique place to stay in Goa.
The owners have taken lots of initiative when it comes to sustainability too, there are composting toilets (not as scary as they sound!), organic – only products are allowed (and provided) for showering so the grey water can be re-used; and use of energy is low here.
Click here to check rates and availability at La Mangrove, Goa.
We searched Agonda for responsible accommodation options but found none, there is an eco lodge on Cola beach (just north of Agonda) which we didn't have time to check out in person – Dwarka Eco Beach Resort.
There's also the option to stay at Tanshikar Spice Farm – see below.
Things to Do in South Goa
Life in South Goa flows at an altogether slower pace – perhaps that's why we liked it so much! That means that you don't need to find a long list of things to do in South Goa for your trip – it's the perfect place to sit back, relax, and re-connect.
Netravali Wildlife Reserve
About an hour's drive from the south Goa coast, is the Netravali wildlife reserve. Goa's largest reserve at over 200 sq kilometres, you may not see a huge amount of wildlife (we didn't) but this is a beautiful place to retreat to for a few hours. A drive through the reserve is serene and quiet and you can find many waterfalls along the way. Although the park itself is shady the drive there is not so learn from our mistake and go in the morning or later afternoon rather than get caught in the midday sun 😉 .
Tanshikar Spice Farm
You may come across plenty of offers of spice tours during your time in Goa, but a visit to Tanshikar Spice farm is truly something different. Located beyond Netravali Wildlife Reserve, we were lucky enough to meet the owner and have him show us around his organic farm and garden. The main house is a traditional Goan house built with mud and bricks, and a working example of the perfection of simple living – without AC – in modern times.
The farm offers tours, farm-to-table lunches (do not leave until you have had one of their fresh cacao smoothies!), and for those who want to stay longer, you can even book a stay in one of their rooms or treehouses. Don't expect wifi or TV, a stay at Tanshikar offers the opportunity to disconnect from the outside world and re-connect with nature.
Contact Tanshikar Spice farm for more info via their website or on Tel: +91 94211 84114.
Visit some of Goa's Beautiful Temples
Our favourite temple is Shri Malikarjun Temple of Canacona, located a short drive from Canacona town – it holds a dear place in our hearts as it is Ravi's family temple; but it's also one of the most beautiful temples we've seen. Set in surrounding forest and jungle, this temple has a backdrop of ghats (mountains) and beautiful palms against the blue goan skies. The temple is a shrine dedicated to Shrimalikarjuna, an incarnation of Lord Shiva. It's also one of Goa's oldest temples and is thought to date from the 16th century. Our tip is to visit early in the morning for beautiful light and photo ops.
Trekking in South Goa
There are a number of beautiful treks in Goa which take you inland and to the best vantage points to enjoy some of this beautiful state's natural scenery. One popular trek is to the Dudhsagar Waterfalls – famous for its pictures of trains passing dramatically close to the falls. The falls themselves are at their fullest flow in September/October just after rainy season and slow to a trickle in the winter months.
There are hiking trails in Netravali Wildlife Reserve, as well as various other waterfall treks including the Pali Waterfall Trail (5km one way) and the Sonal Waterfall Trail (12km one way).
We recommend always trekking with a guide – make sure to take plenty of water with you and leave nothing behind you in nature. Goa Tourism has more information about trekking in Goa.
Ride the Konkan Railway
Some of India's most beautiful railway line winds its way through Goa and is known as the "Konkan Railway" – unfortunately the local trains are few and far between, but hopping on one is a chance to see some of Goa's stunning scenery.
Find more information and train times for the Konkan Railway here.
Go Sailing
It's possible to charter a yacht or catamaran to explore more of Goa's coastline: check Adventure Breaks for more information.
Travelling south India? Read all about the best of Kerala in our Kerala travel guide!
Goa's Interiors
Some of Goa's most beautiful spots are arguably not at the beach at all, but rather in Goa's lush interiors. Monsoon can be a great time to explore inland Goa as the state's vegetation comes to life, and a carpet of green emerges. We have yet to experience inland Goa during monsoon, but you can check out our friend Shivya of the Shooting Star's guide to Goa during rainy season.
If venturing inland, one place we would recommend is responsible tourism award-winning Wildernest Nature Resort, set in a remote part of inland North Goa. It's a birder's paradise and for those who would love to experience more of India's tranquility and nature.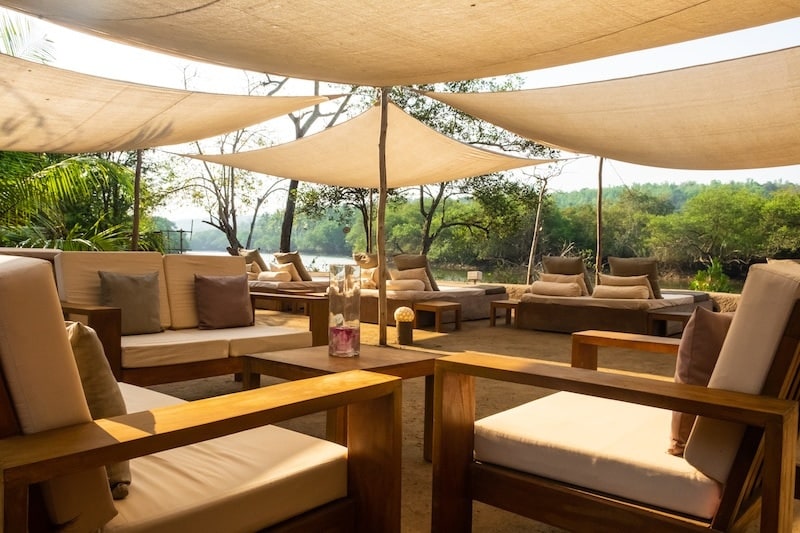 Yoga Retreats in Goa
Alongside Rishikesh, Goa is one of India's (and the world's) top destinations for Yoga. There are countless yoga schools, yoga teacher training programs and yoga retreats in Goa. Telling which ones are the real deal can be challenging.
How to choose the best Yoga retreat in Goa?
First off, ask for recommendations from your home yoga teacher if they know anyone – chances are most of the yoga community seem to know someone teaching yoga in Goa!
When it comes to eco friendly yoga in Goa, we found Yoga Magic had unparalleled reviews, and we love their ethos of re-creating a simple and yogic existence without harming their surroundings and environment. They've even been voted one of the best Yoga retreats in the world thanks to the Sunday Times (UK). They are located in Anjuna (North Goa).
Whichever Yoga retreat in Goa you choose, be sure to check reviews on sites such as Google and Tripadvisor to verify that the centre has a good reputation.
Search for Yoga Retreats in Goa here!
Responsible Travel in Goa
As you've hopefully gathered from the rest of this post, Goa is a place which is especially vulnerable to the consequences (both good and bad) of tourism – given the large numbers of travellers that visit. Help make your trip have a positive impact for Goa by considering the following recommendations:
What to Wear in Goa
In general easy-going Goa requires a lot less adjustment than some other parts of India, but women in particular should still be mindful of how they dress (and the direct relation to how they are therefore perceived in Goa). As domestic tourism increases and foreign women in Bikinis are arguably as much a reason to go to Goa for some as the beaches are… unfortunately.
For more India dressing tips, check out our what to wear in India guide here!
One ground rule is that swimwear is not acceptable off the beaches: if you're walking around nearby markets and streets cover up with clothes or at least a sarong covering your top and bottom half.
Opinions on what to wear in Goa differs; we chose to cover up off the beach but I did wear my bikini on Agonda beach. You'll equally see plenty of girls strutting it in mini-shorts. What you decide is your call, but it does affect how you may be viewed or approached. Guys have it much easier, but generally shouldn't walk around topless off the beach.
A few tips for ladies –
Getting Around in Goa
Goa is easily accessible from most cities in India, and there are international flights that fly into Dabolim, Goa's main airport. From other cities in India you can choose to travel by train or by plane depending on your preferences, time available and budget. We always suggest train travel over other forms in India as it's a) most interesting and b) less polluting than flying.
Trains
The journey from Mumbai to Goa by train is one of the country's most beautiful train rides and takes around 8 hours. If you want to see the scenery (recommended) then take a morning train such as the Jan Shatabdi from Mumbai, which gets you in to Madgaon for a late lunch (hopefully). Read all you need to know about train travel in India here.
Within Goa, there is the Konkan railway (see above); train can be a fast and effective way to get from one end of the state to the other – such as from Canacona to Thivim or Pernem. The main Goa railway station is at Madgao(n) and there are also train stations at Karmali (for Panjim) and Vasco de Gama. Check carefully which station your train leaves from! If you're willing to "slum it" in General or Second Class – which can get very crowded – you can just turn up and buy a ticket and go. If not, you need to buy tickets as far as possible in advance.
Buses
State run and private buses are also a good way to get around and most services run between towns – they are more regular than trains. There are also a range of long distance buses to other cities – check routes and times on Redbus.
Love this Guide? Pin it for later on Pinterest!
Taxis, Car Rental, Tuk-Tuks/Autos and Scooters
These forms of transport are probably how at least some of your travelling around in Goa will be done. Taxis are a bit of a nightmare in Goa: unfortunately the drivers have formed strong unions, set prices very high, and finding a driver who will take you somewhere for an honest price is like looking for a needle in a haystack. The same goes for autos in tourist areas – who do *not* use the meter and will charge as much as they can.
We tried to hire a car in Goa but were not able to find any reasonable options: we would not recommend driving in India for non-Indians given the different approach to driving and road safety in India. Generally hire cars can be picked up in Panjim, finding other places may or may not be possible.
Scooter rental on the other hand is much easier and is how most travellers get around in Goa. Be careful to check the quality of the bike you are given – especially if the brakes and lights, and horn work before setting off on any journey. Never leave your passport as security for the bike – instead leave a copy of it. Enjoying Goa's scenery on two wheels is great fun as well as beautiful – needless to say don't drink and drive and always wear a helmet! Happy riding 🙂
Have you been to Goa? Are you considering a trip? We'd love to hear your Goa experiences and thoughts – drop us a line in the comments below!
Goa Travel FAQ's
When is the Best Time to Visit Goa?
Wherever you decide to stay in Goa, know that coastal Goa is a seasonal destination as the monsoons here are strong.
The tourist season runs from October to April or May – after this time you'll find much accommodation is closed (many of the beach huts are fully dismantled and re-built each year which goes some way towards explaining their ramshackle nature). It is possible to visit the beaches of Goa during monsoon (and some visitors love it) but it you do be prepared for wild winds and rain – swimming in the churning Arabian sea is definitely out of the question.
Goa's busiest time is during the Christmas and New Year holidays, where it can be hard to find a room (and if you do you'll pay triple price) – so if you can it's best to avoid that time. October, November, February and March are great times to visit Goa's beaches.
Goa gets a second surge of visitors at the end of April / beginning of May as Indian school summer holidays start.
Is Travel to Goa Safe?

Goa is one of the safest (and most liberal) areas of India to visit. The biggest things to watch out for are being ripped off by Goa's business-minded taxi drivers and market vendors (practice your haggling skills)! Women, especially solo women should stay off beaches at night and put our general advice for solo female travel in India to practice.
Never walk around in swimwear off the beach, out of respect for locals as well as to avoid unwanted attention. Read more about our recommended places to visit (and some places we don't recommend) in this guide!
Where are the Best Places to Visit in Goa?

To get away from the crowds and experience a quieter, more authentic version of Goa, we recommend:
– Visiting the far north and south of Goa's coastline. The Beaches of Central Goa are where most of the crowds head (Baga and Calangute – avoid these), but the far north and south of Goa's coastline are more relaxed and laid back.
– Visit outside of peak season (December – Feb) for better prices and fewer crowds
– Explore Goa away from the beaches – the interiors of Goa are lush and beautiful, great for hiking or nature watching.
– Discover Goa's backwaters (yes it has them too!)
– Spend some time exploring old Panjim
Read more about Travel in India on Soul Travel India!
Soul Travel blog is a participant in the Amazon Services LLC Associates Program, an affiliate advertising program designed to provide a means for sites to earn advertising fees by advertising and linking to amazon.com, amazon.co.uk, amazon.ca, and as an affiliate I earn from qualifying sales. Amazon and the Amazon logo are trademarks of Amazon.com, Inc. or its affiliates.
[activecampaign form=3]