Our Kerala travel guide covers the best places to visit in Kerala and how to get the best out of this beautiful corner of India with fewer crowds, supporting local and sustainable travel options along the way.
The Smallprint
: Some of the organisations in this guide hosted us in return for an honest review. As always, the stories, experiences and opinions expressed here are our own. This post uses compensated affiliate links. For more information, see our
Editorial Policy
.
Exploring the Best of God's Own Country
Think swaying palm trees, crashing surf, coffee plantations, hill retreats, silent backwaters, rice paddies, beautiful national parks that are home to a host of wildlife and you've teleported yourself to Kerala.
One of the better known states of India, there's a lot to pack in to a trip to Kerala. Known as God's Own Country, Kerala in South India has a lot to offer: from ayurvedic retreats and yoga centres, to hill stations and tea plantations up in the Western Ghats (mountains), to national parks that are home to tigers and elephants, to palm fringed beaches. And then there are the Kerala Backwaters, which despite their overcrowding issues, still provide a serene backdrop to any Kerala experience – when experienced in the right way.
We spent over a month travelling Kerala at the beginning of this year, and despite having more time to spend than many visitors to Kerala, we still could not fit everything in. There's a lot to do in captivating Kerala: so pick wisely!
ⓘ TIP: Planning a trip to India? Join our free India Travel Facebook group here!
This guide will help you get to the best of your time in Kerala – we have put together our recommendations for travelling mindfully in Kerala. Here you'll find the best eco friendly resorts, homestays, community tourism projects, wildlife projects, locally owned restaurants, and a whole lot more!
What's in a name? The place names in Kerala are a bit of a jungle. For some strange reason most places seem to begin with a 'K' or an 'M' (if anyone can enlighten us as to why please do so!), the names are also remarkably similar / mix-up-able, and there's also an eclectic mix of old and new names used. Allapuzha is commonly referred to as Alleppey still, whereas Kollam – which was Quillon – universally goes by its new name. We've included both old and new names wherever relevant in this Kerala Guide to help with getting around.
Ecotourism in Kerala
Kerala's beauty is no longer a secret, and with its popularity have come crowds of visitors – both from within India and from overseas. Those crowds have congregated in specific areas of Kerala and led to problems for Kerala's wildlife, environment and local inhabitants: from pollution, to over-development, to lack of local empowerment and economic benefit from tourism.
Local resources have become drained, including water, and upsetting that very delicate balance of flora and fauna. In Alleppey, where going on a house boat cruise is on the bucket-list for so many, the scenes are often of overcrowding of houseboats, islands of floating plastic and filth a-top inky black water.
The good news is that it is possible to travel in Kerala in a way that avoids the eyesores and mass-touristed spots, and more importantly supports local and community based initiatives where local Keralites see the benefits from tourism. We've got you covered for the best of sustainable travel in Kerala.
A word – before we begin – about use of the word "Ecotourism" in Kerala (and the rest of India). Ecotourism, unfortunately, is not always and only used for places that are focused on the principles of responsible tourism (ie. giving back to local communities, being environmentally sensitive and protecting local people and cultures). Instead, "Ecotourism" in India is often used to describe any tourist activity which involves the outdoors (such as walking, camping) and / or seeing wildlife. Whether or not it is eco-friendly or in any way sustainable.
Short on time or too busy to plan your own trip? There are plenty of local tour companies who can help such as eKeralaTourism who offer many of the highlights of Kerala or can offer tailor made itineraries.
There are also global companies such as G Adventures who we have travelled with several times and recommend.
Find out more about G Adventures South India Tours here.
---
Our Top Picks for Where to Stay in Kerala
Coconut Lagoon (High End) – For luxury along the backwaters there's no better place than Coconut Lagoon. Owned and run by Keralan family run CGH Earth group, watch the sunset over the backwaters in this beautiful and sustainable hotel which is only accessible by boat… Check rates & book Coconut Lagoon here!
Ashtamudi Villas (Mid Range) – Set on the southern end of Kerala's backwaters in Kollam, Ashtamudi Villas are owned and run by a local, who also offers trips in dug out canoes and kayaks to local villages for a more intimate experience with the backwaters. Perfect for chilling in one of their lake-side hammocks and experiencing a much less touristy side of the backwaters… Check rates & book Ashtamudi Villas here!
Marari Beach House (Budget) – Right on Marari Beach (one of Kerala's nicest beaches near Kochi), this simple place is clean and walking distance to the waves. Perfect for hanging by the beach for a few days! Check rates & Book Marari Beach House here!
---
North Kerala
Kannur & Thottada Beach
Kannur was our first port of call in Kerala after spending 3 weeks in beautiful Bangladesh. As our first taste of Kerala this year, Kannur did not disappoint.
Northern Kerala has been off the beaten track for many visitors to Kerala, who have focused more on the central and southern parts of the state. But that may be about to change. This year, Lonely Planet has named Northern Kerala as one of Asia's hotspots, and as a paradise for those seeking a quieter taste of Kerala. Small homestays line the palm fringed shores, with uninterrupted views out across the Arabian sea.
Planning a trip to Kerala? Grab your Lonely Planet here!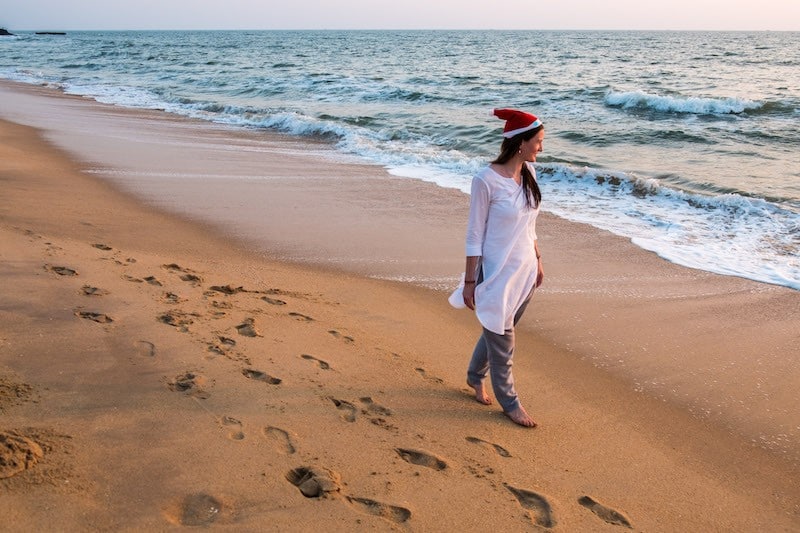 Where to Stay in Kannur & Thottada Beach
Thottada beach is one of the best beaches in the area, with a range of accommodation to suit all budgets. There aren't any facilities as such or shade, so the best time to visit is morning or late afternoon for a stroll. Ladies are recommended to cover up a bit on the beach as this is a rural and mainly Muslim area.
We stayed at Haris Seashell Inn just outside of Kannur, which turned out to be one of the best decisions we've made. Owned by the enigmatic and kind Mr Haris, these bungalows are perched on a clifftop, with panoramic views out to the beaches below and the sea. I loved waking up and falling asleep to the sound of the crashing waves below.
Mr Haris has done a lot to build the guesthouse in a sustainable way – the villa and rooms are made of repurposed / upcycled materials salvaged from inhabited traditional Kerala houses, there is an organic farm, and Haris Seashell employs a number of physically handicapped staff, to name but a few initiatives. We happened on this place by chance but were delighted to find place that was doing so much to create a positive impact!
Check rates and availability for Haris Seashell Inn here.
Getting to and from Kannur
Kannur is well connected by railway north to Goa and Mumbai, and south to Kochi and the rest of Kerala. There's reportedly a new airport for those coming from further afield. There are also buses connecting to the rest of Kerala and nearby Karnataka state. Our recommended mode of transport in India is by train.
Wayanad
Little heard of – outside of India at least – Wayanad is a tranquil uphill oasis of homestays, quiet villages, scenic winding roads that take you through wild forests, and is a place where you can truly escape.
Things to do in Wayanad
There's no "centre" to Wayanad as such, so to the first time visitor it can take some time to get your bearings. Sights and activities are spread all over the region, so wherever you base yourself, some road travel will be involved. Our best tip is to pick somewhere quiet to stay, un-plug and relax to the backdrop of the peaceful Wayanad scenery. It's better not to try to pack too much sightseeing in – but rather adapt to life at a slower pace.
Jeep Safaris. Wildlife is a big attraction here, but we found our jeep drive at Tholpetty to be disappointing. After an early start and being inline at the forestry department by 6am to get our tickets, we got the second jeep out of the gates. We didn't see anything apart from a few deer.
Unfortunately the "Safari" consists of a 30 minute drive through the section of national park that is right next to the road, in a line of about 20 jeeps. If you're more than the second or third jeep in, your chances of seeing wildlife are likely non-existent. We should probably be happy that this means less interference for the animals! As an alternative, safaris at Muthunga are reportedly better than Tholpetty – and even better are the wildlife opportunities in neighbouring Karnataka state.
Beyond the safaris, there are beautiful lakes to visit and countless hikes one can go on. There are several different boating lakes. Pookode lake has pedals-style boating (we did not visit here) and Banasura Sagar Dam is the place to go for those needing an adrenaline kick – on a speedboat. There is also a slow ferry that you can go on around the lake, at 12 midday.
Homestays in Wayanad
We were lucky enough to stay in two amazing homestays in Wayanad.
The first we found through I-likelocal.com – our go to website for homestays and responsible tourism activities in Asia. We planned to stay one night in a homestay on a working coffee plantation, but our one night turned into four nights! In a simple cabin away from the main house and down a bamboo walkway, we were surrounded by trees and jungle.
Our shady balcony was the perfect spot to relax and read, practice a little meditation, and just enjoy the sound of the birds. Hosted by a welcoming couple, the homestay is the family home and plantation of Sunil, who is also a responsible tourism advocate. We enjoyed chatting about the development of tourism in Wayanad over many a cup of home-grown coffee.
The homestay is a short distance (15 minutes by rickshaw) from Meenangady, which is a small town with some simple but good thali and dosa restaurants and is a regional transport hub.
Find more information and rates for i-like local homestays here.
Our second homestay in Wayanad was with the inspiring Kabani Tour which we found through Visit.org. Kabani Community tourism have set up two village community tourism projects in Kerala and are currently working on a third. Promoting "thoughtful travel", their concept is one that revolves around travellers experiencing village life through homestays, meeting village elders, learning more about traditional life through guided walks and learning more about traditions. Revenue is then reinvested directly into the community from these activities.
We went to the Kabani village of Mothakara which is famous for its Women-to-Women travel initiatives. Set among villages of winding lanes, emerald paddy fields, and extended lolly-pop shape betel-nut trees, this village is a truly peaceful place. Local women from the village have been trained in guiding and showing (female) visitors to the village, the ways of local village life. These women previously had no employment opportunities, but rather were housewives.
Through the Women to Women travel project they have been given the opportunity to expand their horizons through interactions with visitors to the village, and also to earn additional income for the family. Initially the women did not have any English language skills, and relied on communicating through gestures, expressions, and through their hearts. Over time, English words have been exchanged and learned, and the project has continued to grow. These days these even a guesthouse run entirely by this inspiring team of women. Unfortunately during our visit, the women guide team were oversubscribed and so we didn't get to experience their project in full; however we did get to meet the charming Radha.
Our homestay – where we stayed in our host family's house – was the soft bed and crisp cotton sheets kind of comfortable, and we were served some of the most delicious home-cooked food during all of our time in Kerala.
Find out more info and book Kabani's Women-to-Women tour here.
Responsible Travel in Wayanad
Despite Wayanad being little known and considered "off the beaten path" outside of India, it is a different story within India. Wayanad has become / is becoming a popular escape for weekenders from Bangalore and the visitor footfall (or carfall) is steadily increasing. As such Wayanad's blissful peace and quiet is coming under pressure from tourism, too. Do your bit to leave a positive impact from your visit by taking time to learn about the local culture, respecting the environment by not littering (even better – avoid plastic bottled water) or causing noise pollution (being noisy) and consider staying somewhere that supports eco friendly travel.
We did not have time to visit all of the ecotourism options in Wayanad, so here are some suggestions beyond our experiences above:
Eco Friendly Hotels / Resorts in Wayanad
Uravu Bamboo Grove is an award winning sustainable lodge, with design-led rooms surrounded by nature.
An award-winning sustainable guest house set high up in the Wayanad hills, Fringe Ford is a place that prides itself on being "as cut off from the world as you can get" (we think that's a good thing!).
Award winning CGH Earth's property Wayanad Wild offers a luxury escape deep into the forest
Wayanad Responsible Tourism Tours & Activities
The best way to support responsible tourism in Wayanad is to be environmentally sensitive (e.g. avoiding plastic and limiting your water use), using public transportation if possible to reduce the number of cars on the road, and to be respectful of wildlife. There are a number of operators offering ways to connect with the local culture and community on your trip, here are a few resources (we did not use all of them, but they are all reputable and highly regarded organisations.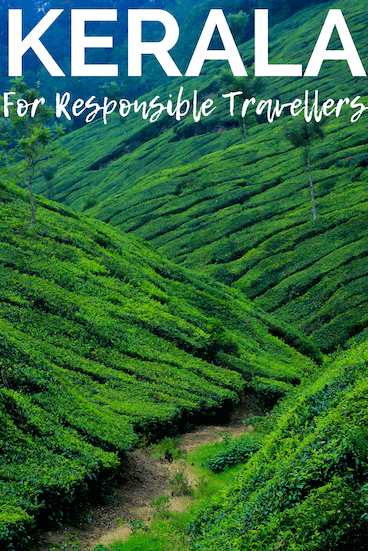 Getting to and from Wayanad
Wayanad is easily accessible from the northern Kerala cities of Calicut (Khozikode) and Kannur. There are also connections to Cochin, Bangalore, Mysore and other major regional hubs. There are more frequent bus services to Calicut, although you can take a direct bus from Mananthadvady to Kannur. There are no railway connection to / from Wayanad. Most buses are run by KSRTC but we found the redbus website far more helpful.
Central Kerala
Kochi / Cochin
Kochi / Cochin (the town's old name) is one of Kerala's most popular tourism spots and transport hubs, and so the starting point for many travellers in Kerala. It's possible to spend many a day wandering the old lanes of Fort Cochin between colonial houses, organic cafes, art galleries, churches and boutiques. Note that Cochin is quite separate (it is an island) from the mainland town of Ernakulam, where all major transport arrives and departs from.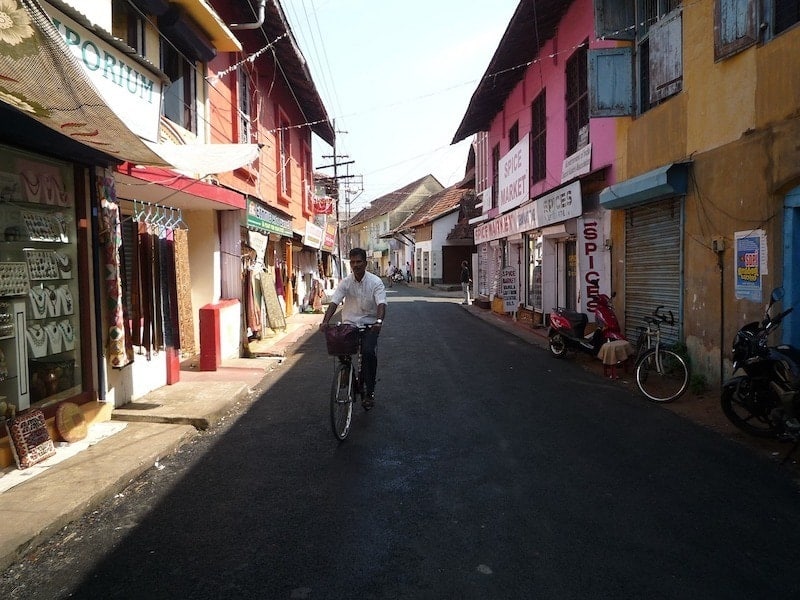 Things to do in Kochi
Kathakali Performances – for many visitors, a Kathalkali performance is on their list – this is a chance to see traditional Keralan dance and music, complete with incredible makeup and costumes. The Kerala Kathakali Centre is the most authentic theatre to see this at.
Exploring Fort Cochin – taking in its churches, museums and even Synagogues. As an old trading and naval outpost, over the last 600 years, Kochi has seen the arrival of many immigrants of different nationalities and religions – from Portuguese to Dutch, to British to Arabic traders. There's an Indo-Portugese museum, a Dutch cemetery, as well as several beautiful churches to explore such as the Santa-Cruz basilica. There's also a growing number of art galleries (often with cafe), such as the Kashi Art Gallery.
Shopping – there are plenty of artisan style shops in Fort Kochi, making it something of a shoppers paradise. Many shops sell organic toiletries and ayurveda products, and lovely Aambal is an eco clothing store which sells hand-woven, natural and handmade and recycled fashion.
Eating – There are plenty of cafes lining the streets of Fort Kochi, and if you've been on the road for a while, this is a good place to splurge on western treats aka good pizza and avocado wraps with a good latte. It does come at a price though. The local fare is much bewe dtter priced, usually more delicious, and we got bitten by the traditional Keralan Thali bug, at the Solar Cafe. For a truly authentic dining experience head to Authenticook to arrange to dine in someone's house. We were hosted by the charming and kind Bindu at her home in Ernakulam and enjoyed a delicious brunch.
Take a day trip (or longer) to Marari Beach – The beaches at Kochi itself are grubby (at best) but head an hour and a half or so south, and the lovely Marari beach awaits. Rent a two-wheeler and drive straight south through paddy fields, small towns, and backwater scenery. Marari beach (also known as Mararikulam) itself is as yet not very developed, and is a pretty stretch of sand with clean water for swimming. Accommodation options nearby vary widely in quality if you want to stay longer – the shacks on the beach looked decidedly dilapidated, whereas the Marari Beach hotel is fit for a king.
The Kerala Backwaters – Kerala's largest draw, you'll likely be offered a backwater cruise (or two) during your time in Kochi. See more on arranging a backwaters trip below, we don't recommend booking it from Kochi due to high prices.
Where to Stay in Kochi
The Fort Kochi area is the place where most visitors stay – while there are plenty of hotels over in Ernakulam on the mainland that are useful for if you have an early / late bus or train to catch, most of the main attractions of Kochi are in the fort area. Homestays are the name of the game here, and the city has seen an explosion in them. Indeed you can't walk more than a few meters without coming across a homestay sign. The word "homestay" has been applied in a liberal sense though – and these are usually just guesthouses with a number of rooms that are sold on a bed & breakfast basis, but hosts are usually very welcoming!
Because of the explosion of homestays in Fort Kochi, the centre can get a little crowded and there are no "eco-friendly" accommodation options as such in Kochi. For a quieter experience, head a little away from the fort. If travelling in December / January, book well in advance!
Check rates and book accommodation in Kochi here.
Getting to and from Kochi
The main gateway to Kochi is Ernakulam. There are two train stations (on opposite sides of the city so please check which one your train arrives at/leaves from) Ernakulam Town (sometimes referred to as "North Railway" and Ernakulam Junction "South Railway"). Trains run north-south along the Indian coast and link directly to Mumbai, Goa, Karnataka, and southern Kerala. There are also direct trains across country to Bangalore, Chennai and even Delhi (46 hours!). Buses run routes from Ernakulam across the region.
Kochi airport is also located in Ernakulam about an hour away from Fort Kochi, and is remarkable for being fully run on solar energy! It's a major hub and as well as domestic flights has connections to the Gulf countries, Sri Lanka, Maldives and Singapore.
Munnar
Despite being one of Kerala's major attractions this is one place that we failed to squeeze into our Kerala itinerary, except for passing through its scenic gardens. Tea is of course, the name of the game here and is the main draw, and most visitors come to soak up the ambience and enjoy being surrounded by the beauty of the tea gardens.
Munnar tea country resort is a sustainable accommodation option – they have implemented sustainable initiatives and are looking to reduce their footprint.
Find prices and book Munnar hotels here.
South Kerala
Thekkady & Periyar Tiger Reserve
Travelling inland and up into Kerala's mountains – the Western Ghats – was one of the highlights of our Kerala trip. Winding through hills, tea plantations and around several hair pin bends, our bus journey (although bumpy) provided spectacular views. Thekkady is best known for Periyar National Park (or sometimes, rather optimistically known as Periyar Tiger Reserve) and many come here for a chance to see Kerala's wildlife. It's also, more simply, a chance to get away from the hot and humid air of the backwaters and coast.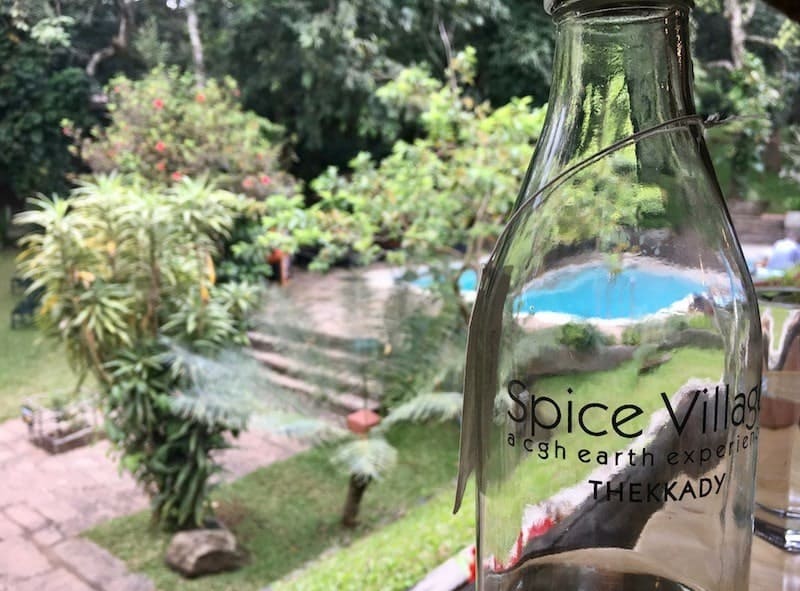 Things to do in Thekkady and Periyar
Exploring Periyar – Kerala's Western Ghats are one of the largest refuges for wildlife in India, and Periyar National Park is one destination that tourists flock to, in the hopes of seeing wild elephant, leopards, tigers and more. There are various ways to explore the national park, but during our trip to Periyar we found some to be far more enjoyable than others. While the boat trip on the lake felt like a foray into disneyland, we loved walking in the park in the early morning mist with our local guide (Periyar is one of the last remaining parks you can walk into), and we also loved our stay at Kerala's most sustainable resort, in Thekaddy: Spice Village.
Learn about Tribal Communities near Periyar – Periyar and the surrounding area are home to different tribal communities, including the Mannan, Paliyan and Malampandaram tribes. Such communities often leave a significantly different lifestyle from "mainstream" society, and as such are sometimes marginalised. They have an unprecedented knowledge of the forest areas, and are now benefitting from the tourism that comes from Periyar through a number of ecotourism initiatives. You can support the people who have relied on the forest in the past by taking a walk or trek with one of the village guides, or going to visit the Tribal Heritage Museum in Thekkady.
Seeing Wildlife – While we loved our visit to Thekkady and our stay, if your primary motive for visiting is to spot wildlife, you may be disappointed. Due to crowds, many animals hide deep in the forest. And we can't say we blame them! Get the full low down on visiting Thekkady and Periyar in our post here.
Where to Stay in Thekkady and Periyar
The highlight of our time in Thekkady was without doubt our stay at the beautiful and very eco-friendly Spice Village Resort. This resort has won awards for its environmental and community initiatives, and no wonder… the resort is powered by a solar plant the size of a football pitch, they have their own water filtering and bottling plant, a paper recycling operation (all paper you'll find in the hotel is recycled), several types of compost, biogas, and the list goes on. It's also a beautiful place to relax – designed as a traditional spice village, the cottages are well spaced out and set among tranquil gardens, where black monkeys and birds rest peacefully over head. You will not want to leave!
Check rates and book Spice Village Resort here.
There are a few other small eco-friendly lodges and smaller accommodations such as Indhrivanam, a vegan and eco friendly homestay, however we did not have time to check out their credentials in person.
Check rates and book Indhrivanam here.
Kerala Backwaters
The number one tourism draw in Kerala (and possibly southern India) are the Kerala backwaters, and the chance to take a cruise along them. Over recent years images of floating quietly and serenely through Keralan villages on a converted traditional Keralan rice barge, surveying life, warm chai in hand, have drawn in the crowds. After all, who wouldn't be tempted by such a blissful watery escape?
Over the last ten years, crowds have flocked in steadily increasing numbers to Alleppey (Allaphuza) which – somewhat prophetically if not wistfully – has been self-dubbed as the Venice of the East. What were once tranquil backwaters have become noisy, congested with tourists and polluted in many parts – due to poor regulation of houseboat tourism and overcrowding. Where tourism was once seen as a blessing by locals, it has now become a bit of a curse. The inky black waters of Alleppey itself tell of a different side to the Kerala backwaters.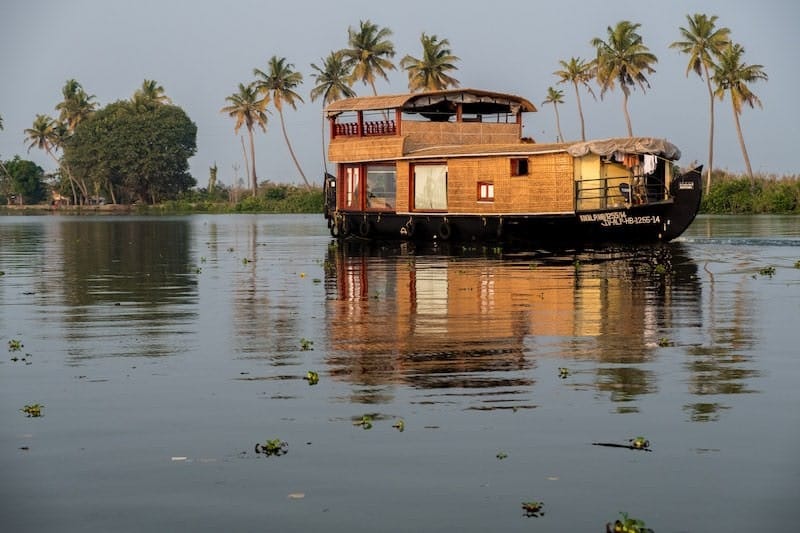 To Houseboat or not to Houseboat?
One of the biggest culprits in spoiling the backwaters has been houseboat tourism. There is no accurate figure for how many houseboats are currently in operation, while un-registered houseboats have been clamped down on since 2015, the number of houseboats have still been growing. In recent efforts to curb houseboat tourism growth further, Kerala tourism recently introduced a measure as part of their Kerala Responsible Tourism mission that prevented any new licences being granted for new houseboats on the Kerala backwaters. Results, however have yet to be seen, and sources say that it's not working: when a ship retires from service, the licence is simply "recycled" for a new houseboat – meaning little to any reduction in the number of houseboats. During our time in Alleppey we saw rows on rows of houseboats moored just outside the town, hoping for customers.
So what's the the problem with the houseboats? Essentially the damage that they cause falls into a few different categories. The most obvious is their environmental impact – 95% of houseboats are diesel powered, and that fuel often leaks into the waters. Many boats are high-end and offer air-conditioning, meaning the constant burning of fuel on board to power the boat and generators. There are no sewage treatment facilities on the boats meaning that sewage is dumped directly overboard, and there's no waste disposal either – meaning that the plastic water bottles you drink from usually go straight over the side too.
This pollution has impacted water quality, and fishermen have reported a decline in fish and prawn stocks in areas frequented by houseboats, meaning a direct impact on the livelihood of fishing communities in the backwaters. For many villages, their only water supply is from the backwater channels themselves for cooking and even drinking – more shockingly only a fraction of villagers reported boiling or treating the water in any way before drinking it. In the agricultural sector there has been an effect too, with concerns over polluted paddy fields, damage to rice crops, and even labourers becoming reluctant to work in the polluted fields.
Then there is the noise pollution for locals from the passing boats (many of which blare (awful) music loudly), and the lack of economic or social benefit for most locals from houseboat tourism. Houseboat tourism was initially thought to provide economic benefits to locals by providing jobs on boats, but in reality the high prices that tourists pay for their houseboat experience rarely reach the villagers who need to deal with the effects of the passing boats. Rather the money goes to companies and private individuals who often own large numbers of houseboats. Granted there are jobs on the boats, but this number is small compared to the number who feel the effect of pollution in the backwaters.
For all of these reasons we decided not to go on a houseboat cruise in Alleppey or elsewhere on the Kerala backwaters, and we don't recommend it.
Exploring the Backwaters Responsibly
But what about my backwaters dream? Worry not – there are some less damaging ways to enjoy Kerala's watery scenery. In general, these consist of either taking public ferry routes that are already in service, and/or staying on land next to the backwaters. Choosing to use existing infrastructure helps to keep our footprint lower and brings more benefit to locals, particularly in the case of choosing to stay in existing accommodation, particularly if it is homestays or on a small scale.
One of the best places to stay next to the backwaters and enjoy all their beauty, without supporting houseboats is Kumarakom – more on that below!
Alleppey (Allappuzha)
Alleppey is backpacker central and ground zero for backwater cruises – expect wherever you stay to persist with offering you houseboat services during your stay. We however enjoyed our time in Alleppey (we spent nearly a week there) and found it to be a great town for unwinding, with good wifi for when we needed to catch up on work, good food, and plenty of facilities.
Things to do in Alleppey
The Beach – away from the backwaters scene, Alleppey is blessed in being located both on the ocean with its own long beach, and on the edge of the backwaters. The beach itself is a nice stretch, and has a number of accommodation options, and cafes. We loved strolling the beach at evening time when the bhaji and chai wallahs come out to sell their tasty snacks, and the beach becomes a popular gathering point for families and couples. The beach is reportedly safe for swimming although take care as the waves can get strong. The beach is quite touristy and you'll see plenty of pale skinned visitors in their swimwear, but we recommend ladies to cover up with a sarong while not swimming.
Take the Local Ferry – ferries go on a number of different routes leaving from Alleppey and are a chance to see the backwaters, the local way. We took the morning ferry to Kottayam (3 hours) and returned the same day at 3pm from Kottayam to Alleppey. It made for quite a long day on the boat, but we loved the experience of sitting in the well ventilated boat and seeing local life. The 3pm return ferry to Alleppey was filled with school children (please do not give them pens as this encourages begging from tourists) giving us plenty of opportunity to chat and practice their English. You can find the Kerala Water Transport Dept schedules here.
Go on a Walk of Old Alleppey – The Award Winning Preserve Alleppey Society, started by a group of local ladies, was created due to the need to preserve the character of Alleppey. In a country where it is uncommon for women to be able to work as guides or in tourism, this is a cause well worth supporting to encourage the work of women in tourism, and also to see the original character of Alleppey. The ladies offer guided walks of Alleppey and cooking classes.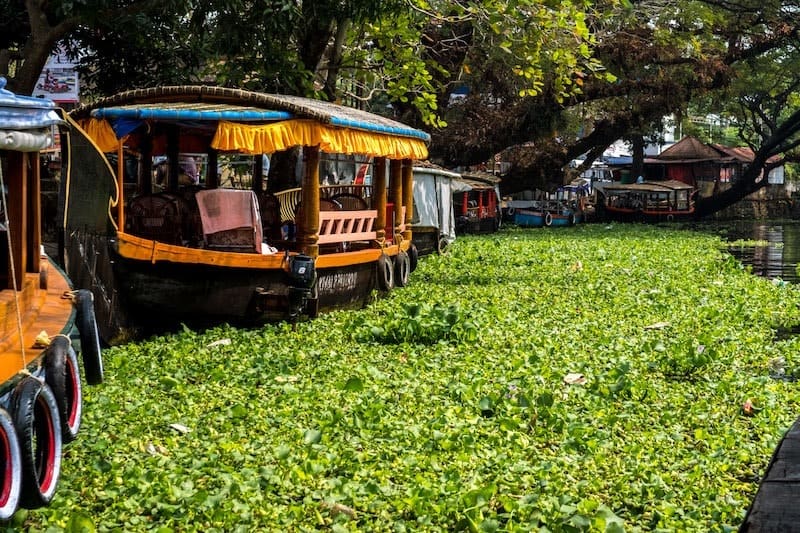 Where to Stay in Alleppey
Like other tourism hotspots, Alleppey has seen a surge in accommodation options over recent years, and is suffering from the problem of too many homestays and hotels being opened. When we visited, homestays were complaining of being empty (despite us visiting in January – supposedly high season). Homestays also vary hugely in quality. We moved quickly from our first homestay which we did not like until we found Heritage Homestay (below).
We loved our time at Heritage Homestay – a very simple, locally owned place with two big and airy rooms at the front – which immediately felt like home to us. Run by the charming and very kind Johnny and his team, the homestay is located about 10 minutes walk from the beach.
Check prices and book Heritage Homestay here.
Kumarakom
Nestled on the opposite bank of Lake Vembanad from Alleppey, Kumarakom is the perfect place to slow down and experience the backwaters (from shore) at their most peaceful. The lake is large and looks like an inland sea, providing the perfect backdrop for beautiful sunsets over the water. Kumarakom is also one of the locations where Kerala tourism is implementing more sustainable measures: many hotels and tour companies are part of an initiative to minimise their environmental impact and make sure that products are procured locally where possible, helping to maximise the economic benefit that goes back to locals.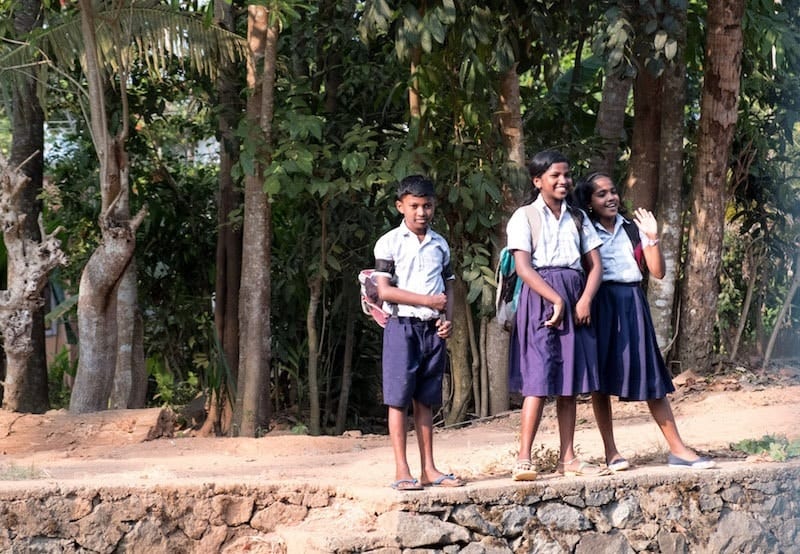 Things to do in Kumarakom
Enjoy life at a slow pace – possibly the best thing to do in Kumarakom is – not much! Our best memories were of sitting back and watching the sunset from the serenity of Coconut Lagoon (below). Taking a quiet stroll along the backwaters and through villages is a great way to get a sense of local life here.
Visit Kumarakom Bird Sanctuary – This is one of the best bird sanctuaries in India, with many rare species being sighted particularly during the monsoon months of June, July and August.
Where to Stay in Kumarakom
We loved our stay at Coconut Lagoon, one of CGH Earth's most beautiful properties. The experience here is unique, the only way to arrive and leave here is by boat. The resort has been hard at work at sustainability too, and is part of the Kumarakom responsible tourism initiatives. Wake up to the sight of passing boats and the resort's own rare breed "lawnmowers" (aka cows). There's also a renowned Ayurveda centre on property.
Find more info and book Coconut Lagoon here.
Getting to and from Kumarakom
One way to reach Kumarakom is by boat, there is a ferry service to Muhamma on the other side of Lake Vembanand, near Marari beach. Services are not that regular though, so you may find taxi / private transfer is the easiest way to get here. There is no train station or direct buses to Kumarakom.
Kollam
Kollam (formerly known as Quillon) is another quiet alternative for exploring Kerala's backwaters, this time from the southern end, and it's also a colourful former fishing town set on the Arabian sea. It's a great place to get off Kerala's beaten tourist path for a couple of days if you want something a bit different. Outside our guesthouse, we didn't see any other foreigners during the three days we spent here.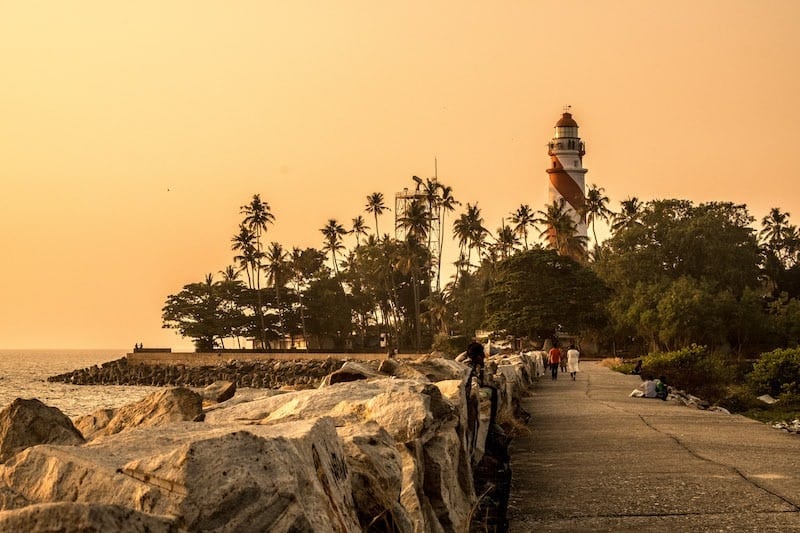 Things to do in Kollam
Ashtamudi Lake – Away from from the beach and on the other side of Kollam lies Ashtamudi lake, which forms the southern end of Kerala's backwaters. The lake offers opportunities for boat trips to Monroe island in the lake and exploring village life – there are fishing villages dotted around the lake. The government run boat trips are cheaper than the same itinerary offered by private companies. There's also a ferry that goes all the way to Alleppey from Kollam.
Beach & Tangasseri Lighthouse – head a little south of the centre of Kollam and there's a beach (nothing spectacular) and a pretty fishing harbour filled with colourful boats. Tangasseri lighthouse, standing tall in red and white stripes is a good lookout point across the town and out to sea – climb up the stairs for your daily dose of cardio. A visit just before sunset provides the best light.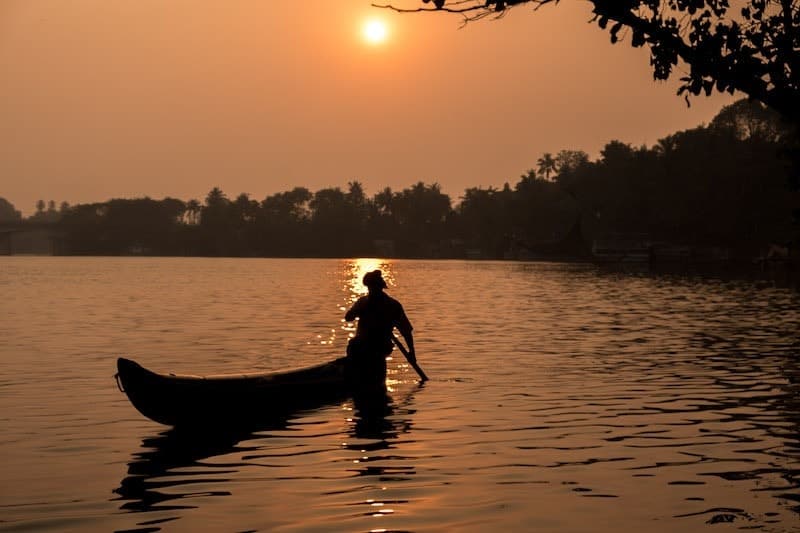 Where to Stay in Kollam
We struck gold with our choice of Ashtamudi Villas, a small and peaceful retreat with about eight bungalows on the banks of Ashtamudi lake. The resort is largely eco-friendly, with a focus on using natural materials and reducing waste, and it is the perfect spot for lounging in the gardens in a hammock and just reading a book while fishermen pass in their dug out canoes just a few meters away. Mr Joseph, the owner, also runs boat trips to small channels and villages around the lake.
Find more info and book Ashtamudi Villas here.
Varkala
In the south of Kerala along the Arabian sea, Varkala is fast becoming the new hippie destination of south India – some would say the next Goa. Set atop cliffs, Varkala is the place for sunsets, yoga, ayurveda and perfect turmeric lattes. We didn't make it to Varkala, but given the number of people who told us we should go, we thought we'd include it in this guide! If you have tips to add, let us know in the comments section below. Alcohol is officially not permitted in Varkala, although you may find some places serving it. Seeing as tourism in Varkala is booming, so is a problem with plastic waste and (over) development. Please do your bit by avoiding plastic bottles wherever possible.
Need a bit more help with your Kerala trip? We recommend G Adventures Tours. Find out more here!
Things to do in Varkala
The Beach – we'll start with the obvious, many come to Varkala to sit back and enjoy some sun, sea and sand. Varkala's beach is set below cliffs – beaches become quieter and cleaner if you venture further north or south from town. Do watch out for currents and big waves while swimming as the waters here are known to be treacherous.
Take to the Waves – Surfing outfit Soul & Surf (who we loved during our visit to Sri Lanka) offer surfing retreats, courses and lessons combined with yoga, massage and music. They work to minimise their impact and work with as many locals as possible. Their base in Varkala is at the top of the cliff, with prime view out to the ocean. More info here.
Anjengo Fort & Lighthouse – Sometimes spelt as Anchuthengu, 10km south of Varkala, this fort was built in 1696 as the first Malabar stronghold for the British East India company. Climb up the nearby lighthouse for views down onto the fort and coastline.
Eat and Juice your way around town – Varkala is full of trendy juice bars and organic cafes (the wifi may or not work), perfect for reading a book or a day away from the beach.
Take time for yourself with a yoga or ayurveda retreat – Ayurveda and Yoga options about in Varkala and there are many to choose from. Some offer one off treatments whereas others offer week+ long detox programs. Book Ayurveda and Yoga retreats in Varkala here.
Where to Stay in Varkala
Puccini Lala Eco resort has an art cafe and eco friendly mud rooms, and is a conscious / sustainable living concept. They also offer healing and cooking classes.
More info and book Puccini Lala here.
The Bohemian Masala is an alternative eco retreat that has been built as handcrafted tribal herbal cottages – using a mixture of mud and traditional ayurvedic herbs that are sure to provide a restful and healing night's sleep. The huts are set in gardens filled with hammocks and quiet spots for reading and relaxation.
More info and book Bohemian Masala here.
Getting to and from Varkala
The best way to reach and leave Varkala is by train; trains leave for Kollam, Alleppey and Ernakulam to the north, and to Trivandrum to the south (which has regular connections). There are also buses to Trivandrum and Kollam.
Have you been to Kerala or are you adding it to your "bucket list"? Let us know about your Kerala experiences in the comments below.