Set in the beating heart of Old Delhi, Haveli Dharampura is a beautiful heritage boutique hotel that's lovingly been restored to its former glory. Find out if it's the right place for you to stay in Delhi in this review.
This post contains compensated affiliate links. Find out more in my disclosure here.
What's in this Guide:
hide
Haveli Dharampura, Old Delhi
A Haveli is a historic home in India, taking the form of a townhouse, stately home or even palace. Traditionally inhabited by wealthy traders and merchants, Havelis are found throughout northern India – especially in Rajasthan, the cities of Delhi and Lucknow, as well as in some cities in Pakistan. Originating from the Arabic word 'Hawali', meaning 'private space', a Haveli was – and still is – a place to retreat to from the bustle of city life into the inner sanctum of home.
Located in the heart of Old Delhi, a few twists and turns from the Jameh Masjid mosque and Chandni Chowk, a stay at Haveli Dharampura is unique in being not only a chance to stay in a beautifully restored piece of Delhi history, but a chance to immerse yourself in the old historic Mughal Delhi of years gone by.
A hotel that's been on 'my list' for many years, this October I finally had the chance to visit Haveli Dharampura in person and experience staying there.
Check Rates & Availability for Haveli Dharampura here!
The Restoration & History of Haveli Dharampura
Take a wander around the streets of Old Delhi, and many other Indian cities and you'll find stunning old Havelis at many twists and turns – many of them sadly a faded version of their former glory. Unfortunately restoring Havelis in India is no easy feat – notably it requires deep pockets to purchase the properties in the first place.
Then there's the matter of finding workmen skilled in the artisan crafts needed to restore historic properties – which are few and far between. Finding craftsmen with suitable experience is an undertaking in itself, and again, does not come cheap.
Haveli restoration is a labour of love as well as patience, and it can be seen in the care taken to fully restore Haveli Dharampura hotel. Taking the current owners 6 years to fully restore and convert into the luxury hotel that it is today, the Haveli dates from 1887. Prior to the restoration, the Haveli was in a dilapidated state, at risk of complete collapse from the roof and other structural elements.
During the Haveli restoration, not only was the Haveli itself restored, but the surrounding gallis (narrow streets) and immediately surrounding area, to improve access, add street lighting, and reinvest in the neighbourhood surrounding the Haveli. At the Haveli itself, priority was given to preserving the original nature and character of the Haveli throughout the restoration. The Haveli has since won several awards, including a UNESCO award for cultural heritage conservation.
The Rooms
With just 13 rooms, each are individual in style, size and design. Each room has been tastefully designed to maximise space and give the feeling of luxury with light interiors and traditional Indian design touches. Expect four-poster beds, contemporary marble bathrooms and ceiling fans (and probably one of the best showers in India!).
The larger rooms include seating areas and larger windows looking out on to the central courtyard of the Haveli.
The smaller rooms are perfect for a short stay, but for more space for longer stays, it's worth going for one of the larger suites. Thanks to the predominantly inward facing windows, you're shielded from noise from the streets below, and I slept better here than I have in most other Delhi hotels!
Some of my favourite things about the rooms were the super comfy (soft) mattresses, the amazing wall-papers and the squeaky-clean beautiful bathrooms.
Check Rates & Availability for Haveli Dharampura here!
The Food
Dharampura Haveli has a fine dining restaurant on the ground floor as well as the rooftop terrace where food is also served (although unfortunately they weren't operating the upstairs restaurant while I was there).
Food is traditional north Indian cuisine. I loved the breakfasts – definitely go for a rate with breakfast included – but found the lunch and dinner menu un-varied and (very) over-priced if you want to eat more than a couple of meals here. The restaurant is best for a one-off experience rather than a nightly visit if you prefer variety and good value.
The Location
The location of the Haveli is both one of this luxury hotel's biggest charms as well as challenges. Being in the heart of Old Delhi and being able to gaze out across the Old Delhi rooftops is incredible, and despite being in the middle of the most chaotic part of Delhi, the Haveli remains a haven of quiet and calm once you step through its doors.
Staying in this location allows you to fully soak up the charms of this ancient city in a way that any other part of the city will not allow.
On the minus side, there are a couple of things to be aware of. Access to the Haveli is down narrow, winding streets and there's no car access – so you'll have to carry your luggage from the nearest accessible road by Jameh Masjid. One easy way to solve this issue is to book a pickup / airport transfer with the hotel and they will help you with luggage.
Another consideration is for solo female travellers – as the streets to access the hotel are dark, narrow and winding, I would not recommend staying here if you want to go out alone at night – as it's not possible for taxis to drop you directly at the door, and although the locals are friendly, I would not recommend wandering Old Delhi to solo women at night. My approach (as a solo traveller there) was to eat dinner at the hotel, although this was definitely more costly than if I would have been able to go out elsewhere.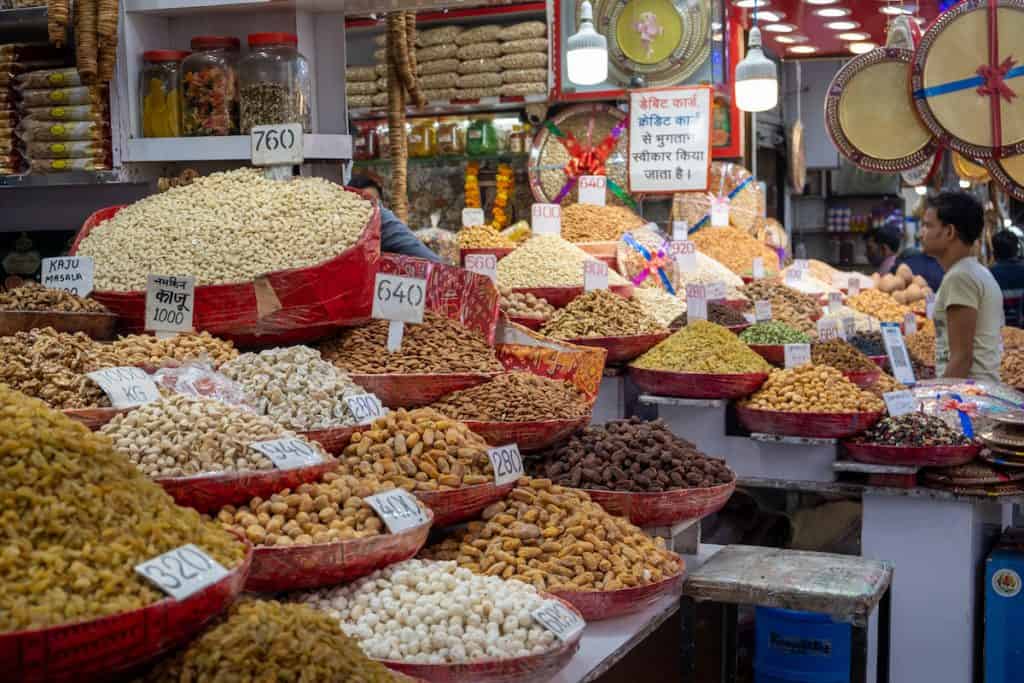 Activities & Facilities
For a small Haveli, there's plenty to do while staying here, both at the Haveli itself and in the surrounding area. One of my favourite things to do was to watch the sunset from the rooftop, and to add a bit more active fun, you can try your hand at kite-flying and have some friendly competition with the neighbourhood's kids who all fly their kites from the rooftops in the late afternoon. There's also the option of white pigeon-flying from the roof, an Old Delhi tradition where many families still keep white pigeons dating back to the Mughal times of Shahjahanabad (as Delhi was formerly known).
Several times a week, the Haveli hosts traditional music and dance displays which diners can watch.
Beyond the Haveli there's so much to explore in Old Delhi – you can take any number of Old Delhi tours which take in the markets, the Jameh Masjid, Gurudwara and other temples in the area. You can either organise these through the Haveli or yourself through independent platforms.
You can read about 2 of my favourite Old Delhi tours that are giving back here in my Delhi travel guide.
My Verdict
I loved staying at Haveli Dharampura for its history, character and experience of being right in the middle of Old Delhi and would recommend it as an experience.
For those staying longer in Delhi, I'd recommend staying a night or two here, and then shifting to another area of the city such as south Delhi.
Staying in Old Delhi is the main draw of being here – and that brings with it its pros and cons (as discussed in the 'location' paragraph above). For those who are crowd averse, staying near Chandni Chowk can get tiring, and so it's better to stay here for 1-2 nights and then move on. There are also the considerations mentioned above for solo female travellers.
If you love history and the opportunity to soak up some of Delhi's old culture and charm, you'll love the experience of staying here.
Check Rates & Availability for Haveli Dharampura here!
PLAN YOUR TRIP ON SOUL TRAVEL INDIA
Rajasthan Itinerary – Plan your Perfect 1, 2 or 3 week trip to Rajasthan