If you're longing to get a taste of India without being able to travel there in person (or even if you're stuck at home in India), a great way to escape into a world of India's finest sights, monuments and places is to go on one of these India virtual tours.
From Indian museum virtual tours, to Taj Mahal virtual tours, there is a surprising amount of 360 degree virtual tour India video and content out there, if you have a little time and know where to find it.
I love taking virtual tours not only as a way to experience India while at home, but it's also a great way to start planning your trip to India. Discover some of India's best known sites and cities to see if they make your travel shortlist, for when we are all able to travel again.
So, without further ado, here are some of the best India virtual tours that we've found that'll help satisfy your wanderlust right now.
Are you looking for more India travel inspiration? Make sure you join our India Travel Planning Facebook Group here!
Taj Mahal Virtual Tour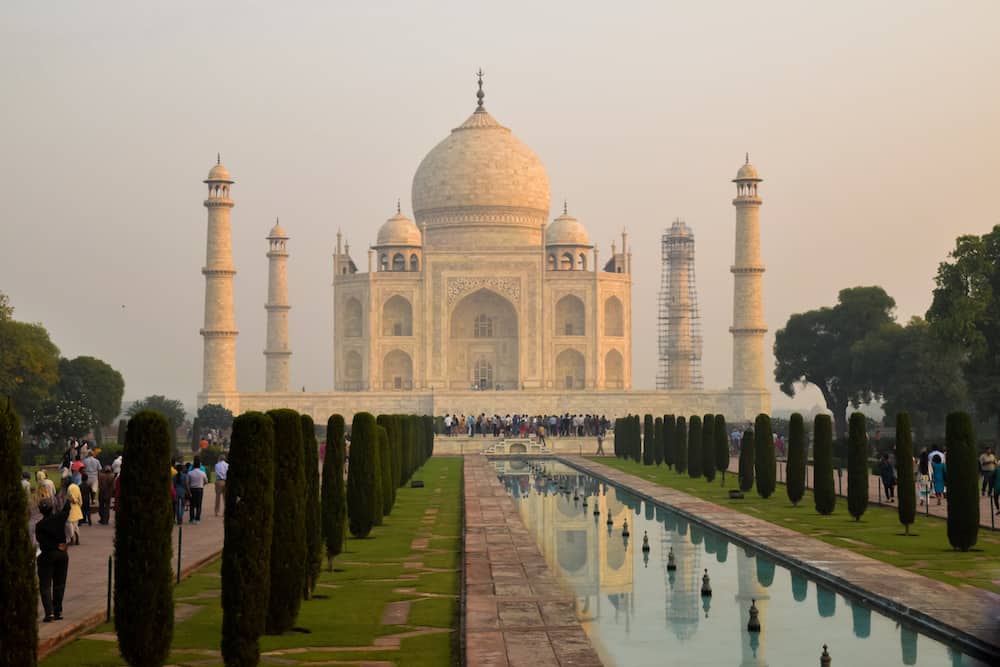 We'll start with the big one! If you're looking to take a Taj Mahal virtual tour, Google maps has some nice footage and 360 degree photos you can scroll around to get into the details, too. The whole Taj Mahal complex is mapped on Google Streetview, which provides a nice reminder of what the Taj normally looks like, complete with crowds.
For something more structured, there is a collection of nice 360 degree videos available here, that give a nice intro to how the Taj looks from pretty much any angle. Our favourite, however, is Google's Taj Mahal Tour from the Top which is available here. Or you can go for a virtual wander through the Taj's gardens, or you can take a look at the history of the Taj Mahal with some beautiful black and white photographs in this 'Online Exhibit'.
Delhi Virtual Tour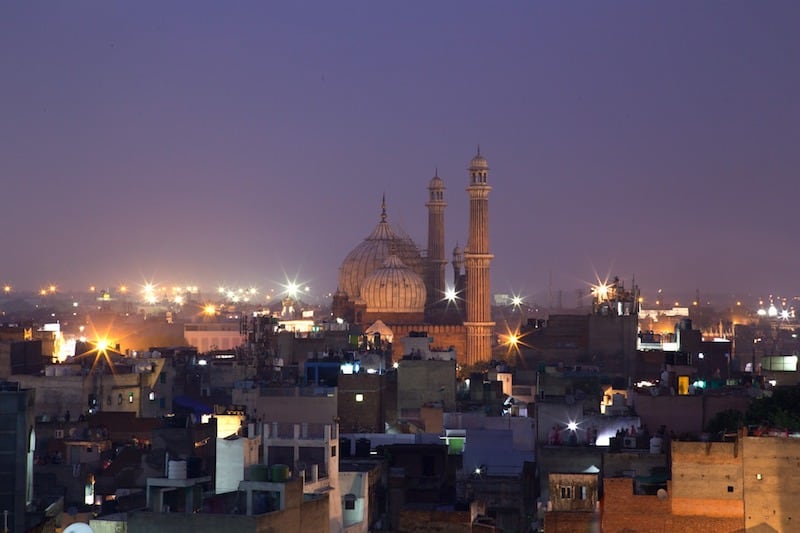 If you're looking to take a virtual tour of Delhi, India's capital, there are also plenty of different virtual tours and exhibits on offer – ranging from you tube videos, to 360 degree photos and online exhibitions.
Some of our favourites include a look at the Lodhi Garden Monuments, which are located in south central Delhi and provide a welcome respite from the hustle and bustle of Old Delhi or Connaught Place (CP). The online exhibit takes you through the history of the monuments, their architecture and design as well as glimpses of the lovely park.
You can take an online look at big-hitting tourist attractions such as Delhi's Red Fort or the beautiful Qutub Minar complex to the south of the city. Or for something a bit different there is also an exhibit dedicated to Delhi's Baolis or Stepwells.
Mumbai Virtual Tour
The heart of India's economy and (more famously) it's film industry, we make no secret of the fact that Mumbai is our most beloved Indian city. After beautiful scenes of a serene and quiet Marine Drive during lockdown, we were inspired to go on the hunt for virtual tours that would share more of Mumbai's beauty.
Some of our favourite virtual tours of Mumbai include a look around the iconic CSMT station (VT), touring the caves on Elephanta Island, or you can take your very own (virtual) sunset stroll along Marine Drive, aka the Queen's Necklace. For those interested in contemporary culture, there's also an interesting virtual exhibit about street art in the slum area of Dharavi.
Golden Temple, Amritsar Virtual Tour
If you're looking for a Golden Temple virtual tour, one of the best we've found is this one. With content provided by Incredible India, this online exhibit of the Golden Temple in Amritsar, Punjab is full of beautiful photos, information about Sikhism, and 360 degree footage, including a look at the huge hall in which the world's largest lungar (a free holy meal provided to all) is served to over 100,000 people every day.
Save me for later on Pinterest!
Bangalore Virtual Tour
The much less visited (by foreign tourists at least) than some of India's other cities, Bangalore has a lot to offer and is a beautiful destination to visit – if you can get through the traffic that is. The best part of this virtual tour, Bangalore, is you can forget about any traffic jams and simply get a taste for what this southern city has to offer.
The best virtual tour of Bangalore that we've found so far is this one. Join TGF hosts for a glimpse at Bangalore's historic districts, temples, IT Hubs and best food spots, the botanical gardens and Lalbagh.
Ahmedabad Virtual Tour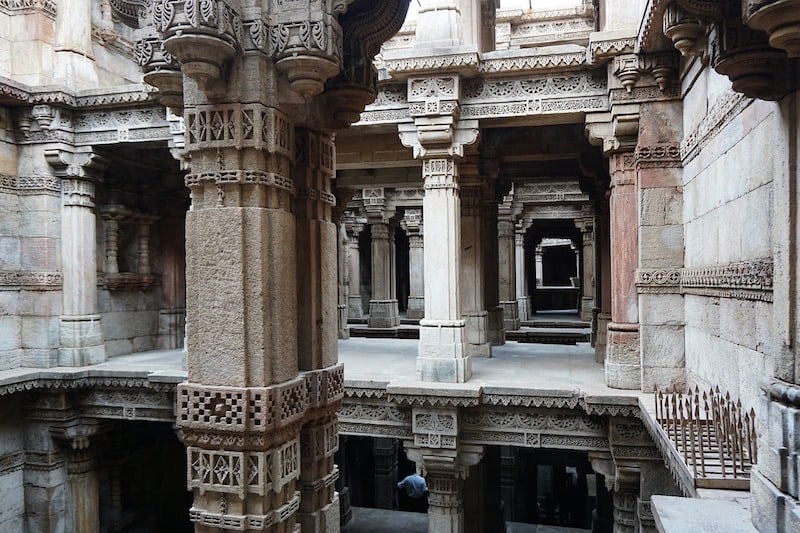 If you're interested in exploring the western state of Gujarat, virtually (which you should be, this state has plenty to offer), Gujarat Tourism has a host of footage and virtual tours available on their website with 360 degree maps of many sites, including some of Ahmedabad's historical monuments.
One of our favourite virtual tours is of the Rani Ki Vav step well in Gujarat, located to the north west of Ahmedabad and one of India's most beautiful step wells.
Hampi Virtual Tour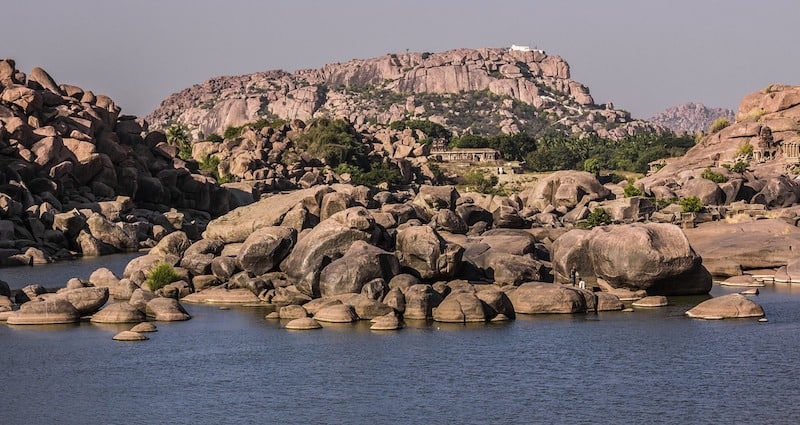 One of southern India's most popular tourist destinations and long a main stopping off point on the hippie trail, there are few things better than seeing a Hampi sunrise and visiting in person. Fortunately, in the interim, Incredible India has some good online exhibits and virtual tours to whet your appetite to visit in real life.
You can learn about the history of the lost city, discover the history and crafts of the nomadic Lambani people who lived in Hampi, or take a visual journey through the poetry of Hampi's stone carvings.
Or if you still want to see more after those virtual Hampi tours, there's a whole website dedicated to virtual footage of Hampi – Hampi360.com!
Jaipur Virtual Tour
Part of India's famous golden triangle, it's with good reason that Jaipur is one of the most popular places to visit in India for visitors. Famed for its colourful pink hued walls that surround the old city, and palaces and havelis galore, there's a good deal to see in Jaipur. If you haven't made it here in real life just yet, there are plenty of virtual tours of Jaipur on offer.
Learn about the women musicians of Rajasthan, all about making jewellery in Jaipur (Jaipur is famous for its gems trade), or you can even go on a tour of some of Jaipur's most famous hotels. This video gives you a tour of the Taj Rambagh Palace hotel. For more grandeur, you can take in the famous Hawa Mahal palace on this virtual walk.
Or for more tours, Rajasthan Tourism has also been offering virtual walks around Jaipur, and is expanding more virtual tours of Jaipur and beyond to help satisfy our wanderlust.
Varanasi Virtual Tour
Varanasi – or Kashi – as it's more affectionately known, is an assault on the senses. No matter how many virtual tours or videos you watch of Varanasi, you'll only get a small taste of Varanasi, the rest of the experience has to be felt, smelt, heard and seen with your own senses.
But, virtual tours of Varanasi can be a great way to prepare for your visit and get to know more about the history of Varanasi, its rich craft and textile traditions, and the infamous Ganga aarti experience. For an introduction to Varanasi and its beautiful handwoven sarees, you can start with this online exhibit.
For more on the master weavers of Varanasi, textiles and sarees, you can watch this virtual tour. Or, for a more general look around Varanasi, you can find plenty of 360 photos and videos here.
Goa Virtual Tours
You might think what's the point of taking a Goa virtual tour when I just want to be on the beach? And yes, we agree. But—Goa is far more than its beaches, as many of the virtual tours and online exhibits we found point out. If you'd love to know a little more about Goa's history, Portuguese legacy, architecture, arts and crafts then read on.
If you miss the stunning 360 views of Goa's beaches, forts and lighthouses, a great place to start is the Goa Tourism website which has a whole range of 360 panoramic photos.
To delve into Goa's culture, there's an online exhibit introduction to Goa here, or take a look into Goa's beautiful windows and doorways, take a (virtual) walk around the Museum of Goa, or take a train ride past the beautiful Dudhsagar Falls.
Love these virtual tours? Why not share this list on Pinterest!