Chandelao Garh is a royal ancestral home about 40km from Jodhpur, and one of the best home stays I've visited in India.
This post may contain compensated affiliate links. More info here.
Chandelao Garh: A Royal Homestay in Rajasthan
After a few weeks of exploring India's most touristed state, Rajasthan, I felt I needed to get off the beaten track again.
Rajasthan is famous for its multi-coloured cities, stunning forts and camel fairs. But beyond the beautiful architecture, audio guide tours and hustle, there's another side to the "Land of Kings". Life in its villages and rural communities. Life which moves at an altogether different pace.
And so I chose to go outside of Rajasthan's main cities, in search of village life. Described as a "Homestay", Chandelao Garh is much more luxurious than that, but in a simple, humble way. A stay here is really a special opportunity to relax, unwind, and connect with life in a Rajasthani village.
The Royal History of Chandelao Garh
Chandelao Garh is the home of former generals of Marwar (as the region of Jodphur, Rajasthan, was once known).
The main part of the house was built in 1744 and has been well looked after to retain its charm and beauty. Chandelao is the ancestral home of the rulers of Chandelao village and the surrounding area. The Garh (fort or stately home) consists of the main building, inner courtyard, outer courtyard gardens, and extensive outer buildings which were once used as stables but today have been restored and converted into comfortable guest accommodation.
The homestay is run today by Mr Praduman Singh, the present owner of Chandelao Garh, and descendant of the original generals of Marwar.
Staying at Chandelao Garh is a chance to stay in a living piece of Rajasthani history.
Check rates and availability here for your stay at Chandelao Garh!
Share this post on Pinterest!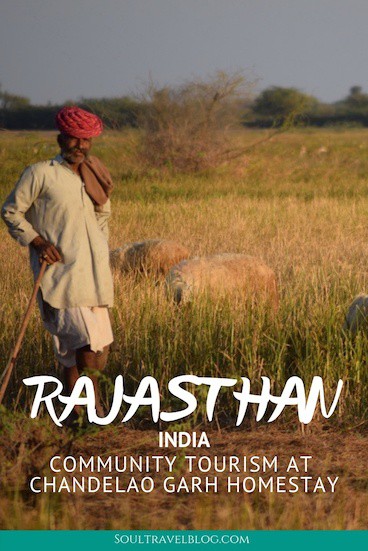 Chandelao Garh sits 40km outside of Jodhpur, and is close enough to be able to do a day trip into the city if you are short on time to see the highlights of Jodhpur, but yet far enough away to feel like an alternate world.
First and foremost, Chandelao is a haven of tranquility where the main sounds are those of the birds as opposed to those of traffic horns.
Chandelao Garh is also a pioneer of community-based tourism in Rajasthan, and it was this, more than anything that peaked my interest in staying here.
READ MORE: Complete Rajasthan Travel Guide!
Sunder Rang Arts and Crafts Centre
Part of Chandelao Garh homestay, is the Sunder Rang craft centre next door. Opened in 2007, Sunder Rang is a part of the way that Chandelao gives back to the surrounding area. The centre provides employment opportunities to women from Chandelao village and beyond.
Women apply to come and work at the centre to make handicrafts (which are sold to visitors of Chandelao and beyond). 60% of the profit of each product sold goes directly to the woman who made the item, the remaining 40% towards running costs for the centre. Sunder Rang centre provides optional schooling programs for the ladies that work there, providing the opportunity to learn languages or study at the computer centre next door.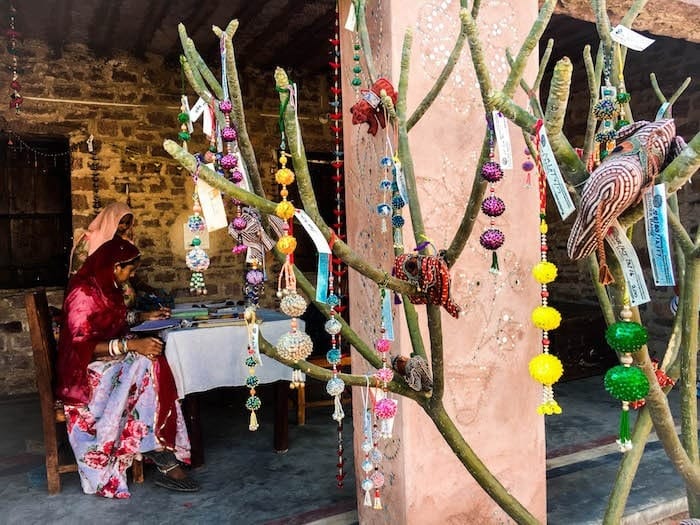 The computer centre is run entirely on solar power, generated through the panels at Chandelao Garh, and all children in the village are able to use the centre free of charge. There are further education programmes to help those looking to apply for government jobs; to try and address problems with unbalanced education, these programmes are offered free of charge to girls, and at a 50% discount to boys from the surrounding area.
Aside from homestay guests, groups of visitors from Jodhpur sometimes come to visit the village and stop at the Sunder Rang craft centre, providing additional revenue to the community there.
READ MORE: Plan your perfect 1, 2 or 3 week Rajasthan Itinerary here!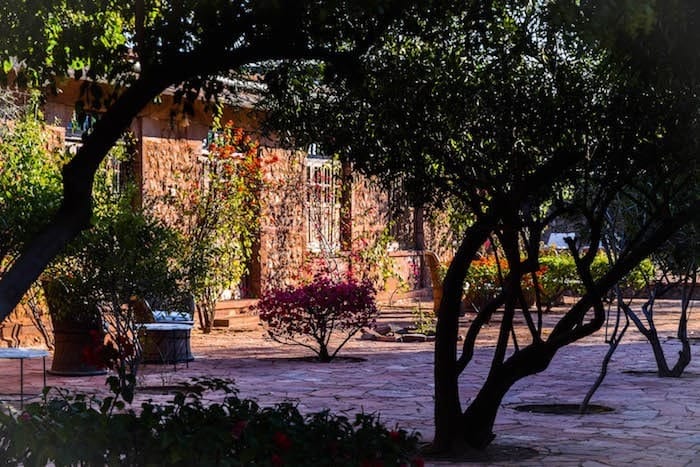 Staying at Chandelao Garh
The word 'Homestay' might sound humble or even rustic, but there's nothing humble about staying at Chandelao Garh.
The combination of its beautiful gardens and comfortable rooms give it the feeling of staying in a stately home. Chandelao combines the best bits of comfort (good beds, very hot water (thanks to the solar power) and even a swimming pool) with the charm of being in a quiet, traditional village setting.
It's the perfect place to stay to get a flavour of more local life in Rajasthan without having to compromise on comfort.
On my first morning at Chandelao we went on a jeep drive around local villages and farming communities. I had the opportunity to watch beautiful wildlife—this part of Rajasthan has an abundance of birdlife and antelope. We visited a pottery workshop, learnt about turban tying, had chai with a local family and just generally had the opportunity to be part of laid back village life.
Although only our guide spoke English, everyone was extremely welcoming, friendly, and yet unbothered by our presence which was refreshing compared to the busy tourist hotspots of Jaipur and even parts of Jodhpur.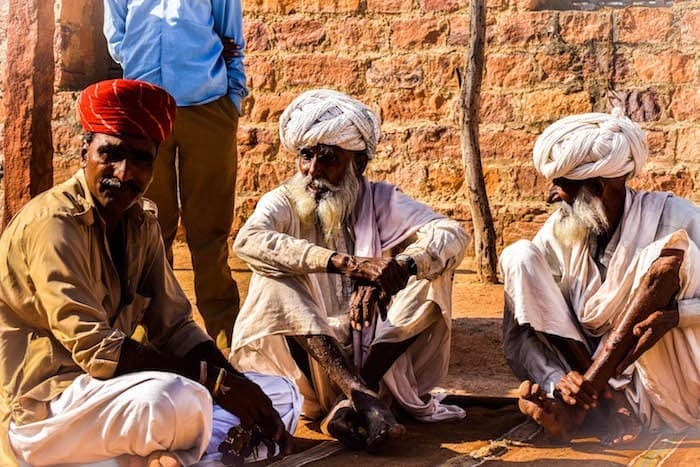 In the afternoon we went to a nearby lake to watch the birds at sunset, where there were pelicans and a myriad of other birds basking in the late afternoon sun. I'd hadn't come to Rajasthan expecting to be impressed by its wildlife, but my days spent at Chandelao and in the Thar Desert certainly had that effect on me.
The following day I went to explore the nearby town of Pipar. A town that sees few foreign visitors, Pipar was full of life, particularly inside its bazaars/markets, where the team at Chandelao shop for groceries and produce (all locally farmed).
There's also a block printers in Pipar who print fabrics by hand—visitors are able to to see the fabric being printed and dyed.
This Rajasthani tradition is currently under threat as demand for handprinted cloth diminishes: to read more about what you can do to help preserve the traditional block printing I recommend this post by my friends at Interlude Journey.
Browse more things to do near Jodhpur, Rajasthan on Klook here.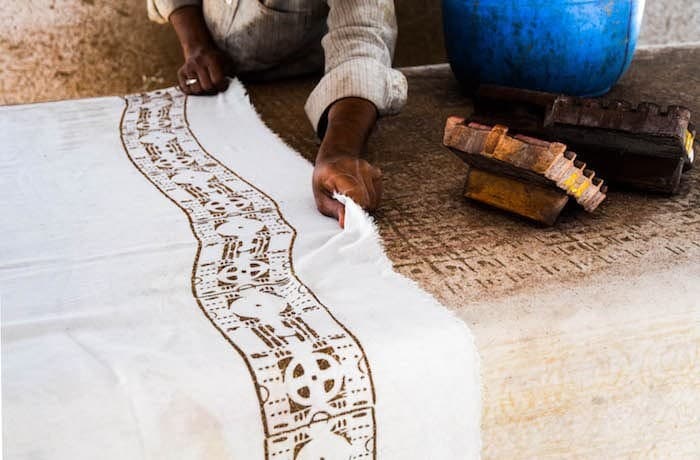 Sustainability at Chandelao Garh
In addition to the Sunder Rang centre, education initiatives and computer facilities, Chandelao Garh is also striving to set an example for sustainability. The homestay runs solely on power generated through the solar panels that they have installed, with the exception of air conditioning which is mains powered in summer.
Being the 'desert state' of India, water is one of the most precious commodities in Rajasthan and beyond. Chandelao Garh has implemented several water saving methods including rainwater harvesting and re-use of grey water for the gardens.
A Model for Community Based Tourism
Chandelao Garh has managed to implement tourism in a way that allows visitors to see a different part of Indian life and directly supports those involved and living in the surrounding areas. Chandelao Garh has actively invested financially back into the village and its people through various projects: From building toilet blocks in the village in 2008, to the education programmes offered in the computer centre, employing villagers as local guides and staff for the homestay and offering employment opportunities for women at Sunder Rang.
The model was implemented with the help of Basecamp Foundation, who operate largely in the Masai Mara in Kenya. They have been a driving force for changing tourism so that it brings benefit to the people of areas frequented by tourists.
Check rates and availability here for your stay at Chandelao Garh!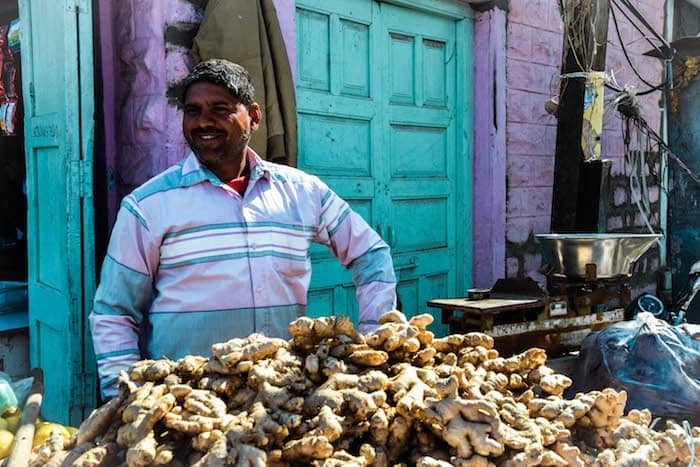 Have you been to Rajasthan or are you thinking of going? Did you experience village life there? Let me know in the comments section below!
Pin this post on Pinterest for Later!