The urban coastal sprawl of Mumbai deserves more time than you might think. Our Mumbai Travel guide covers Mumbai Travel essentials, where to stay, things to do and much more.
Mumbai Travel Guide
Stepping off the train from Pune into the bustle of Fort and Colaba, it felt like I'd come home.
The feeling was not a complete surprise, after all there are plenty of British remnants to be found around Mumbai beyond the red double-decker buses, and London and Mumbai have been compared hundreds of times.
Since first stepping into Mumbai, the city has always had a special hold on me, one that led me to return many times and make it my home for a year, too, after meeting my other half (Ravi), a true Mumbaiker.
Despite our love of Mumbai, for many visitors it's an overwhelming place – although the crown of India's largest city has now been nabbed by Delhi (not necessarily a bad thing). Mumbai can be chaotic, crazy, charming and outright frustrating within the same day. It can also be, especially by Indian standards, an expensive city.
With all that said there are not many cities in the world where you can stroll by the ocean, eat delicious street food for under a dollar, rub shoulders with movie stars, party in 5* hotels, and visit a national park within the city limits in the same day.
Mumbai often gets overlooked by visitors to India in favour of the "Golden Triangle" and Rajasthan, but in our view Mumbai is well worth a few days of your time!
ⓘ TIP: Planning a trip to India? Join our free India Travel Facebook group here!
Mumbai: Know Before you Go
Despite our experiences of living in Mumbai, we don't profess to know everything about this huge and constantly changing city, let alone be able to condense it into a single blog post. Consider the suggestions in this guide as starting points for your explorations, that will make you want to come back and discover more of Mumbai on your next trip to India!
Here are a few things to know specifically about travel in Mumbai. For general advice on preparing for your first trip to India, read our guide to planning a perfect trip to India here!
What's in a name? Bombay was re-named to Mumbai in 1995, but you'll hear a mixture of Mumbai, Mum-bay and Bombay used. Many Mumbaikers still love and are attached to the name Bombay.
Mumbai is a huge city in terms of size as well as population – you won't be able to cover all of it. See our suggestions for where to base yourself in the where to stay section.
Mumbai can be expensive compared to other areas of India, so allow flexibility in your budget accordingly.
For a unique experience, visit during the Ganesh Chaturthi festival at the end of Monsoon each year, when Lord Ganesh is venerated, brought into homes before being immersed in water at the end of this festival.
Mumbai is famous for the extremes it exposes – from extreme wealth to extreme hardship, it's the city of dreams for some and of bad dreams for others – prepare yourself for some culture shock if this is your first Indian city.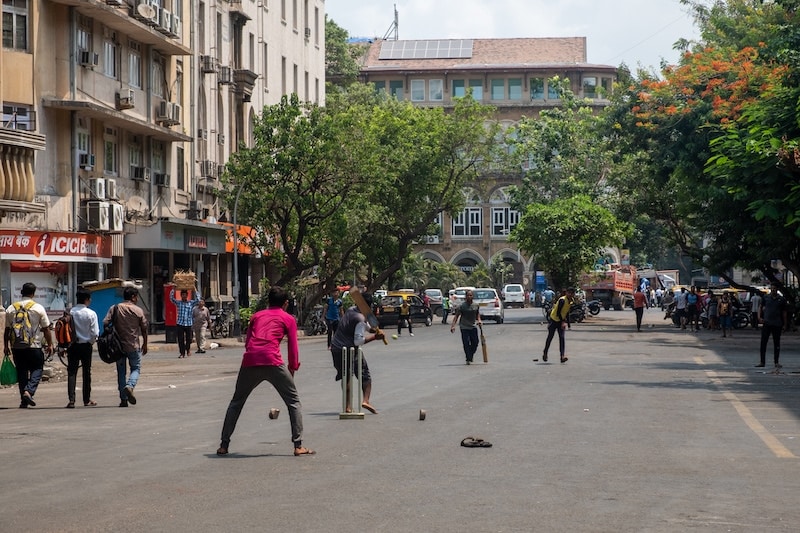 What to Wear in Mumbai
As usual, men can get away with jeans and t-shirt (or shorts are fine in Mumbai although Indian men don't wear them as much) and so not much advice is needed.
What to wear in Mumbai for Women:
Mumbai is less conservative than most other parts of India, and if you're going out to party in Mumbai you'll see many party-goers dressed up to the nines. Feel free to do the same, just travel by taxi and not by public transport in your party clothes!
In Mumbai many young women wear western style clothing, skinny jeans are as popular as saris here. Showing arms and shoulders is fine too, but I wouldn't recommend thin-strappy tops (thick straps are fine) and avoid showing off your cleavage. Personally I always still cover my legs in Mumbai, but I have seen western women walking around Bandra (a bit of an expat enclave) in shorts without a problem.
My go-to outfit in Mumbai in winter is either a t-shirt and skinny jeans or a kurta/tunic top like this one and leggings / jeans. It's always handy to have a scarf with you for covering up, temples or in case it gets chilly in the Air Conditioning.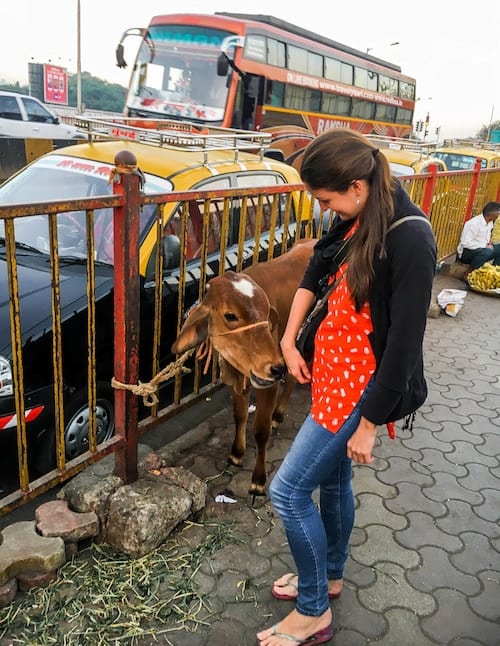 Essentials to Pack for Mumbai
Aside from Mumbai friendly clothing, make sure you have the following essentials for your time in Mumbai and the rest of India:
READ MORE HERE – Our Complete India Packing list
Responsible Travel in Mumbai
Mumbai is truly a city of contrasts – some of the world's richest live next to those with very little, and it's somewhat ironic that Dharavi – marketed as Asia's largest slum has become the number one tourist attraction in India, surpassing even the Taj Mahal.
Slum Tours – Should you Go?
While there are some beneficial projects taking place in Dharavi thanks to tourism, many Mumbaikers would not like their city to be known foremost for its slums. There's much more to Mumbai than Dharavi. We discuss the ethics of slum tours in Dharavi in detail in this post – if you're in too much of a hurry to read the ins and outs of the issue, we suggest this:
Dharavi is very different from most slums. Half of Dharavi is an industrial area, and it is this part which is usually shown during tours, not where people live.
The ONLY tour company we recommend for Dharavi is Reality Travel & Tours – this is due to their no-photography policy in Dharavi and their consistent reinvestment into the slums.

Do not

go to Dharavi on your own

Do not

go to Dharavi with other tour companies. These are just profiting off peoples' poverty, as these companies do not reinvest anything into improving conditions in Dharavi.
Find out more about how you can support street kids and those with substandard living conditions in India in our guide to responsible travel in India here.
Like other parts of India, you'll see that plastic waste is a huge problem in Mumbai – please don't add to it and avoid any single use plastic while you're in India. You can read our full guide to how to drink safe water in India without the plastic here!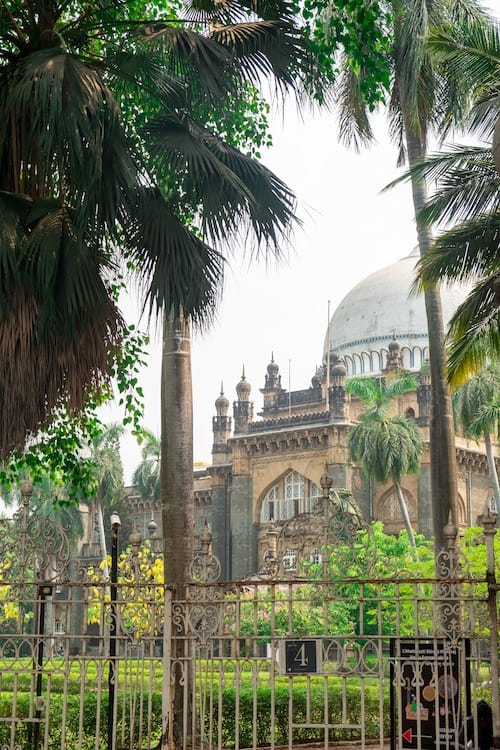 Best Tours of Mumbai
We highly recommend doing day tours of Mumbai – it helps make the most of your visit, especially if you have limited time, ease you in to the pace of being in Mumbai (fast!), and provides more local jobs by supporting tour guides. Here are some of our favourites:
Early Morning Tour of Mumbai – My #1 recommendation. Mumbai's real beauty can be seen before most people are awake, in the calm before the storm. See the under-belly of this huge city by seeing the early morning newspaper sorting, flower & vegetable markets, fish being unloaded at sassoon dock and more. I promise it's worth the early start! More info & bookings here.
Elephanta Tour – Head out across the water from the Gateway of India to Elephanta Island to visit the UNESCO caves there. This is a great journey in winter (the ferries don't run during monsoon), and having a guide makes the caves a much better experience as there's very little written information available there. More info & bookings here.
Bollywood Tour – Experience Mumbai's glitz and glamour with a sneak peak at Bollywood (which Mumbai is home to) and see the homes of Mumbai's rich and famous movie stars! More info & bookings here.
Public Transportation Sightseeing Tour – If you want to experience the infamous Mumbai Local trains (More on those below) but would prefer a helping hand – this is the one for you. Take in Dadar's markets, visit the Haji Ali, and get to grips with all of Mumbai's transport options. More info & bookings here.
READ MORE: Our Favourite India Group Tour Itineraries.
ⓘ TIP: Travel Insurance is a must for India – we use and recommend World Nomads – Get your quote here!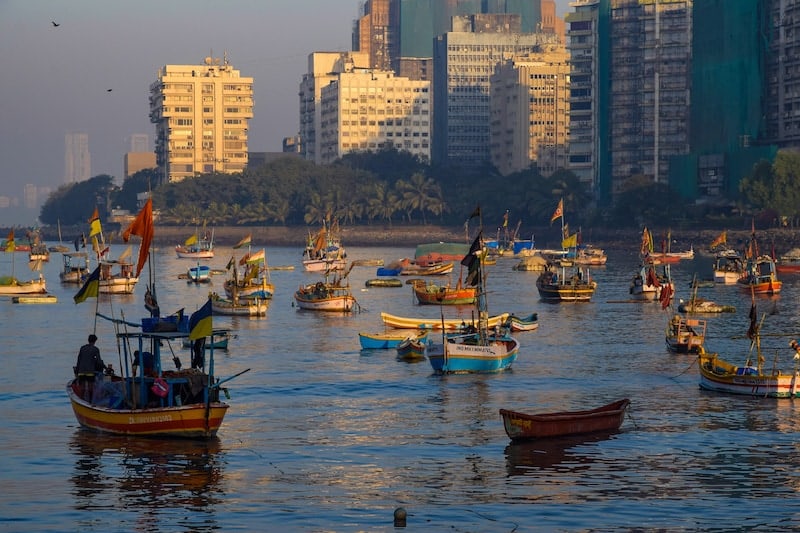 Different Areas of Mumbai
Although Mumbai is huge, most visitors to the city spend most of their time in Mumbai in "SoBo" (south Bombay) and the upmarket western suburb of Bandra. Mumbai's beautiful airport is located near Andheri – so if you have an early morning flight from here we recommend staying close to here the night before to avoid the stressful Mumbai traffic.
You'll likely find yourself spending most of your time in south Mumbai and Bandra / Western suburbs, especially if it's your first trip to Mumbai.
Where to Stay in Mumbai
These are our favourite hotels in Mumbai. If you're looking for hostels or budget options, we recommend the ones in Bandra listed below. Budget hotels around Fort, Churchgate and near VT station tend to be the kind that attract a more dubious crowd rather than backpackers. For single women travelling and staying in hostels, we always recommend booking a female only dorm (not a mixed one).
Colaba Area
The Taj Mahal Palace Hotel – One of the most famous hotels in the world, the iconic Taj is an experience not to be missed. The Taj is located just across from the Gateway of India off Colaba Causeway. There are often promotions available for the "tower rooms" (next to the main "palace" hotel building). Check rates & availability here for the Palace rooms or here for the Tower rooms!
Abode Bombay – Just a two minute stroll from the Gateway of India in Colaba near the Regal Cinema, I fell in love with this historic boutique hotel that was once the residence of Siegfried Sassoon. They have rooms for different price points and have plenty of responsible measures in place. Highly recommended. Check rates & availability here!
Fort Area
Residency Hotel Fort is a comfortable mid-range option that gets good reviews – handy if you want to be close to the train station. Check rates & availability here!
Marine Drive & Churchgate Area
InterContinental Marine Drive is the smartest hotel along Marine Drive (worth it for the roof-top pool with ocean views alone!), at the southern end of the "queen's necklace" and within walking distance to churchgate station. Check rates & availability here!
Ferreira House is a small, historic homestay in a heritage south Bombay home, just a short stroll from Marine Drive. Check rates & availability here!
Pin this Post on Pinterest for Later!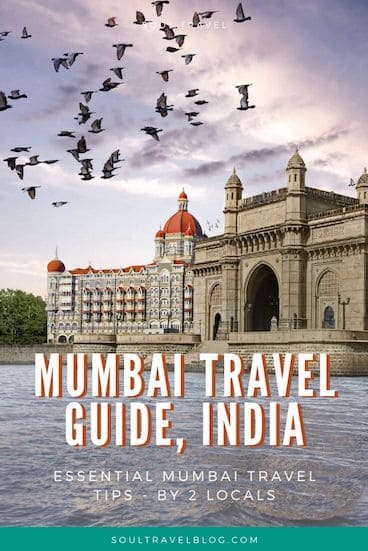 Bandra & Western Suburbs
Taj Lands End is a beautiful contemporary high-end hotel located across from Bandra Fort and Bandstand, complete with ocean views. Check rates & availability here!
Sofitel BKC is more of a business hotel, located close to the Bandra Kurla Complex where many companies are located, so a good option if you're extending a work trip. Check rates & availability here!
Marriott Juhu Beach is located to the north of Bandra right along Juhu beach, a good family-friendly option with ocean views. Check rates & availability here.
Hostels / Budget Hotels in Bandra
There are many "mid-range" non descriptive, un-exciting hotels with dubious reviews in Bandra. We don't recommend those. Instead if you're looking for comfortable and modest accommodation, we suggest a private room in one of the modern & clean hostels below:
Our Recommended Things to Do in Mumbai
There's a lot to pack in to any stay in Mumbai! If you have limited time and a lot you want to see, taking a private tour of Mumbai can help pack a bit more in to a shorter time. Otherwise… you'll just have to come back!
It makes sense to break things up into areas – aim to a half-day exploring Colaba after a trip to Elephanta for instance, or one day in south Mumbai and another exploring Dadar and Bandra. It can be easy to clock up miles exploring Mumbai, so remember to pack your comfortable walking shoes! If you're going on public transport, we recommend closed shoes, as your feet may get stepped on.
Things to do in South Bombay
Colaba Walking Tour. Take a couple of hours to wander at your own pace taking in the main sights or book a walking tour with a guide.
Gateway of India. Turn up early for the best light for photos – this monument which was built by the British Raj in 1924 was the arrival point for dignitaries to Mumbai, and also the point from which British troops left India after independence in 1948. It's now the departure point for ferries to Elephanta Island, and to the beach resort of Ali Bagh along the Maharashtrian coast.
Taj Mahal Hotel. If you're not staying here, you can walk into the lobby of the Taj Mahal hotel for a look around (if you're dressed nicely that is), go for a drink in the bar, or to take afternoon tea. The afternoon tea is overpriced and not the best (it's served buffet style) but for the experience it's still worth it, especially if you luck out and get a window seat, like I did.
Dr. Bhau Daji Lad (Formerly Victoria & Albert) Museum. North of the Gateway, towards CSMT station, you'll walk past what used to be called the Albert Museum surrounded by lush tropical gardens. Built in 1872, this is a fine architectural piece. The museum is home to collections of manuscripts, artefacts, costumes and has recently been restored by the Indian National Trust for Art and Cultural Heritage.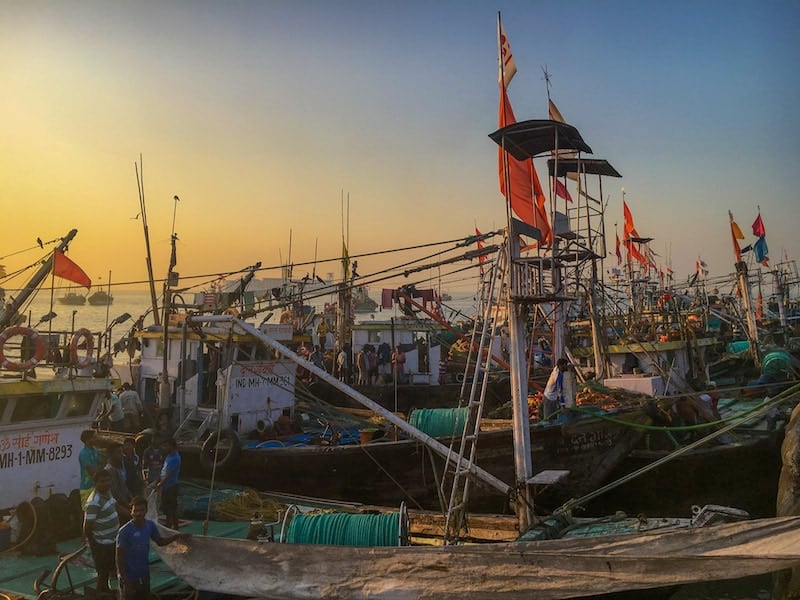 Colaba Causeway has a vibrant market (you'll have to haggle hard for a good deal here) that you walk through.
Nariman Point, next to Cuffe Parade and right at the southern end of Marine Drive is home to Colaba's business district, the national centre for performing arts, and Piramal Art Gallery which is home to different modern arts.
Art District in Fort – The area between Colaba and CSMT station is known as the Art District and is home to the National Gallery of Modern Art, the Jehangir Art Gallery, and the Institute of Contemporary Indian Arts. Look up exhibitions ahead of time, or drop in to cool down in the AC and enjoy India's best art scene. You can also wander and look at the Horniman Circle & Asiatic Society.
Chhatrapati Shivaji Maharaj Terminus – Known as CSMT, Mumbai's iconic railway station has changed names a few times over the years, from "Victoria Terminus" or "VT" as it is still affectionately known, and is one of the architectural highlights of Mumbai. Don't miss out on going inside and looking up to admire the beautiful ceilings of the old booking hall.
Marine Drive & the "Queen's Necklace" – Named after its streetlights at night which are said to mimic a string of pearls alongside the Arabian sea – Marine Drive is the go-to point for couples and anyone wanting to take a stroll along Mumbai's oceanfront for some fresh(er) air. At the northern end, Chowpatty beach is full of groups of friends and some streetfood vendors come evening. A great spot for people watching, but don't even think about taking a dip in the (highly polluted) water!
Haji Ali Dargah – This iconic mosque is on an island off the coast of Worli, it's also the tomb of Pir Haji Ali Shah Bukhari, who was a Sufi saint and a wealthy merchant originally from Uzbekistan. Bukhari gave up his belongings and travelled the world before settling in Mumbai. The Mosque is under constant repair given the battering it gets from the ocean.
Dadar
Dadar is where south Mumbai meets the rest of the city and the volume increases a notch as tuk-tuks join the mix (tuk-tuks aren't allowed south of Dadar). It's an important junction for the local train lines as western and central lines meet here, and also a stone's throw from Dharavi, one of Mumbai's largest slum areas.
Dadar Flower Market – phool gully (which means flower market) is a bold display of colour in bustling Mumbai, and the best place to buy flowers in the city for wholesalers. Come early in the morning to see the market coming to life and the famous auctions taking place.
Shri Siddhivanayak Temple – This grand and opulent temple near Dadar is dedicated to the Hindu Lord Ganesh, who represents prosperity, health and knowledge. Bollywood moviestars pay their respects here, and the temple is said to be one of the richest in India.
Dharavi – per our notes at the beginning of this post, we don't recommend visiting Dharavi without a guide, or with just any guide or tour company. The arguments around slum tourism are emotional and complex – we do not support "poverty porn" which essentially is what many of the tours that allow you to take photos are. There is an argument though, that when done right, responsible tourism in slum areas that gives back to the community within the slums can be a positive thing. For that reason if you go to Dharavi, go with Reality Travel.
ⓘ TIP: Travel Insurance is a must for India – we use and recommend World Nomads – Get your quote here!
Bandra & Western Suburbs
Bandra Fort & Bandra Bandstand – Make for a popular sunset spot that looks out over the impressive Bandra-Worli sea link bridge. The proper name for Bandra Fort is "Castello de Aguada" – the fort was built in 1640 by the Portuguese. The main attraction is for photos overlooking the bridge behind and general people-watching.
Basilica of Our Lady of the Mount (also known as Mount Mary Church) is up the hill from Bandra Bandstand, and one of the few Catholic churches in Mumbai. Every September, the feast of the Blessed Virgin Mary is celebrated here, known locally as the "Bandra Fair" and attracting people from all around.
Beyond the seaside walks and history, Bandra (along with neighbouring Khar) is known as Mumbai's trendiest (and priciest) neighbourhood, with any number of hip bars and eateries, interesting shopping options and art galleries that are opening up. Some of our favourite spots to eat are below, or read this article for some hints on the hotspots.
Other Suburbs
Sanjay Gandhi National Park – This is an 87 square km national park in the heart of Mumbai's suburban sprawl – home to leopards, birdlife, monkeys, spotted deer and the Kanheri caves. It makes for a beautiful alternative side of the city to explore and trek in. The main park entrance is in Borivali.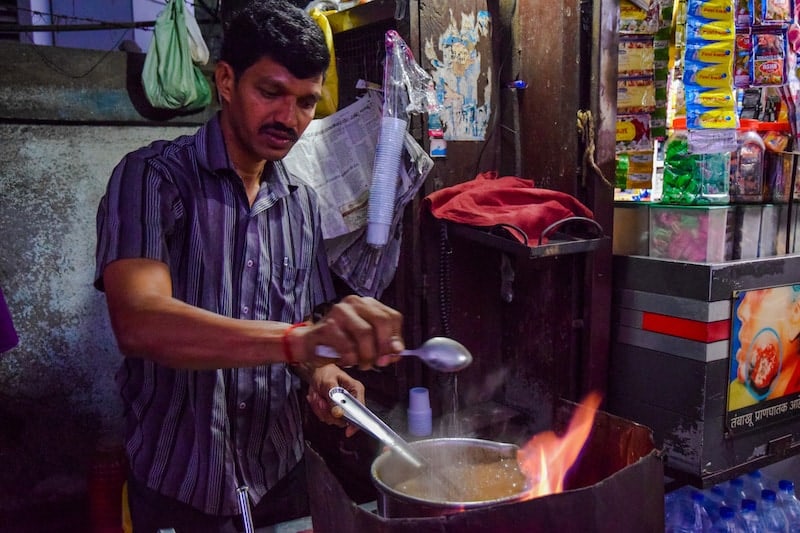 What & Where to Eat in Mumbai
Mumbai Street Food
You can't visit Mumbai without sampling its amazing (and cheap) street food – if you're nervous about getting sick then you can wait a few days before digging in (until your stomach has adjusted), stick to stalls that are busy (therefore have a faster turnover of food), stick to hot food, or you could take a street food tour.
Some quintessential Mumbai street food you won't want to miss:
Vada Pav – Mumbai's answer to the veggie burger (but far more delicious!). A spiced potato pattie fried with chickpea batter (vada) is served in a fresh bun (pav), chilli and fresh chutneys such as tamarind chutney (sweet, red), coriander chutney (spicy, green) or coconut chutney (white, variably spicy). Costs around 15 rupees. Yum!
Pav Bhaji – A staple of Bombay street food, toasted buttered fresh buns (pav) are served with a smashed vegetable curry, accompanied by dollops of butter, raw onion and coriander. Once you've tried it, you'll want lots more! Costs around 40 rupees. If you're watching your figure, you can request less/no butter but it doesn't taste as good…
Bombay Sandwich – These yummy grilled veggie sandwiches are perfect for a pre-dinner snack, and the best ones are outside the Dr. Bhau Daji Lad Museum in Fort. Served with chutneys. Costs around 20 rupees.
Our Favourite Places to Eat in Mumbai
Delhi Durbar (Colaba) – Famous for its non-veg options such as its Butter Chicken and Biryani
Leopold's (Colaba) – it's overpriced and touristy, but no visit to Mumbai would be complete without a look in at Shantaram's favourite hang out…
Brittania & Co Parsi Cafe (Fort) – One of the top rated Parsi (Iranian) cafes in Mumbai
Gaylord (Churchgate) – Delicious bakery and European style bistro meets pan-Indian cuisine
Aaram Vada Pav (CSMT Station) – Great place to get your Vada Pav fix
Cannon Pav Bhaji (CSMT Station) – For if you have any space after your Vada Pav
Gajalee (Dadar) – This restaurant group (with several locations in Mumbai) consistently wins awards for its seafood
Jay Shri Krishna Dairy Farm LASSI (Dadar West) – This narrow thin room is home to some of Mumbai's most delicious lassi!
Candies (Bandra) – This Portugese style villa restaurant is ever popular
Goa – Portugesa (Bandra) – serves up delicious Goan style fish curries
Getting Around Mumbai
The quintessential way to get around Mumbai is on its local trains – but, we warn you, they are not for the faint hearted.
Local Trains
These are the fastest way to get up/down town, running up and down Mumbai from Churchgate (Western Line) and CSMT (Central and Harbour Lines). Trust us, though, that it is a very BAD idea to take these during rush hour, which in Mumbai covers anything between 6am – 10am going towards central Mumbai, and in the evening out of Mumbai.
People don't sit on top of the trains anymore, thankfully, but there is plenty of dangerous hanging out of doors that goes on, and it's a serious matter. Mumbaikers die in the crush to get to work every day.
If you decide to take the local trains in Mumbai, this is our advice (after having taken many of them):
If you're female, get in the Ladies carriage. It's generally less crowded and you don't have to worry about wandering paws (although keep an eye on your belongings)
Don't travel during rush hour
Consider buying a first class ticket – the carriages are much quieter as the ticket is more than double the price
Don't attempt to get on or off the train while it's still moving – no matter how keen your fellow passengers may be to take you down with them
Never hang out of the door. If you're near the door way – hold on tight to a pole!
If it's too busy / crowded for you then get off at the next station and take a cab instead.
On 3 Wheels
Tuktuks, Auto's or 3-wheelers roam the city but only as far south as Dadar, they don't operate in Colaba, Fort or the surroundings. In suburban Mumbai, most drivers will use their meters, but if you come across one who says his meter is not working, try to find another.
Mumbai Taxis
These can be found everywhere and are plentiful, as a tourist the main struggle is getting the drivers to use their meter. When arriving at one of Mumbai's train stations I suggest using the pre-paid taxi line (where you pay in advance and don't hand over the receipt to your driver until you've reached your destination) to avoid hassle.
Uber and OLA
A godsend in Mumbai if you're fed up with Taxi drivers who overcharge, OLA and Uber are cheap and efficient. They're just not immune to the Mumbai traffic.
Buses
Mumbai has a bus network but we don't recommend it – the traffic moves slowly, buses are jam packed, and it's the least efficient way to get around.
Travel in Mumbai FAQ's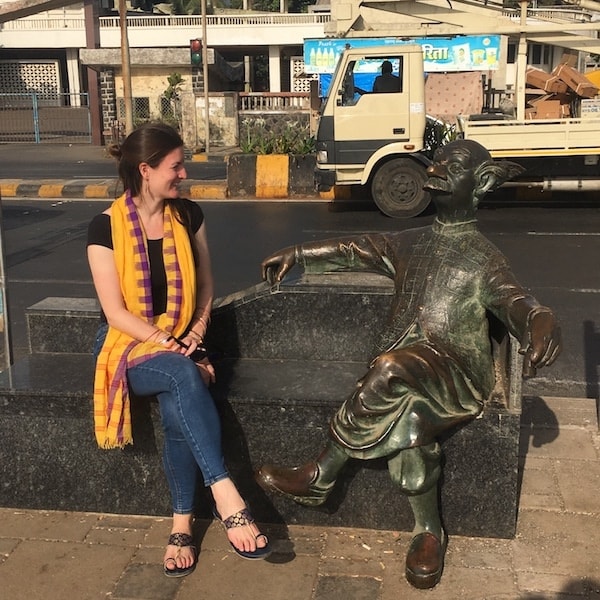 When is the Best Time to Visit Mumbai?

We recommend visiting Mumbai between September (if planning to come for Ganesh Chaturthi) or October through to March. This is winter in Mumbai and the most pleasant weather – evenings are cool, the humidity is lower, and in January Mumbaikers are even known to get their sweaters out. Enjoy it while it lasts.
We don't recommend April – September. In April and May the humidity and heat climb to make Mumbai a little suffocating, and once the Monsoon breaks in June through to September the city is prone to flooding and transport chaos.
Is Mumbai Safe to Visit?

Depending on your perspective, Mumbai is a generally safe (or even very safe) city. You'd have to be unlucky to have anything untoward happen to you here. The main risk in Mumbai for visitors is spending more money than you planned to on Mumbai's trendy restaurants and bars!
Mumbai is much more open for women travellers than say Delhi, and it's normal to see women moving around by themselves late into the night. I've personally gone out alone in Mumbai (Colaba, Bandra, Marine Drive etc) and felt very safe.
Part of the reason for me that I feel at home in Mumbai is because I feel safe to do what I want, without having to think too much about it – although we always recommend following our tips for solo female travellers.
We do not recommend visiting slum areas on your own (see more on essential info on slum tourism below), and if you're travelling around very late it's better to take a taxi, or have the UBER or OLA app downloaded on your phone. Ladies can find more tips on what to wear in Mumbai below, too.
Where are the Best Places to Visit in Mumbai?
We recommend first time visitors to base themselves in the Colaba area of Mumbai which is closest to the main attractions.
Some of our favourite "must sees" in Mumbai include:
– The Taj Mahal Hotel
– Elephanta Caves
– Dadar Flower Market
– Marine Drive & Chowpatty Beach
This is just a small taster – scroll to our "things to do" section above!
How Long should I Stay in Mumbai For?
There's enough to keep you busy in Mumbai for months, or even years! But in reality, most visitors spend 2-4 days here to scratch the surface of the city, see some of Mumbai's highlights and make a plan to return to discover more.
Have you been to Mumbai? Where are your favourite places to visit? Let us know in the comments below!
ⓘ TIP: Planning a trip to India? Join our free India Travel Facebook group here!
Read more about travel in India on Soul Travel Blog:
Delhi Travel Guide: How to Survive (and Love) India's Crazy Capital
Pin this post on Pinterest!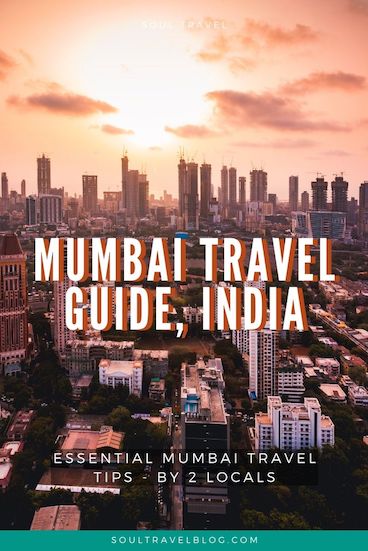 Soul Travel blog is a participant in the Amazon Services LLC Associates Program, an affiliate advertising program designed to provide a means for sites to earn advertising fees by advertising and linking to amazon.com, amazon.co.uk, amazon.ca, and as an affiliate I earn from qualifying sales. Amazon and the Amazon logo are trademarks of Amazon.com, Inc. or its affiliates.
[activecampaign form=3]