The Smallprint: I'd like to thank Skywalker Travel for hosting me on my trek of the Sham Valley. As always, opinions expressed here are my own. Note that this post may include affiliate links. For more information on what type of organisations I work with, you can read my Editorial Policy.
Trekking in Ladakh for Beginners.
I'm not an experienced trekker. In fact, I'm the kind of walker who likes a short stroll around the countryside on a Sunday afternoon followed by a longer visit to the pub. But on occasion, I have been persuaded to venture out for a little longer – all in the name of a good view.
That's what happened in Ladakh. After not having trekked for multiple days before, where better to give it a go than in the Himalayas?!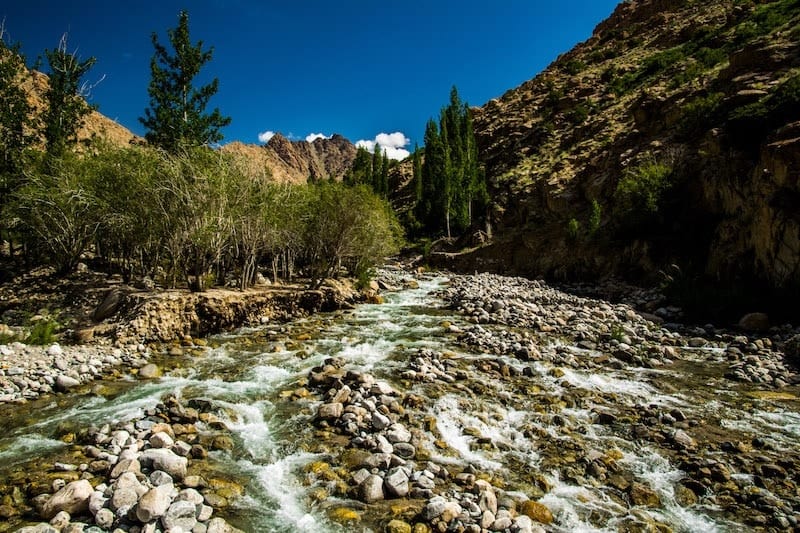 Several rounds of researching into trekking in Ladakh later, I began to realise quite what I'd agreed to. With its lowest points around 3,200m in altitude, Ladakh is not exactly beginner territory. The regions for more intrepid (and experienced!) hikers such as Nubra and Zanskar soar to heights of well over 5,000 meters.
After receiving some tip-offs about a route called the Sham Valley trek, it looked like there might be something manageable in Ladakh for the casual walker. Crisis averted!
Walking the Sham Trek Ladakh.
The Sham Valley is full of green and fertile planes and is located about 125km west of Leh. As part of the lower altitude areas of Ladakh it offers trekking conditions that are as beautiful as they are ideal for those acclimatising / warming up for more ambitious treks. And for the newbies.
Tour Companies, such as Skywalker Travel – who I trekked with for 3 days – offer Sham Valley treks of variable lengths. Local guides accompany your group and the treks run from one small village to the next. Over the days I went up passes to summits marked with the ever jubilant and colourful Tibetan prayer flags and stupas, and down into green valleys alongside rushing streams.
One of the highlights for me was getting to stay in small, family owned homestays and having the opportunity to savour more of the local culture. Typically homestays accommodate 6-10 people and offer basic facilities (don't expect a hot shower). In the evening at the first homestay a couple of Belgian girls who were in the same homestay and I sat down in the kitchen and had great fun chopping vegetables for dinner together with the ladies from the host family.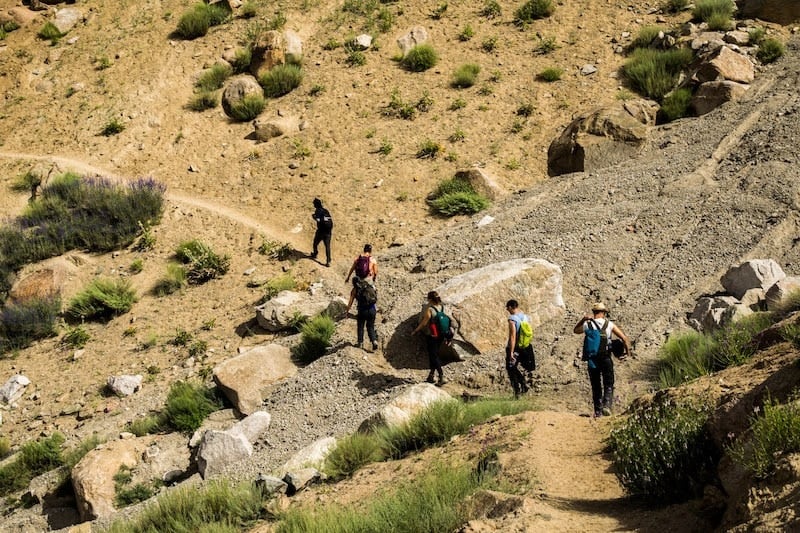 A "Baby Trek"?!
The sham valley trek is often referred to locally "baby trek". On hearing that, my doubts about trekking were immediately quieted. If it's a baby trek then surely…?!
All I can say is that halfway up to the first summit on Day 1 I would have happily thrown my toys out of my pram as I sweated under the warm sun. To be clear – I'm not particularly unfit and nor do I lead a sedentary life – but the altitude definitely affected me. I started my trek on day 3 after arriving in Leh, and still felt the affects of the altitude for the first 5+ days of my time in Ladakh.
What makes the baby trek easier than other treks in the region is that you are not wading through streams, you are staying at homestays vs camping (the comfort of a mattress at night is very welcome) and most notably you are only walking for a few hours per day rather than full days.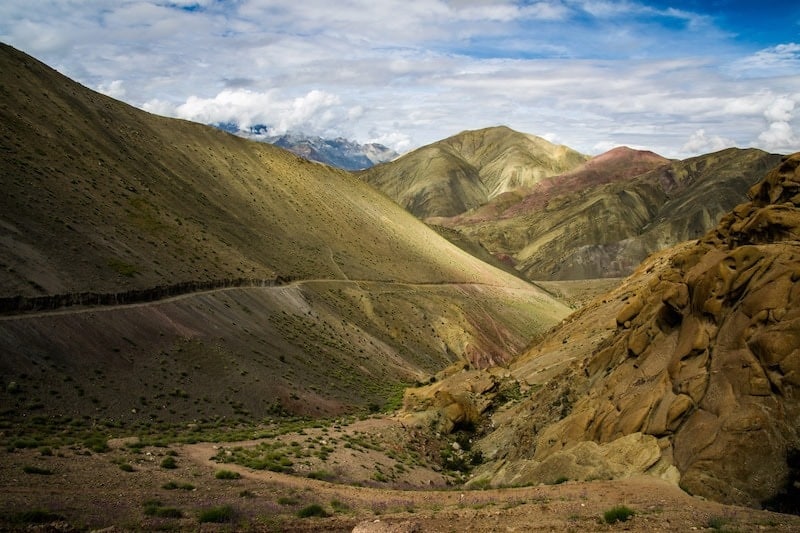 On the first day we set off from Lekir monastery at around 10am, trekking until about 2pm. The following days we set off earlier which was better for avoiding the midday sun and trekked for around 4 hours per day. The afternoons are free time to relax, read a book or take in the beautiful scenery.
The paths are for the most part are unpaved (you are not walking on roads) – but for the most part are easily distinguishable.
Personally I found the stigma of the "baby trek" subtitle unhelpful. The Sham Trek Ladakh is a great trek for people of all levels – especially for those who want to stay in homestays, are newer to trekking at high altitudes or just like some creature comforts. It's not a trek that is so easy that you'll be laughing, but I believe it is manageable for most people. I did not do any fitness preparation prior to my trek. As I cursed my way up a steep slope my guide cheerfully pointed out that his last guests had been in their 70's.
Trekking Tips for Ladakh.
Based on my experiences on the Sham trek, here are some things to bear in mind:
Trekking season in Ladakh is May – September. The Sham Trek stays open for longer than some of the higher passes and sometimes it is accessible in April. The sun is strong at the high altitude – remember to bring sunscreen!
Pack light! On the trek that I did, I stored my main bag in Leh for a few days and took only a day pack with enough clothes, camera etc for the 3 days. You carry your own pack. Even a relatively light pack can weigh you down while trekking so try and keep everything to a minimum. You won't need to take full toiletries / shampoos etc for instance! If you happen to have more luggage, most trekking companies offer the option to take your bags by horse or by car for an additional charge.
Avoid plastic water bottles – there are no bins / recycling / waste collection out here! Take a water purification method with you. There are plenty of streams to fill up your re-fillable water bottle at on this trek, and I purified the water using

my Steripen

– a UV water purifier that I loved. It was very light and small to carry and no chemicals and messing around involved. You let the UV light do its magic for 60 seconds and water is free from any biological contaminants. Alternatives are water purification tablets and bottles with built in filters.
Speaking of water… Ladakh may look like a fertile, green oasis but this region receives hardly any rain and is a desert. The water that you see is glacier melt water. Many houses do not have running water and those that do treasure it as a scarce resource. At homestays be mindful of what you consume for washing.
Support small, simple homestays over more luxurious guesthouses / hotels. There's an emerging trend for bigger and more luxurious hotels and guesthouses being built in some of the trekking villages. This saps water resources and takes the connection with local culture away. I'm happy to say that all of the homestays I stayed at with Skywalker Travel were small, friendly and family run.
Pin this Post on Pinterest to save for later or share with others:
Have you been trekking in Ladakh or in the Himalayas? How did you find it compared to your expectations? Let me know in the comments below!