I'd like to thank Coconut Lagoon for hosting my stay with them. As always, the stories, experiences and opinions expressed here are purely my own. This post may contain affiliate links. For more information on what type of organisations I collaborate with, please read my Editorial Policy.
Responsible Travel along the Kerala Backwaters
The Backwaters are perhaps Kerala's best known tourist attraction, but on my first visit to Kerala in 2015, to go on an Ayurvedic retreat, I managed to miss them altogether. 2018 was time to remedy that and explore Kerala "properly" – Backwaters included.
The words "Kerala Backwaters" are likely to conjure up images of dreamy, tranquil floating with not much to do, or simply, messing about in boats in one of the most picturesque parts of Southern India. There's a certain irony in their name though, for – far from being sleepy backwaters – parts of Kerala's famed waterways have become touristed en-masse. To a certain extent this self-acclaimed "Venice of the East" is afflicted by many of the same tourism problems as its distant Italian cousin.
The good news, though, is that it is still possible to enjoy Kerala's serenity without being packed in row-behind-row of houseboats. The even better news is that it is possible to enjoy Kerala's Backwaters in a responsible way, while giving back to local communities too – as we found out during our recent visit to Kumarakom, and to Coconut Lagoon.
Responsible Tourism in Kumarakom, Kerala.
Having experienced the hustle and bustle of Alleppey, Kumarakom was a welcome retreat from the polluted canals / backwaters there and some of the tourist hustle. Located in central Kerala right on the backwaters, Kumarakom is sandwiched between Alleppey and Kottayam.
Ten years ago, Kumarakom was designated as a focus area for responsible tourism by the Kerala tourism board – meaning that the area had been identified as a tourism hotspot, where efforts towards more responsible tourism were needed and had the potential to achieve lasting results.
The responsible tourism policy now in place looks to provide more benefits to locals from tourism, and to address areas including pollution of the backwaters, displacement of local people due to tourism, conversion of agricultural land to resorts, denial of access for locals to the backwaters by resorts, procurement of local products through local (vs imported) suppliers, and addressing the imbalance of men vs women working in tourism. There's even a series of "approved" souvenirs available in Kumarakom, where the revenue is guaranteed to go back to the local artisans who made them.
Ten years on, Kumarakom feels a world apart from some of the other backwater destinations in Kerala. There's no party scene, and while some large houseboats float by, life here seems to be lived at a quieter, slower, and generally more local pace. Life on the water was as much made up of local canoes and fishing boats as of tourists like myself. For that reason, Kumarakom was my favourite stop on in the Kerala Backwaters.
Staying at Coconut Lagoon, Kerala.
On the shores of Lake Vemband, one of Kerala's largest, sits the beautiful and luxurious heritage resort, Coconut Lagoon Kerala. I don't think I've been anywhere more dreamy on my travels – the resort is a lagoon in the truest sense. Surrounded by water, the only way in or out, is by boat. Boarding from a private jetty, gliding through the canals in the afternoon sun and into Coconut Lagoon is an experience to remember.
The resort is a Heritage property – and winner of many awards – lovingly built from the remnants of traditional Keralan homes called tharavads, much of the resort is 150 years old. That shows through too, in Coconut Lagoon's timeless charm and beauty. In a place where the main activity is quietly watching the passing boats (or going for a trip yourself) and watching the sun set behind the lake, it's easy for hours to turn into days and days into weeks here.
The rooms are mostly individual villas (some even with private swimming pool), and all with beautiful outdoor bathrooms (perfect for showering surrounded by palm trees!) dotted around the green and fertile cove that Coconut Lagoon occupies. All have been lovingly built from dismantled traditional Keralan houses (that were relocated from disused properties in local villages) as a way to preserve a style of traditional architecture that is fast becoming extinct. It's an example of up cycling on a grand scale.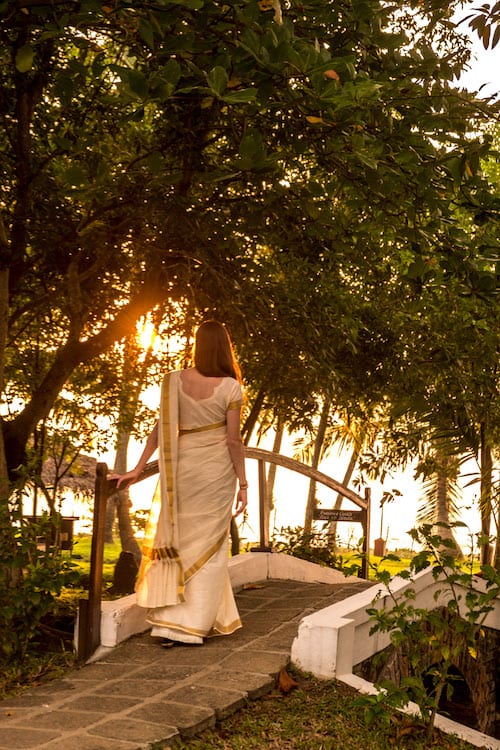 Sustainability at Coconut Lagoon Kerala.
During my stay, my morning view consisted of serene backwaters, slowly passing boats, palm trees and hammocks swaying in the slight breeze, and the sight of Coconut Lagoon's very own trade-mark "lawnmower": that is, the rare breed Vechoor cows that Coconut Lagoon is rearing in its efforts to protect this breed and prevent it from dying out. Come morning, the cows are to be seen happily wandering (they are used to people and are docile) the small canals of the resort, munching their juicy green breakfast.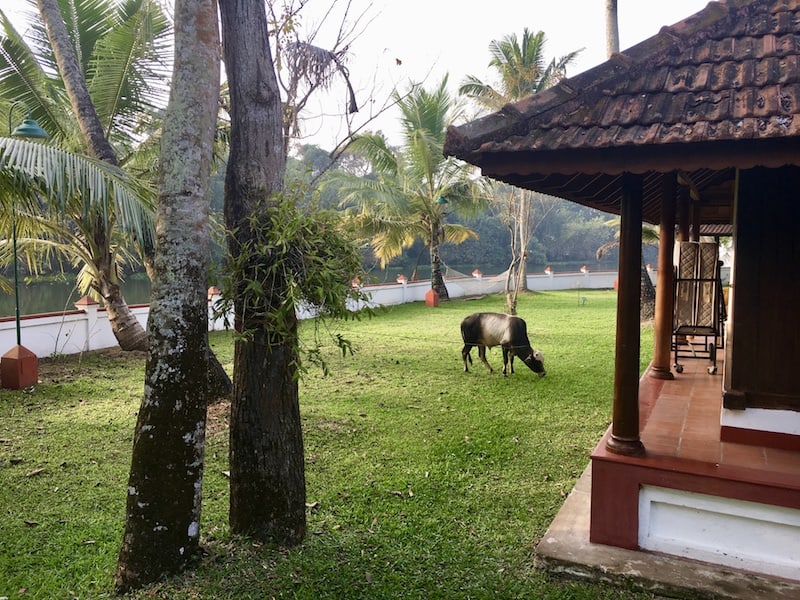 The resort feels like a small village in itself, and has gone to efforts to offer as much opportunity for locals to earn a livelihood from the resort as possible. If you can catch her, the resort has its very own tea lady who travels by boat around the grounds. Products are sourced locally wherever possible, and locals are given first refusal for employment opportunities.
When it comes to environmental impact, things are sometimes challenging in remote locations such as this. The water supply is not reliable enough to establish a water filtration plant for drinking water (although a solution is currently being looked into) which means plastic bottles are a necessary evil. Coconut Lagoon is making the best of a challenging situation, and is actively engaged in up cycling any plastic that is used on property: last year's water bottles became this year's Christmas decorations, and even building materials.
Wet waste is turned into biogas and vermicompost, and can ultimately be used as cooking fuel. Such measures add up to reduce the environmental impact of the resort as much as possible, while creating a positive impact on the local community, through jobs and economic integration.
Coconut Lagoon is part of CGH Earth group of hotels, who run luxurious, eco-friendly and responsible resorts throughout southern India. Book a stay at Coconut Lagoon or check rates here.