India, and her biggest city at that, may not seem like the obvious choice for sustainable travel, or for sustainable hotels.
Finding sustainable hotels in Mumbai might sound like an unlikely prospect.
India certainly has challenges with the state of her environment and with her environmental impact. The evidence is inescapable..
But look a little deeper, and a different picture starts to emerge. An interest in eco friendly accommodations, sustainable hotels, and tourism that gives back to local communities is taking a gradual but definite hold.
I spent a week in Mumbai at the beginning of January and was impressed by what I saw. From hotels to activities, this vibrant city definitely has plenty of options for those conscious of their footprint or looking for experiences that allow them to connect with Mumbai on a deeper level.
Finding Sustainable Hotels in Mumbai.
Looking for eco friendly accommodation in Mumbai wasn't an easy task. There are a couple of hotels in the city (mostly near to the airport) that have an environmental policy in place, but it wasn't until I stumbled upon Abode Bombay boutique hotel that I felt I had found somewhere that was truly committed to the concept of sustainable tourism. And like many of the best places, they don't talk about "eco". Instead, the hotel focuses on being a home away from home that happens to take social responsibility seriously.
I stayed with Abode Bombay and during my time there caught up with the GM and owners to ask them about the hotel and the state of sustainable travel in Mumbai, and to find out more about if they say sustainable accommodation in Mumbai as a growing "trend".
Staying at Abode Bombay.
Abode Boutique hotel, Mumbai – also referred to as Abode Bombay is small, and is Mumbai's first real boutique hotel in the city. One of the things that I liked most (apart from the positive social impact the hotel has) is that the hotel caters for a range of budgets. There are budget rooms with shared bathrooms ranging to superior deluxe rooms—complete with free standing bathtubs—suitable for the most glamorous of Bollywood photo shoots.
Located in the downtown district of Colaba, and steps away from the Gateway of India, the hotel is a great pied-a-terre for those exploring Mumbai for the first time (or second, or third..). As a solo female traveller I felt incredibly safe in the hotel and surrounding area, even walking on my own at night.
Planning a trip to Mumbai? Read about my experience visiting Dharavi here!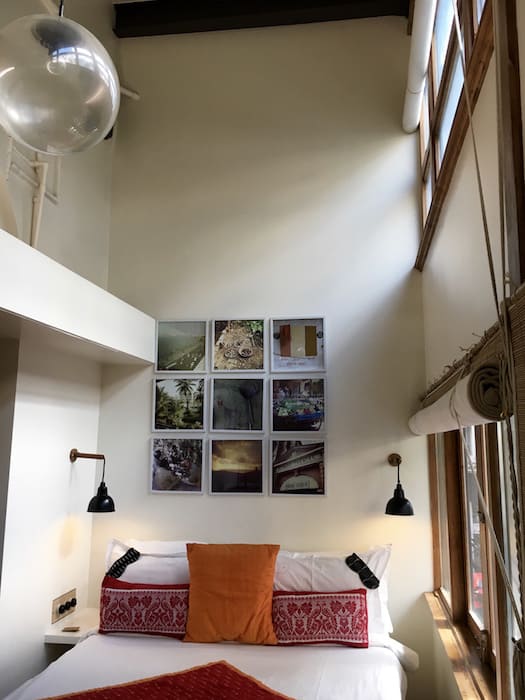 I spoke with the co-founder of Abode Bombay, and local Mumbaiker, Abedin Sham, to ask him some questions.
Tell me about the history of Abode Bombay and who is behind creating the hotel?
"Abode is the sequel to a story that begun in 1910 when Bombay was a bustling port, brimming with traders from across the new world. The hotel began life as the private residence of David Sassoon, one of Bombay's most industrious entrepreneurs, during the city's commercial heyday.
A local family specialising in antiquities, acquired the property in 1982 and ran it as a small guesthouse for many years until its true potential was realised in 2013″
You describe yourselves as Mumbai's first Boutique Hotel. Is this an emerging trend in Mumbai?
"We believe the concept of boutique, personal travel is no longer a fad, but more of a global trend. Travellers today want to move away from the typical cookie cutter offerings and stay in properties that have a bit more of the locality built into it. So yes this trend is emerging in Mumbai.​"
Tell me about your Environmental Policy at Abode Bombay.
"We look to do what we can to minimize our impact, while improving the experience for the guest.
​W​e provide drinking water in copper jugs in all of our guest rooms. Not only does this reduce any need for plastic bottles, but the copper jugs also have health benefits!
Both Bombay and India are notorious for poor water quality, we are proud to say that our method of reverse osmosis to filter our water is both safe, and avoids guests having to buy water from plastic bottles, which tend to degenerate during ​transport and in adverse weather conditions.
​​
​We recycle whatever we can—for example our soap ends are sent to Kalwa slum area, where an organisation purifies and recycles it to make new soap, thereby supporting the local communities in that area of Mumbai. ​
During the building of Abode, we ​went around antique markets, looking for old furniture and restored it. We built our furniture using recycled wood; our side tables, room lights, and lobby furniture was all built by seeking out and restoring older furniture. Our floor tiles are made of concrete, which are help regulate temperatures during the hotter months."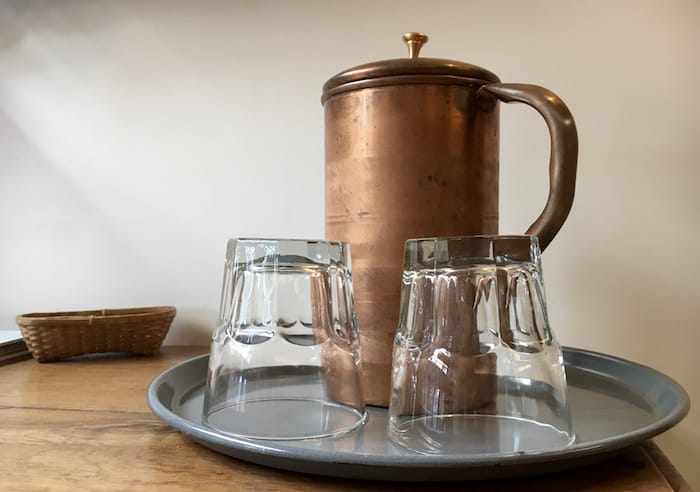 The Copper Water Jugs in rooms are a classy, healthy and environmentally friendly touch – removing the need for plastic water bottles. You talk a lot about creating a positive social impact at Abode. What does that mean for you and what initiatives do you have in place?
"That's something really important to us. One example is the all-female taxi company we are using. In Mumbai, female taxi drivers are very rare, but we are supporting a number of single mothers who work as our drivers for airport pickup services for our guests—thereby providing them with an opportunity that they might not otherwise have. Did you know that in Mumbai there are only 50 female taxi drivers?
Another example is the tours that we offer at Abode. We only work with local tour guides who are very knowledgable about Mumbai and can provide in depth commentary about local life here in the city.
​We have also linked up with the national association of the blind to work with their therapists for our spa offerings."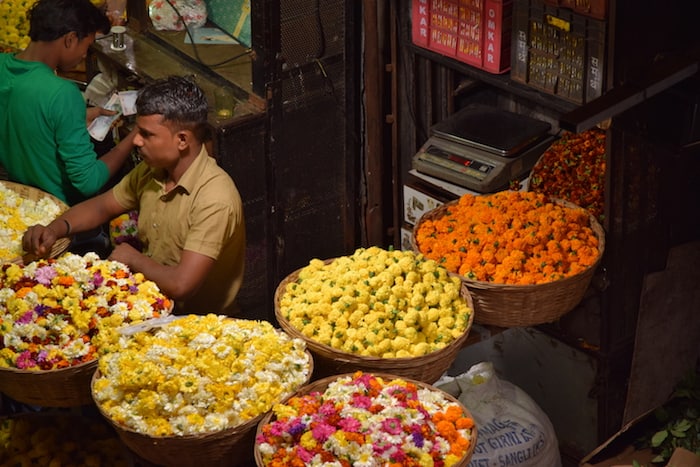 Discovering a hidden side to the city on Abode's early morning tour at the flower market.
Do you see increased interest in Sustainable/Responsible Travel here in Mumbai?
"We've seen an interest in our guests directly benefiting through our initiatives. Almost all travelers want to make a positive impact when traveling, and properties like ours where their stay directly contributes to improving the quality of life for the local population, makes their stay all the more fulfilling. We are convinced that it is the small things we do to make a difference and the sense of wider community that we embrace that makes a difference!"
What I liked the most about my stay at Abode was the homely feeling, the convenience of the location, and the insight that the early morning tour I did with them gave me into the city—one that I otherwise would not have had.
I will definitely be back here when I return to Mumbai.
Find out more about Abode Bombay by visiting their website, or book your room now on booking.com!Editorial Disclosure:
I'd like to thank Abode Bombay for hosting me. As always, all expressed here are my own and represent the views of Soul Travel Blog. For more information on what type of organisations I work with, you can read my Editorial Policy. Have you been to Mumbai or are you thinking of going? Let me know in the comments section below!