What's in this Guide:
hide
Why the need for responsible travel in Ladakh?
It's a familiar story.
What used to be the preserve of the most intrepid traveller is much more accessible than it was. In some ways perhaps Ladakh is a victim of its own beauty. Its dramatic snow-capped peaks, lush green valleys (in the summer) and stark desert slopes are breathtaking.
In recent years the type of tourism in Ladakh has changed too. What used to be predominantly a paradise for outdoor enthusiasts and trekkers, there's a concerning emerging trend, and that is car-bound tourism. Where people come in their droves – not to trek the Himalayas, but to be driven through them to "see" the most instagrammable sights. The Land of High Passes is now also the land of traffic jams, as private vehicles line the narrow roads up the major passes in summer. Meanwhile the army struggle to widen and maintain the battered roads. It goes without saying that 90% of these vehicles are not carrying locals.
But perhaps the biggest reminder is that despite its stony, strong and masculine feel, the landscape of Ladakh is extremely delicate. It's a landscape that is not designed for heavy car-fall, nor does it have the water resources to power the rain-showers of every new hotel that opens up in Leh.
The increase in tourism of recent years is putting a new level of pressure on Ladakh and her resources. This beautiful mountain desert is open and safe for all, but in order to conserve the beauty that many of us come for, it is necessarily to take extra diligence to travel responsibly in Ladakh.
Here are some ways to make sure your travel to Ladakh has a positive impact:
1. Don't buy bottled water.
There's absolutely no need to do this in Ladakh. Filtered water is more than safe enough to drink. Many guesthouses / hotels in Leh will offer this. In case your guesthouse does not have filtered water you can easily fill up at Dhoomsa and a number of other places in town for the bargain price of 7Rs per litre.
Outside of Leh, many eco resorts or guesthouses will also have filtered water. If you're in a place that doesn't, or if you are trekking take some form of water purification with you. I invested in a Steripen and absolutely loved it. It meant I could fill up from any stream or tap and within a minute have purified, non-weird tasting, safe water to drink. The Steripen is a UV filter which literally zaps the nasties out of water, similar to many industrial scale filter systems. A cheaper alternative is to get a life straw bottle. You can also use water purification tablets.
Some spring water is safe to drink but do check locally before taking the plunge :-).
For more on how to avoid bottled water in Ladakh you can read my post I wrote for Better Places Travel here.
Considering trekking in Ladakh? Check out my review of trekking in the sham valley here.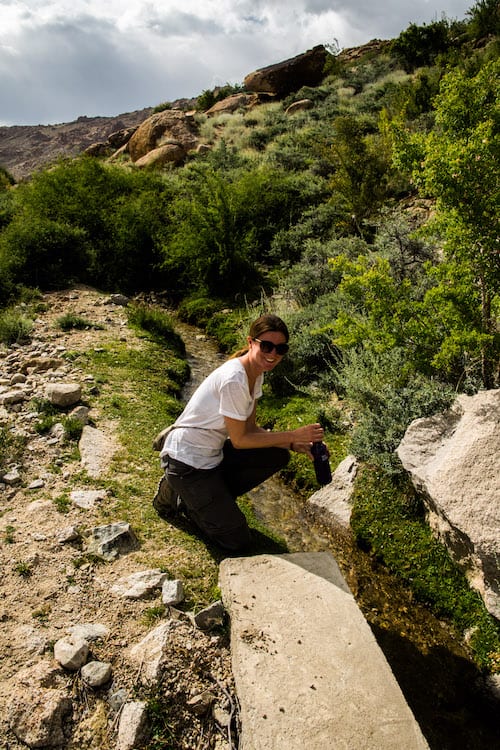 2. Stretch your legs (and lungs) by Trekking in Ladakh.
Trekking used to be the reason that 90% of travellers came to Ladakh, but these days sadly the proportionate number of visitors willing to get a little sweaty is falling drastically. It remains, however, the best way to see Ladakh! Not only do you get off the roads well travelled, but trekking in Ladakh offers the opportunity to see day-to-day life through staying at small homestays along the way.
Trekking in Ladakh with a local guide is best as not only do guiding jobs provide a valuable source of employment from Ladakhis, it helps ensure that minimal damage to the environment is done by staying on dedicated paths. There are a multitude of treks that can be done in Ladakh with the easiest ones staying below an altitude of 4,000m (the so called 'Baby Trek' – read about my experience on that one here) which typically span 3-5 days, up to multi-week treks that take you across the region. While trekking you stay either at small homestay or camp depending on the style of trek.
When it comes to choosing your trekking company look for one that is aware of responsible travel in Ladakh and makes a commitment to sustainable tourism. One company that has been recommended frequently is the Ladakhi Womens' Travel company. Although I did not trek with them this time, they have been shortlisted for responsible tourism awards. I trekked with Skywalker Travel who had great local guides and made sure we stayed at small, family-run homestays at each village we stopped at in the Sham Valley.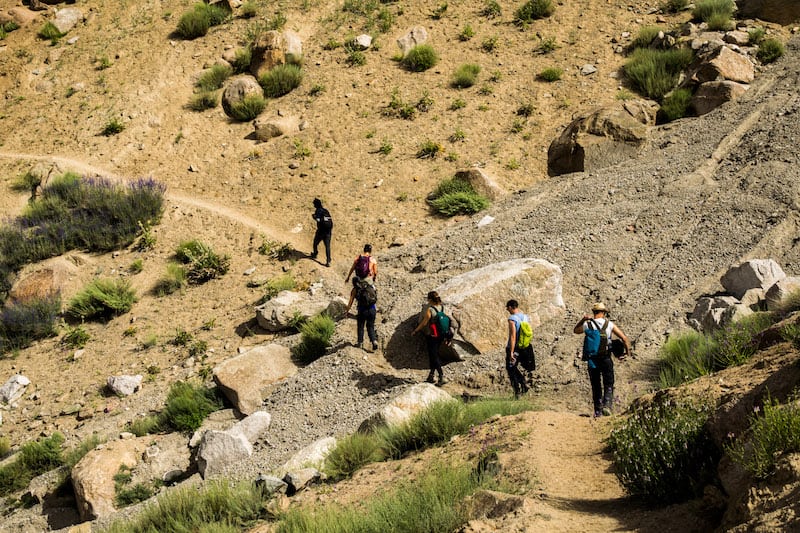 3. Avoid large and overly luxurious accommodations in favour of more simple family-run offerings.
A worrying trend that is developing (and I saw in some of the Sham Valleys) is that more up-market guesthouses and larger hotels are creeping in. Not only do these properties have a larger impact on the environment, but they also do not offer the same experience and connection to Ladakhi culture that small homestays can.
My time in homestays in Ladakh is most memorable because of the people I met and was able to talk to, from sitting and chopping vegetables on the kitchen floor with the women at one, to watching local kids play in barley fields in front of the Karakoram mountains at another.
Want to get off the beaten path in Ladakh? Read about my journey to the end of the Shyok Valley here.
4. Stay in eco friendly accommodations where possible.
One of the biggest challenges that Ladakh faces is its shortage of water. To look around lower Ladakh you wouldn't think so. Lush green valleys, streams and full irrigation channels are abundant at lower altitudes.
90% of Ladakh's water, however, comes from glacier melt. In this high-altitude desert the land is very dry and there is hardly any rain. In winter, when the glaciers and ground is frozen, surviving is difficult. Water from the summer months needs to be conserved for those living there to get through.
One of the problems with the expansion of tourism in the region is the consumption of water by hotels and restaurants. Water reserves are running lower and lower.
Regardless of where you stay, mindfulness in consumption of water is always appreciated. Experimenting with Ladakhi drop toilets (which do not use any water) is a unique way to show your support! 😉
Two of my favourite eco-friendly lodges / homestays that I stayed at in Nubra were the stunning Nubra Ecolodge, located amongst the sand-dunes of Sumur in Nubra Valley; and Shyok River Lodge at the dramatic and remote eastern end of Nubra.
Read about how to travel from Leh to Nubra over the highest motorable road in the world here!
5. Consider Sharing Transport.
One of the causes of over-burdened roads in Ladakh is the lack of a proper public transport system. Buses – the only option – run a few times a week, if that. Another cause is that most visitors are persuaded they need to hire their own private driver.
The result? A lot of cars on the roads of Ladakh with only 2 or 3 people in them, including the driver. I was also guilty of this. Had I known about the alternatives, my wallet and environmental foot print would have been much happier.
The best alternatives to hiring a private driver for your whole trip to Ladakh is to either book spots in a sharing taxi (available at most travel agencies in Leh), or if you want the truly local experience, take a Bolero. These are pickups that run between Leh and many villages. Ask around for pickup points and translation with logistics. Travel agencies will probably discourage you from taking them (as it means less money for them) but if you don't mind a few extra bumps this is a great way to rub shoulders with friendly Ladakhi villagers! As a foreigner you often get priority for the front seat too.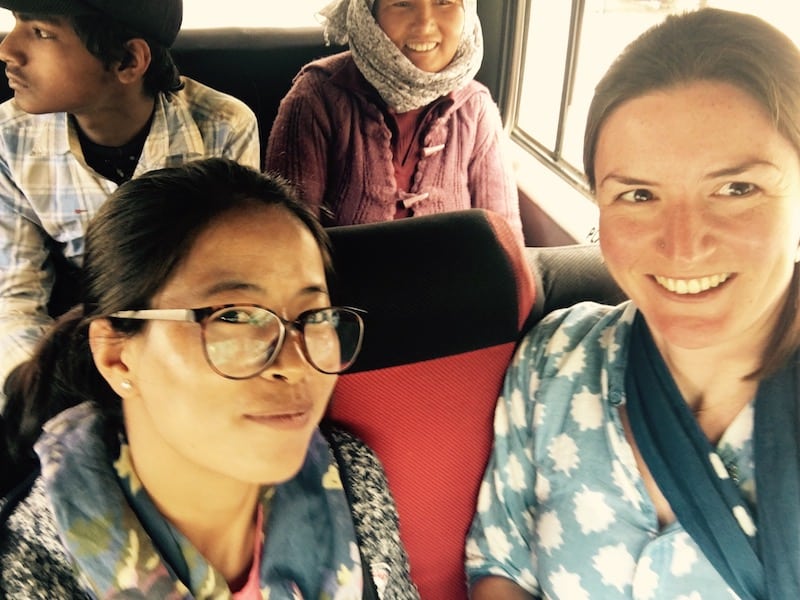 7. Buy your Souvenirs Locally if you Can.
There are many souvenir shops in Leh – packed to the rafters with handicrafts. Some are the real deal, others less so. It tends to be better for those who make the handicrafts if you buy the souvenirs direct from source than in Leh, though, as the income then goes directly to them as opposed to being swallowed up by middlemen. On my trek in the Sham valley we came across some ladies selling hand-knitted soft toys (such as yaks). Apart from farming, this was pretty much their only revenue stream.
Want to travel responsibly but not sure how? I spent part of my time in Ladakh with Better Places Travel, who make bespoke travel itineraries and practise responsible travel. Their expert in Ladakh also runs Shyok River Lodge which was a beautiful place to stay.
Enjoy the beauty of Ladakh! Eco friendly travel in Ladakh is possible, especially if you trek in Ladakh or get off the beaten path, helping to conserve the beauty of Ladakh for generations to come…
Have you been to Ladakh? Did you incorporate any of these tips for responsible travel in Ladakh? What advice would you give to other travellers or add to this list?