Many of the responsible tourism in India businesses that we know and love and found times hard going during the covid-19 outbreak and lack of travel in India that it brought. Fortunately there are some ways to support even if international travel to India is not a possibility. Read our responsible tourism in India guide to find out how you can help.
This post may contain compensated affiliate links. More info in our disclosure here.
Supporting Responsible Tourism in India during Covid-19
As India continues to emerge from her strict lockdown, the impact is becoming all the more clear on many industries and entrepreneurs, and none more so than on the tourism industry within India.
With India fully locked down with no travel allowed (not even domestically) between March and August 2020, many of the responsible travel companies in India (as around the world) have been struggling to stay afloat.
With few Covid-19 support funds for tourism businesses and no travellers, India has seen hard times for all entrepreneurs and business owners, but perhaps especially for those who strive so hard to make their tourism operations beneficial for all and provide opportunities for those who needed them the most.
Now that domestic tourism is opening up to some extent within India, the future is looking a little better, but many are facing sleepless nights about what the short term future holds for travel in India.
While international tourism to India remains closed for the short term, here are some ways we are able to help out. In this guide, we list some of the India sustainable travel operations we know who are currently running fundraising campaigns of one type or another that you can support (from home).
8 Responsible Tourism Organisations in India you can Support
The below are some of the organisations we follow or have travelled with ourselves over previous trips to India that need your support.
If you have your own favourite responsible travel company in India that you want to support, why not email them and ask how they are doing or drop them a message on Instagram. Or, if you have a favourite India eco travel startup that needs help and is not on this list, drop us a line and we'll take a look.
1. Sambhali Trust via Purposeful Nomad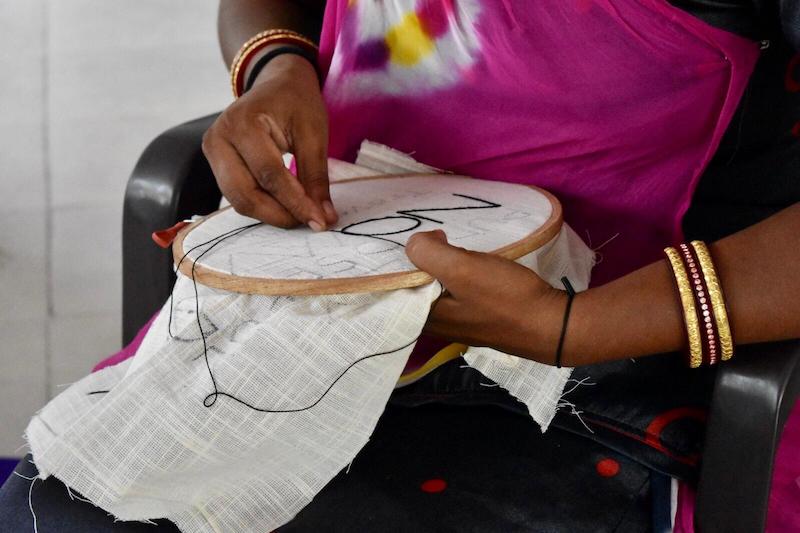 Travel virtually to the Sambhali Trust near Jodhpur, Rajasthan, who we were due to visit earlier this year (our trip was cancelled due to covid-19) through Purposeful Nomad who run all-women trips to India and support the Sambhali Trust as their main India NGO partner.
The Sambhali Trust works to empower local women in rural Rajasthan who have little access to education and little opportunity, and as such are often solely dependent on their husbands. Some encounter domestic abuse. The trust has established classes that teach women languages such as English and Hindi, maths, and other basic skills, and most importantly allow them to form community with other women experiencing similar struggles. Through the trust, women learn to sew and how to set themselves up to be financially independent through sewing orders for the boutique.
Due to Covid-19, many of the trust's operations and classes had to close, however now things are restarting slowly but surely.
To support the women of the Sambhali Trust and Purposeful Nomad's all-women responsible trips to India, you can buy one of their tote bags for sale here (shipping available to US & Canada).
2. United Artisans of Kutch via Kutch Adventures India
Since exploring the Kutch region of Gujarat state in western India in 2017, the memories of the Kutch (pronounced Kacchh) and its rich tribal cultures that produce beautiful handicrafts remain strong. Tourism entrepreneur, guide and founder Kuldip Gadhvi, of Kutch Adventures India (who I travelled with) knows this region of Gujarat like the back of his hand and has worked over many years to bring together the different tribal communities through sustainable, community centric tourism.
Through his work, Kuldip has founded United Artisans of Kutch, who are an alliance of artisans committed to breathing new life into producing beautiful fabrics in sustainable ways – through block printing with natural dyes. Kutch is famous for its beautiful traditions and handicrafts, but unfortunately as industrialisation advances and the younger generations abandon their cultural roots for city life, it is predominantly through efforts like these that traditions have a chance of surviving.
With no tourists coming to the region, artisans have been struggling to sell their creations and continue their work.
You can support United Artisans of Kutch by shopping their collection – for up to date stock and pricing, send a DM via their Instagram page here.
3. Pink City Rickshaw Co, Rajasthan
Established in Jaipur, Rajasthan, Pink City Rickshaw offers rickshaw tours to visitors, in all women-driven rickshaws (a rarity in Rajasthan), thereby helping uplift women by providing opportunities in tourism. They offer a range of tours by custom-designed, eco-friendly rickshaws with their female guides in Jaipur and Udaipur. To date they have provided opportunities to over 200 women from low income households in Jaipur and Udaipur.
Since all tourism stopped in March, Pink City Rickshaw also had to cease all operations, and since March there has been no income for the company and all the women it supports.
The founders of Pink City Rickshaw have launched a crowd-funding campaign to help tide over women who would normally be employed and donations are being welcomed. Find out more about Pink City Rickshaw here or contact vishal@acessdev.org to donate.
4. Salaam Baalak Trust, New Delhi
Based in Paharganj, adjacent to New Delhi railway station, "Salaam Baalak" translates to "Salutes a Child". For over 30 years, the trust has been working with street children in India's capital to provide a way out of life on the streets.
Taking a walk around new Delhi with them on one of my trips there, I was shocked to learn that around 500,000 children are thought to live on Delhi's streets. Many flee abusive homes and head to the big city in search of a new life, but instead are recruited into gangs and begging rings, get hooked on glue and drugs, or forced into prostitution and child labour.
NGO Salaam Baalak has set up help points around New Delhi station – the entry point for many street kids into the city and provides programs to help rehabilitate street children – providing education, counselling and even employment opportunities once they have been through the rehabilitation process by leading guided street walks of Old and New Delhi. One of the revenue streams for the trust has been the street walks offered to tourists in Delhi, which have dried up during Covid.
You can support Salaam Baalak's work by donating here.
5. Spiti Ecosphere, Himachal Pradesh
Set high up in the remote peaks of eastern Himachal Pradesh, along the Spiti river, Spiti is a a beautiful destination for outdoor and mountain lovers. Spiti Ecosphere is a social enterprise which has been formed through collaboration with the community of Spiti, providing eco-travel services and also working to promote conservation and organic farming within the region.
In the Himalaya regions where ecosystems are remote and vulnerable, tourism makes a tangible impact – for better or worse. Ecosphere are working to ensure that the impact of travel is positive, through providing opportunities to local and creating a lighter footprint. However, with the season for 2020 now over, and no tourism, the livelihoods of many villagers are at stake.
Ecosphere is part of the #standwithtravel movement to bring relief to locals – and it allows would-be visitors to Spiti to contribute today, travel tomorrow. So you can pay for travel now and travel later when it's safe to do so. Visit the Stand with Travel campaign to find out more.
6. Wildlife SOS, Agra
Covid-19 has not only affected humans, it has also affected much of the captive wildlife that has been 'employed' through tourism, too. Despite early lockdown-images of wildlife roaming free and happy as the humans stayed home, the reality is more complicated, especially for rescued animals that rely on revenue from visitors to support their efforts.
Located near Agra, Wildlife SOS works to rescue India's wildlife that is in desperate need of TLC, including rescuing and treating elephants that have been harmed through work in tourism, at temples, or as "begging elephants, and saving sloth bears from the terrible fate of poaching or enslavement as "dancing bears". They also work on various conservation initiatives to protect natural habitat for elephant, sloth bear, leopard, and reptile populations and are engaged in a number of conservation projects.
One of the main revenue streams for Wildlife SOS is visitors to its centre near Agra (there's no riding or other harmful interactions that take place), but since the visitors have stayed home, they are more in need of funding than ever to help them continue their activities and help them take care of the animals that are receiving treatment for their injuries. Support Wildlife SOS here.
7. Grassroutes Experiences, Maharashtra
"The Soul of India lives in its villages" – is at the centre of the Grassroutes India philosophy who run immersive village stay experiences in rural locations across Maharashtra, and also in Andhra Pradesh.
Working with community members to provide homestay or camping accommodation out in nature, Grassroutes looks to create positive impact through tourism through creating jobs in rural villages with there are few opportunities, therefore also helping to prevent mass-migration to cities and loss of rural culture. They also look to promote awareness of sustainable environmental management and farming together with preservation of local culture.
Their locations are off the beaten path and immersed in the lush interiors of Maharashtra, popular for weekend camping trips or immersive homestay experiences away from it all.
You can support their current Covid-19 appeal and learn more about what they are doing to support the communities here.
8. Himalayan Blooms, Uttarakhand
Last but not least is the womens' empowerment initiative of Himalayan Blooms, located in the mountains of Uttarakhand. The goal of the organisation is to empower women and remote communities through alternative and sustainable revenue streams that provide an alternative to agriculture (the principal source of income in the region).
Himalayan Blooms trains women to create products that can be made easily in the local area and marketed to a wider audience. Revenue earned through the shop goes towards helping schools improve the quality of education which is often lacking in remote village schools, as well as improving village infrastructure: Starting rainwater harvesting, and improving village life where thereby also reduces the temptation of migration to the big cities. Today, the organisation employs 40-50 knitters.
Since the lockdown, Himalayan Blooms is without its volunteers which it relies on. You can visit the Himalayan Blooms shop and buy something to show your support here.
Do you know a responsible travel initiative in India that deserves to be on this list? Drop us a line on info [at] soultravelblog.com