Travelling India as a solo woman can be an amazing experience, but not all destinations in India are easy-going for women. In this guide, I share my recommendations for the best places to visit for solo female travellers in india based on several years' experience of travelling India solo.
This post may contain compensated affiliate links. More info in our disclosure here.
21 of the Best Places to Visit for Solo Female Travellers in India
When planning my trips to India, one of the toughest decisions has often been working out where to go. Not for lack of inspiration, but simply having too many places on my bucket list!
When it comes to planning solo female travel in India, safety is usually the #1 concern. So when I write about the best places for a solo trip in India for women, I have specifically chosen destinations that are known for being easier going, more accessible and generally safe places for solo female travellers in India.
It took me a few trips to India to grasp that not all places are created equal when it comes to easy and safe female travel in India. Most travellers planning their first trip to India focus on central India: Agra, the Taj, Delhi, Varanasi and Jaipur, Rajasthan, but unfortunately many of these places can be more challenging destinations for women to visit in India alone – especially if you're new to travel in India and fresh off the plane.
In my research for resources for solo female travel to India, I would become frustrated at the same old destinations being listed again and again – not necessarily ones that are the safest places in India for solo female travellers. Instead, this list is focused on destinations that are accessible and are some of the safest places to visit in India for women travellers.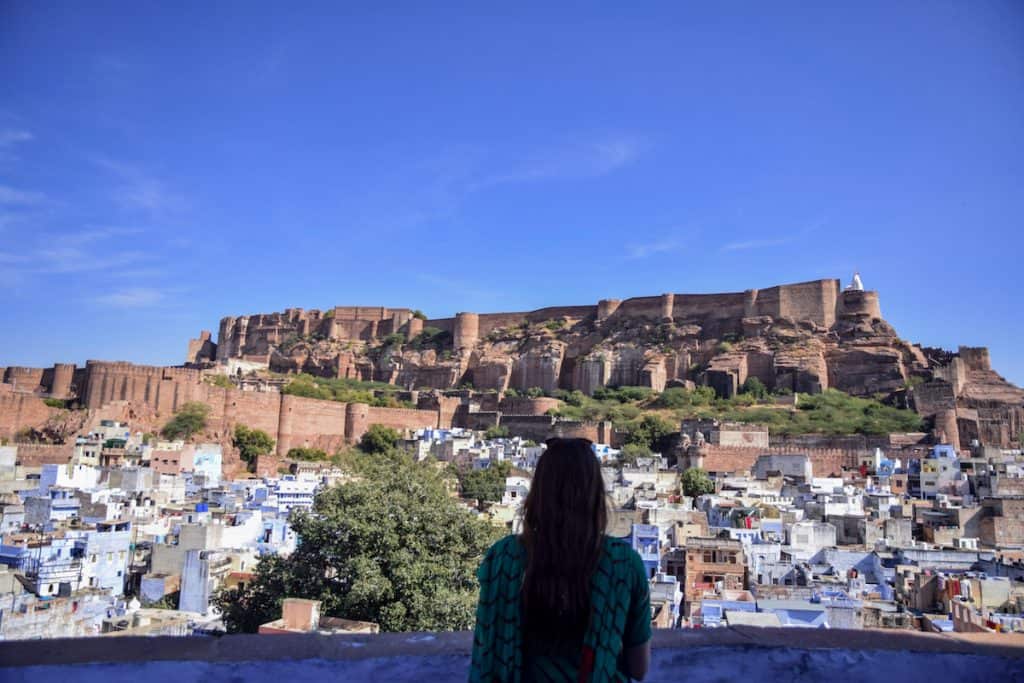 Essential Tips for Solo Female Travel in India
Before we get into my best places for solo travel in India, here are some of the basics to know for travel in India as a solo woman. These are just some essentials – for my full guide to solo female travel click here, and don't forget to download my solo female travel in India cheatsheet here!
Make sure you have a mobile phone with a local SIM card that is working. If you have a locked phone (you'll need an unlocked phone to get an Indian SIM card) then consider using Trabug which is a service we recommend.
Book an airport pickup via your hotel if you're arriving in Delhi. Especially after dark. It'll make your arrival so much smoother. If your hotel doesn't offer pickup we recommend Sakha cabs run by Women on Wheels.
At a minimum, book your first night's accommodation in each new place in advance.
Try to avoid arriving in a new place after dark.
Keep your friends, family and trusted contacts up to date with your movements, but do not share where you are staying or that you're alone with strangers or straight away with new acquaintances.
Trust your gut (and intuition). If something feels wrong or dodgy, it probably is.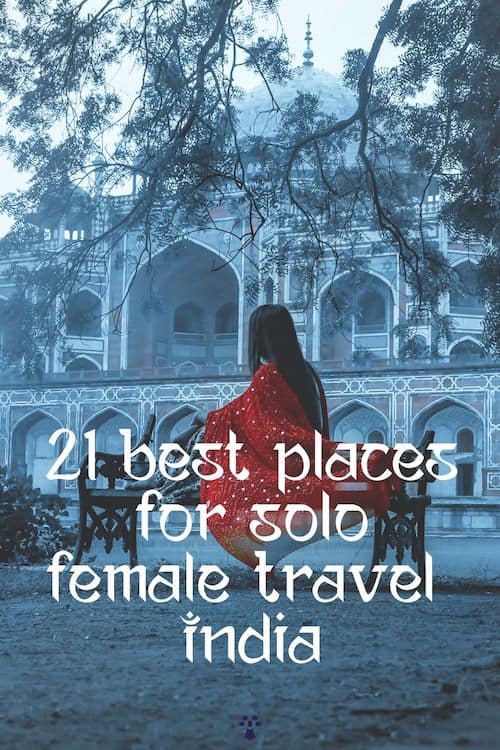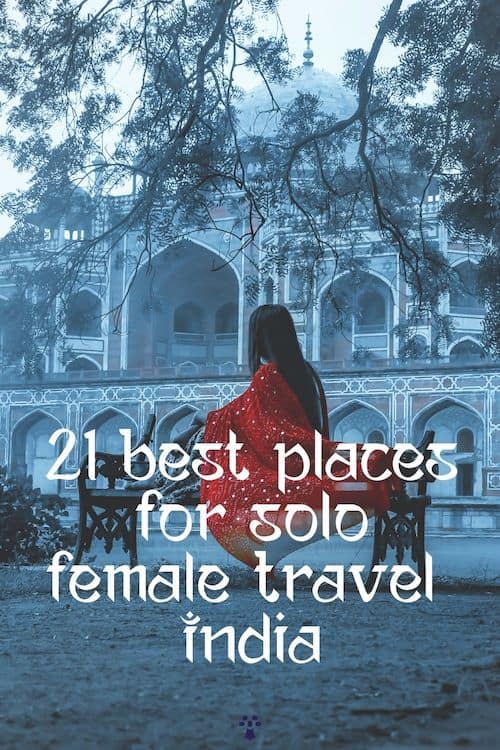 21 Best Places for Female Solo Travel in India
I've divided my best places to solo travel in India for women into North India and South India. If you're in doubt as to which to choose for your first trip to India, I recommend South India. Although the north is packed with cultural and architectural gems, the south is generally easier going and less of a culture shock (and it's stunning!).
Best Places to Solo Travel as a Woman in North India
North (and central) India cover a vast area ranging from Himalayan peaks, the Ganges delta, desert plains, and the jungles of central India. It's home to the country's largest metropolis and much of its industry, too. Winter temperatures drop and summer temperatures soar, this is the India of extremes in many senses.
1. Ahmedabad, Gujarat
The Western state of Gujarat is packed with culture, architecture and is one of the thriving economic hubs of India, but is often overlooked by newer visitors to India despite its having just as many photo-worthy stepwells as neighbouring Rajasthan.
Ahmedabad will fill your time for 2-3 days or more – it's the state capital and main entry point to Gujarat that's well connected with Mumbai, Rajasthan and Delhi and the rest of India. I spent a couple of days here happily wandering around and soaking up the Mughal history at the city's beautiful mosques, admiring the walls of the old city and indulging in Gujarati thalis which are famous for their blend of sweet and savoury.
You can visit the Gandhi ashram just along the river at Sabarmati Ashram, Gandhiji's headquarters during the fight for Indian independence. Gujarat is also famous for its textiles, especially the Kutch region, and the Calico Museum of Textiles is worth a look in at. If stepwells are top of your mind, the Bai Harir Vav stepwell in Ahmedabad is incredible.
Ahmedabad is one of my best places to travel solo in India for its low-hassle vibe, I didn't experience any unwanted attention here and to my surprise, the rickshaw drivers actually used their meters without any argument for hops around town.
Stay: House of MG. Click here for rates & more info.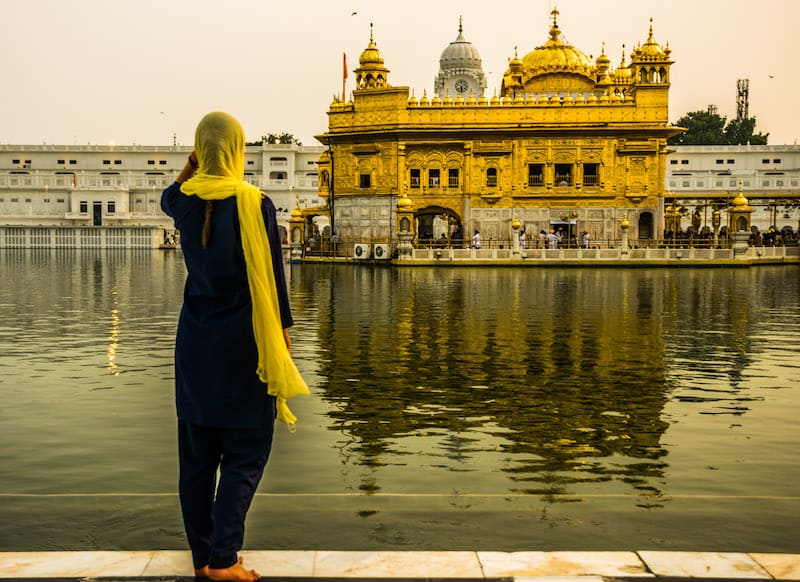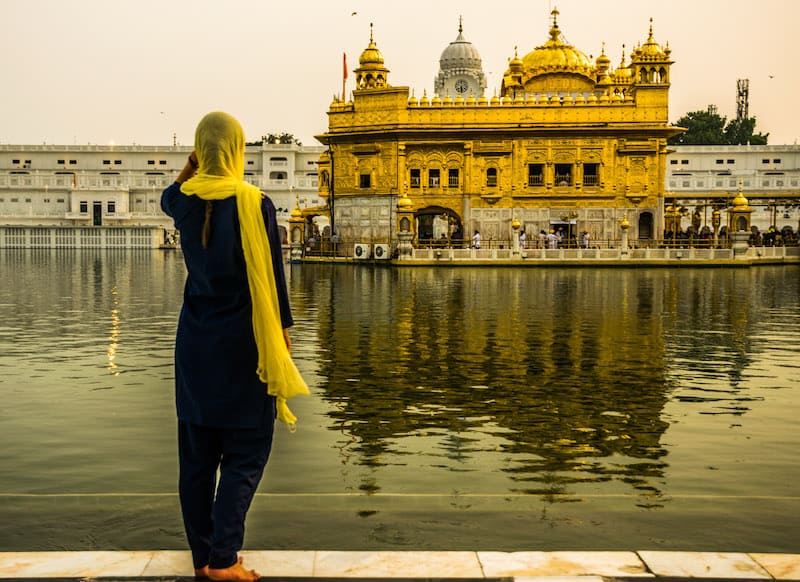 2. Amritsar, Punjab
One of my favourite cities of north India and (in my experience) one of the safest cities for solo female travellers in India is Amritsar.
A welcome break from some of India's larger cities, Amritsar is relatively compact and you can happily spend a couple of days here taking in the atmosphere at the Golden Temple and experiencing the lungar meal which is served for all – cooked in the incredible kitchens of the Gurudwara here.
Amritsar is also a great place for foodies and history lovers alike. The Partition Museum is one of the best museums in India and tells of the heartbreak and tragedy of the Partition of India (1947) when India and Pakistan were separated. For an alternative and Patriotism-fuelled perspective, head to the daily spectacle of the closing ceremony at the Wagah border, just 20kms from Amritsar.
Stay: The Bougainvillea B&B. Click here for rates & more info.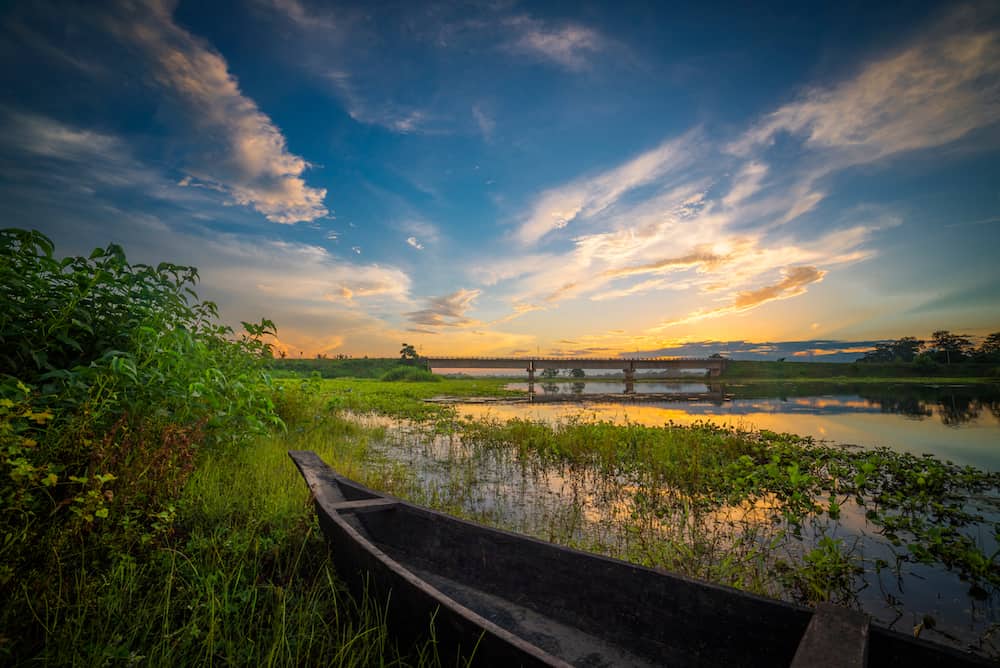 3. Assam, North East India
Still less visited and more remote than many other corners of India, the North-Eastern states of India are a great destination for solo female travel in India. Although many of these states are worth visiting if you have the time, Assam has caught my attention in particular, and both Kaziranga and Majuli are highly recommended places to visit as a solo female traveller in India.
Kaziranga, Assam is east India's best national park and nature reserve, home to the one-horned rhino, elephants and even the odd tiger. The rhino population here represents two thirds of the world's total. Book ahead during peak season (Nov-Feb), and it's easiest to book a package that includes national park safaris.
Stay: Diphlu River Lodge.
If you're in the mood for something of a backpacker-haven / chill out spot but without the banana pancake eating crowds, Majuli Island may be just the place for you. Beached in the middle of the mighty Brahmaputra river, Majuli is India's largest river island and certainly it's most beautiful. Don't expect fast wifi here, but it's a beautiful spot to get away from it all and birdwatchers will love it.
Responsible travel is also a priority on Majuli as this ecosystem is sensitive, and feeling the effects of climate change each year as chunks of the island are washed away in monsoons.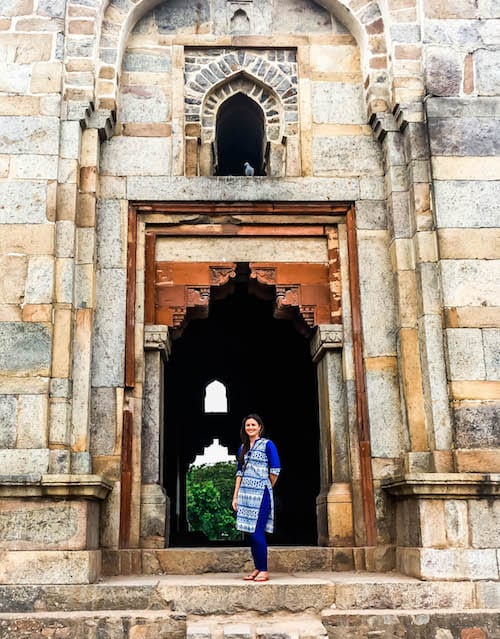 4. New Delhi
Delhi might not be top of mind as one of the best places for solo trip in India – and rightly so – but there are sides of Delhi that can be a great experience, even for solo female travellers.
Unlike other places on this list, unfortunately (some parts of) Delhi are not one of the safest places to travel in India, and researching ahead of time is a must for Delhi. So why is it on this list? Most international visitors to India fly in and out of Delhi, and there are beautiful sides to India's largest and most populated city. The key is to stay away from the hustle and hassle of backpacker areas such as Paharganj, and instead spend time in the southern side of the city, exploring Delhi's parks, gardens and Mughal tombs.
I recommend staying in south Delhi and once you've seen the main sights of Old Delhi and around Connaught Place, spend time enjoying the cafes of Hauz Khas village, the splendour of Qutub Minar, and a couple of afternoon hours wandering Lodhi gardens (or shopping at Fab India in Khan market across the street!).
Stay: Prakash Kutir B&B. Click here for rates & more info.
5. Dharamshala, Himachal Pradesh
Up into the hills north of Delhi, Himachal Pradesh is home to several lovely hill stations which make for a welcome break from the heat and pollution as well as the tourist hustle. Dharamshala – specifically the backpacker enclave of McLeod Ganj – is well worth a visit for somewhere to soak in the mountain views while munching on Tibetan momos that's well connected to Punjab and the north of India.
Dharamshala is the home of the Dalai Lama in exile, and is packed with cafes, restaurants, shops selling Tibetan souvenirs (of varying authenticity) as well as hiking shops and tour operators, and is a great base for hiking. There's a large Tibetan population here (many of whom are refugees) and you'll see plenty of maroon coloured robes around the town.
A little less crowded than Manali further north, Dharamshala is a good place to chill out for a few days, visit the temples and gompas, and enjoy the mountain air. If you feel called to stay longer, there are plenty of volunteer opportunities, too.
Stay: Norbu House Hotel. Click here for rates & more info.
6. Orchha, Madhya Pradesh
Hiding in plain sight in Madhya Pradesh is the town of Orchha, just a few hours from Agra via Jhansi (the nearest transport hub). Set on the Betwa river, Orchha is a historic village, once the capital of the Bundela Rajas from the 1500's-1700's. The architecture of the forts and palaces is incredible, but it's also a great laid back place to stay for a few days, without the hassle of nearby places like Khajuraho or across the border in Uttar Pradesh state.
There are several homestays in Orchha if you don't fancy the more up-market river-side hotels in town. Friends of Orchha is a local non-profit offering travellers the chance to stay with local villagers in the nearby village of Ganj. The non-profit provides development loans for homestay hosts. If you are after something more active, there are also rafting trips available on the river.
Stay: Bundelkhand Riverside. Click here for more info & rates.
7. Kolkata, West Bengal
If you prefer the bustle of the big cities, another of the safest places for solo female travellers in India (as far as the big cities go) is Kolkata. Overlooked by many travellers, Kolkata has charm! It is dubbed the city of joy afterall.
Unlike in Delhi, I have happily walked around Kolkata of an evening without feeling threatened, and there's far less in the way of traveller scams and hassle to watch out for here than some other Indian cities. Other pluses are the beautiful architecture, great sea-food available and unique culture which is quite different to anywhere else in India.
Kolkata is a sprawling city (India's third largest) so to get to know it well, you'd need quite some time here. Assuming you don't have weeks to hand, 3 days provides something of an introduction so you can admire the Victoria memorial, cross the Hooghly river on a ferry to Howrah (and back again), wander through the crumbling colonial architecture in the BBD Bagh area and feast on some of the best street food (kathi rolls) and sweets (roshgolla). If you're in town in September / October check dates and don't miss out on the Durga Pooja – one of India's most beautiful festivals that is most celebrated here.
Stay: Calcutta Bungalow. Click here for rates & more info.
8. Leh, Ladakh
High up in the mountains in the very north of India, Leh is one of my favourite places to visit for solo female travellers in India. It's quite literally a world away from any other part of India.
Here, the remoteness of the region means that life moves more slowly (although that may be changing with the arrival of high speed internet and better communications in Leh), and that slowness, combined with the rich and welcoming Ladakhi culture are some of the main reasons to come here, besides the trekking.
While Leh is a busy entry-point to Ladakh for travellers, as soon as you get beyond Leh the majesty of the landscapes takes over. Trek for days from monastery to homestay, go on a multi-day trek, or just enjoy the scenery from a remote eco lodge.
While Leh and Ladakh are still remote, we do not encourage road trips around Ladakh as the narrow roads become clogged with traffic during high season, and increasing levels of tourism are taking their toll on Ladakh's desert climate and limited resources. Trekking with professional guides is the best way to get around, but if you fly in to Leh remember to leave 2-3 days to rest to acclimatise to the altitude before you set out trekking. You'll also need a permit for some parts of Ladakh (eg Nubra) and make sure to read up on the security situation with China before setting out to Pangong Lake and asking local advice.
Stay: Nubra Eco Lodge. Click here for rates & more info.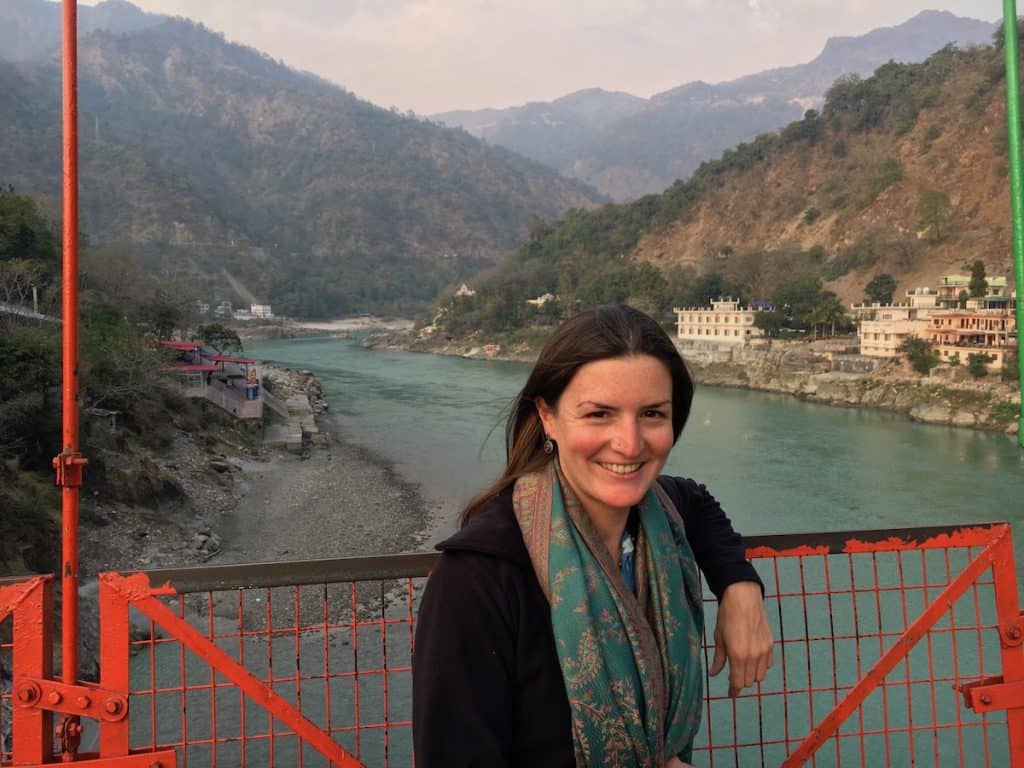 9. Rishikesh, Uttarakhand
Yoga capital of the world, Rishikesh is a must for any solo female travellers who are on a journey of discovery – whether it's spirituality, healing, quiet time or just mountain air and the energy of the green rushing Ganges river that you seek.
An accessible half-day's journey from Delhi (via Dehradun, whether you take the train or fly), Rishikesh has it's own magical energy to it. What most travellers refer to as Rishikesh is in fact the town of Laxmanjhula and Tapovan across the river, rather than the town of Rishikesh itself which is decidedly less touristic. Although Rishikesh has seen steady growth in tourism (especially at weekends) the atmosphere here remains special.
Aside from staying at ashrams and attending yoga and wellness retreats, it's also a great base for some of the best white water rafting in India and trekking. Each March sees the international yoga festival – plan well ahead if you plan on visiting during that time. Rishikesh generally remains one of the safe places for solo female travellers in India, but do exercise the usual caution, don't walk on abandoned roads late at night and dress respectfully.
Stay: Hotel Peepal Tree. Click here for more info & rates.
10. Shimla, Himachal Pradesh
Perhaps the most iconic of India's hill stations, taking the toy train up to Shimla (from Kalka) is a must not just for train lovers. Shimla is a world of its own and a popular place to visit in summer months (March – May) – in fact it can get very busy during these months, so for a quieter experience I recommend visiting during monsoon or early winter (October).
Shimla was used as the summer capital during British colonial rule of India as the Brits couldn't take the summer heat of Delhi. Filled with tea shops, English gardens and churches, Shimla is a throwback to another time and world. Cars are banned from the main part of town, making it a pleasant town to wander for a few days. Sights mainly consist of historic buildings, temples and churches.
There's also some nice walks to do in the area, where you can enjoy the hills, nature and scenery. Treks range from short 2km strolls to multi-day treks that can be organised through local agencies. Or, you can just content yourself with strolling around town and enjoying the ambiance. Whatever you choose to do, Shimla is a great choice for solo female travellers to India.
Stay: Meena Bagh, Shimla. Click here for rates & info.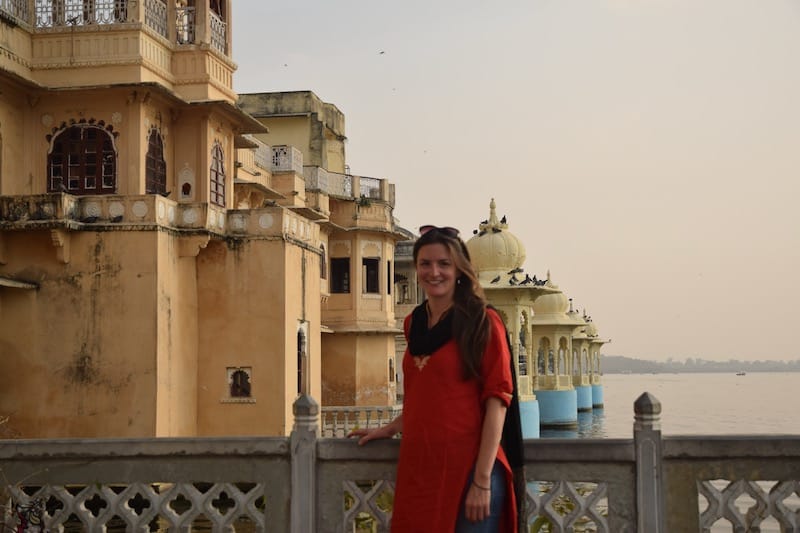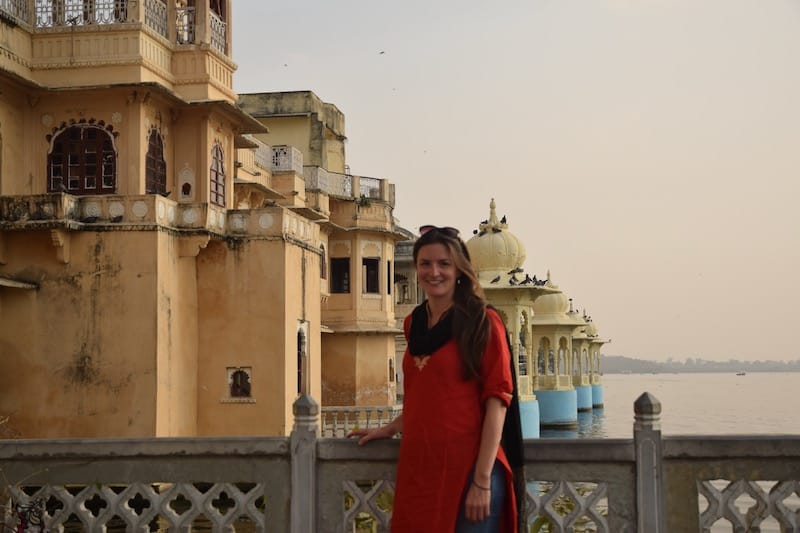 11. Udaipur, Rajasthan
While the other popular cities of Rajasthan have not made it to this list for their high-hassle, high-hustle vibes, Udaipur is something of a relief for solo female travellers in Rajasthan (or was at least on my solo trip to Rajasthan). Perhaps it's the water and palaces – this city has a more feminine, relaxed energy to it compared to Rajasthan's other top draws.
It's hard not to be captivated by India's "Venice of the East" – getting up early at dawn will help experience the magic of this city before everyone else wakes up. Udaipur can get busy, noisy and touristy, but starting your day early should be enough to see off many of the unwanted crowds. If you get bored of looking at Lake Pichola and exploring palaces, there are some beautiful hiking trails around Udaipur which lead out in to the Aravalli mountains that surround the city.
I also suggest visiting (or staying with) Millets of Mewar who organise city walking tours to support local artisans who live and work in Udaipur. Also recommended are Pink City Rickshaw who offer all-women rickshaw tours and provide employment opportunities for disadvantaged women through tourism.
Stay: Lake Pichola Hotel. Click here for rates & info.
Best Places to Solo Travel as a Woman in South India
A world away from the deserts of the north, South India offers lush green landscapes: Paddy fields and jungles form the backdrop of rural southern India, although it's broken up by several metropolises such as Mumbai and Bangalore. The south sees fewer extremes than north India, and although it doesn't have the Taj Mahal, there are no shortage of beautiful temples, palaces and places to visit to keep you busy here.
At the risk of over-generalising, South Indian states are generally known for their access to good education (including for women), meaning life is a bit easier for solo female travellers than in some parts of central and northern India.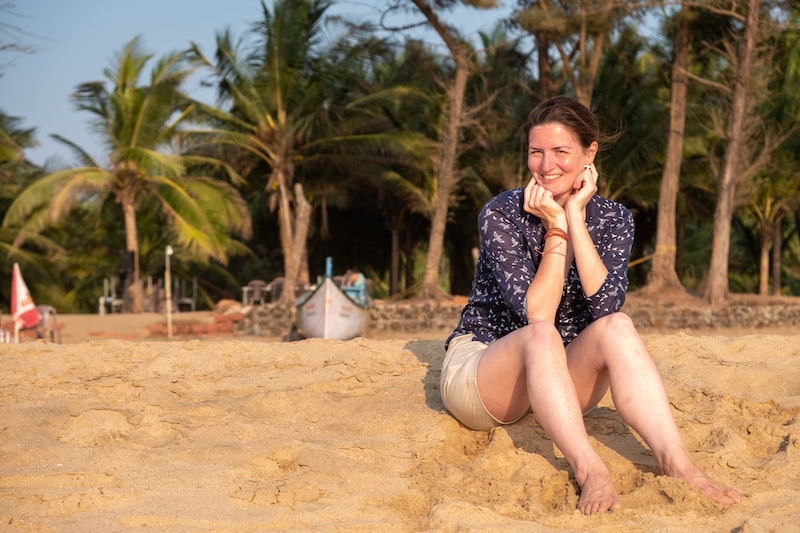 12. Agonda, Goa
My favourite Goan beach, Agonda is nestled in the south of Goa, a short hop from the nearby small town of Canacona. A sort of less-busy version of Palolem, Agonda attracts plenty of people but never seems to get too crowded, unlike some of the beach towns of central Goa.
Agonda is the perfect place to relax and unwind for a few days if you don't feel like doing much – there are bars and restaurants a plenty, but this is not the place to come if you're looking for large parties. Most accommodation is along the beach in the typical cocohuts (which get taken down for monsoon each year), for better value options, walk up the lanes at the southern end of the beach up the hill.
Agonda is home to plenty of options for yoga and ayurveda, and if you have rented a scooter, you can happily cruise around the beautiful local roads (drive safely) to Canacona for the town market and local shopping.
Most importantly, Agonda has a relaxed, family vibe, and (unlike some of the central Goan beaches) I never felt uncomfortable wearing my bikini on the beach here (although make sure you wear proper clothes as soon as you're off the beach) or faced harassment.
Stay: Secret Garden Agonda. Click here for rates & info.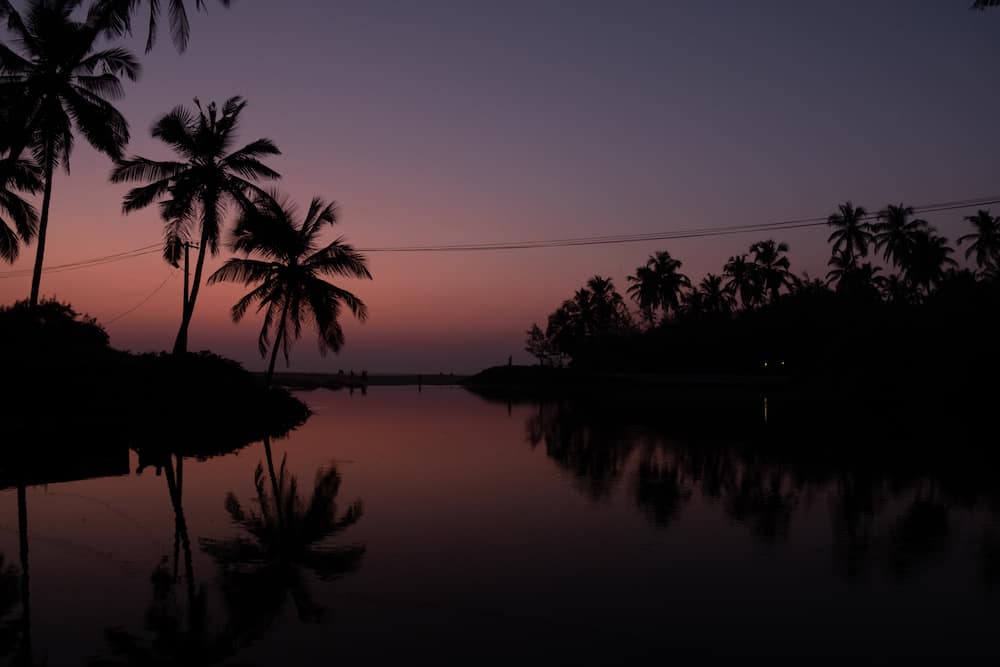 13. Alappuzha (Alleppey) & the Kerala Backwaters
In Alleppey, you get the best of both worlds in Kerala – beach and backwaters. A popular backpacker and tourist hangout, when we spent over a week in Alleppey in January, we were surprised to find it far from crowded and touristy.
Alleppey is a pleasant town to enjoy the beach or use as a base for a few days to take local trips – I recommend renting a scooter and driving down to Marari beach for the day, or you can hop on one of the public backwaters ferries – which has to be handsdown the most sustainable and budget friendly way of exploring Kerala's backwaters.
I don't recommend taking a houseboat from Alleppey despite the ready availability of them because of the environmental issues they cause, and also because of the potential isolation as a solo female traveller (it would be better to team up with other travellers if you do want to do this). However, Alleppey is a nice place to soak up the atmosphere and a good jumping off point for other backwaters destinations that I recommend, such as Kumarakom which has some beautiful eco resorts and homestays.
Stay: Orchid Beach Villa. Click here for rates & info.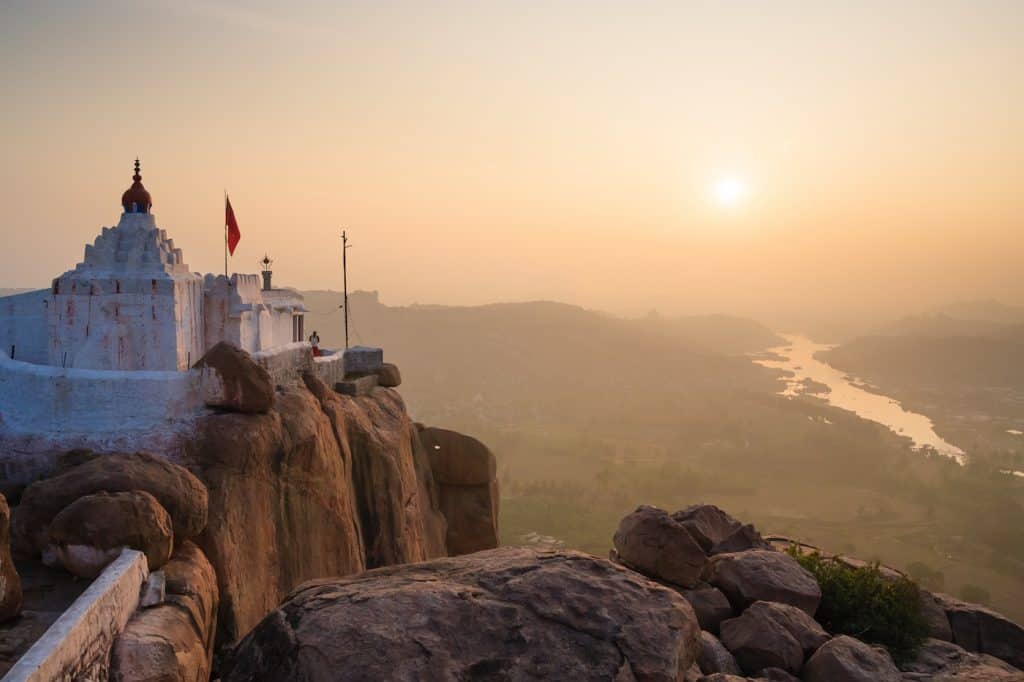 14. Hampi, Karnataka
Easily accessible as a trip from Goa if you have less time on your hands, the ruins of Hampi are a must see for any trip to south India and one of the best places to travel alone female in India.
A short distance from the nearby town of Hospet (the nearest rail station is Hospet Jn), Hampi is a traveller enclave set around the UNESCO listed ruins of the Hindu empire capital of Vijayanagar, until it was raised to the ground by Deccan sultanates in 1565.
Spread over 36 sq kilometers, Hampi is home to some 3700 temples and monuments, spread over a dramatic and beautiful landscape. You could happily spend days here wandering tombs, hiking up to sunset points, or taking in the view from cafe rooftops in Hampi Bazaar town (where most of the budget accommodation is located for Hampi).
Hampi is generally safe for solo female travellers, one caution is to avoid going to very remote parts of the temple complex alone or just with a male guide. If you feel unsure, team up with some other travellers, who will be easy to meet if you're staying in Hampi Bazaar. There are also organised tours such as these ones that you can join should you prefer that option.
Stay: Evolve Back Hampi. Click here for more rates & info.
15. Kochi (Cochin), Kerala
Next on our list of suggested places for solo female travellers in India is the popular town of Kochi in central Kerala. Note that if you're coming here, all the main access transport hubs are at Ernakulam on the mainland (Kochi is in fact on an island attached to the mainland by several bridges, there are also ferries).
Fort Cochin is the main place to stay in Kochi for travellers and its historic old town is filled with cafes, art galleries, shops, and bakeries. There are literally hundreds of homestays in Fort Kochi – many of which are more like paying guest houses or backpacker lodges – but there are some gems, too.
Kochi is not a beach destination in itself (it's a busy port), but it's a great jumping off point for exploring the rest of coastal Kerala and the backwaters and a good place to stop for a few days if you're looking for a few creature comforts, to plan the rest of your time in Kerala, and/or a good cappuccino!
Stay: Secret Garden Boutique Hotel. Click here for rates & more info.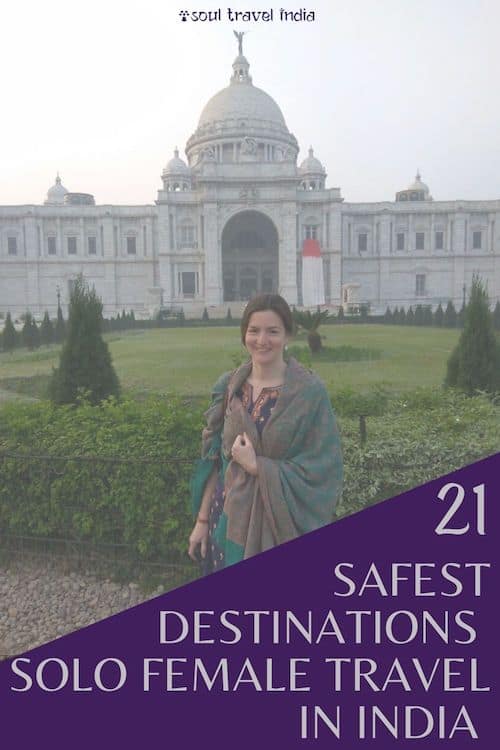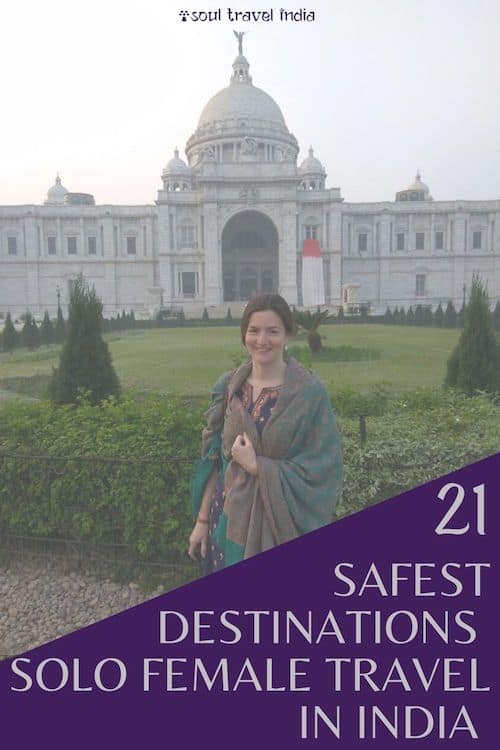 16. Mumbai, Maharashtra
So many travellers to India choose to fly in to Delhi on their first trip to India, but a far more relaxed and easy-going option for (solo) female travellers to India is to fly into Mumbai instead.
India's second largest city, Mumbai is the city that lets its hair down – not only is it safe to wander Marine Drive at night alone as a woman, but it's also fine to do it in shorts! (Just don't wear shorts if you're travelling on the buses or local trains). In the expat enclave of Bandra you may feel more like you're in Europe than in India – but the prices match that.
Mumbai is our favourite city in India (it's where we met after all so we are a little biased!), but for me as soon as I arrived in Mumbai, not only did I feel at home walking around alone, I felt like I could travel freely and be myself without worrying about lots of unwanted attention. The main hassle you'll have to put up with here is the taxi drivers who universally refuse to use the meter if your skin or accent do not look or sound Indian.
For first time visitors to Mumbai, I recommend staying in the Colaba area at the extreme southern end of the city, which is where you'll find much of the architecture, museums, galleries, and the iconic Gateway of India. You can then hop in an Uber or OLA to see other parts of the city. Just be sure to increase your regular India travel budget for Mumbai, as it's definitely not a cheap place to stay.
Stay: Abode Bombay. Click here for more info & rates.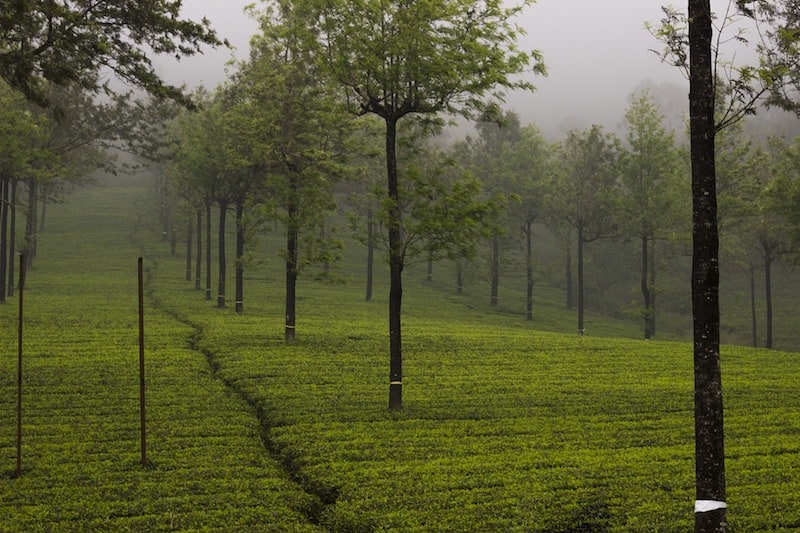 17. Munnar, Kerala
Another Kerala option among my safest places to travel in India is the hill station of Munnar in central Kerala. Set high up in the western Ghats mountain range, Munnar is another hill station that was and is popular for those in search of fresh air and escaping the summer heat.
Munnar is located in south India's largest tea growing region, and the surrounding hills are a carpet of emerald green, with tea stretching as far as the eye can see. Things to do in Munnar include touring the various tea estates, or taking an organised day tour of the local area including viewpoints over the landscape and waterfalls, Eravikulam national park (around 15kms from Munnar) or Chinnar Wildlife Sanctuary.
Travel to Munnar is best between March – June as it gets cold in winter months, and during monsoon the poor condition of the roads can lead to them being impassable.
Stay: Chithirapuram Palace. Click here for more rates & info.
18. Mysore, Karnataka
Sometimes described as one of the most flambouyant places in India – Mysore is unmissable for its wealth of heritage, history, food and culture. As Indian cities go, it's easy going and low-stress for solo female travellers, and it's also a great jumping off point for visiting places such as Coorg and Nagarhole National park as well.
You won't want to miss Mysore Palace – they recently changed their photography policy so that inside photography of the incredible roof decoration is allowed), and Devaraja is a colourful market selling traditional spices, coloured powders and flower garlands – another great photo op. You won't want to miss the food in Mysore – one of the local specialities, thatte idli is a larger, flatter version of idli, served with the traditional sambar and chutneys. And if you love Dosas, well you'll be in heaven here.
Mysore has many yoga and ayurveda retreat centres if you're looking for rejuvenation, or you can spend your time taking a tour of the city's sights or go on a food walk. Gully Tours offer a number of different walks and day trips.
Stay: The Green Hotel. Click here for rates & info.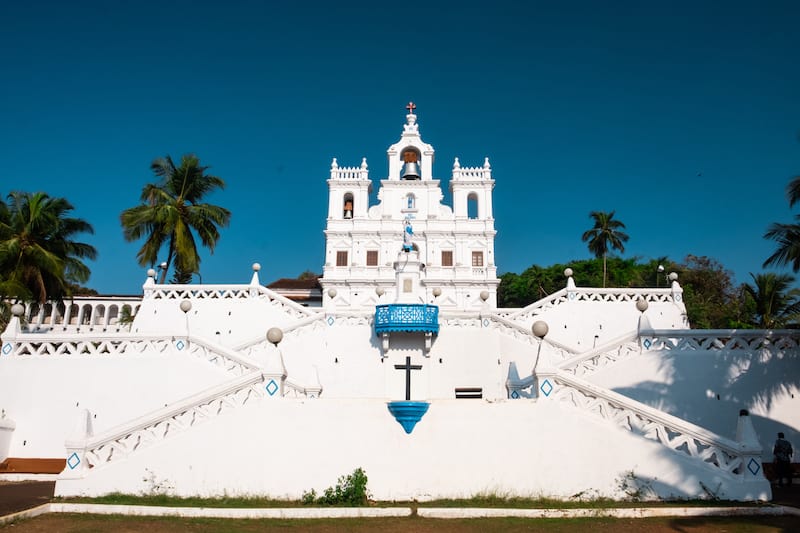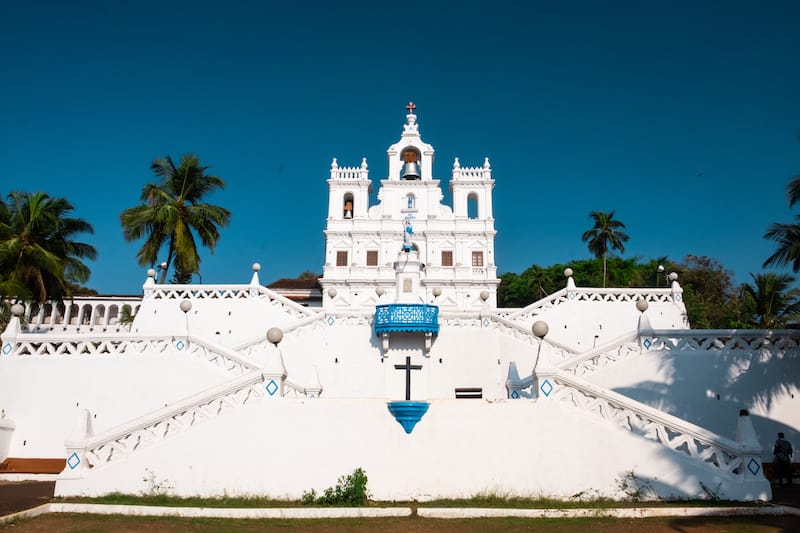 19. Panjim, Goa
While most travellers flock to Goa's beaches, if you have a day or two to spare, Panaji (Panjim), Goa's state capital is well worth a visit and another of the best places to travel solo female in India.
The Fontainhas district of Panjim has retained its Portuguese flavour and architecture, and is a beautiful area to walk around, filled with colonial-era villas (some converted into hotels) painted in bright colours with yellow ochre bungalows. This is the place to actually meet people from Goa (as opposed to the beaches where most people are either travellers or migrant workers from within India and Nepal). Panjim is probably India's most relaxed state capital and is great to spend some time in.
While you're here, take a trip to Old Goa (separate from Panjim and around 25 minutes by bus/taxi) which once had a population equal to Lisbon or London, until the city was abandoned in the 1600's due to plague and cholera. It's home to yet more beautiful Portuguese architecture if you haven't had your fill.
Stay: Panjim Inn. Click here for rates & more info.
20. Pondicherry, Tamil Nadu
Tucked away in south west India's Tamil Nadu state, Puducherry (still often called Pondicherry, or "Pondy" for short) is best known for its old town which retains something of the French character from when it was ruled by the French (until 1954), and offers a bohemian charm with a gallic touch. Pondy attracts artists, musicians and all sorts seeking a bit of mindful energy.
Make no mistake, Pondicherry is still a noisy and chaotic city, but the old french town does offer several quiet, clean and shady streets with brightly yellow coloured period homes. The seafront is also worth a stroll (although it's not a beach destination) and is great for peace and quiet in the early evening as traffic is banned after 6pm.
Pondicherry is also an essential passing through point for anyone on their way to the Sri Aurobindo Ashram at Auroville – a spiritual community founded by Sri Aurobindo and a French woman known as "the Mother". If you're heading to Auroville you'll likely stay on site, but Pondicherry is still well worth spending a day or three in.
Stay: Dune Eco Resort. Click here for more info & rates.
21. Pune, Maharashtra
Last (for now!) in my list of best and safe places for a female to travel alone in India is Pune, Maharashtra. Set in the interiors of Maharashtra and a 3 hour (very scenic) trip from Mumbai through the western ghats (mountains), Pune is something of a cultural hub for Maharashtra.
A vibrant student and business town, Pune has a thriving food scene and is also famous (or notorious) for being the home of the controversial Osho Ashram, which is located on the outskirts of town. I can't comment on the Ashram, not having been, but Pune pleasantly surprised me as a great place to spend a few days and see a bit of Maharashtra beyond Mumbai.
There are several museums and palaces here that are interesting to visit, and Pune makes a good jumping off point to explore more of rural Maharashtra – where there are hill stations, treks, abandoned forts and stunning caves. The ruined Sinhagad Fort is one of the closest to Pune and has impressive views. Or, you can head over to Mahabaleshwar – a hill station which boasts India's best strawberries and is popular as a weekend break location for Indian families.
What About Other Destinations in India?
This is not an exhaustive list of interesting and safe destinations to visit in India as a solo woman. It's just a starting point! Some of the main tourist destinations that we haven't mentioned in this guide (such as Agra, Varanasi etc) can be more overwhelming for female travellers, which is why we haven't mentioned them – but that doesn't mean you shouldn't go!
My advice is to start off with a few of these more female friendly destinations on your India itinerary, and then – once you've found your "India feet" – head on for more!