There are a lot of opinions and advice out there about travelling to India, but we see that there are several common mistakes that travellers to India make time and again. Here are some of the most common mistakes people make – and how to avoid them!
This post may contain compensated affiliate links. More info in our disclosure here.
The Top Mistakes Travellers Make in India
Visiting India for the first, second, third, (or even beyond that) time can be be overwhelming. Every time I land in India again for each new trip, I have to take some time to acclimatise, adjust and remind myself about how things in India work.
If you've been reading our blogs or are a member of our India Travel Facebook group, you'll know just how special travel to India is to us. Planning a trip to India is not always straightforward, and we see time and again that unfortunately travellers make the same mistakes in India or while planning their trip.
We think that India trip planning is just as much part of the fun of travelling to India as travelling itself – and well worth a little effort to avoid some of these pit falls.
Without further ado – here are some of the top mistakes travellers to India make, and how to avoid them!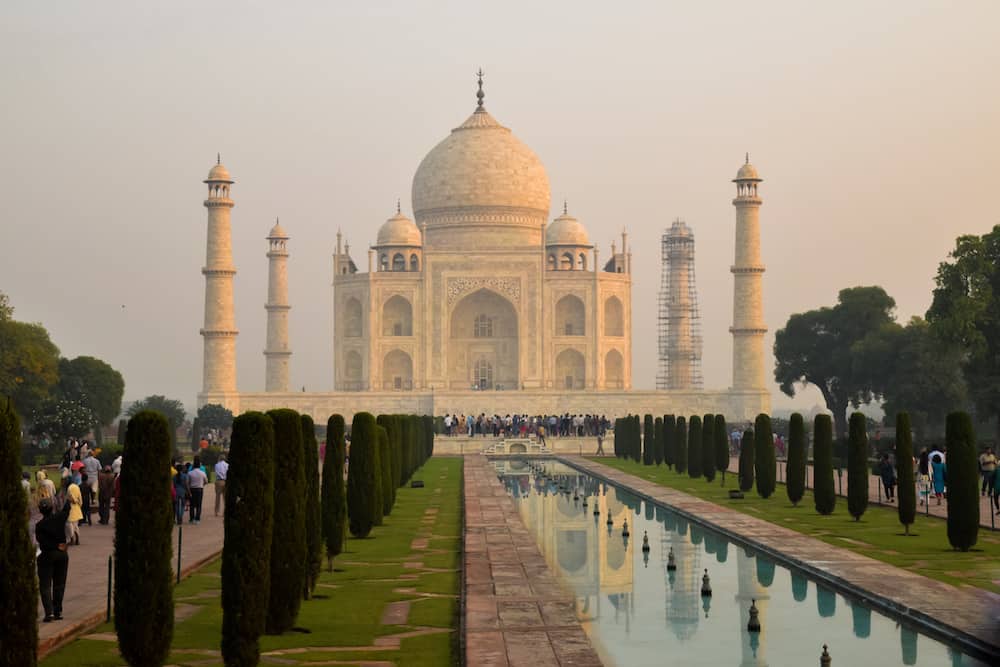 1. Heading Straight to the Taj Mahal
We get it. The Taj is – without doubt – amazing and bound to be a highlight of any trip to India. It's not a wonder of the world for nothing, and no matter how many photos you've seen of the Taj, there's nothing that quite beats walking through the gateway as the sun rises and seeing the elegant white marble shrouded in the golden morning light.
But, unfortunately, Agra (where the Taj Mahal is located) is one of India's highest-hassle cities (some would say down right ugly, too) and is definitely not the ideal first stopping point for travellers new to India.
Instead, we recommend going elsewhere first, finding your India feet, and saving the Taj until last – when you'll be (more) ready to deal with what the tourist touts, plus you'll end your trip on the high-point of seeing the Taj. Win-win!
2. Packing too Much or the Wrong Things
Packing for India requires research, as there's no one-outfit fits all answer. India has a varying climate (contrary to popular belief it does get cold in (some parts of) India), and depending on where you are in the country you'll need to cover up more or less by Indian standards. You can read our what to pack for India guide for more help on this, here.
It can be tempting to pack for all eventualities, plus take your own mini-medicine cabinet. But if one thing is certain, that is that a heavy bag will not make for happy travels around India. India has most things readily available so you do not need to bring everything from home (you'll find a pharmacy on pretty much any street corner). And unless you're taking a luxury tour, you will need to carry your bag around on and off transport at a minimum.
In some of the big cities the need to cover up for women is much less than in some of the more conservative areas of India – so it's best to mix in layers or outfits that can be switched out with different tops for a more/less covered approach. See more in my what to wear in India guide here.
3. Not Researching & Planning in Advance
As the world has become smaller (well until 2020 at least), it's become easy to just get on a plane and turn up in a new country. But with India that's much more difficult than, say, south east asian countries or many other parts of the world.
The unprepared traveller to India is not only a prime target for scams (see below) but also there are other things to consider. Firstly, you'll need an e-visa or visa (all tourists do), which has to be pre-arranged. You can't just get it on arrival.
Then, there are things to consider like if you're tight on time and want to see a good number of places within your time in India, it can be very difficult to book certain things last minute. In peak season, some hotels and resorts can get booked up, trains get full and need to be booked in advance, or you'll find yourself having to pay more to book things last minute as you go.
So for those who like to go with the flow and do as little booking ahead of time as possible, we suggest at a minimum that you research beforehand and book your first 2-3 nights accommodation as well as airport pickups. It's good to have an idea of where you want to go and how you want to get there, even if you change your mind later.
4. Getting Scammed
Unfortunately, some scams (usually just getting ripped off) are a part and parcel of India – even sometimes for locals and definitely for Indian travellers as well.
Scams that focus on travellers to India often pray on the un-initiated, either those who have just arrived in town / the country or wealthy travellers who have plenty of money to spend but little time to bargain.
Getting scammed in India is almost a rite of passage, so know that there's no way to avoid them all. At the end of the day losing a bit of change or having to pay a fixed rate to your taxi driver rather than him using the meter is all just a part of travelling.
However, what you do need to be aware of is that there are larger scale scams operating which you should be aware of. These include jewellery and Gem stone scams (we never recommend people buy gems or gold in India unless you know what you are doing), or things like directing you to fake "tourist offices" (aka travel agencies pretending to be government tourism organisations) and persuading you to re-book your travel through them.
These are obviously more serious scams to be aware of and we recommend travellers do some research before setting off to India. The key is to be aware, but not paranoid – most people will be looking out for you rather than trying to rip you off.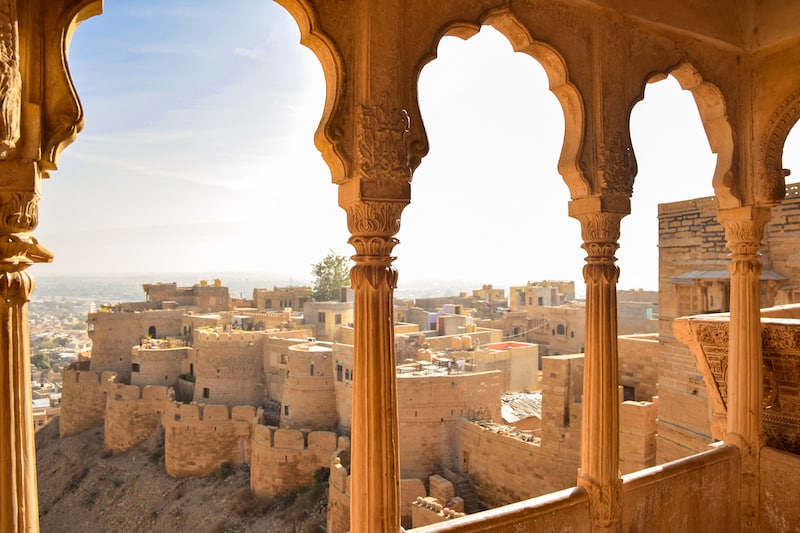 5. Trying to Fit too Much Into Your Trip
This is probably the one we still slip up on. It can be tempting to try to fit too much into your trip, whether you have one week, one month or six months in India.
But trying to see a new place every day on your India trip, especially when combined with jetlag and culture shock, is a recipe for misery (or collapsing from tiredness at the end of your trip!).
However long you have, know that it's just not possible to "see" India in one trip. It is a sub-continent, after all!
I recommend focusing on a specific region or state for your trip where you can – not only are the distances shorter to get around and so you'll spend less time travelling, but it'll also mean you can see more off the beaten track places and see the best that one area has to offer. The rest of India will be there waiting for your next trip!
Which ever Itinerary you decide on, I recommend staying a minimum of 2 nights in as many places as possible so you're not exhausted from travelling all the time – distances can be long in India.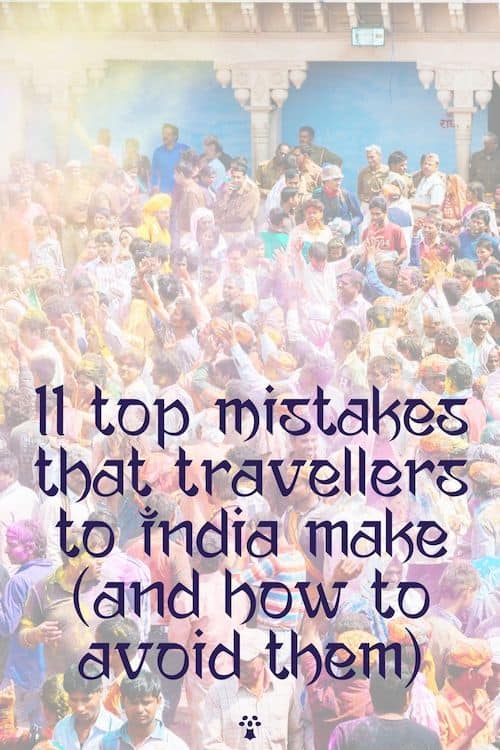 6. Trying to Travel India on too Tight a Budget
Contrary to popular belief and the information that has been circulated on some blogs, gone are the days where you can travel India on $10 a day.
Prices in India are rising by the day – inflation continues to affect costs of travel, and the cost of travelling in India has risen significantly in the last few years.
But the good news is it's still one of Asia's most affordable destinations. Whether it's 5* luxury you're after or budget travel, you'll still be able to do that in India for a lot less than in Europe or many other parts of Asia.
At a bare minimum, you're probably looking at around $40 (USD) a day for a single traveller. You might get away with less, but note that in India scraping by on the cheapest forms of travel is not advisable, especially not for women. The cheapest hotels and hostels may be far from clean, and I would not wish travelling long distance in 'general' class by train on anyone.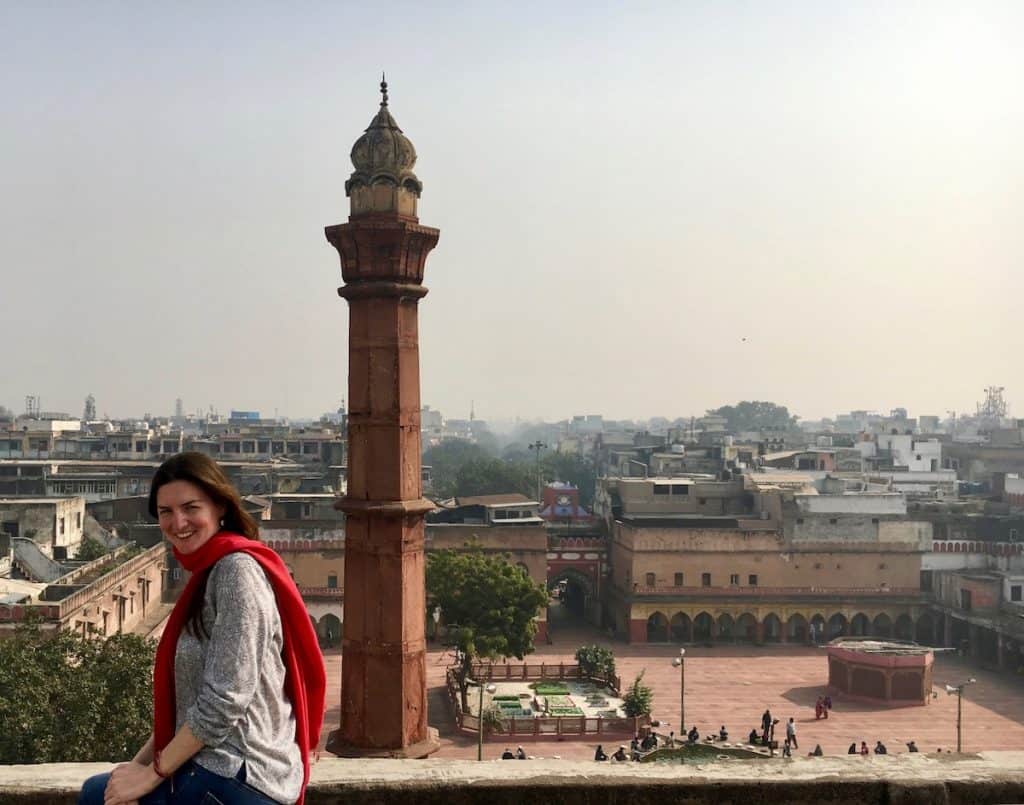 7. Not Dressing Respectfully
Although times are changing fast in the big cities, Indian culture remains relatively conservative and what you wear matters. Indians take great pride in wearing beautiful clothing, and many travellers could learn a thing or two about stylish dressing!
This is more of a point for women as men don't have to worry much about what to wear in India. Unfortunately, wearing less-covering clothing is often seen as "inviting" attention and can lead to extra hassle for female travellers.
It's also important to consider cultural sensitivities, and especially if you're travelling outside of major tourism destinations, considering how local people are dressed and trying your best to blend in. That doesn't mean buying a saree, but if you see that local women your age are dressed conservatively, it's a good idea to make sure you're not wearing shorts or sleeveless tops.
In general we advise women to cover their full legs, shoulders and everything in between. In places like Mumbai, Goa, Bangalore and beach resorts you can be be more relaxed in what you wear.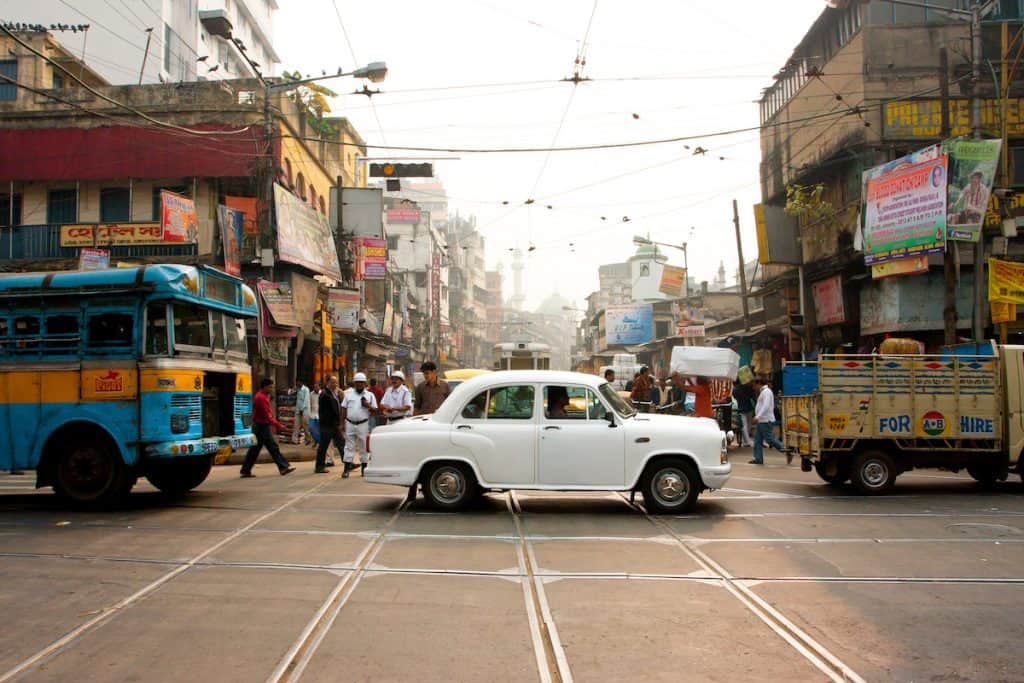 8. Missing out on Local Culture
We see that some travellers are so worried about travelling in India that they choose to isolate themselves off from everyday life in India – by travelling on bus tours or solely in private vehicles, staying exclusively at luxury hotels, or choosing to fly between every city.
There's nothing wrong with doing these things (except perhaps the bus tours which are a symptom of mass tourism), but the real magic of India is not found inside air conditioned environments.
The best way to experience India is to take a few hours to wander, without agenda, visit temples, talk to your neighbours on trains and buses (assuming you have good vibes about them), stop for a cup of chai at a street tea-stall, and learn about the culture of India. One of our favourite things to do is to dine at locals' homes through platforms such as Authenticook or go on a street food tour to sample some of India's best food (and this is a great way to do it if you're nervous about Delhi belly).
In our opinion: Life's too short to be worrying about what could go wrong on your trip – sometimes it's better to just trust your gut and go for it. You may just fall in love with India.
9. Judging India too Quickly
India can make quite the impression and it can be easy to make snap judgements based on one's first impressions of India. But there's more to India than that.
Where you go first, matters. I've spoken with several travellers who were on the point of giving up on India because of where they went first in India. As mentioned above, unfortunately some of the most touristy places in India are also the hardest going – the 'Golden Triangle' is great for its architectural wonders but far less great for its noise levels, hassle levels and pollution. We usually suggest our travellers to go elsewhere first, or consider going to other parts of India.
Give India a second chance. If you don't like where you are, ask around for suggestions on where else to try. There's bound to be somewhere for you.
10. Not Standing up for Yourself
With over a billion people, not surprisingly, India gets noisy and crowded. You can forget any idea about standing in an orderly queue/line for things. If you try to wait in line for anything, you'll quickly notice everyone else just walking straight in front of you.
So, it's time to put any meekness aside, and start sharpening those elbows! There are often separate ladies lines at ATMs, temples, ticket queues and even buses. So if you're female and see a line of ladies waiting for what you're waiting for, head towards them! In other places, ladies can often jump in queues. Be aware of 'hoverers' at the side – make any hesitation and they'll have slid in front of you.
Queues and crowds aside, confidence is your greatest asset travelling India. A good dose of confidence does wonders at bargaining (essential), handling unexpected situations, and deterring any touts.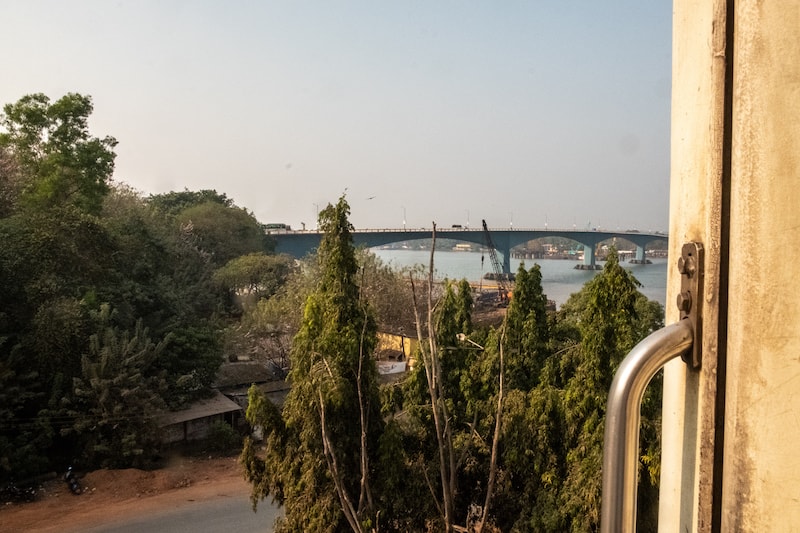 11. Not Taking Local Transport
Another way many travellers miss experiencing daily life in India is by not taking public transport. I totally get why – the idea can seem more than a little overwhelming, and media does not help by having spread images of trains, buses and all forms of transport full to overflowing with people falling out of the doorways and hanging on to the roof.
Contrary to popular opinion, people don't sit on the rooftops of trains any more in India (that's Bangladesh), and although some local trains get crazy full (the Mumbai local trains are notorious), it is possible to travel India on public transport without having to fear for your life.
But why should you? In my experience this is where you get under the skin of India – you literally get to see its inner workings, strike up friendly exchanges with strangers (even if there's no common language), and so much more. My travels in India would just not have been the same without taking public transport.
I still have the image in my head of a lady sitting in the middle of the floor of the plush Delhi metro (even though there were several seats available) happily doing her knitting and not so much as glancing up at anyone else. Countless families have 'adopted' me for long train rides and I've made more than a handful of friends.
If you're a little apprehensive about public transport in India, ease yourself in. Start with the super slick Delhi metro (use the womens' carriage if you're female), and travel in AC classes on Indian trains between cities (you'll need to book ahead). Buses come in all forms and need a post in their own right. I don't recommend the Mumbai local trains for your first taste of Indian transport – that's for the diehards only!
So there you have it, those are our top 11 mistakes. What were yours on your trip to India? Pop into our India Facebook group and let us know!