Planning a visit to Ladakh? Shyok Valley Ladakh is one of the less visited corners of Ladakh, lying between Leh and Pangong Lake and is well worth a visit if you love stunning mountain views, village life, and fewer crowds.
What's in this Guide:
hide
Visiting Shyok Valley, Ladakh
From Nubra Valley to Shyok.
First, a spoiler. I didn't make it to Pangong Tso (Pangong Lake).
This time the roads (or flooding of them) had other plans for me. Plans that involved going the long way around from Sumur in the Nubra valley to Shyok valley, further down the river. For now, Ladakh's most visited attraction would remain a mystery.
Heading from Leh to Nubra Valley? Check out Discovering Nubra, Ladakh – Part One: Leh to Sumur here.
Setting off from Sumur in Nubra Valley, it should have been a few hours' drive along the river to reach Shyok River Lodge, my next destination. A few miles along the river however we hit a problem. The road runs close to the river, through valleys and villages, which are often close to the glacier melt flows – which can become quickly and unpredictably flooded with water if rainfall and warm sunshine occur. On my drive I passed through more than one village which had literally been swept away or cut off by the force of nature.
Ladakh is a brutal reminder that nature still reigns supreme. A moon-like desert with very little rainfall, its only source of water is from glacier melt-water and lakes.Ladakh is only accessible from the rest of India by air 6+months of the year as the road passes to Srinagar and Manali get blocked with ice and snow. Even in the summer (monsoon in the rest of India) landslides and flooding can occur, making roads impassable.
My journey from Sumur to Shyok meant going back to Leh, up over the Khardung La pass again and over the Chang La pass before arriving in the Shyok valley 10 hours later.
Shyok River Lodge
Was it worth the 10 hour detour? You bet it was. For all its beauty, Nubra Valley is fairly well known as a tourist destination within Ladakh. There's no overcrowding, but you'll see plenty of visitors around. Shyok valley is a totally different proposition.
Set in a village with only a few houses and families, Shyok River Lodge is a taste of off the beaten track Ladakh.
Together with a local family who own the Ladakhi house, managers Jan and his wife Suchi are passionate about sharing a taste of genuine and local Ladakhi life with their guests. Jan has been involved in trekking and tourism (and largely based) in Ladakh since 1988 and has seen the changes that tourism have brought to Ladakh: for better and worse. Their aim with Shyok River Lodge is to offer an option for tourism that is not environmentally (or socially) harmful or intrusive, and allows visitors a true taste of village life.
They believe in spreading the positive economic influence of tourism beyond Leh (which is where most hotels, tour companies and drivers are based) and into rural communities that otherwise see little in the way of tourism wealth.
The lodge is more of a homestay – or home away from home – where you can fall asleep comforted by the silence of the rural setting as much as by the amazing beds. Jan and Suchi have hired locals to help with the running of the homestay to ensure that the benefits of the business get spread around. The home cooked food is a mix of Ladakhi, Indian and other Asian and European foods and is always eaten family style together with other guests in the lounge, complete with views over the river and mountains.
Jan will take you on walks of the village and beyond – explaining how the man made immigration and traditional Ladakhi house-building works, show you water so pure that you can drink straight from the spring (I did), or down to the banks of the mighty Shyok River.
Thinking of going trekking in Ladakh? You can read my post about Trekking the Sham Valley here!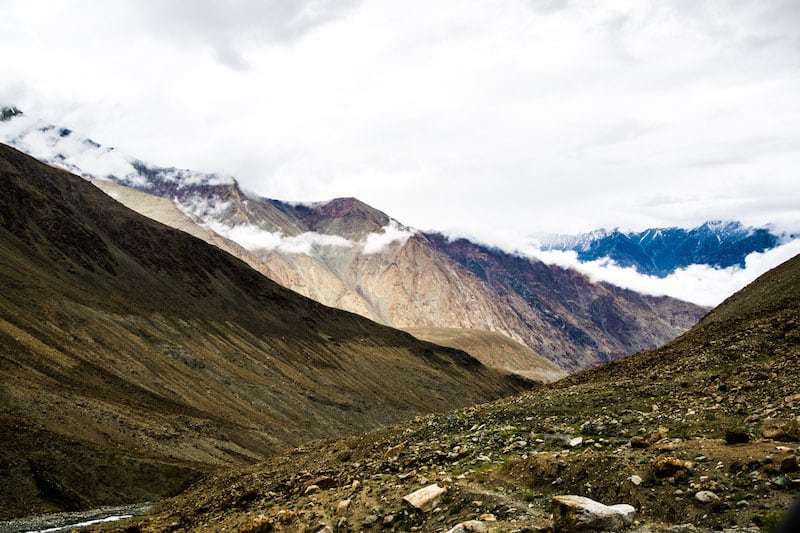 Sustainable Practices at Shyok River Lodge
In Shyok, unsurprisingly, there are no recycling facllities, And yet, Shyok River Lodge has found ways to recycle a large amount of any left overs. It can also be said that Shyok is as futuristic as is it is traditional: the whole village runs on solar energy, including the lodge. High energy appliances are also banned in the whole village, to make the demand for electricity manageable and sustainable.
Water is Ladakh's most precious resource, and the lodge does what it can to limit its consumption. Throughout the village and all over Ladakh you'll find expertly managed man-made irrigation channels to carry water to valuable crops such as Barley. But this does not mean that water is plentiful. All grey water from the lodge is used to irrigate crops and the use of water-saving measures such as shorter showers and use of dry-composting Ladakhi toilets (optional!) is encouraged.
Fruits and vegetables are grown in summer and served directly at the lodge. Any un-eaten food finds a happy home in the bellies of yak, cattle and goats. Large waste is transported back lodge staff back to Leh, so that it can be properly disposed of or recycled.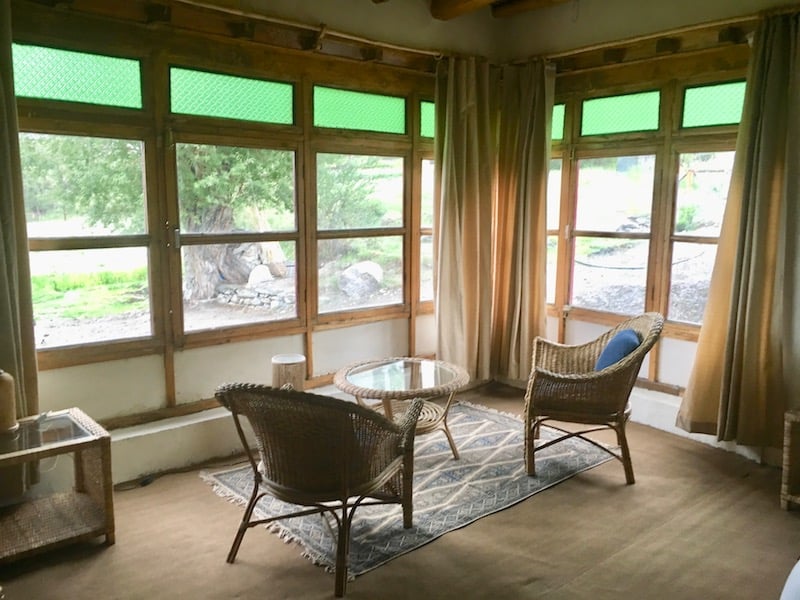 On the Karakoram Caravan Route
Saddled between the Ladakhi and Karakoram mountain ranges, Shyok valley sits on one of the old caravan routes that connected to the Silk Road. The pass of Chang-La, which you cross on your journey from Leh to Shyok sat on the main silk route to Lhasa (Tibet). Once upon a time, silk traders followed the Shyok River into Turkmenistan and beyond.
Shyok River Lodge sits at the eastern end of the Karakoram mountains which stretch all the way west into Pakistan, and enjoys incredible views onto the dusty peaks beyond the river. I was lucky enough to get a room with a Karakoram view: waking up to watch the sunrise over the sandy coloured mountains was a treat.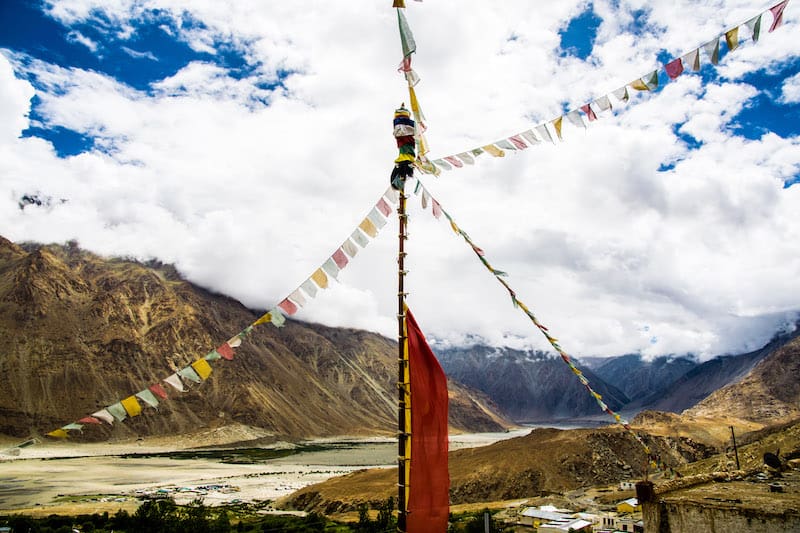 A Taste of Ladakhi Slow Life
Shyok valley is the perfect place to come to slow down, enjoy nature, and literally get away from it all. There's no wifi, no phone reception, and no TV. Even the paper will be a few days out of date :-).
Many guests come and stay 3+ nights in the lodge and use it as a base to relax in the beautiful gardens admiring the view, for local walks where you will be invited in for tea by local families, or for a day trip to Pangong Lake (road access permitting of course!). What was most special to me was the chance to speak with locals involved in the lodge and seeing how tourism had played a part in changing their lives, for the better.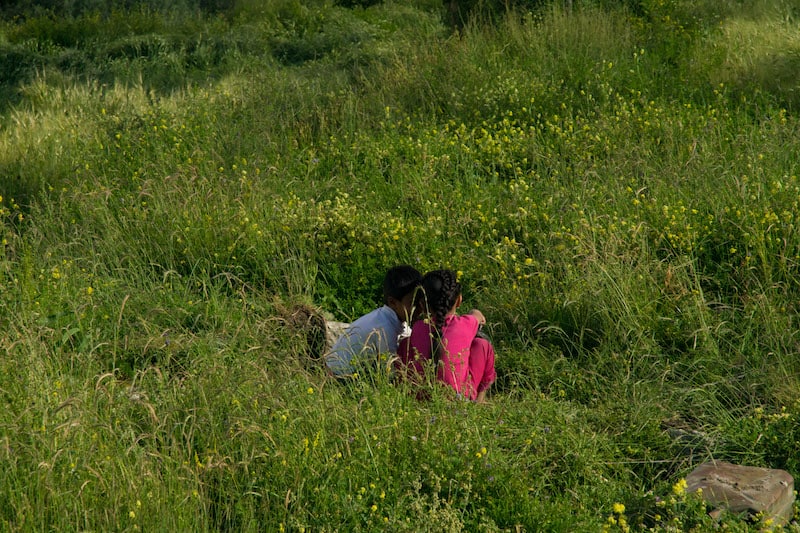 Practical Information.
Has this inspired you to travel off the beaten path in Ladakh?
I travelled to Ladakh in August 2017 with Better Places Travel who offer tailor made itineraries in Ladakh. They put me in touch with their local travel expert, Jan, who together with his wife Suchi, runs Shyok River Lodge. Beyond Shyok River Lodge they can arrange treks and ethical travel experiences around Ladakh.
Seeing as Ladakh is a high altitude destination (Leh is at 3,500m) you'll need an extra few days to adjust to the altitude. Most people recommend a minimum of 2 days in Leh if you fly from Delhi to rest and acclimatise before any planned treks or driving onwards. To get the best out of your tip to Ladakh, plan on spending at least 10 days in the region. If you have more time on your hands (and a head for heights) then taking the scenic route from Delhi to Leh via Spiti or Manali (by road) comes highly recommended!
Ladakh is all but closed off during winter months, with road access being impossible (you can fly in). Most trekking routes and the tourist season operate from April / May to October.
Thank you to Better Places Travel for sponsoring this blog.