Varanasi calls many travellers to India, through its ancient mystery, spiritual power and intrigue. But a visit to Varanasi is not always plain sailing – use these Varanasi travel tips to get the best out of your visit to Varanasi.
This post may contain compensated affiliate links. See our full disclosure here.
Why Visit Varanasi?
There is India, and then there's Varanasi.
Varanasi was my reason for first coming to India. I'd seen it featured in TV documentaries and couldn't help wonder what it would be like to float along on the waters of the Ganges, the winter mist gently shrouding the ghats, lifting to reveal a city older than time. Little did I imagine how the energy would feel in person.
Even from the screen, the magic and energy of Varanasi was clear and compelling. And I'm not the only one. Countless members of our India Facebook group have spoken of the feeling of being in Varanasi – finding peace and being at one with oneself.
Varanasi is a place that can change how you feel about India, yourself, and even life in general. It's only fitting that India's holiest city has a profound impact on almost all that visit.
For Hindus and Jains, a visit to Varanasi (also known as Benares / Banaras) is a right of pilgrimage. Dedicated to the Hindu god, Lord Shiva, Varanasi is the holiest of the Seven Sacred Cities and one of the oldest civilisations on earth. Pilgrims travel here to immerse themselves in the waters of the sacred Ganges or travel here to achieve moksha – liberation from the cycle of death and rebirth in Hinduism.
To visit Varanasi is to take in one of the most powerful places in India – but know that (especially as a first time traveller to India), a visit to Varanasi is not always easy-going on the senses.
Pin this on Pinterest for Later!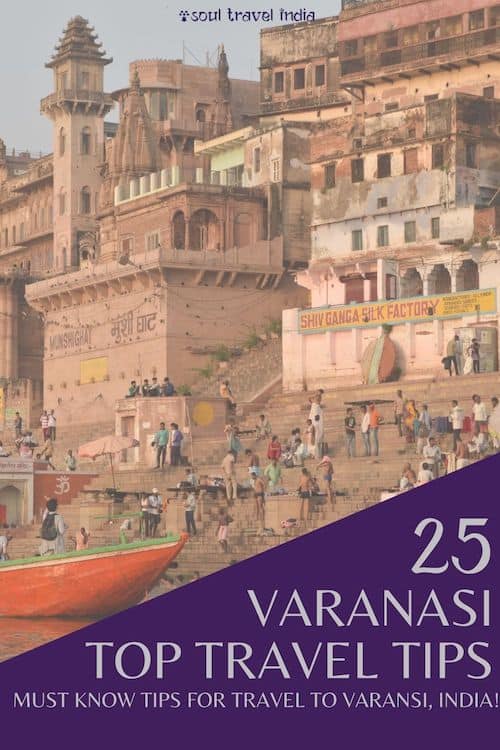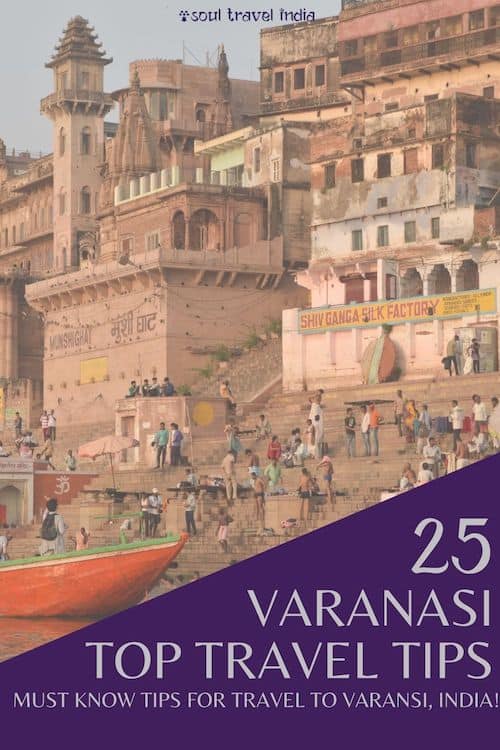 Enlightenment, and the death which comes before it is the primary business of Varanasi.

– Tahir Shah
Is Varanasi Safe?
The Varanasi entry in the Lonely Planet begins "brace yourself" – and they're not wrong. Kashi has many nicknames including "city of thieves" and it's not known for its enlightened attitude towards women (see more in our tips for female travellers below).
Don't let this put you off the idea of visiting Varanasi: Like other places in India, many people in Varanasi are kind and welcoming, but rather these are things to be aware of ahead of time so you don't fall victim to scams.
Some of main things to be aware of when planning a visit to Varanasi are:
Varanasi is a popular tourism destination. That means that there are many businessmen (and women) who will be all too happy to overcharge you, and scams abound. Haggle hard when in Varanasi and don't allow yourself to be pressured into buying things you're not sure about.
As a religious city, Varanasi is not the place to party. Alcohol and non-vegetarian food are not allowed here.
Despite its religious status, Varanasi is dirty and polluted. Watch where you walk, and if you have sensitive lungs you may want to bring a mask – the air can get very dusty in winter from the burning ghats and general pollution.
Do

not

enter the Ganges due to the extreme levels of water pollution.
Varanasi is a conservative place – see my tips for what to wear in Varanasi for female travellers below, and avoid displays of affection in public.
I recommend booking your accommodation before arrival in Varanasi and booking a pickup from the airport or train station for your arrival for less hassle and avoid a few scams.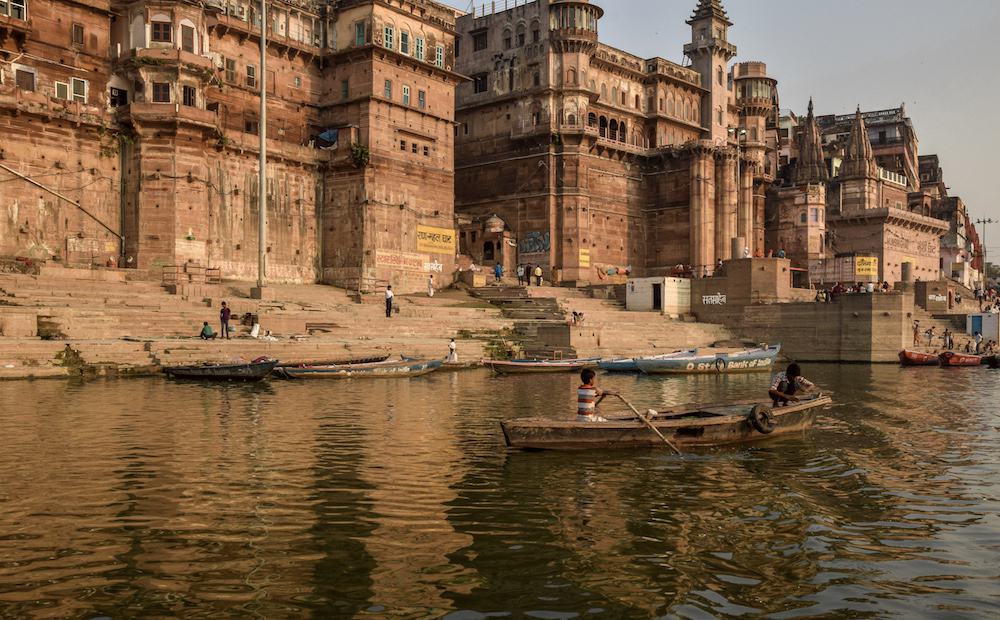 Varanasi is a full on assault on the senses. Expect all the usual sounds and smells of cosmopolitan India, but here they're dialled up a notch. The Ganges is sadly inky black and polluted, and the narrow streets of ancient Varanasi leading down to the ghats are crowded. If this sounds a bit full on, then I suggest staying outside of the old city, or splurging on an upmarket hotel such as the BrijRama Palace Hotel (you won't regret it).
The main risks in Varanasi are scams, overcharging and if you're a female traveller, the usual unwanted attention. If you consider my tips in this Varanasi travel guide, you'll find that many people in Varanasi are hospitable and welcoming, and it's truly an unmissable place in India to visit.
When to Travel to Varanasi
The best time of year to travel to Varanasi is in winter, between October and the end of February / early March. Avoid visiting between late March – June when it can get extremely hot, and in July – October when the monsoon falls. Varanasi can get cold during the winter months so remember to bring a shawl or sweater for chilly morning boat trips.
How to Get to Varanasi
Varanasi is well connected to Delhi, Lucknow, Kolkata and Agra, which all have direct trains. Although the fastest trains from New Delhi are the Rajdhani express trains, I suggest avoiding these as they arrive in Varanasi in the small hours of the morning. It's better to opt for a train that arrives during the day time if you can, or as a last resort make sure you have a pick up pre-arranged and your hotel knows you will be arriving late.
If you're short on time there are also flights between Delhi and Varanasi.
Once you arrive in Varanasi you'll need to take a rickshaw from the airport or train station to the old city. Rickshaws cannot enter some of the old city streets, or are prohibited to reduce congestion during the daytime, so you may have to walk a bit if your accommodation is near the ghats. Rickshaw drivers will refuse to use their meters for tourists so haggle and agree on a price before getting in. Short hops should be around 50 Rupees, but you'll have to insist on it.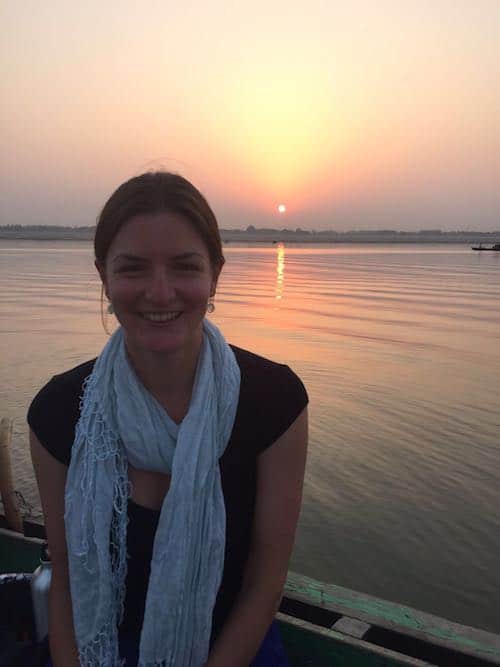 (Solo) Female Travel in Varanasi
If you're travelling as a solo woman in Varanasi, there are a few extra things to consider when planning your trip. There are plenty of women who travel (solo) to Varanasi each year, which makes it possible to meet up with other travellers too, although this is easier to do when staying in budget accommodation.
Don't visit Varanasi as your first or second place in India. Varanasi can be an assault on the senses and can be male-dominated, so it's best to get some easier going parts of India under your belt first before heading here
Varanasi is conservative, so dress conservatively (even more conservatively than other places in India). I suggest: Covering full legs (no shorts, cropped trousers or skirts with slits), no tight clothes, and cover the tops of your arms (no sleeveless tops or spaghetti straps)
Wearing a kurta or loose shirt and trousers/jeans are perfect
Don't walk around Varanasi alone at night – it's best to be back at your hotel by nightfall and eat dinner there
If you would rather have company, take a day tour or pre-arrange a boat trip with other travellers via your accommodation
Don't stay in mixed dorms if you are staying in hostels (as these are 99.9% men) – book a private room or an all-female dorm
Especially if you're staying in budget accommodation, make sure your room door locks securely and check for 'spyholes'
How to Have a Good Varanasi Boat Trip Experience
One of the must-do's of any visit to Varanasi is taking a boat trip on the river Ganges. There are two best times of day to do this: For sunrise, and in the evening to see the the Ganga aarti that takes place each evening on the Dasaswamedh Ghat from the water.
Both are a beautiful experience, but if you only have time to do one of the two, I would suggest the sunrise one. Boat trips in Varanasi are an essential part of the Varanasi experience, but they can also be high-stress to organise. On my first trip to Varanasi as I strode down the ghats to find our boat, following our guide, I saw swathes of touts making a beeline for me, only to realise I already had a guide and to fan off again.
A Varanasi boat trip is a must do, as it's from the water that you truly see Varanasi at its most atmospheric and can observe life along the ghats.
Touts in Varanasi know that everyone wants to go on a boat trip and take best advantage of it. If you want to take an early morning boat trip to see the sunrise then I strongly recommend that you organise it the day before: The morning of, boatmen set their prices high knowing that eventually you will be trying to bargain against the rapidly rising sun.
When bargaining, make sure you are clear on whether the price is per person or per boat, and stipulate that you are offering rupees (as opposed to dollars or whatever other currency your captain may later claim). I also suggest asking to see the boat to make sure it is river-worthy.
There is a scam where boat operators will take you to Manikarnika Ghat (the burning ghat) and tell you to get off – where you'll then be escorted to a deserted building and asked to make a donation to the cremations – your boatman makes a commission on this. If they tell you to get off, a firm 'no' should be enough. Note that photos are not allowed of this Ghat out of respect.
If you want a hassle free boat experience, then most hotels offer booking a boat trip directly with them, or you can book a boat trip as part of a day tour/activity with a company such as Get Your Guide.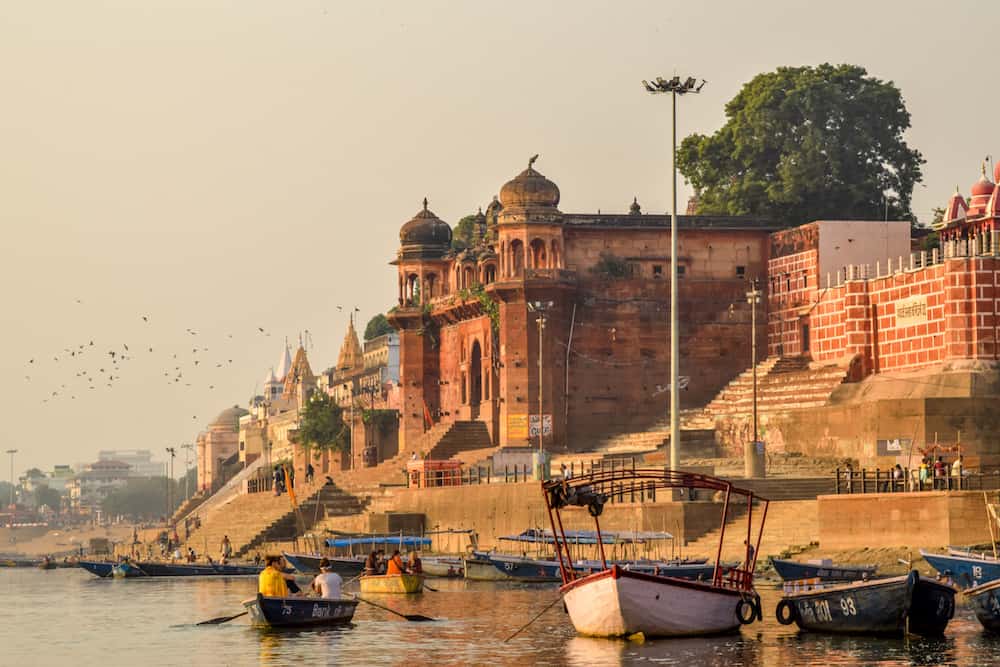 Final Varanasi Travel Tips
Varanasi may get bad press among travellers for being high hassle, but a visit here is worth it. There's only one way to tell if Varanasi will find a special place in you, after all.
I suggest wearing covered shoes in Varanasi that you can put in the washing machine or throw once you get home – Varanasi's alleys are home to as much cow dung as most other places in India combined, and there's plenty of other dust and dirt on the streets that you don't want to be stepping in, too.
2 days is enough to catch the key sights of Varanasi, but for a more relaxed experience you could spend 3-4 days here, wandering the ghats, visiting temples and soaking up the atmosphere.
Beware the fake Sadhus. Unfortunately not all of Varanasi's holy men are the real deal – many are no more than beggars or homeless men dressed up in orange to make money posing for photos from unwitting tourists. If one invites you to take a picture of them, know that a demand for payment may quickly follow.
Don't take photos of the burning ghats – the Manikarnika ghat. It's considered disrespectful for those who are cremating their close ones. In the same vein, be sensitive with taking photos of people bathing or mourning close up.
READ MORE on Varanasi – Stay tuned for our Varanasi Accommodation and Activity guides coming soon! In the meantime, get started with my 101 Essential India Travel Tips.
Share this on Pinterest: