One of the highlights of north-western India, far too many travellers to India leave Amritsar off their lists. In this Amritsar travel guide we'll take a look at why you should make the effort to come here, and what to do and see in this beautiful and historic city.
This post may contain compensated affiliate links. More info in our disclosure here.
Amritsar Visit Guide, Punjab
Nestled far up in the northwestern corner of Punjab state, Amritsar is easier to reach than you might think (see my getting there section below) despite being well off the Golden Triangle tourist trail – which is a reason in itself to visit.
Most famous for the Sri Harmandir Sahib (better known as the Golden Temple), Amritsar boasts a historic and charming old city with great food and friendly locals to boot. As a solo female visitor I found myself at ease here and loved wandering the city for a few days soaking up the ambience and history.
Just a stones' throw from the Pakistan border (and the only place that international visitors can cross between the two countries), Amritsar is filled with the history of partition, but it's also filled with the smells of bazaars, tea stalls, fresh lassi and kulfi, cycle rickshaws winding along the narrow old city streets, and some of the friendliest locals I've found in this part of India.
In this Amritsar travel guide I'll cover essential tips for your Amritsar visit, all of the Amritsar attractions, and where to stay in Amritsar.
How to Get to Amritsar
Amritsar has both an airport and a busy railway station, as well as a bus station that connects it to other cities in Punjab and neighbouring Himachal Pradesh. I arrived by bus from McCleod Ganj (Dharamshala), but most visitors arrive by train from Delhi.
The best train to take from Delhi is the daily Shatabdi express train (12013) which gets you from New Delhi to Amritsar in under 6 hours. Other Amritsar train options run too but take longer.
>>Click here to book your train tickets on 12go.
From the airport or train station you'll need to take a cab or auto rickshaw into Amritsar city centre.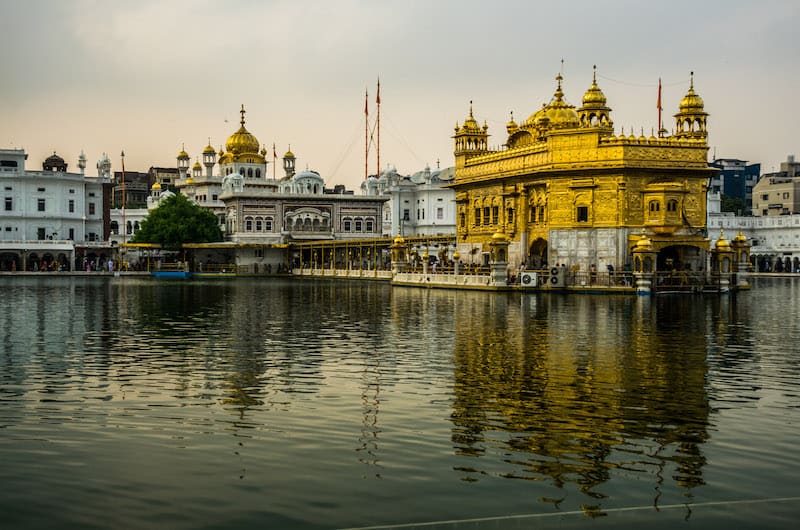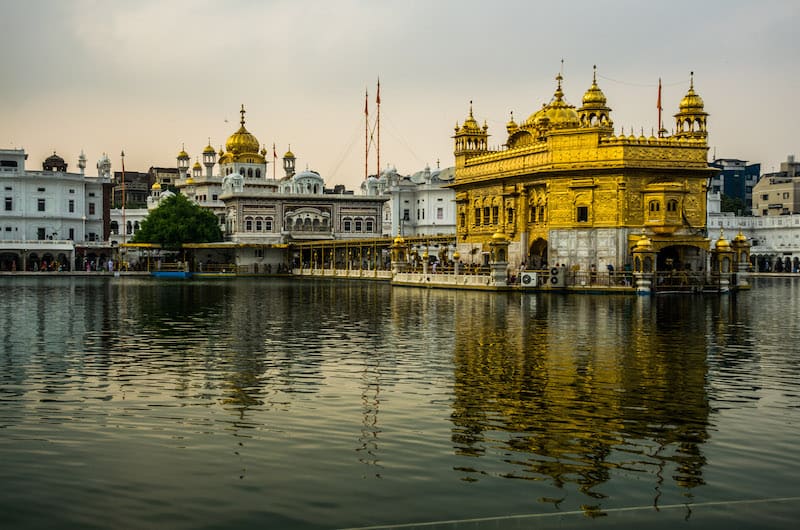 How Long to Spend in Amritsar
There are enough things to do in Amritsar as a tourist to keep you entertained for several days. At a minimum I'd suggest 2 days here, but you could happily find enough places to see near Amritsar to extend that to 4 days+ if you wanted.
In this Amritsar travel blog I'll cover the main things to do and see during your visit to Amritsar.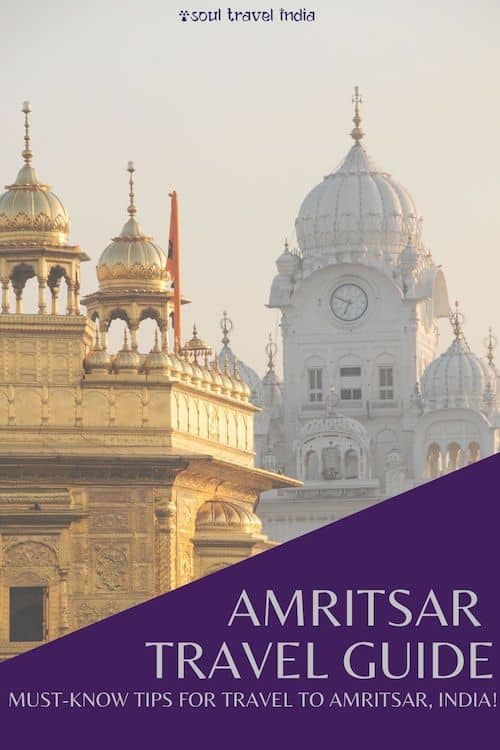 Where to Stay in Amritsar
Accommodation in Amritsar is scattered around the new and old cities, with many of the more upscale, modern hotels being further away in the new city. Amritsar old city hotel options tend to be small, budget focused guesthouses, but the advantage of these is you can walk easily to the temple, great restaurants and other attractions.
---
Accommodation in Amritsar Picks:
– Backpackers' Nest (Budget) – Basic and no-frills but bang in the centre of the old city and walking distance from the Golden Temple – Click here to book/check rates
– The Bougainvillea B&B (Midrange) – Beautiful homestay just north of the old city, this midrange option feels like a city oasis and has a lovely walled garden – Click here to book/check rates
– Taj Swarna (Upscale) – If you're looking for a 5* hotel in Amritsar then the Taj Swarna (part of the Taj Hotels chain) is the best place to stay in Amritsar. Set a little outside of the city, you'll need to take a cab or rickshaw into town, but the beautiful rooms and facilities make up for that – Click here to book/check rates
---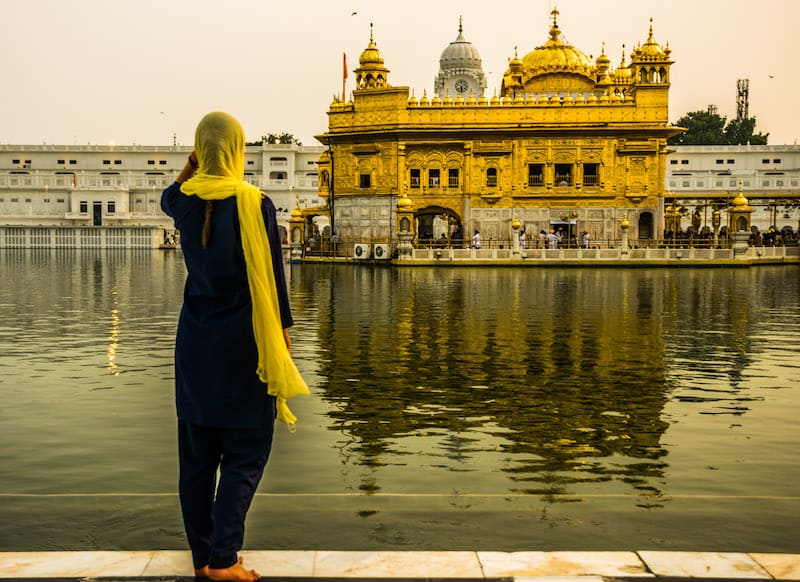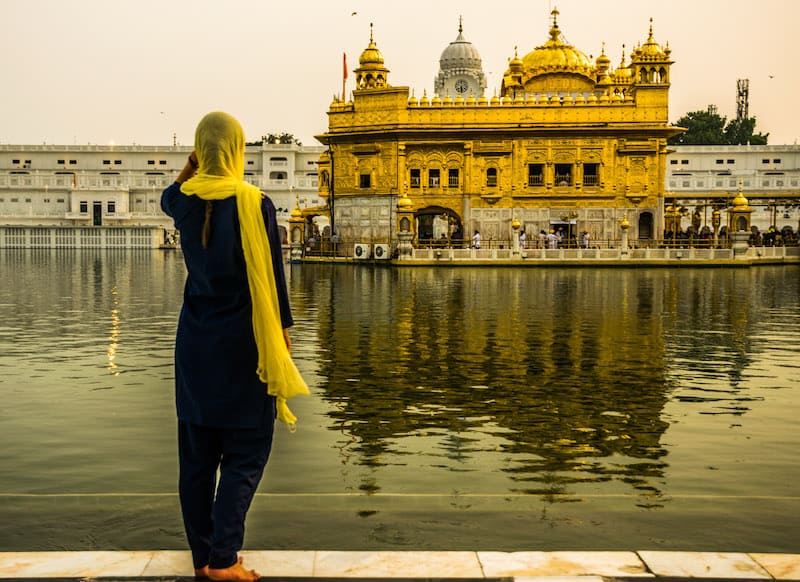 Places in Amritsar to Visit
When planning your Amritsar sightseeing, you'll want to factor in that there are several famous places in Amritsar that you'll want to visit (see our section on how long to spend in Amritsar. Of course, the Golden Temple is likely to be top of your list of Amritsar tourist places, but remember there's more to Amritsar than the Golden Temple when planning your visit.
The Golden Temple
When planning what to see in Amritsar, depending on how much time you have, I suggest starting with the Golden Temple (Harmandir Sahib, meaning "abode of God"). If you have the chance, it's great to plan two visits here – one during the morning / day time, and one at night to see it all lit up.
Located in the old city of Amritsar, Amritsar was named after the temple and its holy pool – Amritsar means the pool of immortality. After the pool was excavated in the 1500's, the city of Amritsar grew up around the pool and temple. The "Golden Temple" is the inner temple (surrounded by a moat-like pool) where the holy book of Sikhism is kept. To get into the inner temple, you'll need to wait in a queue which can get busy, depending on the time of day.
One of the central philosophies of Sikhism is seva – which means selfless service, and the Golden Temple is one of the most inspiring places in the world to see the scale of the operation which is fully run by volunteers who staff the enormous kitchens.
Do not miss the opportunity to taste lungar in one of the lungar halls which serve over 100,000 people a day for both lunch and dinner. Food is served throughout the afternoon, but the main meal times are 12-2pm and 7-9pm. Food is vegetarian, delicious and simple – expect dal, chapatis and vegetables. Everyone is welcome regardless of faith and it's an experience not to be missed (food is hygenically prepared and safe to eat).
When visiting the Golden Temple, dress modestly – shoulders must be covered as well as legs (no shorts or knee length pants/skirts) and heads must be covered for both men and women at all times inside the temple complex. Shoes are left outside the temple at the shoe storage desk.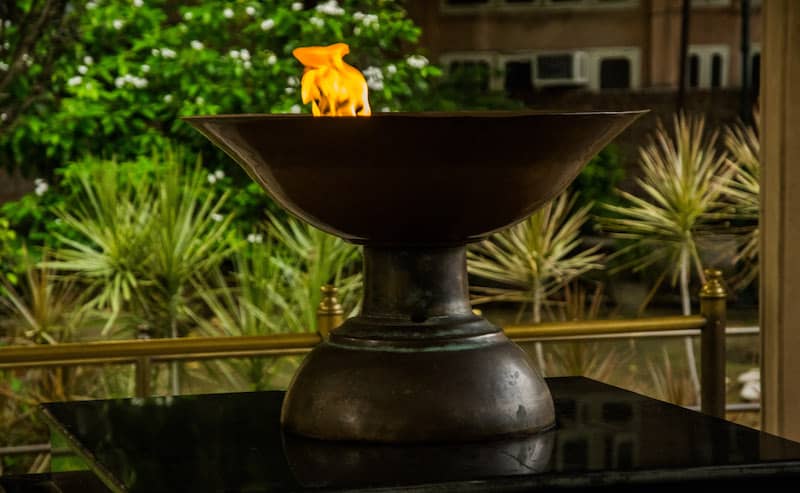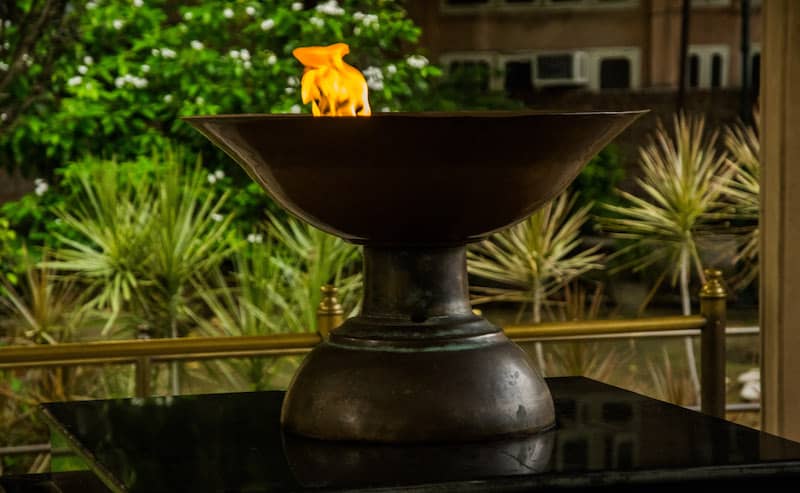 Jallianwala Bagh
Just a few steps from the Golden Temple, another place not to miss in your sightseeing of Amritsar is the Jallianwala Bagh. This park is a nationally important memorial and represents one of the worst atrocities committed during British colonial rule of India. If you're British (like me) then visiting here may not feel easy, but it's one of the most important Amritsar famous places for anyone to visit.
The Jallianwala Bagh is important historically, not only for the massacre that happened there in 1919, but for the events that ultimately led to independence for India in 1947. Hundreds of unarmed Indians were massacred here under the orders of British officer Reginald Dyer.
The site itself is a quiet garden, with a central memorial and a section of wall where you can still see the bullet holes. History aside, it's one of the places to see at Amritsar if you're looking for some slower pace sightseeing, or somewhere to sit for a while.
Partition Museum
Opened on 17th August 2017, 70 years exactly after the partition of India took place, a visit to the Partition Museum in Amritsar is a must add to your best places to see in Amritsar list.
Many visitors to Amritsar head to the Attari-Wagah border ceremony that marks the daily closing of the nearby border between India and Pakistan (see more on that below), but in contrast to that experience, the Partition Museum tells of the sobering reality of the bloody divorce of the Indian sub-continent in 1947 just days after Indian independence.
The Indian partition is still, to this day, the largest migration crisis in human history, with up to 2 million lives lost and 14 milllion people displaced by the division of India. The dividing line, famously, drawn by a man who had never set foot on Indian soil.
The partition museum shares the stories of families separated by borders, violence and religion to life – with tales of heroic survival and loss, and is one of the best museums I've found in India, with audio tours, art and different types of exhibits. It's located just opposite the Golden Temple in the old city.
Amritsar Old City
You don't want to miss out on taking in Amritsar's old city by wandering through its narrow, character-filled and bustling old streets. Sometimes maze-like, the old city is one of the best places to see what Amritsar has to offer – especially if you just want to soak up the atmosphere or find some tasty street food.
There are walking tours available of the old city such as this one or tour company City on Pedals offers a range of tours including walking tours and food tours around Amritsar in small groups.
At the very least, take a visit to the old city for a wander and a street side chai. You'll find locals are super friendly. For shopping, head to the Lahori Gate Bazaar for pashmina shawls, Punjabi suits, dupattas and a range of ladies' wear – but remember to bargain and check if pashmina shawls are the real deal before agreeing a price!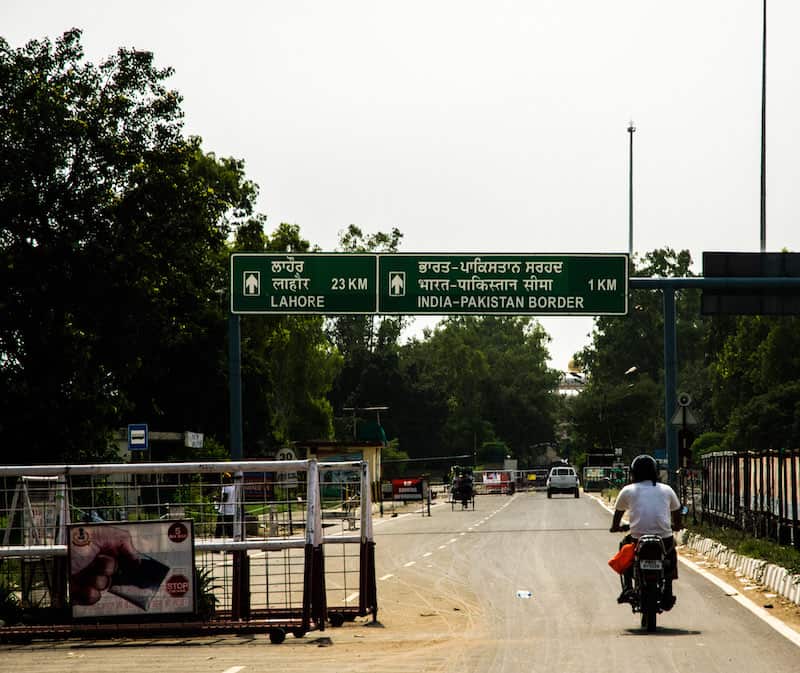 The Wagah – Attari Border Closing Ceremony
Last but by no means least is another of the most popular things to do in Amritsar, is the India-Pakistan border ceremony held at Attari each day.
Commonly chalked up as the most bizarre border in the world for its flag-lowering ceremony that takes place every day, the Attari border is just 25km west of Amritsar. A popular suggestion for important place in Amritsar to see, the border ceremony is almost as popular as the Golden Temple itself – and attending is an experience that will remain engrained in your memory – either for its unique entertainment or its heavy irony in relation to the devastating history of partition that is all but un-missable in Amritsar.
Nationalism aside, the ceremony is well worth attending to make up your own mind on the spectacle. There's no entry fee, and you can either arrange a tour with a driver, book a private driver/taxi via your accommodation or else there are Amritsar travel guides standing outside the Jallianwala Bagh who offer seats in shared taxis at cheap rates who you can book through (around 100-200rs per person return). The down side of the shared taxis is you'll have to wait around for a while before the ceremony as they set off much earlier in the afternoon.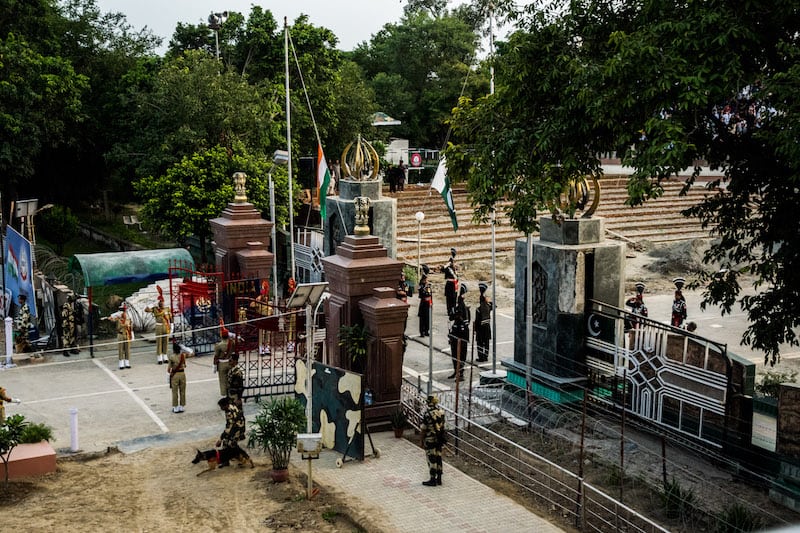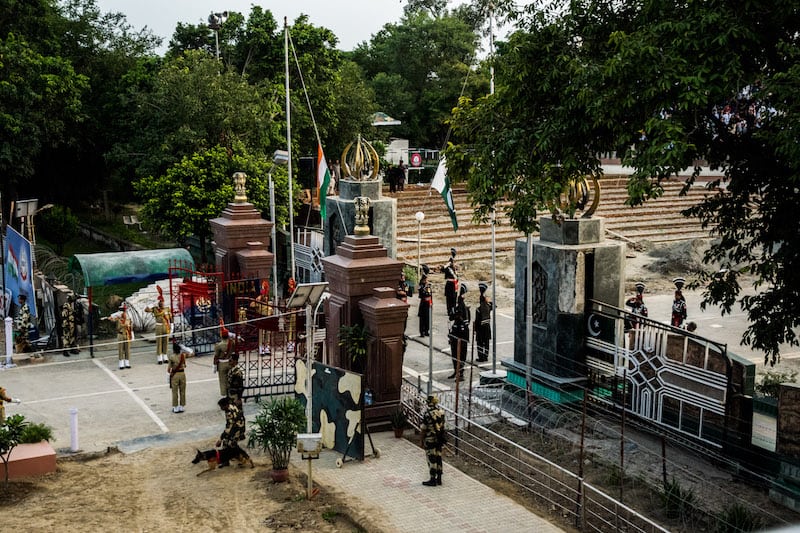 Where to Eat in Amritsar
A trip to Amritsar would be lost without tasting some of Amritsar's delicious food! Expect distinctive, spicy tastes with rich gravies designed to ward off a cold Amritsar winter.
Two of the iconic things you'll want to have here are rich Lassi (there's a great Lassi-walla outside the Golden temple that serves it with rich malai (cream) on top – yum. You'll also want to try Amritsari kulcha, Amritsar's answer to an aloo paratha – locally made naan-style bread stuffed with potatoes (or sometimes paneer cheese) and served with chickpea curry (chole). Other dishes to eat in Amritsar include chole puri (chickpea curry with fried flat breads) and paneer curries.
Lastly you'll want to make sure you have a taste of the simple but delicious lungar, made with devotion at the Golden Temple. For some of the best Amritsar food make sure you visit Bade Bhai Ka Brothers Dhaba for casual but delicious meals.
Travel Guide Amritsar FAQ's
When is the Best Time to Visit Amritsar?
Amritsar has an extreme climate for India, with cold winters and very hot summers. If visiting during winter months you'll want to wrap up warm. I visited in August which was almost unbearably hot and humid – if you're looking for a milder climate, March and October are good months to visit.
What can I do in 2 Days in Amritsar?
Start with the Golden Temple on the morning of Day 1, followed by a street walk of the old city and some great Amritsari street food. Head to the Attari-Wagah border ceremony in the afternoon. On Day 2 spend your time visiting the Partition museum and Jallianwala Bagh, followed by a return to the Golden Temple to see it at dusk if you have time.
What is the Best Food to Eat in Amritsar?
Amritsar has many tasty treats but you won't want to miss the delicious Lassi and Amritsari Kulcha. See our top tips for where to have them in this guide!
Is Amritsar Safe for Solo Female Travellers?
I found Amritsar to be one of the safer cities I visited in north India as a solo woman, with friendly and welcoming locals. I would definitely recommend it to solo female travellers (do exercise usual caution as when travelling in India).
Amritsar is a beautiful city in India to visit and we highly recommend visiting here on your India trip! Looking for more Amritsar travel tips? Why not jump into our free Facebook group and ask?