Planning a trip to India is not a small task (but yes it's worth it!). In a world of turn-up-and-go travel, India is one of the outliers, where "just go" is a little more difficult to do. In this guide to how to plan a trip to India, I'll walk you step by step through India trip planning – whether it's your first time to India or you're heading back for more.
This post may contain compensated affiliate links. More info in our disclosure here.
How to Plan a Trip To India – Your Complete Guide
Planning a trip to India is where the magic begins – and it's just as well, as in our experience of both living in India and travelling around India, at least some level of India trip planning before you set off is needed – much more so than for other Asian countries.
Why the need to plan a trip to India in advance?
India has unique ways of doing things, and if you're a foreigner planning your first time in India, then it can be frustrating (at best) trying to navigate Indian bureaucracy and systems (or lack thereof) while your allotted trip time steadily trickles away.
The question of how to travel around India is not straightforward – it is a sub-continent, after all.
It's also important to prepare your trip to India in advance for other reasons. You'll want to learn about Indian culture so that you can get more out of your trip to India, perhaps learn some Hindi, find out which India itinerary is best for you, work out which places to visit (that can be huge distances apart).
There are also many opportunities to support sustainable tourism in India on your trip too, which a little planning will make it much easier to do.
I also recommend reading up on safe travel in India (especially for women) and which scams to look out for. Unfortunately, un-prepared first time travellers to India make easy targets for scamsters on arrival in Delhi and other cities – but a little preparation can save you from a lot of hassle and being yet another scam victim.
Not least, by spending time to plan your trip to India ahead of time, you'll get far more out of the experience. Whether this is your first time to India and you're planning a 2 weeks in India itinerary, or you'll be spending months in India, planning will help you relax and enjoy all of the magic that India has in store for you.
In this travel to India blog I'll walk you through the most important things to know when you start to plan a trip in India, as well as how to prepare for the best India experience. Let's get started!
Current Status of Travel to India (2022)
The information below is provided with the intention of helping readers plan future trips to India but is subject to change without notice. Please cross-check with official sources such as your government's travel advisory. (Last updated October 2022).
In March 2020 as a response to the declaration of the Covid-19 pandemic by the WHO, the Indian Government rolled out an India travel ban which stopped travel to India for touristic purposes and saw all tourist visas suspended (as well as many travellers stranded in India).
As of 2021, India re-opened its borders for tourism, and in 2022 international travel to India has pretty much returned to normal. There are very few covid measures in place now in India – with the exception of wearing masks on flights, and in general travel has returned to how it was pre-pandemic.
Tourism visas for India are now being re-issued – see my guide to India e-visas here – and borders are fully open.
IMPORTANT NOTE FOR BRITS & CANADIANS – Please note that if you're travelling to India on a British or Canadian passport, you are NOT currently able to get an E-Visa, and you need to allow a LOT of extra time to apply for a regular paper/sticker visa and attend an in-person appointment at your nearest Indian High Commission / VFS processing centre.
At the time of writing, India requires either proof of full Covid 19 vaccination (2 shots) and/or a PCR test taken within the last 72 hours for entry to India. You will need to upload relevant proof via the Air Suvidha portal – more information here. The requirements vary per country, so please check information for your specific situation carefully.
During the Covid-19 Pandemic and lockdowns, unimaginable numbers of people working in and relying on tourism to earn a living struggled to make ends meet. Throughout this India travel blog on Soul Travel India my focus is on promoting organisations that have a positive impact on communities in India, and we recommend that travellers to India support sustainable and local tourism initiatives wherever they can.
When to Visit India
One of the first steps to plan India trip is to decide when is best to visit India for you. There are 3 main seasons – although like everything, as our global climate changes, these seasons are becoming blurred and sometimes temperamental. So, pack a sweater and waterproof just in case!
High Season – Winter – October to February. India's winter falls between October/November and February and this is the most popular time to visit India. Expect warm – cool days (except for in the far north and mountains of India where it is positively wintery and/or inaccessible). Popular festival Divali occurs (Oct/Nov). Book ahead as this is peak season, especially over Christmas, New Year and Divali. Best time to go if you want good weather.
Off Season – Summer – Late March to June. Most of India becomes unbearably hot and dry, starting from mid/end of March depending on the year. Many come for Holi (Feb/March) which marks the beginning of Spring. But between the end of March and June it's really too hot for sightseeing unless you're heading to the hill stations and mountains of Ladakh and Himachal Pradesh. Avoid from late march on unless you're heading to the hills.
Shoulder Season – Monsoon – July to September. Much of India gets periodic deluges for monsoon which starts in late June and ends in September or October depending on the year and where you are in India. This can be a great time to explore parts of India with fewer crowds – not all regions of India get lots of rain (Rajasthan and the north get relatively little), but travelling during monsoon requires patience and can go wrong. Best time to go if you want to avoid crowds and don't mind getting wet and/or delayed. Ideal time for trekking in Ladakh.
Some of the best times to go are shoulders of seasons – I personally love October and late February / early March as they see fewer visitors and often good weather in between seasons. Plus if you want to see places with differing climates, one of these periods is likely to be the best time to travel.
Where to Visit in India
There are many different India itineraries – whether you're looking for a 2 week India itinerary, 3 week India itinerary or backpacking India route. Where's best for you will depend on your interests, budget, travel style and more. We don't believe in sending everyone on the same old regular cookie-cutter travel itinerary India has because there's so much more to India than that!
Some tips when planning your own India travel itinerary:
Everyone tends to head to north India for their first trip to India (Delhi, Rajasthan, Agra, etc) but there's more to India than this. The south of India is actually much easier going and has better food (we're biased on that!)and a better place to start, especially for solo female travellers to India.
Travel distances in India can be long. Don't try to fit too much in.
Allow a day on arrival to rest and adjust – it's easier to deal with the culture shock after a few hours of sleep.
If you don't want to plan everything in advance, my advice is to at least book your first night in a new place, especially for female travellers. You don't want to arrive in a new place looking lost and scrambling to find somewhere to stay as this is where it's easy to fall for scams.
Not sure where to visit in India? Take our free quiz here to find out which itinerary for India is right for you!
Popular India Itinerary Options
Especially if it's your first time India, people often wonder which of the many India itineraries is right for them. Whatever you choose, know this: It's just not possible to see 'India' in one visit. What you will get, though, if you plan right, is the perfect taste of India that'll leave you wanting more on your next visit.
India Golden Triangle
The most popular and our least favourite of all typical India itineraries is the Golden Triangle route of Delhi – Agra – Jaipur. So named because of the geographic position of these 3 cities to each other, and for the fact that they are home to some of India's greatest treasures: The Taj Mahal (Agra), Delhi's treasure trove of history and culture, and the UNESCO listed "pink city" of Jaipur.
While these are absolutely places that anyone visiting India should include on their itinerary, the reason this is one of our least favourite itineraries is because it's also where you'll find most of India's scamsters that pray on tourists, as well as most of the bus-loads of tourists.
The location of the Golden Triangle is also in some of India's most polluted, heavily populated and industrial areas which means that the culture shock is dialled up a notch – not necessarily the best welcome to India.
So, how to 'do' the Golden Triangle right?
We understand that most people planning their first trip to India want to see the Golden Triangle, and there's certainly nothing wrong with that. Here's what we suggest:
Don't just see the Golden Triangle. Make time to stop in other places, such as smaller towns, stay at a homestay or go to one or two less touristy places.
Don't go to the Golden Triangle first. Start in another part of India (we highly recommend south India), or fly in to Mumbai (much easier going) and work your way north. Finish up at the Golden Triangle once you've found your India legs.
If you're short on time, take a tour (or plan it yourself) that shows you the Golden Triangle plus other places.
This one is one of my favourite Golden Triangle tours.
Pin to share on Pinterest!
Other North India Itineraries
There are plenty of alternative options for exploring north India beyond the Golden Triangle. Here are a few suggestions:
Rajasthan Itinerary

– Easy to combine with the Golden Triangle, it's possible to spend over a month exploring the cities, deserts and village camps in Rajasthan, India's most kingly state, staying in palaces fit for a king or humble backpacker guesthouses with views of forts to boot. Make sure you check distances when planning travel as distances as big!
Delhi to Kolkata – Follow the plains of India along the Ganges travelling from Delhi to Agra, historic Lucknow, magical Varanasi before arriving in India's 3rd biggest but oh-so-charming and surprisingly tourist-free city of Kolkata – gateway to the bay of Bengal and where India's literati hang out, with some of the country's best food, too. (Aside – if you are a solo female traveller on your first visit to India, you may find it better to buddy-up if you want to do this itinerary, as Uttar Pradesh, the state that it mostly runs through, is not known for its liberal attitudes towards women and can be tough going).
Tiger Parks & Magic of Central India – If you feel called by India's incredible biodiversity and wildlife then you won't want to miss the tiger reserves and national parks of central India spanning Madhya Pradesh, Maharashtra and Rajasthan. Break up the game drives by visiting beautiful Orchha and to gape at the "Karma Sutra" temples in Khajuraho.
The Mighty Mountains of North India – If spiritual India is calling, (or you love beautiful mountain views and trekking) consider heading north from Delhi to Uttarakhand, Himachal Pradesh and Ladakh. The further north you go, the more remote it gets and the more stunning the views. Explore the historic hill stations of Shimla and Dharamshala or stay a while in Rishikesh before heading to Gangotri in search of the source of the Ganges. Plan plenty of time in the mountains, as the roads are as windy as routes are indirect. NB The mountains get snow-laden in winter, so Feb – May is best for this region, or May-Sept for Ladakh.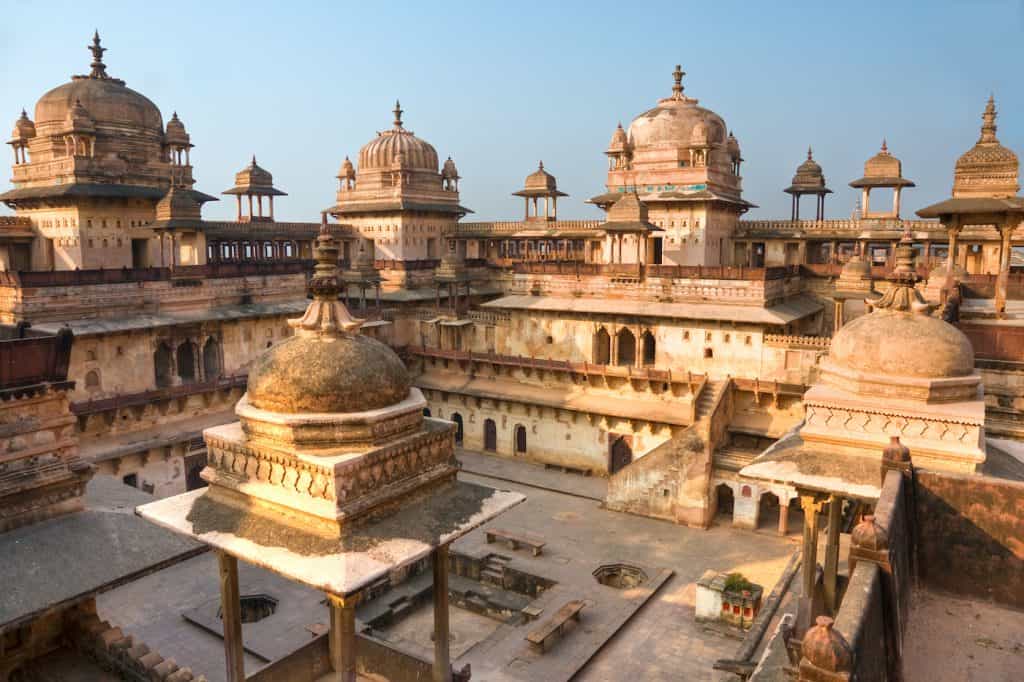 South India Itineraries
South India offers some of the best trips to India and is well worth considering for your India travel route. In fact, in our view, south India is a far more leisurely entry point into India than the north. The lush south offers amazing foods, verdant green fields and rice paddies, beautiful beaches and stunning temples. Did we mention the food?
Culturally, architecturally and even when it comes to weather, the south is very different to the north of India. If you want a more laid back trip, south is definitely best. Here are some of our favourites:
Mumbai to Goa – Say hi Bollywood in Mumbai before heading down the beautiful Maharashtrian coast towards India's smallest state, Goa. Delight yourself with caves and hill stations along the way or pay a visit to the bustling student city of Pune before winding up on Goa's beaches.
Bangalore to Goa – Explore beautiful and off-beat Karnataka, one of India's most lush states taking in coastal towns such as Udupi and Gokarna, clamber over rocks at the ruined temples of Hampi and gaze in awe at Mysore Palace.
Kerala & Tamil Nadu – The southern tip of India, these states are a world away from the north of India. Watch life on the Kerala backwaters pass you by, soak up the French vibes of Pondicherry, or take a mountain railway up to one of the hill stations for a cup of freshly-picked tea.
India Planning Timeline
There are lots of moving parts to any India trip – and even if you're someone who likes to plan as little as possible, there are a few things you're going to have to plan up front for your India trip, especially if you want a low-stress experience.
Here are some of the key things to plan ahead:
6 Months Before Your Trip to India
Research seasons, when to go to India and itinerary ideas
Join my India travel planning facebook

group here

!
Check weather for the time of year of your trip for where you want to visit in India
Start researching flights, make sure you're subscribed to your favourite airlines for sales
Book your tour if you want to take a multi-day group tour or guided trip
3 Months Before Your Trip to India
Plan out your rough itinerary day-by-day
Apply for your visa if you're not eligible for an e-visa (currently includes British & Canadian nationals)
Book arrival accommodation & first night(s) in new places
Book tiger safaris / national park safaris (these get booked up)
Book your main train journeys (these also get very booked up)
Book domestic flights
1 Month Before Your Trip to India
Book your airport pickup via your hotel / use

Sakha Cabs

(highly recommended for female travellers or if you're arriving in Delhi at night)
Apply for your E-Visa (28 days prior)
Get vaccinations / prescription medicines needed for travel to India (check your government's travel health website).
These timings are just guidance and you can switch them around to suit your own planning preferences, however note that some things, such as railway tickets, are not open for booking more than 120 days out.
If you only book one thing for India (apart from your flights and visas!) make it your arrival accommodation and pre-arranged airport pickup. It just helps so much to have a smooth landing.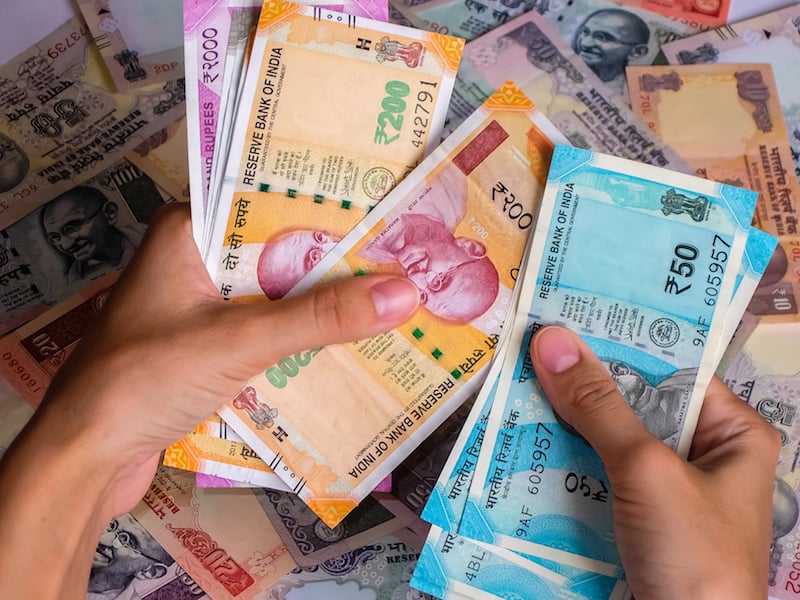 Money & Cost of Travelling to India
Budgeting for your Trip to India
One of the key aspects of how to plan a trip to India is budgeting. One thing to note when planning a trip to India for beginners is that there's unfortunately a lot of old and outdated information out there about how much it costs to travel to India.
Unfortunately, the days of travelling India on $10 or $20 a day are gone, even for a hardcore backpacking through India trip.
Another important thing to note is that the costs of travel in India vary widely depending on where you are travelling. Hotel prices have steadily crept up in Mumbai, Delhi, Kolkata and Bangalore over the last few years – meaning finding a room on a budget can be a tall order. Overall, across India inflation is a real problem and prices are changing rapidly. So check when budgeting for the real time rates of accommodations in different locations around India.
Budget
A more realistic estimate for travelling India on a budget is a minimum of 3,000 Rupees ($41 USD) for a solo traveller, or 4,000 INR per couple per day, towards the bottom end of the comfort range. This is broken down as (per day):
Basic private room in a guest house / homestay / cheap hotel: 1500 Rupees (note for cities like Mumbai and Delhi you may need to pay upwards of 2000 or be prepared to share a dorm)
Breakfast, Lunch and Dinner: 1000 Rupees per day (the cost of food varies hugely in India. Get simple street-side thalis for 60 rupees to meals upwards of 500 rupees in restaurants)
Public Transport and Admission to sites, anything else: 500 Rupees per day.
As you can see, this is basic travel, and you won't have much to play with on that budget.
Midrange
Prices vary as well for "mid-range" travel as there are no consistent standards. Broadly speaking, for a comfortable trip around India, we suggest budgeting between 6,000 ($82) – 8,000 ($110) Rupees per day for a solo traveller or up to 10,000 ($137) per day for a couple. This is broken down as (per day):
Mid Range Accommodation 3,000+ Rupees
Meals in restaurants 2000+ Rupees
Day Tour 1000+ Rupees
Admission to sites & short hop taxis/public transport 1000+ Rupees
Luxury
Just as it's easy to travel relatively cheaply in India, there is also a great range of luxury options, especially in Kerala and Rajasthan which are home to some amazing luxury resorts and hotels to stay at. The sky is really the limit with these options and costs vary widely.
Here are some sample costs (you'll notice some high ticket items are quoted in USD in India, usually because they are marketed at foreign tourists – you'll do better if you negotiate in local currency).
1 night Stay at Taj Hotel Lake Palace, Udaipur: $700++
1 night Stay in a 5* hotel: 15,000 INR ($205)
Air Balloon Ride in Jaipur: $200++
Private driver for a week around Rajasthan in a Toyota Innova: 35,000 INR ($478)
Meal in a high-end restaurant with drinks for two: 5,000 INR ($68)
Whatever level of budget you are travelling to India on, make sure you have access to a contingency budget or credit card if you need it.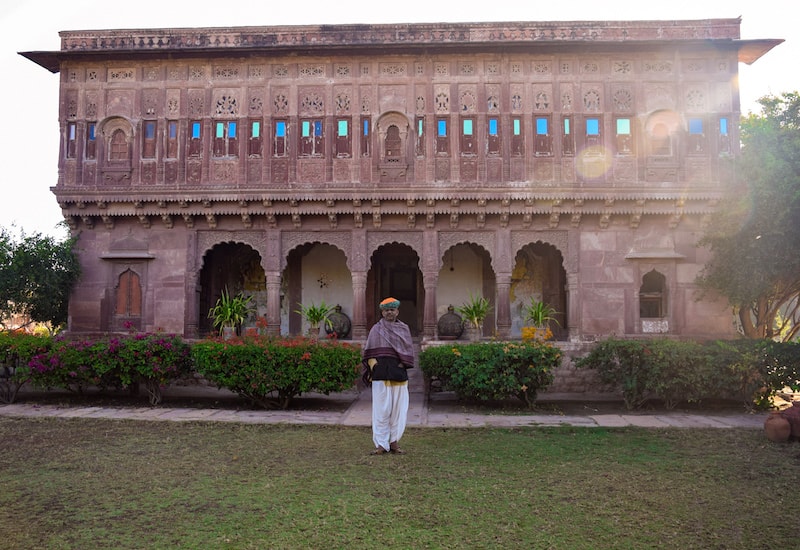 Money Matters for your Trip to India
Although things are changing, India is predominantly a cash economy, and cash-less payment systems such as PayTM are unavailable to foreign visitors without an Indian bank account. It's important to have some cash on you at all times.
Typically payments at higher end hotels, restaurants and shops can be made with foreign credit cards, but budget and lower-end places will want cash. American Express and Diners cards are not widely accepted.
Here are some of the money essentials to know for travel in India:
Officially, you're not allowed to bring Indian Rupees into India as a foreign national. Un-officially, unless you're carrying suitcases stacked with cash, no one's likely to care much (at least plenty of our readers have taken small amounts in). This does however mean that you may not find it easy to exchange money into Rupees before arriving in India.

If you can get Rupees, take a modest amount out and try to get small denomination notes (100s, 50's, 500's) – see why below.
If you can't get Rupees, don't worry. You can get them in India on arrival at the airport.

The only places you're likely to find international Credit or Debit cards accepted are at large upscale hotels (5*) or upscale restaurants, or large travel agents. Everyone else will want cash, from rickshaw drivers to hotels to shops.
The best way to get cash is to either use your Debit card at ATM's (we have good experiences at State Bank (SBI) Atm's or Axis Bank ATM's. If you're worried about if your card will work, try to find a cash withdrawal machine inside a bank.
ATM's in small towns can run out of cash. Don't get stuck. Stock up before leaving a large city and keep your cash in different places to be on the safe side.
Try to get change at large restaurants/hotels/shops as small shops and rickshaw drivers will often claim "sorry no change" (even when they do have it. 100, 50, 20 and 10 rupee notes are useful so always try to hold on to a few. Everyone will claim they have no change, but stand your ground at larger places and say you don't have change. Don't try to pay a rickshaw driver with a 2000 Rupee note. It's asking for trouble and may cause an awkward situation.
If you're not sure if your ATM/Debit card will work in India, you could look at getting a Transferwise pre-paid card. It'll also help reduce your transaction fees and exchange fees while travelling in India.
You can charge Uber rides to your credit card if using the Uber app but watch the exchange fees from your credit card company – it's generally better to pay cash.
ALWAYS CHECK YOUR CHANGE. Unfortunately a common arrival in Delhi scam is to try and short-change tourists. Our readers have even caught the Airtel booth inside Delhi airport at it. Count your change in front of the vendor and don't leave until you are happy.
Fake currency is a problem with higher bills. Tripsavvy has a good article on how to spot it here.
Getting Around in India
Think of a mode of transport and India has it. Planes, trains, automobiles and, er.. camels. As a rule of thumb, the more you pay, the quicker you'll get to where you want to be, but equally, the more you pay the less interesting your journey will be ;-).
Planes
The least interesting way of travelling India. There are several companies running domestic flights around India and a record number of Indians are taking to the skies. Useful for long distances such as Delhi – Kochi. Airlines include Indigo (recommended), the luxury carrier Vistara (recommended) Spice Jet (not great) and Air India (least recommended). My recommendations are based on reputation for punctuality and general reliability.
Make sure you have the credit card you booked your flight with to check in. Some airlines may refuse you boarding without it.
Baggage allowances are generally less than international flight – around 15kg. Check carefully before packing!
In winter flights can get delayed by fog and in monsoon by heavy rains. Factor in extra time.
Trains
Now we're talking :-). You can't come to India and not experience an Indian train ride. Even if it's just one. Many of the stories of Indian train journeys (including my own) come from long train journeys, with many new friends made. You can also take a day train if you're not sure if you're up for a sleeper, the Gaatiman Express from Delhi to Agra is super efficient and comfortable in Chair Car Class. Also worth a mention is the Mumbai to Goa Jan Shatabdi Express which arrives in Madgaon in time for a mid-afternoon fish curry.
Indian Railways has up to 9 classes of travel. Nine. Read my g

uide to train travel

to work out what's best for you. Generally we recommend AC2, AC3 and Chair Car on daytime trains.
Train travel in India has it's challenges – the main one being booking tickets. Read our guide above, or to do it the easy way, use site 12go.asia to book your tickets easily from abroad.
You need to book train travel in advance. Trains sell out. With 25 million people travelling by train per day in India you can imagine why.
Buses
Buses come in a range of shapes and sizes with Volvo buses being the top quality and recommended for when you are travelling between cities. There are plenty of night buses in India and I recommend taking the train over these as the train is much more comfortable (you can get up and walk, use the toilet etc). However, they're a useful option when trains are full or there's no railway to where you want to be.
AC vs Non-AC – usually there will be a choice between AC and non-ac busses – Non AC are suitable for short distances only in winter, and are usually older buses. AC recommended.
Redbus.in is the best app for checking buses and booking if you want to book buses in advance – but there's less need to book buses in advance like there is with trains.
Taxis & Rickshaws
A range of vehicles fall under this category! There are regular Taxis in major cities although these have fallen in popularity as ride hailing apps Uber and OLA (the Indian version, who are great).
UBER & OLA – Just open up your app, order and get in. OLA has the added bonus of being able to hail a rickshaw. There is also Uber intercity which you can use for longer transfers. If Uber drivers try to negotiate on price / message you and ask you where you are going, choose another one instead.
Taxis – 'Regular' taxis are available in most cities, and you can find 'pre-paid' taxis which are a little costlier but have the advantage of being pre-paid at the booth so avoid you being overcharged. Usually found at train stations or airports. Don't give the paper slip to the driver until he drops you at your destination.
(Auto) Rickshaws & Cycle Rickshaws – Almost omnipresent is the tuktuk (so named after the tuk-king sound of it's compressed natural gas engine), also known as an Auto or Auto rickshaw. These are great for getting around cities but you'll usually have to negotiate before getting in. Unfortunately many rickshaw drivers refuse to use the meter for tourists and will add on extra. In a few places you can still find cycle rickshaws which are considerably harder work for their pullers so please be kind to them and don't sit in one with your luggage. Also negotiate.
Private Car & Driver
If all of the above sounds like far too much like hard work, you can hire a car and driver for parts of your trip. This is handy if you're exploring one state, say Rajasthan. Or you can just hire one for a day. As a starting point, ask your hotels for driver recommendations.
Next Steps
Now you know what to think about when planning your trip to India, it's time to make your itinerary and decide how you want to experience India!
Need an extra helping hand? Jump into our free India Travel Community on Facebook and ask away!
Are you planning a trip to India for 2022 or beyond?
More Resources for Planning your Trip to India:
Save this for later on Pinterest!