Wondering where to stay in Delhi, India's vibrant but crazy capital? As the first port of call for many travellers to India and mixed reviews, trying to work out where is the best area to stay in Delhi for travellers can be overwhelming – which is what I help you solve in this guide. Read on to find out which are the best Delhi hotels and which areas are safe!
This post contains compensated affiliate links – thank you for supporting Soul Travel! For more info, you can read my disclaimer here.
How to Choose the Best Accommodation in Delhi, India – for Travellers
As the first stop on arrival in India for many international travellers, deciding on where to stay in Delhi, India can be an overwhelming task, especially if you're visiting New Delhi for the first time.
As a sprawling city of over 20 million people, Delhi extends on and on into suburban cities – making where you choose to stay in Delhi really important – especially if you don't want to spend most of your visit stuck in a big traffic jam! The answer to where is the best place to stay in Delhi is fortunately not that difficult to answer, once you know where to look.. So read on!
One of the problems of working out where to stay in New Delhi, is that not all areas of the city are safe or good options for tourists. Unfortunately, some of the best known tourist ghettos are just that, and are distinctly seedy – so in this blog I'm going to guide you through finding the best hotels in Delhi – but also where NOT to stay in Delhi.
After 8 years of visiting Delhi, many as a solo female traveller, I've learned a thing or two about where the best accommodation in Delhi is and where the best place to stay in Delhi for tourists is.
So for all you need to know about how to find safe hotels in Delhi, which New Delhi neighbourhoods are the best, and how to find the best Delhi hotels and guest houses, read on!
Delhi – Where to Stay – Quick Comparison Chart
| Hotel Name | Check Rates / Book Now | Budget | Area | Best For |
| --- | --- | --- | --- | --- |
| The Imperial | | $$$$$ | Connaught Place | Iconic luxury in a central location |
| The Oberoi | | $$$$$ | South Delhi | World class service & luxury away from the chaos |
| Prakash Kutir B&B/Homestay | | $$ | South Delhi | Delhi's best homestay, perfect for solo female travellers |
| Zaza Stay | | $$$ | South Delhi | Another great homestay with lovely rooms close to Nizamuddin station |
| Bloomrooms @New Delhi Railway Station | | $$ | Paharganj | One of the most decent options if you need to be next to New Delhi train station |
| Hotel Sopan Heights | | $$ | Karol Bagh | One of the best options if you need to be in Karol Bagh |
| Haveli Dharampura | | $$$$ | Old Delhi | Beautiful heritage hotel in the heart of Old Delhi |
| Bloomrooms @Janpath | | $$$ | Connaught Place | Best midrange / budget friendly option near CP |
| Let's Bunk Poshtel | | $$ | South Delhi | Best option for digital nomads / backpackers in a nice part of Delhi |
| Lutyen's Bungalow | | $$$$ | South Delhi | Beautiful heritage bungalow right next to Lodhi gardens |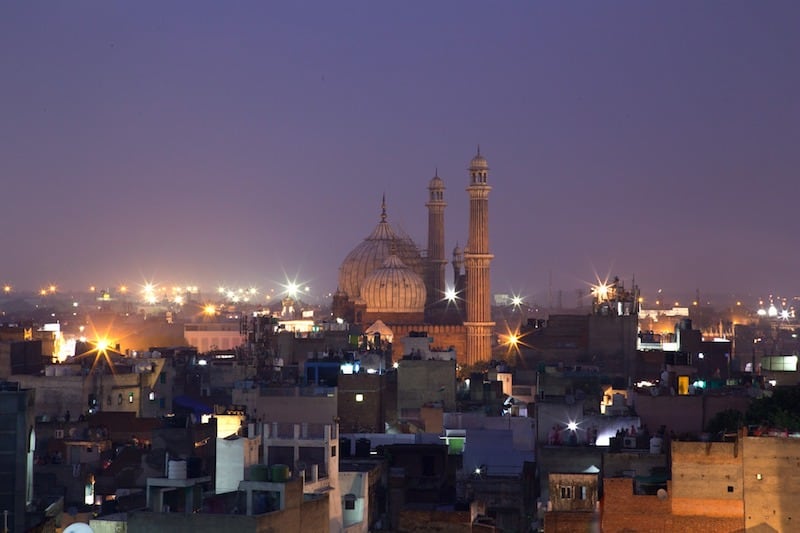 Where to Stay in Delhi for Tourists – Area Guide
When looking for a safe place to stay in Delhi, choosing the right area to stay in is super important. Different areas of Delhi have their own unique vibes – some are relaxed, easy-going and relatively green with lots of eating and shopping options, while others are not safe to stay in.
Paharganj / Area next to New Delhi Railway station – Unfortunately perhaps the best known backpacker enclave in Delhi is also one of the really not great areas to stay in Delhi. From touts who surround you from the minute you exit New Delhi railway station or approach this area and try to direct / misdirect you to hotels that will give them commission, to dirty small box rooms with no windows, the worst thing about this area is it is also New Delhi's red light district, littered with brothels, and as such it is not safe to walk around at night alone in for women. Despite the temptingly cheap budget hotels in Delhi here, I really do not recommend staying in Paharganj unless you have a super early/late train you are catching from New Delhi railway station and you don't mind somewhere very basic to rest your head for a few hours.
Connaught Place (CP) – Located right in the heart of New Delhi, CP is one of the first options you'll probably come across when searching for where to stay in Delhi, India. If you want to be in the thick of everything, this is a good option – with lots of shops and restaurants around, and access to Rajiv Chowk metro station on your doorstep for quick access around the city. However, the downsides are some not great hotels (check reviews before booking – with the better options being a couple of blocks away from CP itself), a lot of loud traffic, and there are also touts who approach tourists here so beware offers of help, and of course the dreaded "shopping tours" by tuk-tuk/auto.
Old Delhi – If you want to soak up the ancient atmosphere of Delhi and the thought of being surrounded by twisting lanes and spice markets is your thing, then consider staying in Purani Dilli – arguably the true heart of India's capital city. There are some beautiful Havelis (restored traders houses) which you can stay at.You're also just a stones' throw from the Jameh Masjid, Red Fort and Old Delhi sights at Chadni Chowk. The downside to this area is access at night – you'll have to walk dark narrow lanes so it's not necessarily ideal for solo female travellers – although the locals are pretty friendly and used to tourists.
Karol Bagh – A favourite area with tour groups (in case you're wondering where do foreigners stay in Delhi) because of the plentiful options for mediocre, cheap hotels, Karol Bagh is a step up from Paharganj in terms of accommodation, but far from the best area to stay in Delhi. The main advantage to staying here is its location right on the metro and plentiful accommodation options, however I have never felt safe walking around this area of Delhi at night by myself, and would advise female travellers to go with other areas of Delhi instead.
South Delhi – If none of the above options sound appealing with avoiding touts and dodging seedy hotels along the way – I have better news! South Delhi may just be the place for you. Dotted with parks, ancient tombs and green space, wide streets, trendy restaurants, bars and cafes, South Delhi is hands down my favourite place to stay in Delhi and the best location in Delhi for safety as well as the general vibe. Although you're a little further from the city centre here, the rest of town is easy to access via the super efficient Delhi metro.
Delhi Airport – Unless you only have an overnight or a few hours between flights, not many people choose the airport hotels for their stay in New Delhi, as the city is well connected to the airport and it is not a long drive (around 40 mins). However, if you want to be right next to the airport, then there are a couple of decent chain options in the AeroCity complex which is just a 5 minute drive from the airport terminal. Check if your hotel offers a shuttle service. If you're searching for where to stay near Delhi airport, then recommended options include the Pullman AeroCity International Airport or the Aloft AeroCity.
Best Delhi Hotels – Accommodation Reviews
The Imperial New Delhi, Connaught Place
Best for – Grand Dame on Connaught Place
While rates certainly aren't cheap, The Imperial is a real Grande Dame that's a must visit if you want the traditional Delhi experience in all its glory. Accommodation in Delhi doesn't come any finer, and you get a lot for your money. Including tons of history, a beautiful pool and a position in the city centre at Connaught Place (CP).
Stay here and you won't have to venture far for anything. There's a restaurant on site for every day of the week, plus a health club, a spa and that gorgeous outdoor pool. It's a great way to beat the heat in balmy Delhi, and you won't want to miss the amazing bar with its cocktails, either.
High ceilings, classical furnishings and crisp white linens give all accommodation here an elegant, luxurious feel. Forget hotels in Delhi near CP when you could stay right on the famous square – where better to begin or end your Indian adventure?
Check rates and availability for the Imperial New Delhi here!
The Oberoi New Delhi, South Delhi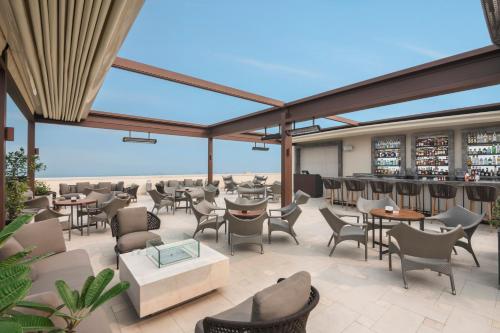 Best for – Second-to-none style and service
I highly recommend choosing hotels in South Delhi, India. The Oberoi is also one of the biggest names in Indian hospitality, so you can expect five star style and service here. It's the ultimate in opulence and luxury. You also get a glorious green outlook, and a location very close to Humayan's tomb and Nizamuddin train station.
This travel sustainable hotel offers both indoor and outdoor pools, plus a wellness centre and spa. There's also a gym, a range of restaurants and bars, and even a cigar lounge. Dining and drinking options include Chinese and Indian eateries and an open-air rooftop bar.
This is the finest of all hotels in Delhi South, and for service and facilities it's second to none. Deluxe rooms are good value when you compare them to the eye-watering rates you'll pay for a suite here. Not that it isn't worth the money.
Check rates and availability for the Oberoi New Delhi here
Prakash Kutir Bed & Breakfast, South Delhi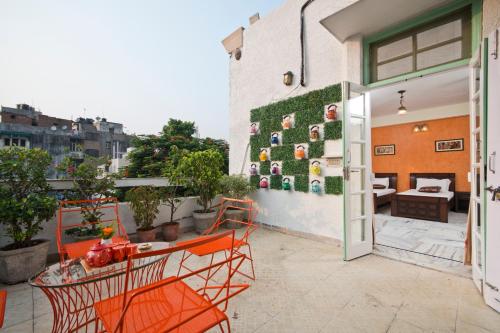 Best for – Safe, peaceful and family-run accommodation
Not all good hotels in South Delhi cost a fortune to stay at. My personal favourite is Prakash Kutir, and I highly recommend it for solo female travellers in particular. It's a family run homestay with lots of comfort and charm, and is situated just a few steps from Hauz Khas market.
A yummy breakfast is served here each day. It's Asian-style, so it's a great chance to try something new. Vegan and gluten-free options are available too.
All accommodation at this welcoming homestay has a flatscreen TV and private bathroom, and some rooms also offer an outdoor balcony or terrace. The rooftop patio is also a great place to soak up the sights and sounds of South Delhi. Guests – like me – love the clean accommodation, helpful staff and peaceful neighbourhood here. For safe places to stay in India, this is a top pick for sure.
Check rates & availability for Prakash Kutir Homestay here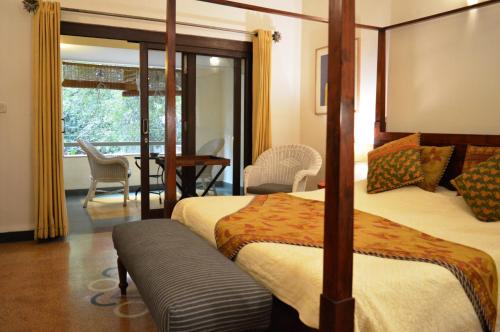 Best for – Elegant rooms at pocket-friendly prices
This is another family run option for those choosing a hotel in South Delhi by budget. It's slightly more expensive than Prakash Kutir, but does have a really elegant feel. The Indian owner and his Scottish wife run a tight ship at this nice bed and breakfast, located just a few steps from Nizamuddin train station.
The best rooms here have balconies and garden views, and all are equipped with air conditioning, a private bathroom, free WiFi and soundproofing. This hotel is also great for solo female travellers seeking a safe, comfortable place to stay.
A good breakfast is served here each day and the staff are very welcoming and helpful. The location is quiet, and the fact that rooms are soundproofed also guarantees you a good night's sleep at this accommodation in New Delhi.
Check rates & availability for Zaza Stay Delhi here
Bloomrooms @ New Delhi Railway Station, Paharganj
Best for – Late arrivals and early departures by train
If you're arriving late or departing early and need to stay in Paharganj, Bloomrooms is the pick of the bunch. It's just across from the train station, and also only a couple of miles from city attractions like Connaught Place. This place offers cheap accommodation in Delhi, and the white and yellow colour scheme inside and out looks very attractive.
Rooms here have all you need for a pleasant stay, including air conditioning, an en suite bathroom, a flat screen TV and a work desk. The front desk is open 24 hours, and with luggage storage, a tour desk and a safe deposit box it's well set-up for those on the move.
There's a good range of single, twin and double rooms to choose from, and all are soundproofed for a restful stay in this hectic part of the city. For New Delhi accommodation by the station, this is my top recommendation.
Check rates & availability for Bloomrooms New Delhi Railway Station here
Best for – Metro access and park views
If you need to stay in Karol Bagh, then Sopan Heights is a decent option to go for. This area is often a tour operator's idea of where to stay in India. Though I don't think it's the best part of town, it is very convenient for the metro station just 250 yards away.
The rooms here are what you'd pay so much more for in the likes of Europe and North America, and there are some triples as well as doubles. All come with satellite TV, air conditioning and soundproofing, and a bonus of staying here is that there's a restaurant on site with a terrace.
The hotel overlooks a local park, which makes for a more pleasant view. For three star accommodation in New Delhi, the standard here is hard to beat.
Check rates and availability for Hotel Sopan Heights here
Dharampura Haveli, Old Delhi
Best for – History, heritage and Indian culture
For a real sense of heritage and place, stay at this beautiful Haveli in the heart of Old Delhi. The ancestral home has been painstakingly restored to its former glory. Not only that, but Old Delhi has an authentic Indian ambience. With a spice market nearby, this is arguably the best place in Delhi for shopping too.
The hotel is the deserving recipient of a UNESCO award for heritage and cultural restoration, and the setting is the main reason to choose this place. Expect stunning marble floors, sumptuous silky fabrics and pretty feature windows at every turn.
There's a restaurant on site here, and couples can also wander the lanes of Chandni Chowk to find a good local eatery. At weekends, you can experience a traditional Kathak show here, and as well as Hindu dancing a seven course chef's tasting menu is served. Particularly recommended when you're visiting Delhi for the first time.
Check rates and availability at Dharampura Haveli here
Bloomrooms @ Janpath, Connaught Place
Best for – A budget stay near Connaught Place
Affordable hotels near CP in Delhi can be hard to find – but I've tracked down this budget friendly option in an incredibly central location. Like my recommendation by the train station, this is a Bloomrooms property, so it's bright, clean and comfortable.
You can expect four star facilities when choosing Bloomrooms at Janpath (which is the name of the lane it's situated on) – and can even park a car on site. Other amenities include a communal guest lounge, a restaurant, currency exchange and a concierge service.
King and twin rooms are offered at this place, and each comes with air conditioning, a private bathroom, free WiFi and a flatscreen TV. For good hotels near Connaught Place in Delhi without a high price tag, you won't find anything better than this.
Check rates and availability for Bloomrooms Janpath here
Let's Bunk Poshtel, South Delhi
Best for – Remote working or a sociable stay
Let's Bunk Poshtel is one of the top hotels near South Delhi's Deer Park. In fact it offers more than just accommodation, as it also has co-working space and a gourmet cafe. I recommend this one if you want to work remotely from your accommodation, or when you want to meet fellow travellers while staying somewhere more luxurious than a hostel.
The hotel can be found in one of the best parts of South Delhi, and there's more of a party vibe here at weekends than during the working week. Book in here and you can enjoy stylish four star accommodation, a great breakfast and access to the on site bar and restaurant.
This is also one of the best ​​places near Delhi city centre for those who want to explore by bike. A good range of cuisine is also a highlight, and you can sample Chinese, Belgian and American specialities at the eatery here.
Check rates and availability at Let's Bunk Poshtel here
Lutyen's Bungalow, South Delhi
Best for – High-end shopping & family stays with a pool
If you're wondering where to stay in Delhi with a family, then add Lutyen's Bungalow to your shortlist. This Colonial style bungalow close to Khan market has a pleasant outdoor pool for kids to splash around in, and there's also a children's play park in the grounds. The garden is also beautiful and very spacious, so they can run around freely here.
You can book single or double rooms at this hotel. Kids' high chairs are supplied for guest use, and accommodation also has tea and coffee making facilities, satellite TV and air conditioning. A good breakfast is available daily, and Indian food can also be served upon request.
When you want to know where to stay in New Delhi, India and you're travelling with kids, this lovely property in one of the city's safest areas has to be a contender. Just book as soon as you can as rooms fill up really quickly. As it's arguably the best guest house in Delhi for families, it's easy to see why that's the case.
Check rates and availability at Lutyen's Bungalow here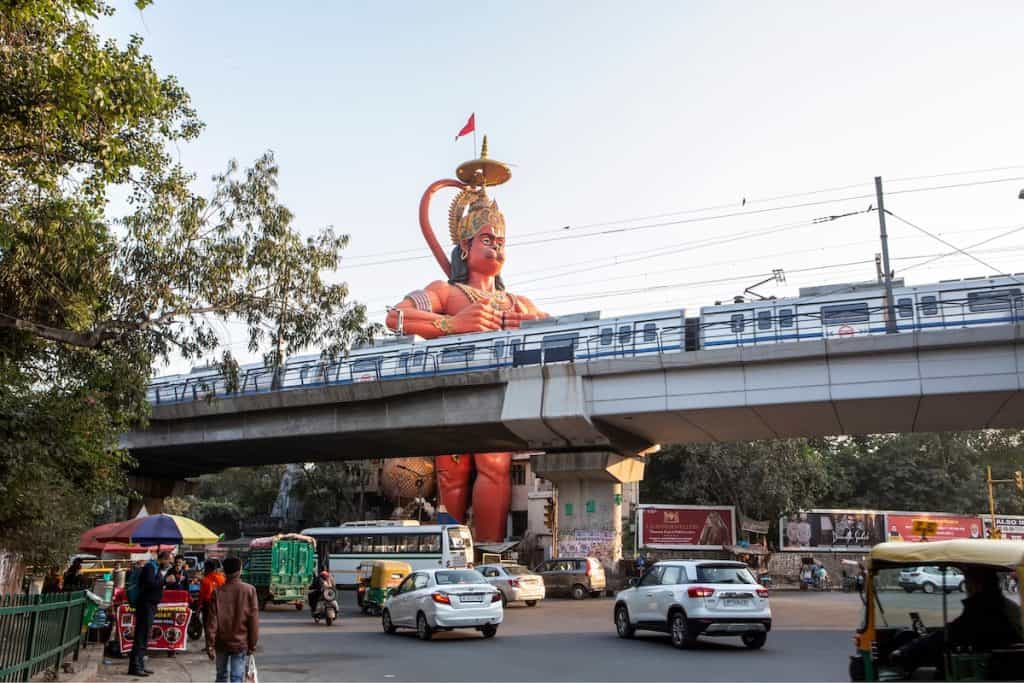 Best Things to do in Delhi, India
While you're planning your visit to Delhi, India – make sure you don't miss out on these top Delhi things to do! For lots more info and tips, you can check out my full Delhi travel guide as well.
Go for a

guided tour of Old Delhi

– you won't want to miss out on this magical part of the city with its winding lanes, spice markets and hidden temples and mosques
Delhi is home to some amazing sights, some of the ones you won't want to miss include Humayun's Tomb, Qutub Minar, the Red Fort and so much more. There's a lot to pack in in various areas of the city, so it can be easier to arrange a day tour with a guide

for the day like this on

e
Go shopping! From luxury designer stores in Khan Market, to all kinds of souvenirs around Connaught Place, if you're not in a high end shop with fixed prices, you'll need to bargain hard. Shop around and don't agree to the first price! My fave stores for fashions include FabIndia, Anokhi, and Okhai for beautiful Kurtas and dresses.
Ride around the city in a rickshaw / auto (aka Tuk-Tuk) – but never accept offers of "free tours" – these are commission based scams which will involve taking you "shopping".
Get away from it all in one of South Delhi's trendy cafes in Hauz Khas.
Plan the rest of your trip to India with Soul Travel India:
How to plan your trip to India