Train travel in India has got to be one of the best experiences of journeying the subcontinent. Nothing quite beats sitting by a window, fresh chai in hand, enjoying the scenes of life that pass by. But, the Indian railways system is renowned for being overly complex and sometimes complicated – so we're here to help set you up with everything you need to know to enjoy travelling by train in India to the full!
This post contains compensated affiliate links, please find out more in our disclosure. Thank you for supporting Soul Travel!
How to Master Indian Train Travel for Foreign Visitors
I tend to subscribe to the belief that you haven't been to India (let alone experienced India), until you've taken a long ride on Indian Railways. The view of this beautiful country is best from a bunk in an overnight train sleeper coach, watching the landscapes roll by and chatting to new-found friends.
There are few better feelings on a journey around India than sitting at a window seat, masala chai in hand, simply watching the varied landscapes of India change, merge and blend before your eyes, or standing near a train doorway early in the morning after an overnight journey feeling the cool fresh breeze on your face.
Travelling by train in India is safe, efficient, comfortable (depending on which class you pick – read below!) and our number one way to get around India. Head over here for some of our must-not-miss favourite train journeys in India!
The third largest employer in the world, mover of 25 million passengers ever day, and owner of the longest railway platform in the word (amongst other trivia), travelling by Indian Railways is an experience not to be missed during your trip to India. 
Train travel in India is many things: But being 'turn-up-and-go' is definitely not one of them, and especially not for foreigners travelling in India (although fortunately this is changing – more below).
Good things come to those who persevere, however and I truly believe that you won't regret the time and effort put into planning your Indian train journeys. Many Indians depend on train travel to get around the country and the railways are still referred to as India's lifeline. Given that a population of 1.2 billion people depend on them to get around, you can begin understand why the ticketing system is a little complex. 
Over my trips to India and living here over the last seven years I've learnt a lot about how to travel by Indian railways – by trial as much as by error – so much so that locals seem to come up to me on station platforms and ask me for directions! I'm happy to share all my tips with you in this post, along with how train travel in India has changed post Covid-19.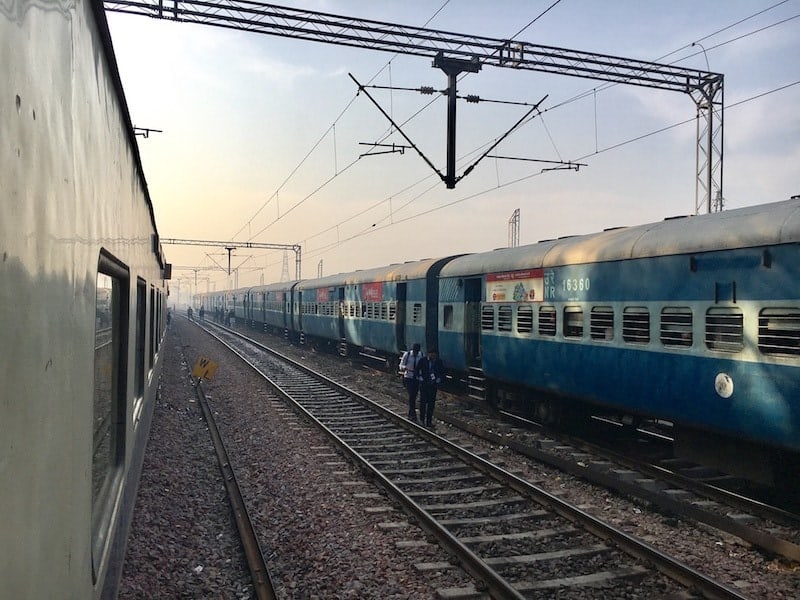 Planning Train Travel in India
The first step towards planning your trip to India is working out an approximate itinerary.
This doesn't mean you have to book all your hotels etc, but do have an idea of which places you want to go to and how long you will have in each place. This will help you pin down which dates you need your Indian Railways tickets for so that you can start to look into specific trains.
You may then need to re-orgnise your itinerary based on availability of trains, or which places are well connected to each other by rail (for example – Jaipur and Udaipur are well connected by train, but there's no train from Udaipur to Jodhpur (or vice versa). 
The most important point is that you want to book your trains as early as possible – they open up for sale 120 days in advance and ideally you want to be booking your train tickets for your Indian rail journeys 3-4 months out if you can, especially if there are holidays such as Christmas, New Year, Diwali etc occurring around that time.
Not all trains run every day. Some express trains run only certain days of the week. When researching trains you might find information like the below:

Here you can see some of the many trains that run from Varanasi to Delhi, which days of the week they run on (letters are for days of the week), how long they take and which classes they have. If you want to research train options between cities, a google search will bring up plenty of sites with this info such as indiarailinfo.com.
Types of Train in India
There are many different types of train in India – even for long distances and know upfront that not all trains are equal. Some trains move at twice the speed of others, calling at 20% of the stations. Depending on which train you choose, a journey between two places can take five hours or ten hours – so be careful with which train you book!
Here are some of the main types of trains that you may come across during your travels in India:
Overnight Trains:
Rajdhani Express – The RollsRoyce of Indian express trains (ok, well maybe more like a Volkswagen). These are the fastest and most reliable intercity express trains that run between Delhi and state capitals. They're a great way to get from Delhi – Mumbai or Delhi – Kolkata (or vice versa) quickly and comfortably. The Rajdhani's always have priority on the tracks and meals are included on these trains. Rajdhanis are fully air conditioned, but don't expect red carpets or chandeliers; the interiors are similar to any other air conditioned Indian Railways train. These are also the most expensive trains. Recommended.
Garib Rath – Distinguishable by its olive green and mustard yellow outside livery, the Garib Rath is an all economy Air Conditioned express train, designed to be an affordable option for those who could not afford air conditioned train travel. Runs 1-2 times per week and there are several routes including south from Mumbai to Kerala (which we travelled on and found very comfortable). Recommended.
Duronto Express – Duronto means non-stop in Bengali, and these trains were introduced in 2009 as India's first step towards high speed rail services. They were introduced to be point-to point services with no stops in between (although now some do stop it seems). Generally a great option for long distance travel. Recommended.
SuperFast Express – Possibly the type of train you'll find yourself on most for inter-city / town travel, sometimes all AC ( referred to as AC SuperFast), or sometimes a mix of Sleeper + AC Classes (SuperFast). These trains are relatively fast and a good way to travel. Recommended.
Express – A step down from SuperFast Expresses (and indeed the Express name may be aspirational only) these trains tend to stop at more stations and take longer. Generally these are fine too, and may be your only option for less common routes, but are prone to more delays than the above categories of trains.
Mail Trains / Passenger – the slowest trains, stopping at yet more stations, taking more time, and prone to more delays. Only recommended if this type of train is your only option. 
Daytime Trains:
Tejas Express – A (relatively) new addition to train travel on selected routes in India, the Tejas Express trains are India's latest high-speed train travel offering. These trains are new, modern, and are fully air conditioned with automatic closing doors and tv's in the back of seats in Executive AC class. A novelty for travelling by train in India, but not recommended for those who relish the chance to sit by an open window or door. Given the high ticket price, these trains often have seats left when others are fully booked.
Shatabdi Express – These are daytime express trains with seating only (all the above trains have sleeper berths) and cover popular shorter routes like Delhi to Agra, Amritsar and Jaipur. These are good trains which usually run on time and we highly recommend them. All AC. Recommended.
Jan Shatabdi – Like the Shatabdi trains above but with the addition of non-AC chair car class. Slightly slower and cheaper than Shatabdis. Recommended.
Local Trains – These come in a range of forms to the local suburban trains of Mumbai and Kolkata, to state local trains which run between towns and usually offer "General" unreserved seating only. They are usually very busy in cities. Avoid these unless you really want to take the "scenic" route!
If you want to travel as quickly as possible, research the fastest train for your route. In general the SuperFast trains sell out quickest, I've never had any problems getting a Rajdhani ticket, but the cost is about 30% higher than a SuperFast for the same route. 
Some trains are also famous for being late. I used not to believe this, until someone warned me about a particular train and it was 11 hours (yes you read that right) late. So I am now a member of the official India train geek society and check the average punctuality score for trains before booking them – Railyatri.in (another useful site for checking train routes and status) has an "on time score"!
How to Book Indian Railways Train Tickets
There are many ways to book your Indian train tickets. Here are some of the best options:
Booking Indian Train Tickets From Overseas
This has always been much harder (and at times impossible) than booking Indian train tickets inside India. The issues include not having an Indian phone number, foreign credit cards not being accepted, and no access to the foreign tourist quota. Fortunately – times are a changing, and it's now easier than it's every been to nab your Indian train tickets before you even set foot in the motherland! 
Option #1 – The stress-free way with Raj from Train Ticket Please
I used to enjoy booking my own train tickets with my IRCTC account, but on my return to India in October 2021 after Covid, I found that I could no longer use my UK bank cards to pay for my tickets. Most other foreign travellers have reported the same issue, with foreign (non-Indian) bank cards from most countries being rejected.
Enter my saviour and agent, Raj, from Train Ticket Please, who now books all of my tickets, along with arranging ground transportation, domestic flights, drivers and guides. Raj books trains all over India for a small service cost, meaning you don't have to spend out hours – or days – trying to work out how to register, create an account and book your own tickets on the Indian Railways website, and it's just done for you!
If you're short on time and want the least hassle, I recommend booking via him. Contact via Whatsapp: +91 89621 29008 or Email: trainticketplease@gmail.com mentioning 'SOUL TRAVEL'.
Option #2 – Do it yourself with 12Go.Asia
12Go.Asia is one of the leading platforms for booking transport in Asia, and is one of the only international websites to offer Indian train bookings without having to register for an IRCTC account first. Which makes it the easiest and quickest option for booking trains in India, and ideal for if you only want to take a couple of journeys / are only in India for a couple of weeks. They don't have every single journey online yet, but they do have most of the ones you'd want to take as a visitor to India, between the main towns and cities.
Search and Book Indian trains on 12go here!
How I suggest using 12Go.Asia for booking trains: 
Conduct a general search on railyatri.in or indiarailinfo.com to check the trains running between your destinations
Note the train number, station that they leave from and station they arrive at. Most cities have multiple stations and you need to enter the specific departure and arrival station to get the right train results.
While booking you can request your preference of upper or lower berth and normally there will be different classes available – see our notes below for recommendations on what to book.
Enter your details and pay by international credit card. Bookings are on a request basis so they are not confirmed until you receive the confirmation from 12go.Asia. There's an option to let them know if you are flexible to travel a day before / after. Search train journeys in India now!
Search & Book Popular Train Journeys in India on 12go
Option #3 – Sign up for an IRCTC Account & (try to) Book Directly
This option is high risk if you don't have access to an Indian bank card/credit card – you may go through all the steps to book tickets only to find that your payment cannot be accepted. If in doubt, use one of the previous 2 options.
As of 2022, sadly Cleartrip is no longer offering train bookings via your IRCTC account (which used to be my workaround).
This is the traditional way of booking train tickets and used to be possible, but is now unlikely to work with foreign cards, unless you get lucky. It's a high investment of time with limited chance of success, so I urge you to use other options especially if it's just for a couple of journeys. But, if you're really determined and have Indian friends who are happy to let you use their payment cards, proceed as follows:
Step 1: Sign up for an IRCTC Account. 
The first step is to sign up for an IRCTC account. IRCTC stands for Indian Railways Catering & Tourism Cooperation and is the Government body that oversees all railways in India. As of November 2017 you can now get an IRCTC account with a foreign mobile number (include your country code when signing up). Unfortunately, the "OTP" (One Time Passcode) which is sent via SMS/Text and which you need to validate your account doesn't always arrive to international numbers. If that happens, your best bet is to try to book with 12go.asia or email Raj at trainticketplease@gmail.com as above quoting "Soul Travel".
With your foreigner account you will also be able to book tickets from the Foreigner Tourist Quota (more on what that is below) but note that that the quota is only available for 1AC and 2AC classes. Make a note of your ID and password somewhere safe as you'll need it for whenever you make a booking!
As a non-Indian national (using a foreign phone number to register) you will need to pay an activation fee of 100 Rupees after activation, on your first login to your account before you'll be able to make any bookings.
There is now a maximum number of train bookings (single journeys) you can make per month per IRCTC id which is six. For additional bookings over six per month per person/ID you'll need to use an agent or buy at the station.
Step 2. Booking Tickets with an IRCTC Account on IRCTC website 
Once you have a validated IRCTC Account, you can log in, choose your train, class of travel and preferred bunk (upper / middle / lower – note that you're not guaranteed to get it), etc.
Login, search for trains between your chosen destinations and preferred class of travel (we recommend searching for train options as above first so you can enter the exact start and end station).
Availability on trains opens up 120 days prior to departure. Many trains get booked up weeks if not months in advance, so this is where having an account well in advance helps. If your train is still available, simply book a confirmed ticket, note your booking number (called a PNR) and away you go! If not, read on…
Step 3. Things to know when booking tickets yourself on IRCTC
When searching for trains you might see statuses like "RAC" "Waitlist" and "Available". Here's what they mean:
Available – Pretty self explanatory – you can book a ticket with a confirmed seat. Lucky you!
RAC – Reserved against Cancellation. Indian Railways know that not everyone will show up for their train, so they do what they can to make sure the train runs full and "overbook" using RAC tickets (similar to what airlines do really).
With an RAC ticket you CAN board the train but you are not guaranteed a seat/berth number at the time of booking and may have to share a berth if everyone shows up for the train. Usually, as ticket quotas are released one day prior / up to four hours before the departure of the train, you will be allocated a berth. I have seen some cases where trains were full and some RAC passengers had to sit for long journeys sharing berths, but this is unusual and RAC passengers normally get berths fine.
You should board the class of travel that you paid for – ie if you booked an RAC ticket at the AC3 fare, you should board an AC3 coach. We advise booking RAC for the most popular class such as AC3 tier as there is normally much more of this on a train than say first class. You can see how many people are on RAC tickets already by the number given – eg RAC 23 means there are 23 people on RAC tickets already in front of you. Obviously, the lower the number the better your chances.
WL or Waitlist – That means your train is officially closed to guaranteed bookings. Once the general quota sells out for a train and all RAC tickets have been booked, the train moves on to Waitlist status. You can book a Waitlist ticket but that means you are not confirmed a place on the train and you cannot (officially…) board a train with a Waitlist ticket.
See more on what we suggest you do if you are issued a Waitlist ticket below!
Pin this for Later!
Option #3 – Use a Local Travel Agent
I recommend Raj at Train Ticket Please (trainticketplease@gmail.com, quote "Soul Travel"), however you can also use other agents you find along your travels – such as through your accommodation, guide or through travel agents in tourist destinations. They will charge a small fee for booking tickets.
TIP: If going with travel agent shops in tourist destinations, check the price and availability of trains yourself on IRCTC first to know availability and pricing. It's normal to pay a small fee (around 100rs) for booking, but be aware of agents trying to increase ticket prices, or trying to tell you to book first class tickets when there are lower classes available, if you don't want them.
Travel agents have been known to claim that certain trains are full, or only have First Class tickets left in order to increase their revenue – which is why I recommend using Raj at Train Ticket Please (email above), 12go.asia, or another agent you know/trust.
Option #4 – Buy Your Ticket at a Railway Station in India
Once you are in India, you can turn up at any Railway Station in India and book trains in person (payment is by cash only).
Most Railway stations have someone who speaks English (at a smaller station, ask for the station manager) – and larger Railway stations have ticket windows that are dedicated to train bookings for foreigners. There is also a foreigner quota that is available only in person (or now on IRCTC too but only for certain classes and if you have registered with a foreign mobile number). Try and go to the station to book your tickets at the earliest chance possible, as the trains sell out. Beware anyone trying to point you away from the ticket office and towards their own travel agency (New Delhi is infamous for this!).
Logistics of Train Travel in India
You've booked your tickets, congrats! You're half way there 😉
Now here's how you go about making sure you get on your train.
To get to the right place on the right train you are going to need: Your train number, compartment number and berth number.
Example: 13015 (Train), B3 (Coach / "Bogie"), 23 (Berth).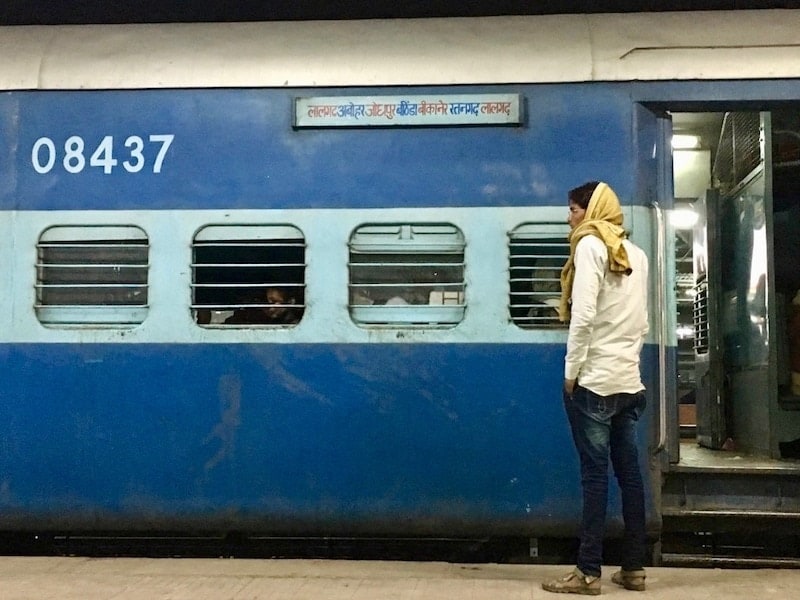 How to Find your Platform
Indian Railways stations vary hugely across the country – some have really great, clear signage and others hardly any. If you're getting on your train at the start of the route, you should have some time, but if you're getting on at an intermediate station, you need to make sure you are in the right place as trains are very long and at worst only stop for 2 minutes. 
Make a note of your Train Number (5 digits eg 13015) as some stations will show trains by numbers rather than destinations. If there is no board with train departures (normally to be found in the main station entrance, waiting room, or on the Footbridge), you can ask the station manager or other railway official. Porters (who wear red shirts) are often a great source of information too – it can be worth paying them to carry your bags and get you to the right place.
How to Find your Coach on the Train
Once you've found your platform, you need to find where to stand on your platform. THIS IS REALLY IMPORTANT as Indian trains are very long and you need to be in the right place. Normally you will see numbers along the platform on signs such as "10", "11" etc. These do not correspond to the coach number but are indicators of where the different coaches will stop. Eg B2 may stop at 10, B3 may stop at 11 etc. In northern India I found that there are often electronic indicators along the platform (with red lights) indicating which coach will stop where. However in Southern India I didn't see these, and there were only signs with (1, 2, 3 etc on). So you then need to work out which number your coach will stop by:
There are usually announcements in the local language, Hindi, and in ENGLISH so listen out for those.
Ask a station official
Use an app/the internet to check the train composition – google your train number + train composition (or use indiarailinfo.com – where the below screenshot is from) you should get something like the below which shows which number your coach stops by. Most of India's railway stations now have free, super fast wifi courtesy of Google…
As a last resort, stand in the middle of the platform (not either end) and get ready to run as the train comes in! Each coach has a sign in the middle near the top with the coach number on it (eg A1, B2), plus you can easily see which coach are AC vs non AC by the sealed vs unsealed windows.
How to Find out your Seat + Coach
If you booked a confirmed ticket, you will find your seat plus coach on the ticket. It will give you your coach (called "bogie" in Indian English) number (eg A1, B2, S1) and your seat / berth number (eg 56).
Note that reservations charts are not finalised until 4 hours before the train departs from its starting point.
If you are issued a waitlist ticket that then confirms, you can check your seat and coach number in two ways. The easiest way is to use an App (I use one called "Confirmtkt") where you enter your "PNR" (your ticket number) and it will return you your ticket status, coach and seat/berth number.
You can also send a text message from your mobile phone to 139 with just your PNR (ticket number) on it, and you'll get an auto reply which looks something like this. Again, this can change up to 4 hours prior to departure, when charting is done, so the best time to do this is within 4 hours of departure of your train. You should get a reply that looks something like this, telling you your coach and berth/seat number.
Classes of Travel on Indian Trains
Train travel in India is famous for having a total of 9 different classes of travel. Worry not though, you won't have a choice of all 9 on any given train. The choices are essentially First Class / 1AC, 2AC (Two-Tier AC), 3AC (Three-Tier AC), and Sleeper (Non AC). Classes like 2nd (non AC chair cars) or General Class are not recommended for long journeys and are very basic. On Shatabdi express trains there are also Chair Cars (CC – Air Conditioned) and Executive Chair Cars (EC – First Class Air Conditioned).
The main difference between the Air Conditioned Sleeper Classes (from what I've experienced – trains can be different) are as follows:
First (1AC) gets you a locking compartment with 2 or 4 of you. It's not possible to choose the 2 or 4, it's down to pot luck on the day. Slightly thicker pillows are included but apart from the locking compartment door the rest is the same as 2 or 3AC – in that toilets and washbasins are at the end of of each coach. First is not particularly fancy and costs double the price of 2AC. I was not a fan of my one and only experience in first, mainly as I ended up in a compartment of snorers (you can read about that one here).  
On some special Radjhani Express trains, meals are included. It can however be a good option if waiting lists on all other classes are very long and you need to get somewhere. It's also the class that Indian Ministers and important persons tend to travel. So if you fancy some networking…
2AC  / Two Tier AC (Recommended). The layout is open plan within the coach and comes with bays of 2 bunks opposite 2 bunks, and a further 2 sideways against the side of the coach. The main advantage of 2AC is that the upper bunk is less high (as the bunks are only 2 high vs the 3 high in 3AC) and there are curtains around each bay of bunks (not individual bunks unless you get the side bunks) to provide some privacy. Bedding (sheet, blanket and pillow) is provided. Toilets are at the end of each coach.
Tip – In 2AC my favourite bunk is side upper. You have a curtain giving you perfect privacy!
3AC / Three Tier AC (Recommended). Same open plan layout as 2AC but with 3 bunks facing 3 (so the top one is a bit of a climb), and there are no curtains. This is the class I travelled in for 90% of my train journeys and I found it to be comfortable. (Solo) women should try and get the top bunk. Bedding is included and it's pretty clean. In all Air Conditioned classes the windows are of course sealed against the dirt which keeps them warmer in winter / cooler in summer and cleaner.
Tip – In 3AC I always go for the top bunk as for women that is the best option. However it can get pretty chilly as you're right next to the fan! I recommend bringing an extra scarf or hoodie to help keep you cosy. It's also quite high up so not recommended if you don't feel comfortable doing a few acrobatics to get up/down. Unlike in 2AC I don't recommend the side bunks for single women as everyone gets to have a good look at you as they walk up/down the train.
3 Tier Economy AC / 3E (NOT Recommended). As of 2022, a new sub-type of 3 tier AC has started being introduced, known as 3-Tier AC Economy, 3 Economy, or 3E. This is intended to allow more people to travel in AC classes at a lower price point, however is very cramped and not recommended as it's more cramped than 3 tier AC (already a lot of people) and more cramped than non AC sleeper (see below. 3E class basically fits in an extra set of berths in each coach compared to the other classes.
Sleeper (Non AC Sleeper) is basically the same layout of 3AC, but a third of the price, and a lot dirtier. Windows are open so the coaches get hot in summer and cold in winter. Bedding is not provided so bring your own. Everyone warned me about not going in Sleeper class as a foreigner (especially as a solo female). I don't take sleeper for overnight journeys, however I have taken it for daytime journeys, for which it can be fine and is certainly much better for photography as the windows can be opened. Sleeper can be very hot/cold depending on season. If it's your first time in India then I recommend starting off in the AC Classes and not sleeper.
Another reason to stay out of (non-AC) sleeper class is that it is subsidised by the Indian government to keep costs low for those who struggle to pay for sleeper class and long-distance railway travel. Sleeper class is hugely in demand and oversubscribed, so for these reasons too I suggest visitors should purchase higher classes of travel, leaving more room in sleeper for those who need it.
2nd Class & General Class – AVOID these unless you are going for a short hop without your luggage and really want to travel backpacker style. These are coaches with wooden benches for sitting which can be fine in winter for a short journey – I've travelled in Goa & Kerala in 2nd Class (which is divided between reserved and un-reserved) for 1-2 hour journeys but definitely wouldn't attempt it in summer or for longer.
General class is unreserved and can be truly appalling, especially in poorer states of India such as Uttar Pradesh. Anyone who does not have a confirmed reservation has to get in here – do NOT attempt this. (I've been in General class once for a 1 hour trip and those travelling in General class do not need tourists joining them, it's crowded enough!)
What to do When your Train is Full (and all the others)
Worry not. Not just yet anyway. There are some options that do not involve flying or taking the bus to help you get a train ticket when your train (and all others) appear to be full.
Buy A Tatkal Ticket
Tatkal is the name of the service which is a quota of emergency travel tickets that is released at 10am the day before departure of the train for AC Classes (11am for non AC Classes). Make sure you get there ahead of time as there will be a queue! You (or your travel agent or other trusted envoy) need to be at the station before that time to get a spot in the line and fill out a form. You can then likely get a ticket for your desired train, albeit at an extra 30% of the normal price as a "Tatkal Premium".
It used to be the case that Tatkal tickets could only be booked in person at the station but I have now done this several times via Cleartrip. It's been really helpful and I've managed to get a number of train tickets this way, even though they ended up being a bit more expensive.
Book a Waitlist Ticket
During my travels in India I've had several waitlist tickets, with most of them getting confirmed a few hours before the train left. Once a train is 'full' – i.e. standard non Tatkal tickets sold out – then the waitlist will open up and you can book a Waitlist ticket (see above). Then you have Waitlist spots 1 up to a few hundred depending on the popularity of the train. I've been on Waitlist 6 and had my spot confirmed, and even up to Waitlist 20. Last year I noticed that waitlists are getting longer and longer as it seems more tickets are being held back to Tatkal to help improve IRCTC's revenue management…
Often, spots aren't released until the day of travel (as how many waitlist spots will be confirmed is dependent not only on cancellations but how many tickets are sold in Tatkal (see above). So this can add some uncertainty to your journey. If you need to travel on that day, it's better to pay the extra for a confirmed Tatkal ticket.
At the latest, you will find out 4 hours before departure if your seats have been confirmed as this is when the reservation charts are finalised.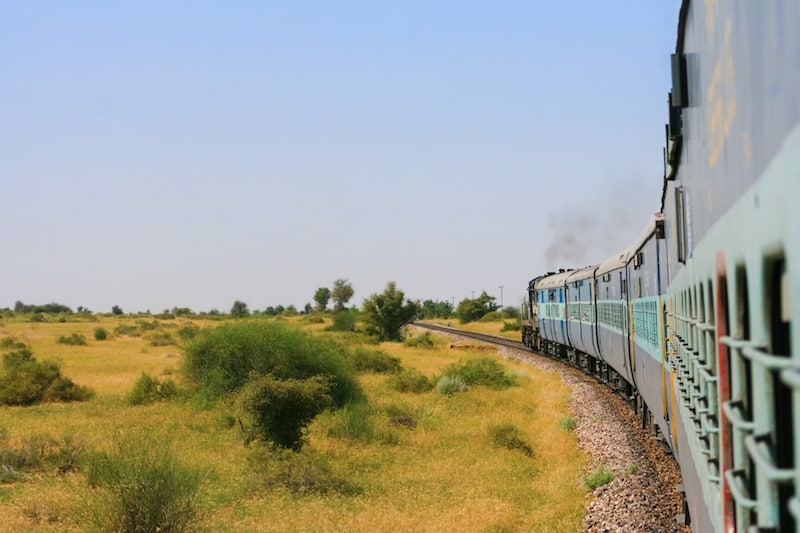 Getting on a Train with a Waitlist Ticket
If you have an RAC ticket you can board the train. If you have a Waitlist Ticket that isn't confirmed, you're not allowed to…. But last year we were in that situation and needed to get to Goa on time!
When our tickets from Kerala to Goa were not confirmed we pondered what to do. Tatkal for the next day had already closed, so we decided our best chance was to try and get on the train anyway and negotiate once on board (we bought a "General" ticket from the ticket office before boarding)
We had booked 2AC tickets so we boarded the train at the 2AC compartment. Seeing as it was nighttime and we didn't know which berths were unoccupied, we stood in the vestibule for a good hour before the TC (Ticket Checker – the one wearing a suit with a big pile of papers on a clipboard) appeared. Ravi then showed him our general tickets and told him of our plight (drawing on me as a clueless foreigner) and eventually we were given two nice berths in 2AC for the remainder of the journey. Seeing as our ticket had been refunded, we paid the TC in cash. Our TC was extremely kind and honest and took less than what we had spent on the original ticket, but normally you can expect to pay a little extra for this kind of "service" (we suggest you negotiate).
So would I recommend this approach? Not necessarily. If I would have been travelling alone and without an Indian I would have felt pretty uncomfortable standing in the corridor with my luggage for so long, attracting a few looks. You may also encounter unscrupulous Ticket Checkers who will demand a big payment as technically speaking, you are boarding the train without a valid ticket for that class. However, if you really need to be somewhere and don't mind chancing it, this could be your best bet! Also, you're not depriving anyone of their seat this way, you'll only be given a berth if one is empty (so there is a small chance you might have to stand!). 
Get Creative with your "From" Station!
On queueing up to buy a Tatkal ticket from Bikaner to Haridwar, a friendly local stepped in to enquire where I wanted to go. Suspecting "come to my travel agency" stories, I told him anyway and he suggested that I didn't need to pay extra for a Tatkal ticket, but I could instead buy a ticket from a place called Luni in Rajasthan but "getting on at Bikaner".
Luni was a small station in the middle of nowhere that not many people travelled from, before Bikaner on the line. But because there are quotas from each station that a train calls at, there were still standard price tickets for sale to my destination as opposed to paying several hundred rupees extra for Tatkal. The ticket office sold this to me without questioning and the ticket inspector on the train seemed quite happy. You can only buy tickets with a different "getting on point" in person.
Safety Tips for Travel on Indian Railways
One of the questions we are asked most often by travellers visiting India is if travelling by train is safe. The straightforward answer: YES!
The longer answer: Yes train travel in India is generally very safe and most travellers have good experiences. Indian Railways generally has a good safety record and there are always police / guards on each train should you ever need help. The Railways Minister is also incredibly reactive on twitter! They can be reached at @RailMinIndia
There are a couple of things to be aware of to help make your journey even safer:
The main scams around rail travel are around ticketing. Famously, several travel agents pretend to be the "official foreign tourist ticket office" at New Delhi Railway station (ignore them), and touts have been known to single out tourists on platforms, ask for their train # or ticket and then tell them that their train has been cancelled, their ticket is not valid. Sometimes the scams are elaborate but they all revolve around trying to get you to buy a new ticket through them. Just ignore people who approach you at stations – the official ticket checkers will be walking through the trains once you are on and you'll see all passengers showing their ticket.
Train travel in India is safe for solo women, but we recommend you get the top bunk whenever you can for some additional privacy and make sure you are well covered while sleeping – no shorts, vest tops and you can forget the idea of changing into your silk pyjamas…
Doors are often open during train journeys – this makes for great photo opportunities but please be careful. Trains go fast and often pass next to poles on the track so do not lean out far or while the train is travelling at speed – hold on at all times if you do stand in the doorway.
I've read a lot of advice saying to bring a padlock and chain for your luggage, but have personally never used this. I always make sure to keep my small day pack on my top bunk with me (i use it as a pillow, but have also had to leave it unattended on my top bunk when needing the washroom) and keep my main bag with clothes etc down under the seat. I use a cross body purse which never leaves my person with passport, phone and money in. If your bag is full of valuables or you are feeling especially worried about your belongings then by all means bring a padlock and chain. If travelling non-ac sleeper, I'd probably use a chain as sleeper gets more crowded.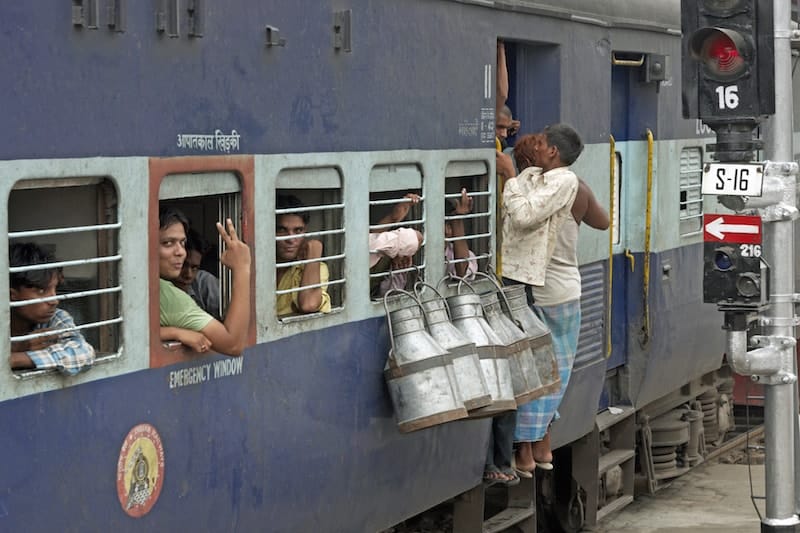 Dispelling Myths about India Train Travel
Travelling by train in India gets a lot of attention and interest, unsurprisingly! But there are a few myths out there that we'd like to dispel 🙂
Not all Indian Trains are late. It's true that trains can and do run late, but for us that has been the exception rather than the rule. In general if you book the better trains and follow our advice, you'd be unlucky to experience several late trains.
People don't sit on the roof of trains in India. This used to be the case, but back in the 80s and 90s. Indian trains actually travel pretty fast – you'll see that it would be pretty much impossible to stay on top!
Not everybody is out to get you on Indian trains. Many articles warn against leaving your luggage unlocked, keeping your eyes out, not moving without your hand sanitiser, not touching the food, etc etc. Fine, there have been cases where people have had things stolen or got sick, but the overwhelming majority of experiences on Indian trains are good!
Got an additional myth we should add to this list? Let us know your India train stories in the comments below!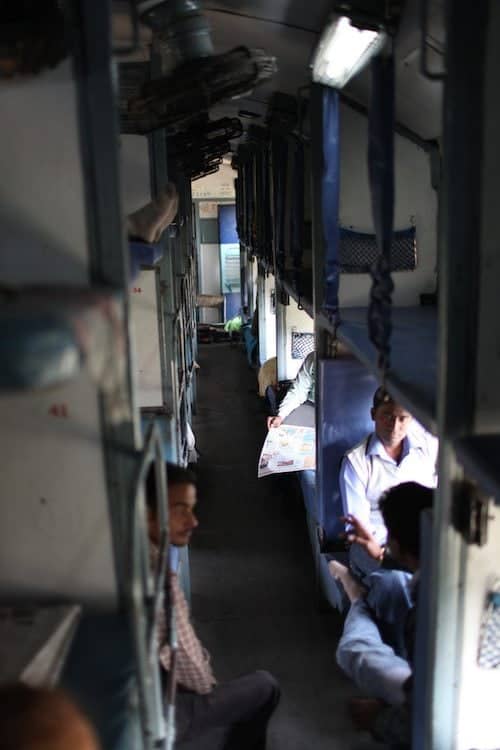 What to Pack for Train Travel in India
I recommend a few essentials that will help make your train trips in India more comfortable! 
Headphones. Sometimes you just want to retreat to yourself – you don't need fancy headphones, your regular ones will do fine!
An Eyemask – People are often switching lights on and off, so one of these will help you sleep, although personally when I travel alone in the train I don't use one as I want to be able to see what's going on if I need to quickly. 
Hand Sanitiser – Toilets don't always have soap so this is a must
A Sleeping Sheet / Sleeping Bag Liner – If you're in AC Classes on Sleeper Trains, sheets, a pillow and a blanket are provided. The sheets are usually very clean (they are boil washed after each trip), but if you like to have something of your own that feels familiar to sleep in, we recommend bringing one along.
A Power Pack – power points are few and far between on the overnight trains, with most passengers vying to charge their phones! Bring a power pack and make sure it's charged before your journey (so your phone doesn't die before your alarm for your stop! 😉 )
A secure cross-body bag (purse) to keep your valuables (passport, phone, money) on you at all times.
A good book! Phone and internet coverage can be spotty, and after a while you may run out of things to talk about. Train journeys are a great time to catch up on reading. 
More India Train Travel Tips!
Food on Indian Trains – You can eat some amazing food on Indian trains! Food vendors generally get on and off trains with local specialities according to the region you are travelling through, but are remarkably unpredictable as to when they'll appear, so it's best to bring some of your own snacks, too. Multiple chai wallahs can walk down the coach in quick succession, only to vanish again for another few hours. Some trains also have pantry cars and food is sold by catering staff walking up and down the train.
The best chai and food is usually sold by vendors getting on the train at stations. Expect samosas in northern India, vada pav in Maharashtra, idli in south India, and wherever you go, there's always plenty of staple 'train biryani'.
Many foreigners are reluctant to eat train-food – with different advice being given out about whether it's a sensible decision to eat or not. Personally I've eaten it many many times and had no stomach issues, but if you've just arrived in India or have a sensitive tum, you can give it a miss. I recommend you take provisions with you in case there's not food around when you're hungry 🙂 
You can even order food to your seat now, too using various services – pick a restaurant you like at an upcoming station and tuck in!
Make sure you Wake Up for your Stop!
Don't expect anyone to come and wake you up for your stop – set an alarm and keep it where you can hear it – as the railway staff don't wake people up, and you need to be at the door waiting for your stop if it's a station where the train only stops for a couple of minutes.
The Indian (Squat) Toilets are Usually Cleaner…
In most coaches there's a choice between "western" and Indian toilets. I usually always go for the Indian squat variety as they tend to be cleaner! The Western style ones tend to have dirty footprints on the seat (go figure). Toilet paper is not provided so if you're not happy with water, bring tissues (these go straight on to the track unfortunately so use water if you can). I recommend bringing hand sanitiser or liquid soap too as the soap often seems to run out or was never there to begin with…
Stay up to date with the status of your ticket (and train).
Train punctuality is getting better – the days of trains being 10 hours late (such as I've experienced a few years back) are mostly gone. More common is for trains to get an hour or two late, often in winter due to fog in north India, or during monsoon when there's heavy rains. You can check the 'running status' of your train on this website. If a train says it's about an hour late, it's best still to go to the station on time, as trains often make up late time in the middle of their route.
Plan the rest of your Journey
Due to the long distances, trains often arrive or leave in the middle of the night or the early hours of the morning. Whenever this happens I recommend having pre-arranged transportation / a pickup waiting for you to/from your hotel – we definitely don't recommend taking a rickshaw in the middle of the night to solo travellers. You can give your train number to anyone picking you up to keep on track if your train is delayed 🙂 . 
Chat with your neighbours!
My favourite place for making new friends in India… is on long train journeys! There's not much to do and locals are often curious about foreigners travelling – many love to speak English with foreigners and you'll learn so much about travel habits and culture in English through engaging in friendly conversation.
Remember it's about the Journey, not the Destination. 
One thing's for sure if you travel by train in India – you'll go back home with stories to tell. Train travel can be hot, crowded, delayed, but it can also be the most wonderful way to experience this beautiful country, meet its people and experience all of India's perfect contradictions. So relax, go with the flow and watch scenes of India unfold!
India Train Travel FAQ's
Can I book Train Tickets as a Foreigner outside of India? How?
Yes! There are a couple of options. You can either register for an IRCTC account with a foreign mobile number and buy tickets directly there, or the much easier option is to book tickets directly here online. 12go offer the most popular routes in India and accept foreign credit cards with no need to create an Indian Railways account. See our "How to book tickets" section above in the guide for full details.
What's the Best Class to Travel on Indian Trains?
It depends on your budget, distance you are travelling and personal preference, but in general we recommend AC 2 Tier (2AC) and AC 3 Tier (3AC) as the best classes to travel on overnight trains in. On day time express trains, such as Shatabdi Express trains, we recommend Chair Car (CC) which is Air Conditioned. For very short journeys (less than 2 hours) 2S (Second Sitting) can be ok outside of summer. We don't recommend non-AC classes to travellers for long distance travel, especially if it's your first time in India.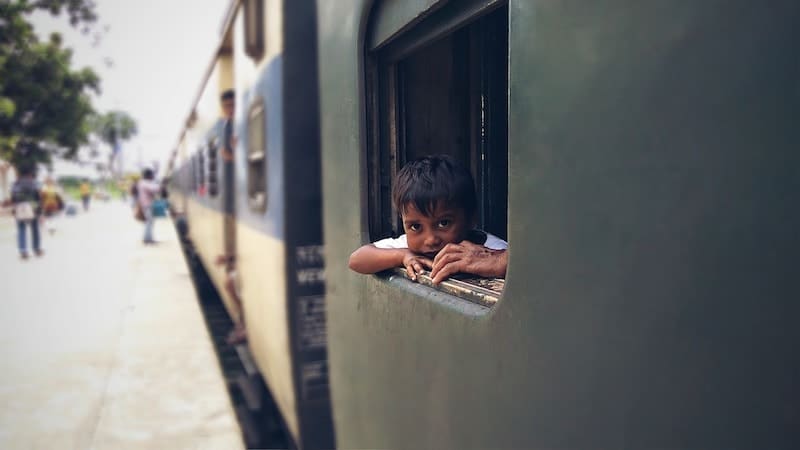 Should I Eat the Food on Indian Trains?
Many travellers (including us) eat food on Indian trains and have absolutely no problems, while others have got sick or upset stomachs. If you've just arrived in India and haven't got used to the food yet, we recommend taking it easy and bringing food from your hotel / a restaurant for the journey. Otherwise, tuck in!
Is it true that Indian Railways are Always Late?
On my first trip to India, someone told me that the lateness of trains is measured not in hours but quarter, half or full day late! There's no denying that some trains do get (very) delayed in India, but i've found this to be the exception not the rule. Many trains run on time, especially the higher-tier express trains. Fog can cause delays in northern India during winter months, whereas monsoon rains in southern India can cause delays and cancellations too. Just ensure you have some extra food for your journey and leave plenty of buffer time in your planning.
Is Train Travel in India safe for (solo) Women?
Women travel solo by train in India (including me) and most have no problems at all. We advise solo female travellers to plan ahead to avoid arriving in new places in the middle of the night where possible, and to book the upper (top) bunk on trains. Women should travel in 2AC or 3AC class and not in (Non AC) "sleeper". Wearing conservative clothing to reduce the stares helps too.
Have you travelled in India by train? Got extra tips to share from your experiences? Let us know in the comments below!
Planning (solo) female travel by train in India? Read my safe train travel tips for women here!
Read More about Travel in India on Soul Travel:
First Time India: How to Prepare and What to Expect
Agra Travel Guide – Experiencing Agra Beyond the Taj
Pin this Post on Pinterest!