Are you looking for the perfect yoga retreat in south India, or considering going on an Ayurvedic retreat in south India? AyurYoga Eco Ashram offers the best of many worlds – located just outside Mysore, Karnataka, read my review from my stay with them to find if it's right for you.
This post contains compensated affiliate links. For more info and my full disclosure, please read here.
What's in this Guide:
hide
AyurYoga Ashram India
Set about an hour away from the small city of Mysore in the state of Karnataka, southern India, AyurYoga Ashram is a non-denominational ashram (meaning there's no defined set of teachings that students need to follow) which specialises in yoga teacher training, yoga retreats, yoga intensives and Ayurvedic treatment / Ayurveda retreats.
The Ashram is set along the banks of the Kabini river and is surrounded by 17 acres of permaculture gardens and land – much of which is used for growing food to make the retreat centre as self-sufficient as possible.
The Ashram offers comfortable accommodation for guests and delicious home-cooked meals 3 times a day, all in a location that's perfect for rest, rejuvenation and wandering in the gardens. The Ashram is away from civilisation enough to be a sanctuary from the stresses of the modern world, yet only an hour away from Mysore, or around 4 hours from Bangalore – making it easy to add on a stay here to any south India itinerary.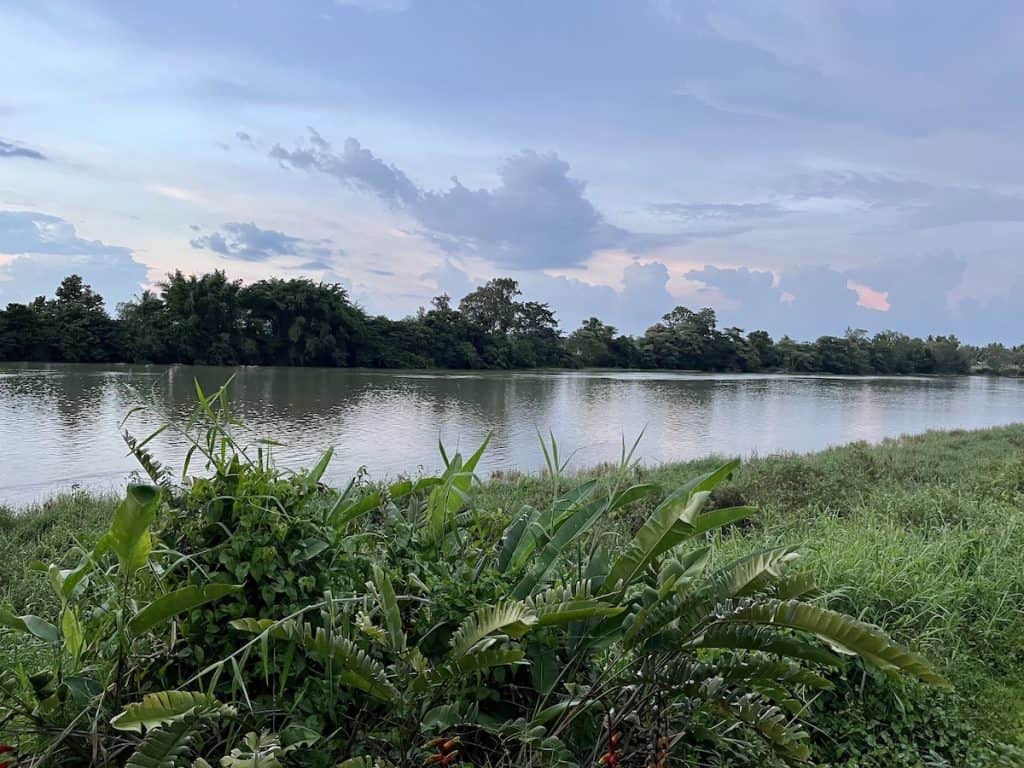 Staying at AyurYoga Eco Ashram, Mysore
The experience of staying at this Karnataka yoga ashram is one of peace – the road from Mysore gives way to dirt tracks shortly before the ashram, and staying here feels a world away from the hectic pace of most Indian towns and cities. For any traveller exploring India, a stay here offers a welcome reprieve from the usual chaos and noise.
I arrived at the Ashram under the cover of darkness, on a late night train from Goa – so I couldn't work out much of where I was as I sleepily trudged towards my room at 3am, but in the morning, I awoke to found myself with a view down to the flowing river from my cottage and surrounded by beautiful flowers and trees.
Staying here is the perfect antidote to our constantly busy lives. While your schedule at AyurYoga will depend on what you're doing here (Yoga Teacher Training students can expect a packed schedule, while those here for Ayurveda may find themselves with more hours in the day than they can remember) – there is so much medicine to being in an environment where there is not much to 'do' apart from yoga, meditation and practising presence.
This is not an Ashram with a strict schedule or regime (apart from being expected to show up for your classes), but rather following different beliefs and lines of teaching is encouraged.
Meals are served three times a day and eaten together with fellow students – which are all healthy and vegetarian, with approximately 50% of the ingredients – sometimes more – being grown on the farm.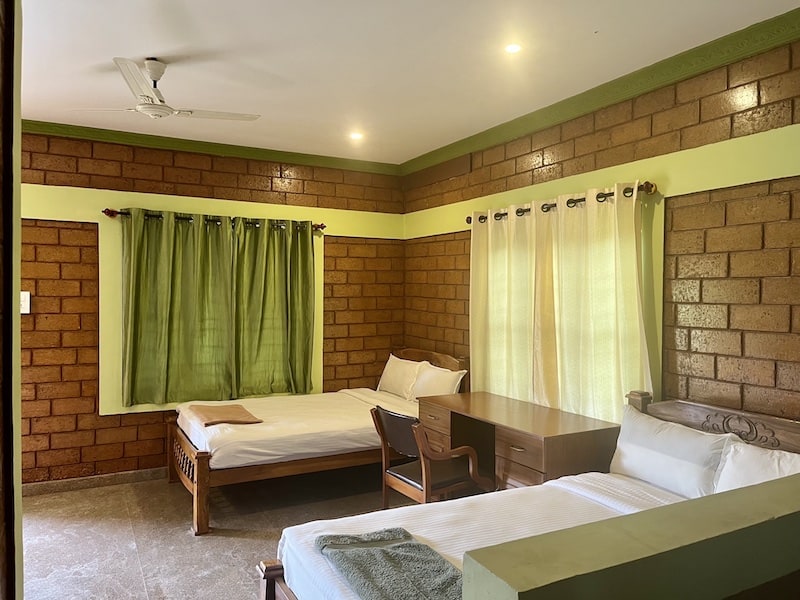 Accommodation at AyurYoga Eco Ashram
There are a variety of cottages and rooms at AyurYoga, some facing down onto the river, others grouped together in small buildings adjoining yoga halls – all have balconies, plenty of space, solar-powered hot showers and comfy beds.
Wifi is not available in the rooms, resulting in a forced digital detox and much needed time away from screens – the perfect excuse to do a social detox (if ever you needed one).
There's a beautiful peace that unfolds from having to disconnect – and needless to say is part of the spiritual journey of coming to a place like AyurYoga Eco Ashram. So some of the most peaceful moments I enjoyed during my stay were sitting on my balcony journalling, gazing at the views and flowers, or just simply being.
If you're coming here on a yoga retreat or yoga teacher training, you can opt to twin share a room with another attendee (but not for Ayurveda).
Ayurveda at AyurYoga Ashram
Since my first encounter with Ayurveda in 2015 in Kerala, I've had several experiences with Ayurveda – which is the Indian medicine system which goes hand in hand with yoga.
Ayurveda assesses and works with the root causes of disease and un-health, which stem from imbalance in the body and mind. Ayurveda looks at the balancing of the three Doshas (Vata-Air, Pitta-Fire- and Kapha-Earth and Water) in the body, identifies which is causing an imbalance and works to bring that back into balance using Ayurvedic medicines, a satvic (pure vegetarian) diet suited to your body type, meditation, yoga, and other holistic techniques.
At AyurYoga Ashram I found the best Ayurvedic doctor I've met so far, who accurately diagnosed all my complaints – minor and less minor – within a matter of minutes from talking and taking my pulse. This time I was only here for a week – relatively short for Ayurveda treatments – but the doctor and staff all did everything they could to ensure I got the best experience out of my time here.
There's a very beautiful Ayurveda treatment centre at the ashram with treatment rooms, where you receive your ayurvedic treatments, from steam baths, to shirodhara (pouring of warm oil on the forehead for relaxation), massage, and other treatments as per the doctor's instructions. This has to be one of the most stunning Ayurveda centres I've seen in India, with beautifully kept facilities.
My Experience at AyurYoga Eco Ashram, Mysore
I've learned on my travels to various ashrams and retreats around India that it's better to turn up with as few expectations as possible – as there's really no way of telling ahead of time what your experience is going to hold.
And so I arrived in Mysore with few expectations as to what my stay would have in store – and was really pleasantly surprised.
The yoga and meditation classes were so gentle and soothing for those undergoing Ayurveda treatments – something that is so important and I've missed in other places where the teachers have taken a stricter and more rigorous approach to yoga – which is not always great if you're in the middle of an Ayurvedic cleanse.
Being right by the river in the beautiful gardens of the ashram was soothing in its own right, too. Opening my eyes at the end of daily afternoon meditation to watch the sun setting over the river in the distance was a special experience that added to the magic.
I loved the overall lack of strict dogma at the ashrams – which unfortunately is included in some places which follow a very rigid schedule and set of beliefs – here you are free to pick what works for you, and if you are on an Ayurveda package, you have plenty of moments to yourself to simply be and rest. (The yoga teacher training programs do have a more full schedule).
My typical day looked something like this – wake up at around 6.30 for morning lemon water, 7am gentle / yin yoga class, 09.00 Breakfast, 10.00 consultation with the doctor, 10.30 Ayurveda treatment, 1pm lunch, 3pm second Ayurveda treatment, 4.30pm afternoon meditation class, 7pm dinner.
At the end of my 1 week stay here, I felt like I'd been through a mini journey of renewal – I'd lost weight that I'd been struggling to shift, I felt calmer and more at peace, and I'd learned many practices to take with me and add to my spiritual/healing 'repertoire' as well as having made several new friends.
My plan is to come back here to do a longer Ayurveda detox (Panchakarma) for over a month in 2023.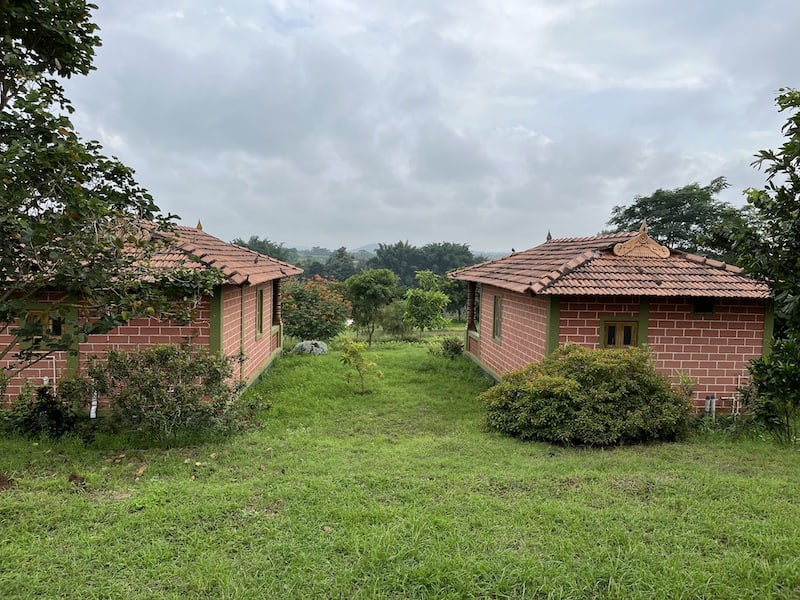 Final Thoughts
If you're looking for a beautiful yoga retreat near Mysore or want to do an Ayurveda panchakarma or other treatments, I highly recommend AyurYoga Eco Ashram. It is set in stunning grounds, is well run, has comfortable accommodation, and has great Ayurvedic doctors and yoga teachers. For me, it was the perfect balance between being very comfortable and nurturing but without the super high-end 5* luxury price tag.
Editorial note: Thank you to Ayur Yoga Eco Ashram for hosting my stay with them – as usual this doesn't affect my thoughts, ideas and recommendations!