Kayaking in Goa along the backwaters offers an entirely different perspective of Goa: One that's filled with messages about the fine and beautiful balance nature plays in protecting our planet.
A Glimpse of Goa's Off-beat Rivers & Backwaters
Light slowly crept into the pre-dawn golden glow around the creek. A kingfisher fluttered past, below him a herron poised at the water's edge in the mud. But apart from the deafening cry of birds, the mangroves remained still and silent.
Mention Goa and beaches probably come to mind. Perhaps parties too. But what about rivers, creeks and mangroves?
During our time in Goa, we were fortunate enough to discover another side to this beautiful corner of India. One that's far removed from the parties and coco-huts of Goa's ever-popular beaches.
Just a few steps from Goa's beaches, the state's network of rivers, creeks and Mangroves begins.
The Unseen Side of Goa
There are five major rivers in Goa: The Chapora, Mandovi, Zuari, Sal and Talpona. The Mandovi starts in Panaji (Panjim) and snakes its way inland, the Chapora starts at Morjim, and the Zuari at Vasco da Gama. Smaller inlets such as the Talpona and Galgibag river that flow in from the Arabian sea further along Goa's coastline.
Often forgotten in favour of Goa's more "glamourous" tourism options at the coast, these rivers offer a truly beautiful perspective of Goa's precious nature, wildlife and tranquility, and an opportunity to see – in our opinion – a special side of Goa.
In recent years, travel operators are recognising the value and beauty of Goa's backwaters and river ecosystems – including the mangroves – and have started offering experiences to those travellers who are interested in adventure, environment and are open to doing something a little bit different during their time in Goa.
Kayaking in Goa with Konkan Explorers
We were lucky enough to be able to take a journey into Goa's rivers and mangroves with award-winning Konkan Explorers, and spent the best part of a day exploring the Chapora river by boat and kayak.
Just a stone's throw from the estuary and beach, we were pleasantly surprised by the peace and quiet that the mangroves offered. Inside the mangroves, the air becomes heavy and humid, and kayaking through the dense mangroves feels like an intrepid voyage – serene and full of new discoveries at each turn.
During our time with them we learnt about the mangrove ecosystem, the importance of the rivers in Goa, and also about their work to challenge some of the negative stereotypes associated with mangroves and rivers from Indian society. Fishing communities were (previously) regarded as "low caste" under the old caste system of India, and this is a perception that the Konkan explorers founders are looking to change, by showing visitors the beauty of the mangroves first hand and encouraging visitors have an inter-active experience with Goa's waters away from the beach.
Konkan Explorers have been working to change the traditional tourism model in Goa for eight years now. They are committed to low-impact travel (their boat is even solar powered), and they are working to change perceptions too.
The mass-tourism model in Goa operates on most tourists staying in large hotels & resorts which can be resource intensive and allow minimal percentages of tourism spend to trickle down into the local economy. Whereas with companies such as Konkan Explorers, set up by a mixed Indian and French couple who live in Goa, their team members are all very local, and 100% of the cost of the trip stays directly in the north Goan economy.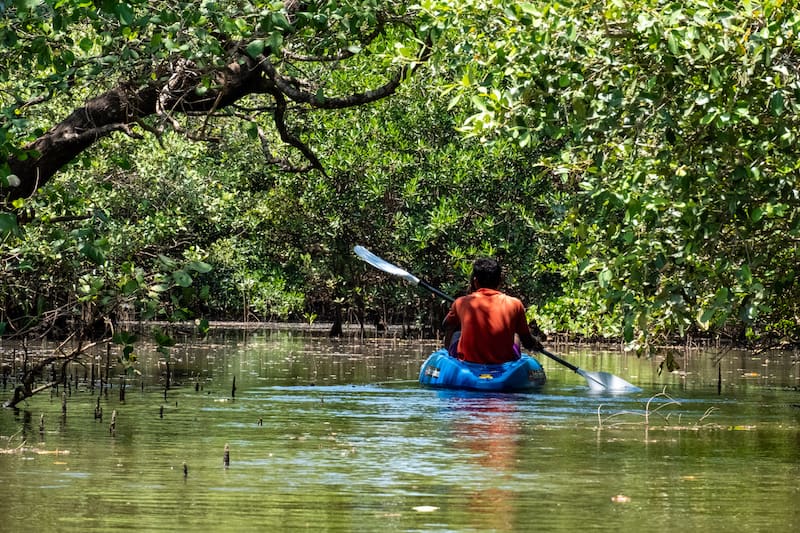 Critical Lifeline: The Importance of Mangroves in Goa
As the rivers wind inland from the ocean, many of them flow into mangrove ecosystems. In Goa, there are 16 types of mangrove species, all playing a vital role in protecting Goa from flooding.
Of Goa's total land area of 370 000 hectares, the mangrove area is 500 hectares, a steep decline from a recorded 20 000 hectares in 1987 (source).
Mangroves have been neglected, demolished and ignored during recent decades in India and around the world, with tragic consequences. But these ecosystems are really hidden gold.
Mangroves provide livelihoods: Through providing a rich environment for fish stocks to live in (and thereby supporting fishing communities), and they also – increasingly – provide opportunities for sustainable livelihoods through responsible tourism, too.
Perhaps even more importantly, Mangroves are critical in their role of coastal defence. Mangroves help to prevent against flooding. They help stabilise shorelines by preventing erosion and provide a natural defence for coastal communities. It's no accident that as Mumbai's mangroves have all but vanished and been built upon, flooding in the city has steadily got more severe. Conservation of mangroves is an essential part of the solution.
Like forests and coral reefs, Mangroves are also a filter. They absorb and store carbon, filter water and are a natural sponge for pollutants – up to a certain extent.
It's estimated that mangroves can store between 3 to 5 times more carbon than a mature tropical forest.
What's more, Mangroves represent less than 0.4% of the the world's forest, but they're disappearing three to five times faster than forests as a whole (Source).
As water levels rise around the world the answer is simple: We need more mangrove forests, not fewer. Mangroves play an essential part of the puzzle for maintaining a healthy planet.
How Tourism Can Support Goa's Mangroves
Fortunately, there are ways in which tourism can support mangroves in protecting India's nature and biodiversity.
One of the most effective things we can do as travellers is to go and see mangroves in a non-intrusive, low impact way. The more we learn and become aware of the value of mangroves collectively, the more we may help decisions be made in favour of mangroves when it comes to new construction and development.
In parts of the world where there is often a direct conflict between the need for human & economic development vs natural resources, there is a way to create a solution where economic development does not cost (literally) the earth.
One of the most sustainable solutions is to create tourism concepts that respect and depend on the mangroves, and that provide a deeper understanding of the role that Mangroves serve. Helping to put a monetary value on mangroves through tourism will go a long way towards protecting them, as has been done to some extent in the Sundarbans in India & Bangladesh.
These are some of our recommended ways to support the mangroves during your time in Goa:
Have you visited the backwaters of Goa or come across some good mangrove conservation projects in Goa? Let us know in the comments below!
Do you love kayaking or does someone you know? If so, you'll want to check out these ideas for gifts for kayakers!