Our complete guide to travel in Rajasthan! From princely and colourful cities to remote deserts, rural village life and tiger inhabited jungles. Make yourself comfortable for a good read of our Rajasthan travel blog – here's everything you need to plan your perfect trip to Rajasthan.
This post contains compensated affiliate links. Find out more in our Editorial Policy & Disclosure here.
What's in this Guide:
hide
Rajasthan Travel Blog – Your Complete Rajasthan Travel Guide.
Welcome to the "Land of Kings". Rajasthan is a true state of contrasts, and Rajasthan travel reflects that!
From desert scrub to holy lakes, one thing that is hard to grasp for the first-time (or even repeat) visitor is the sheer size of the place. I was fortunate enough to have three weeks to explore the desert state. Even that wasn't sufficient to get to all of the major sights. I did, however, linger longer in areas that would be easier to pass through in a shorter time frame. I also went well off the path more trodden on a couple of occasions—which meant more travel time.
In researching a state of contrasts, I was happy to find that the relatively well-developed tourism infrastructure is matched by the gradual appearance of eco-friendly options. More than that, were the options which make an effort to connect visitors to Rajasthani culture beyond a superficial level. Thereby creating more opportunities for responsible travel in Rajasthan.
This guide to travel in Rajasthan covers best places to visit in Rajasthan, best places to stay, attractions and activities, as well as mindful and ethical travel in Rajasthan. Our guide also covers how to see a less touristy side of Rajasthan – should you wish to – and tips for ethical and responsible travel in Rajasthan.
ⓘ TIP: Planning a trip to India? Click here to get our FREE India Travel Checklist!
When is the Best Time to Visit Rajasthan?
The best (and therefore most popular) time to visit Rajasthan is during winter, between October – March, with the busiest months being December, January and (sometimes) February. During this time the weather in Rajasthan is pleasant – you'll be warm under the daytime sun, but it does get cold at night!
An alternative time to plan your trip to Rajasthan for, is during monsoon (mid June – September). Rajasthan gets far less rain – after all it is largely a desert – than other states in India, the crowds are fewer during this time and the prices cheaper. Weather tends to be overcast and humid (and can be humid/hot) so admittedly if you're focused on clear blue skies, winter is your time to visit.
Stay clear during the months of April and May as temperatures soar and can reach over 50 degrees centigrade…
ⓘ TIP: Planning a trip to India? Join our free India Travel Facebook group here!
---
Our Top Picks for Where to Stay in Rajasthan
You can find our more detailed suggestions below under each city, but these are some of the highlights for any Rajasthan trip!
Khem Villas, Ranthambhore (High End) – This beautiful, sustainability minded tented camp with easy access to Ranthambore national park and tiger reserve is well worth it. With beautiful luxury tents and rooms you enjoy life in the wild here as the hotel is surrounded by grasslands, but with plenty of luxury, comfort and great service. Check rates and book Khem Villas here!
Jagat Niwas Palace, Udaipur (Mid Range) – Perfectly positioned along the lake, you can enjoy your breakfast nestled amongst cushions as you take in the morning views over lake pichola. More reasonably priced than many of the other lake-side hotels, this palace is set in a restored haveli with plenty of character and friendly staff. Check rates and book Jagat Niwas here!
Castleview Homestay, Jodhpur (Budget) – Get that kingly view of the blue city and Mehrangarh Fort towering above at one of our favourite places to stay in Rajasthan! Castleview Homestay is run by two kind and friendly brothers and (if you get in quick) has rooms with balconies and windows opening towards the fort in this restored haveli and heritage home. Check rates and book Castleview Homestay here!
---
Planning a Trip to Rajasthan
The first thing to work out for planning your trip to Rajasthan is to work out how much time you have to spend here. Although Rajasthan is "only" one state of India, it's huge! There is no "ideal" length of time to spend in Rajasthan – you could fit the key sites into a week, but you could easily keep yourself busy for a month here. Most people have round two weeks to travel in Rajasthan, which is a good starting point.
There are a few options for how to plan your trip to Rajasthan.
The first being to travel independently and plan everything yourself. You can travel independently no matter your budget – this option is not only for backpackers! Independent travel in Rajasthan allows maximum flexibility and the best opportunity to absorb Rajasthani culture, local food and meet fellow travellers independently, but it also means more time up front making your own travel arrangements which can take a bit of time. If you choose this option we suggest having an idea of where you want to go first so you know which order to visit places in (see our getting around section below). This is the way we travel.
If you're a solo female traveller wanting to travel independently in Rajasthan we have some tips on solo female travel below.
A second option is to get help with planning your itinerary, and / or hiring a private car and driver to get around. This has the advantage of taking the weight of planning off your shoulders but maintaining flexibility in how long you spend in each destination, where you stay and how to spend your time in Rajasthan.
Your third option is to take a group tour, which is perfect for when you would rather travel with others, have a trusted company take care of the itinerary and planning, and be accompanied by a local guide. We have a comprehensive comparison guide to some of our favourite India group tours here and recommend companies such as Intrepid Travel, G Adventures, and Exodus. Find a complete list of Rajasthan Tours here. Or compare hundreds of India tours on Tour Radar here!
One Rajasthan tour that we love is the G Adventures National Geographic Tour, Mysteries of India Click here for details.
Rajasthan Travel Guide Map
How to Travel Around Rajasthan
Most of Rajasthan is well connected to Delhi and other parts of the North West of India by rail. Jaipur, Jodhpur, and Bikaner serve as the main train station hubs, although it's also possible directly from Delhi to Jaisalmer by train (daily, 18 hours). Delhi to Jaipur takes 5-6 hours. Distances even within Rajasthan are still large to cover – for example the train from Jaisalmer to Jodhpur is 8 hours, Jaipur to Jodhpur 5-6 hours.
You can now book popular train routes in Rajasthan easily (without having to sign up for your own Indian Railways account) on 12go.asia Click here to book trains in India.
READ: A Complete guide to train travel in India for visitors.
Hiring a driver for some parts of the journey provides more flexibility and depending on your budget can be cost effective if a few people share for shorter routes. Udaipur to Jodhpur has no train service, so many hire a driver for the 6 hour route, going via the jain temples at Ranakpur – or you can take the bus.
An alternative is to take the bus. Buses in India tend to be less comfortable than the train, but have the advantage that they can easily be booked last minute (whereas trains may be sold out).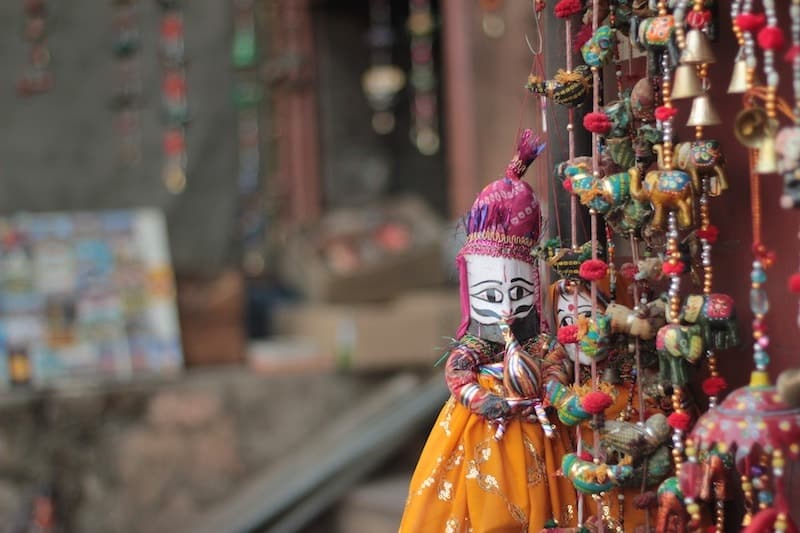 Safe Travel for Solo Female Travellers in Rajasthan
Most Indians are incredibly kind hearted, warm and welcoming, and will do anything they can to make sure you have an amazing time in India. Unfortunately though, there's the odd bad apple – like anywhere around the world.
If you're travelling to Rajasthan as a (solo) female, there are a few extra things to be mindful of. My first trip to India solo was to Rajasthan and I had an amazing time, but there are a few things I wish I would have known before hand.
Despite being a popular tourist destination, Rajasthan is relatively conservative. It's uncommon to see many women on the streets after dark, especially outside of the cities for example. I chose to mostly go out during the daytime and eat dinner at my hostel / hotel. If you want to go out, ask advice from your hotel or guesthouse and always let someone you trust know where you are going. Stick to well lit, busy areas, preferably with women and families around.
Avoid arriving in a new place after dark. This can be tricky with India's train and bus timetables, but you'll always feel more comfortable arriving during daylight. If your train arrives in the middle of the night, you can wait a couple of hours in the ladies waiting room or busy area on the station until it gets light (I did this in Bikaner), or book a nice hotel and pay a little extra to arrange for them to come and meet you. Make sure you have a clear arrangement about how you will be able to identify the driver.
Get a local sim card. This is super useful not only for being able to avoid rickshaw "detours" but you'll be able to use Uber, Ola (Indian version of Uber, recommended), and generally have a way to contact people. Airtel and Vodafone both have good networks throughout India. Get a sim card on arrival at Delhi airport or at any of their stores – you'll need your passport, visa, and some patience.
Dress a little conservatively. If you look un-Indian you'll already be attracting attention. It's best not to add to that by avoiding revealing & tight clothes. Covering your legs, shoulders and chest are important. See our what to wear in India guide for more below. Draping a scarf across your chest helps a lot.
Be aware of your surroundings and use your common sense. Avoid secluded areas in general – if someone is bothering you or tries to touch you the best thing to do is shout at them and make a scene, or seek a place where there are families. If you create a scene there will likely be many kind hearted Indians coming to your rescue.
On trains, choose the upper most bunk and travel in AC classes – read my tips for solo female train travel here.
Don't tell men or strangers that you are travelling alone, what your travel plans are, and where you are staying.
SELFIES. There's a huge selfie culture in India and you'll likely have been in Rajasthan five minutes before someone wants to have a selfie with you. That's up to you of course, but know that guys have sometimes been known to widely distribute selfies with western women and claim that you are their "girlfriend" or other stories. Personally, my rule is I say yes to families and no to single men or groups of men. If they are being annoying I get out my phone and video them. Being firm or ignoring is often the best tactic, or you can tag on to a family for a bit if it gets too much!
Stay in reputable guest houses and hotels that are available on major platforms such as Booking.com and check your door bolts securely. If you don't feel good about a place – book a new one and leave, trust your intuition.
READ: What to wear in India
ⓘ TIP: Planning a trip to India? Click here to get our FREE India Travel Checklist!
Of Elephants and Camels
One of the challenges of ethical travel in Rajasthan can be negotiating the ethics of some of the wildlife activities. The negative effects of elephant riding are well – publicised, yet elephant rides continue to be an option in parts of Rajasthan. Camel rides on the other hand, are a much less talked – of topic. In my mind, the problem was this: why am I not ok to sit on an elephant, but ok on a camel? I decided to reserve judgement until I was in India.
From what I saw first hand, the camels used for riding are often not well looked after. The camels that I saw in Pushkar were decidedly skinny, had sores on their skin, and generally did not look healthy. They also all have wooden sticks pierced through their noses to which the ropes for steering are then attached, something that does not seem to be done in other countries such as Morocco. I was told that this does not hurt the camel. All I know is that personally, I'd prefer not to have a wooden stick with ropes attached to it driven through my nose.
On the flip side, the familiar arguments of there being few uses left for camels are raised in defence of camel riding. This much is certain: it brings a huge amount of revenue to the Region and is a financially important tourist activity in Rajasthan.
The happiest camels I saw in Rajasthan were a herd that I saw in desert scrub, completely wild and happily munching at the trees with not a tourist in site.
Whether we want to endorse such activities is ultimately a decision we have to make for ourselves, basing our decisions on what we can see of the animals' welfare.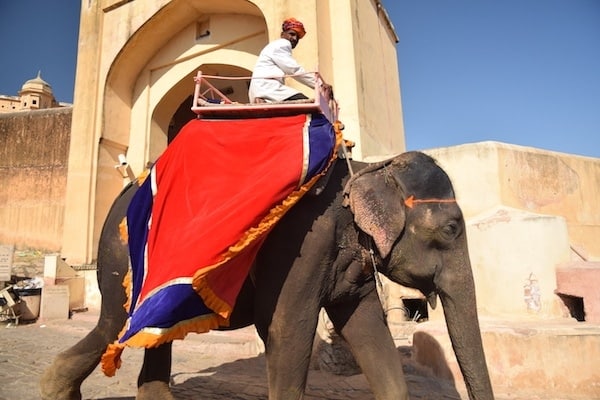 Responsible Travel in Rajasthan
Rajasthan is probably the most famous state of India when it comes to tourism, and is the number one region for travellers to India. It has also seen steadily increasing popularity within India with domestic travellers, too. In 2017 visitor numbers to Rajasthan in 2017 reached nearly 50 million.
Instagram is partly to blame, as the colourful palaces of Rajasthan make for exotic backdrops. Luckily, Rajasthan is a big place, and it's easy to avoid getting caught in large crowds if you have some flexibility in your travel plans and itinerary.
Here are a few tips to help you get the best out of your visit to Rajasthan:
Most of the crowds can be found in Jaipur, Udaipur and Jaisalmer, at the forts and inside the coloured old cities. Even here you can avoid the coach-loads if you show up early in the morning (ideal, too as it's much cooler at this time!). You can read my story about having Udaipur fort practically to myself below…
For fewer crowds get off the beaten path. Stay at homestays and ask locals for their recommendations on where to travel – see our off the beaten path section below.
Rajasthan is used to tourism and you'll find some less-scrupulous vendors / travel agents who will not be shy about making an extra dollar where they can. Bargain for everything and try to research the market price before handing over your hard earned cash. Over-paying for goods does not help in the long run as it sets the precedent for future visitors being overcharged too. Case in point: I found chai tea spices for sale in one grocery store in Udaipur for an optimistic 250 rupees. It was labelled "tea masala" and was clearly targeted at wealthy tourists. Tea masala should cost you about 20 rupees for a small bag…
Try to get away from establishments (restaurants, cafes) that are obviously set up for tourists and support smaller places instead. If in doubt, dismiss anywhere serving banana pancakes 😉
Despite the high number of tourists, Rajasthani culture is still relatively conservative, and wandering around in hot-pants and spaghetti straps will result in more hassle for you. See our tips for female travellers below.
Rajasthan is a dry, desert state and is rapidly running out of water. Avoid hotels with pools as much as possible and be very conservative with your water use. Turn taps off while brushing teeth, take showers instead of baths, turn shower off while shampooing… etc. Many remote Rajasthani villagers are without access to clean water and have to walk each day to pump ground water.
Avoid single use plastic. It's not hard to see, that India has a huge plastic problem. Avoid adding to it. Take your own refillable water bottle and water purification method, or re-fill with filtered water, called "RO Water" (reverse osmosis purified water which is fine to drink). See our recommendations for which water filters are safe for India in the packing section or see our full comparison guide here.
It's difficult to escape poverty when travelling in India. Compassion is the best thing you can give and support local organisations that are actively involving the local community in their work and profits (we've included recommendations throughout this guide). We don't ensorse giving money, pens, sweets or anything else to children or adults who ask for them while travelling in India. Volunteering in India can be a tricky business and is not something we necessarily recommend, unless you are bringing highly needed skills.
The Best Places to Visit in Rajasthan
Rajasthan's best known and loved destinations include Udaipur, Jodhpur, Jaipur and Jaisalmer, and these are not-to-be-missed destinations on any Rajasthan itinerary. But there is more to Rajasthan than these colourful cities, with alternative destinations such as Bikaner and Bundi being well worth a look for their history and old towns, Pushkar is a must for the spiritually curious, and Bharatphur offers some great wildlife-viewing opportunities. We cover all of these in this Rajasthan blog.
But to understand Rajasthani culture is to glimpse the rich village life and tapestry of Rajasthan. Marwari culture is seen in all its colour not in Rajasthan's bustling cities, but in its quieter villages and desert camps. I learned more about the Marwari (Rajasthani) way of life from spending time at homestays and villages than I did from wandering the ancient Pink City of Jaipur. In this guide we'll show you how to do the same, should you want to!
Have you been to Rajasthan and have tips to share with other readers for their trip? Let us know at the comments section at the end and I'll add them to this Rajasthan travel blog.
READ: First Time India: How to Prepare and What to Expect
Jaipur
Part of the "Golden Triangle" and the capital of Rajasthan, travel in Jaipur was very different from how I thought it might be.
Famous for being the "pink city" and for its wonderful palaces, I'd developed a somewhat romantic vision of Jaipur. The reality is a dusty, noisy and crowded city (even by Indian standards) that is used to tourists with plenty of money and little time to negotiate. The hustle starts on arrival at the train station where you can expect to be met with persistent offers of transport from the moment you have one foot out of the train.
But this doesn't mean you can skip Jaipur!
What it does mean is that you may be better off to keep your shopping until later during your trip, or if you do shop in the Bazaars of The Pink City, be prepared to haggle very hard. Pre-arranging pick ups from your hotel/guesthouse from the train station is also a great idea, especially if your train arrives after dark.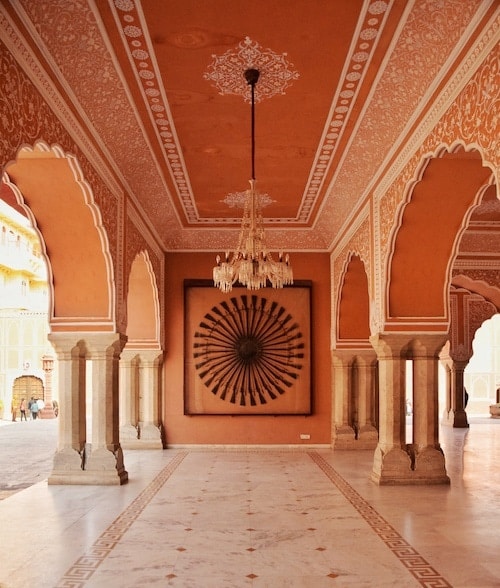 Where to Stay in Jaipur
I stayed with the Arya Niwas group who have several hotels in Jaipur. Family owned, the hotels are all taking steps to reduce their environmental footprint, and you'll find a homely feel at all of their properties. Arya Niwas is the most centrally located hotel; I stayed at Tara Niwas in the Bani Park area of the city which was quieter and had a very homely feel. Tara Niwas is about 20 minute ride by auto-rickshaw to the city centre.
The hotel has it's own front and courtyard gardens, the former is even home to its own set of pet rabbits that have the run of the garden before guests are up! I loved staying here away from the hustle and noise of the Pink City.
Check for rates and more info on Arya Niwas hotel here.
Things to do in Jaipur
The main sights of Amer Fort(also known as the Amber Fort) and City Palace are un-missable and the top sights for good reason. If you go to the City Palace it is worth paying the extra to see parts of the palace that are not open to the general public – some of the rooms are stunning. I didn't go in to the Hawa Mahal—the view from outside was enough for me, and reports are that it gets pretty claustrophobic inside the corridors.
Visit the Anokhi block printing museum, a short walk from the Amber Fort in Amber. Block Printing is a beautiful, traditional Rajasthani art that is fast dying out.
In Jaipur itself you can visit the Anokhi store which sells clothing made from the hand-printed fabrics, or enjoy lunch at their organic cafe. If organic eats are your thing, you can also check out the Poppin Organic Cafe.
Consider taking a tour with Virasat Experiences, a community tourism initiative.
Do avoid riding the elephants at the Amber Fort. Debates about the ethics of riding elephants aside (see more above), recent government inspections have revealed inadequate housing conditions and animal abuse. Limits have apparently been put in place for the number of rides an elephant can do per day. Unfortunately, the demand for elephant rides continues to rise.
Pushkar
A stay in Rajasthan's holiest town, Pushkar, was one of the highlights of my Rajasthan trip.
A visit to Pushkar is the kind that turns from one night into two, into far longer than expected. Pushkar does not have any eco/responsible travel qualifications as such, but it is a great way to experience some of the culture of Spiritual India in Rajasthan. Pushkar Lake – around which the town is formed – is said to have been formed when a lotus flower fell from the hands of Lord Brahma. It's also the only place in India where you can find Brahma temples. Aside from the odd temple visit, there's also not a huge amount to do in Pushkar, which I found to be one of its charms. Seeing as its a Hindu Pilgrimage Town, alcohol is not allowed in Pushkar.
An early morning or evening walk around town and soaking up the atmosphere by the lake will give you all the introduction needed to this place. The cafes at Jaipur Ghat are a great spot to sit with a chai and watch the sunset, or morning goings-on.
Pushkar is famous for its Camel Fair each year, which depending on your love for crowds and dust you may wish to come for or avoid. The town gets incredibly full during the festival so book well in advance. Ajmer is the nearest large city with train and bus connections, trains run frequently from here to Jaipur.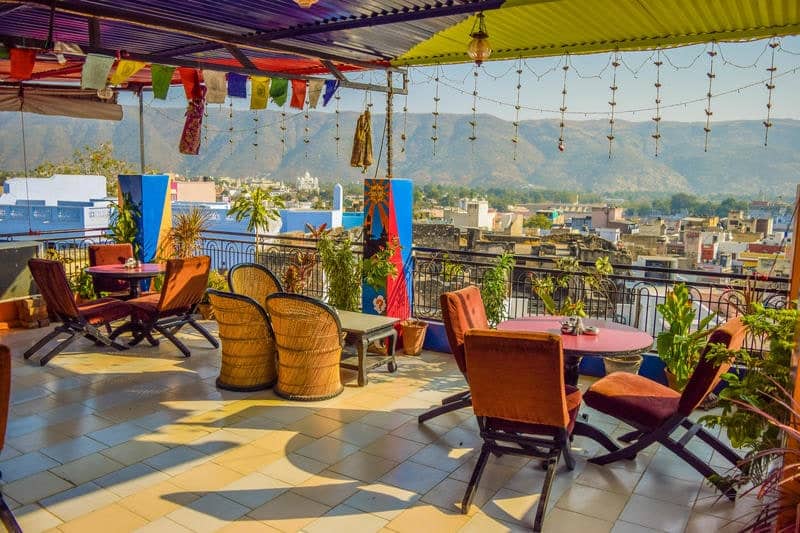 The rooftop cafe at Hotel Everest in Pushkar, Rajasthan. Image c. Hotel Everest.
Where to Stay in Pushkar.
There are many small guesthouses in the centre of Pushkar and around. I always recommend over big hotel chains both in terms of having a more personal experience and the economic benefit reaching the local community more directly. I stayed at the Hotel Everest (above) which is run by a local family, serves great food and chai, and has a wonderful roof terrace with views over the city.
Udaipur
The "City of Lakes" or "Venice of the East" is branded as India's most Romantic city. I also found it to be Rajasthan's most touristic.
Visiting in January 2017, I think I got lucky as the crowds were elsewhere. The centre of the city around the lake has been set up almost entirely around tourism (with most buildings being a travel agency, hotel, shop, restaurant), but that does not mean Udaipur should be overlooked. Watching the morning mist clear over the mountains beyond Lake Pichola from the battlements of the City Palace is a memorable sight. My best advice? Do get up earlier than everyone else for some moments of solitude.
Udaipur is well connected by bus and rail – I arrived by train from Ajmer (5 hours). There are no trains between Udaipur and Jodhpur – the bus journey is 6-7 hours.
Where to Stay in Udaipur
I stayed on the Hanuman Ghat side of the lake – a stone's throw away from the main part of the city across the lake, and with (arguably) much better views than from the other side. The Panorama Guest House where I stayed is family run and had incredible views of the lake from my room and the rooftop restaurant, but unfortunately seemed to have employed Mr Grumpy as their main receptionist. Millets of Mewar (see below) have now opened a Guesthouse which focuses on eco / community tourism and connects guests to local NGO's who work on social and environmental issues.
If you have palatial dreams and want to live out the true fairytale in Udaipur, the Taj Palace on the Lake is only accessible to those who have booked a room to stay there (no visits for drinks/tea allowed). Book well in advance and bring a large wallet!
More info & rates for Millets of Mewar Guesthouse here.
More info & rates for the Panorama Guesthouse here.
More info & rates for the Taj Lake Palace here.
Pin this post on Pinterest for later: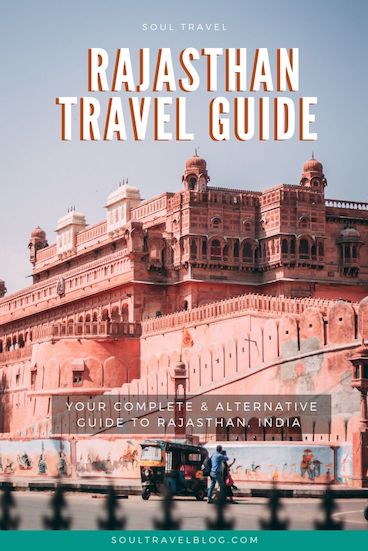 Things to do in Udaipur
The City Palace and a boat trip on Lake Pichola are the main attractions of Udaipur.
Boat trips: The City Palace arranges boat trips from the grounds, but a cheaper option is to go yourself to the booking office on the end of Lal Ghat, from where boat trips also operate.
The City Palace: reports are that it gets unpleasantly crowded later in the day, so go for opening time (09.30am). I walked in through the gates at 09.15am and pretty much had the place to myself.
Art of Bicycle offer tours which are a great way to see Udaipur beyond the lake and the surrounding countryside
Millets of Mewar is a great spot to eat some of the healthiest food in Udaipur – of both Indian and International varieties. They're the owners of the above mentioned guesthouse and also offer food tours of Udaipur and Cooking Classes.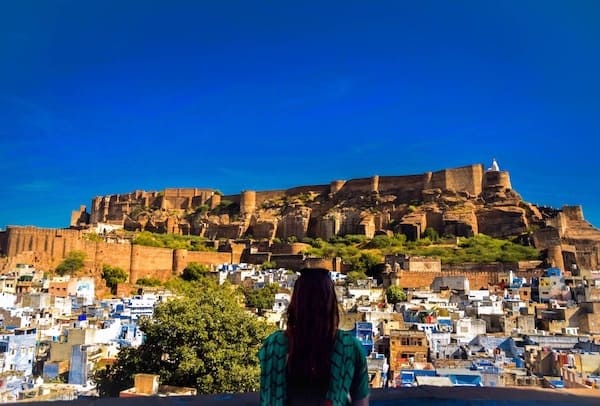 Jodhpur
The Blue City has a real local charm that leaves many travellers smitten. Despite being a popular spot, that doesn't seem to bother the locals who seem as friendly as can be. I didn't go to Jodhpur with particular expectations, but found that there is something special about this place. Even the travel industry heavy weights such as Conde Nast have put Jodhpur on their hotlist.
The Mehrangarh Fort is as dramatic as forts come – even in Rajasthan. Towering over the city it's visible from wherever you are, and many hotels and guest houses in Jodhpur have wonderful views of the fort. Jodhpur's charms reach beyond its fort however. Once you've seen as many blue houses as you can manage in Jodhpur's old blue city, or reached your shopping limit in the bazaars, there's plenty more to see outside of Jodhpur. and About an hour's drive away is the remoter town of Osiyan which boasts some magnificent Jain Temples and a chance to experience the Thar Desert away from the crowds of Jaisalmer.
Where to Stay in Jodhpur
In the blue city, with a spectacular view up towards the towering Fort, Castle View homestay is a treasure that I discovered and did not want to leave. A lovingly restored house located in the blue city, this homestay has hints of moorish architecture about it and is decorated in stylish whitewash with hanging lamps, and boasts a beautiful rooftop restaurant. The deluxe rooms offer a view of the castle without having to get out of bed. I also liked the location of this homestay, away from the main tourist drag around the clocktower.
For those with kingly budgets the RAAS hotel has had rave reviews from the likes of Conde Nast traveller and is making efforts to keep its environmental footprint low. The famous view however, is available from many hotels in Jodhpur, at a fraction of the price.
About 40km away from Jodhpur I stayed at the beautiful Chandelao Garh Homestay, which offers the chance to stay in peaceful countryside and explore some of Rajasthan's village life, but be close enough to Jodhpur to see the city on a day trip. You can read about my stay at Chandelao Garh in this post.
Find more info and rates for Castle View Homestay here.
Find more info and rates for Raas Hotel Jodhpur here.
Find more info and rates for Chandelao Garh homestay outside Jodhpur here.
Things to do in Jodhpur
As well as being one of the most spectacular, the Mehrangarh Fort is also one of Rajasthan's best organised when it comes to tourism – the included audio tour is of very high quality.
On the way down from the Fort, don't miss Rao Jodha desert rock park. In 2011 this eco tourism project opened. The former wasteland has lovingly been transformed into a desert garden, planting species native to the region that require little water. There are different paths / trails to wander along and appreciate the landscape with the view of the fort and city below as a backdrop. Best enjoyed outside of the mid-day heat!
I took a half day tour with Virasat Experiences of the Blue City. It was great to see the old part of Jodhpur through the eyes of a local and discover where the best tea and snack stands were. What left the greatest impression on me was the friendliness of the locals who all had time to chat, exchange greetings or simply a smile. As well as different city tours, Virasat are able to organise responsible tourism trips to small villages nearby for the day.
Osiyan is the nearby gateway to the Thar / Great Indian Desert. From here it's possible to go on a multi-day desert safari up towards Bikaner or Jailsalmer, or to enjoy being in the desert in Osiyan for a few days. I stayed with HACRA, an eco tourism project set up by a village community.
Jaisalmer
Often described as appearing out of the Great Indian Desert like a mirage, my personal experience with Jaisalmer was less romantic. Even though it did begin with a sunrise overlooking the city.
Jaisalmer Fort looks like a giant upside down sandcastle. It's a different type of fort than others in Rajasthan in that it is still a living fort. The old city of Jaisalmer is still home to a few, and houses many visitors: unfortunately the city inside the fort is these days one large tourist trap. The tourism industry is also taking its toll on the sandcastle as more and more guesthouses open and more water has to be pumped inside, the old fort (it dates from 1156) is not able to cope with the volume of water that needs to be drained away. Leading to problems of erosion and subsidence, and the fort slowly 'sinking'. UK based charity Jaisalmer in Jeopardy has been raising awareness of the problem and the need for conservation.
The main business in Jaisalmer is tourism, and of that Camel Safaris play a vital role in the area's economy. For most working in the tourism industry it's all about selling camel safaris and rides. I did not choose to go on a camel safari on Jaisalmer, having already had my desert experience in Osiyan near Jodhpur (see above). You may find that if you come to Jaisalmer not planning to do a desert trip there's not that much to do – although some visitors seem happy to stay and wander for a few days.
Due to the high levels of tourist hustle here, Jaisalmer was my least favourite spot on my travels around Rajasthan.
Where to Stay in Jaisalmer
Because of the strain put on the fort from visitor numbers and water demands I advise staying outside of the fort in Jaisalmer. You'll also get better views of the fort itself. There are no eco options, but there are a number of friendly family run hotels.
Things to do in Jaisalmer
Camel rides aside, the Fort is the main attraction. The museum / fort palace is a rather poor relation compared to those in Jodhpur, Amber and Bikaner however, and you can get a flavour of it just by walking around the city inside the walls, which are free to walk around.
There are a number of pretty Havelis you can visit such as the Patwon Ki Haveli.
Take a leisurely walk to Gandisar Lake to watch the local goings-on or enjoy some quiet time.
Ranthambore National Park
Ranthambore is the best option for seeing tigers in Rajasthan and attracts swarms of visitors each year. It's one of the only Tiger parks in this part of India (for better and less crowded options head towards Madhya Pradesh) and is famous for its ruined temples which are a spectacular backdrop for the tigers, should you be lucky enough to see one.
Ranthambore has recently come under criticism for allowing too many tourists in (tiger parks have strict quotas set by the Forestry Department that they need to adhere to) and for overdevelopment on its land – of new resorts. That said, tiger parks in India are vital to the conservation of this majestic animal and generally allow for a responsible experience. All tiger safaris are conducted in vehicles, at a distance from the tigers and sightings are never guaranteed.
If you decide to visit Ranthambore, we recommend a stay at the beautiful Khem Villas eco resort.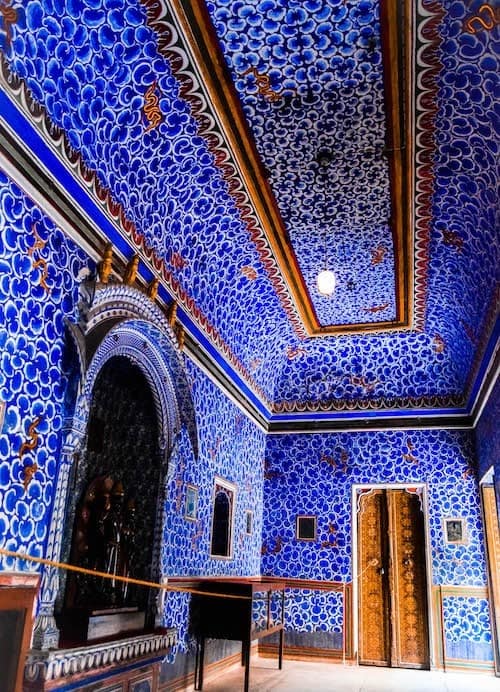 Bikaner & Bundi
I hadn't planned to go to Bikaner, but due to train delays / re-routings I got to spend a day here. And I'm glad I did! Not many individual travellers make it here (which is a reason to visit in itself) but the Junagarh Fort has some of the best preserved rooms inside that I saw on my trip. There's also a beautiful old city to explore as well as a very colourful Jain Temple – Bhandasar Temple. Bikaner is a great alternative to Jaisalmer, with plenty of camel safari alternatives with fewer crowds.
Search for hotels in Bikaner here.
Update 2018: as of early this year, India's first Zero-waste guesthouse has opened up in Bikaner! You can find more information about Hara House here.
Bundi also receives great reviews, although we have yet to make it there. I would recommend looking into stopping here, if only to see a part of Rajasthan that many visitors skip. It has yet to see the levels of tourism that are present in some of the other towns of Rajasthan.
ⓘ TIP: Planning a trip to India? Join our free India Travel Facebook group here!
What to Pack for Rajasthan
Here are some of our recommended essentials for your Rajasthan packing list.
Essentials
Sunblock! A sun hat and or scarf to shield your head from the sun is also advisable, even in winter the sun is strong
Layers: Rajasthan can get really cold in the evenings in winter – it can get down to 5 degrees celsius at night in Jaipur in January! Bring a fleece jacket, warm sweater or light down coat that scrunches up small with you. You can also buy a warm shawl once in India.
Head torch/flashlight – useful for camping and power cuts!
Clothing for Women – sorry ladies, guys can pretty much wear what you want, so this is for you.
Toiletries
Ladies – Tampons are available in the big cities, but not beyond and are expensive. It's better to avoid use of sanitary napkins due to inadequate waste disposal and the plastic waste they create. We recommend using non-polluting protection such as a menstrual cup, washable pads, or period underwear.
Try to bring plastic-free, organic/chemical free soap and shampoo bars, as often waste goes straight into the water. Keep shampoo bars dry by drying them after use and wrapping them to avoid them turning into a sticky mess…
Electronics
India's power sockets are a fun mix – including 2 round pin european style, 3 round pin and 3 square pin. So a multi way travel adaptor (or 3) is a must!
Make sure to bring a power bank for long bus, launch and train journeys
Staying Healthy in India
First off – not everyone gets sick in India! (Read our tips for avoiding Delhi belly here)
A first aid kit is highly recommended for India – bring disinfectant liquid, cream, plasters, broad spectrum antibiotics, mosquito repellant, sunscreen and meds for stomach upsets. In case you do need medical help, the major cities such as Delhi, Mumbai, Kolkata and Bangalore have world-class medical facilities.
Travel Insurance! A must for India – please don't leave home without it. We use and recommend World Nomads.
Water filtration / purification equipment & water bottle as tap water is not safe to drink in India (but commonly available filtered (RO) water is fine – I have drunk it for many months) – Check out our Steripen and favourite water bottle for travel in India here.
Alternatively buy a Water to Go bottle + replacement filters – you can fill up from any water source. Use code STB15 for a 15% discount here!
READ: Check out our complete Packing List for India here!
Have you been to Rajasthan? Where were your favourite places? Let us know in the comments below!
Pin this post on Pinterest!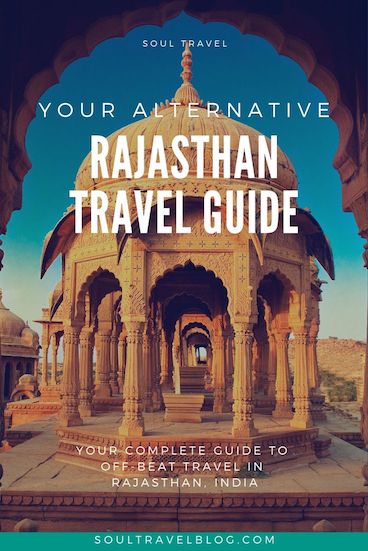 Soul Travel blog is a participant in the Amazon Services LLC Associates Program, an affiliate advertising program designed to provide a means for sites to earn advertising fees by advertising and linking to amazon.com, amazon.co.uk, amazon.ca, and as an affiliate I earn from qualifying sales. Amazon and the Amazon logo are trademarks of Amazon.com, Inc. or its affiliates.