Looking for a Panchakarma retreat in Kerala can be hard work, in this post I share about my Ayurveda Panchakarma in Kerala experience and share tips for finding the right Kerala detox program for you!
This post contains compensated affiliate links. Read more in my disclosure here.
What's in this Guide:
hide
Panchakarma in Kerala: My Panchakarma Review
This is my account of my Ayurveda experience in Kerala in winter 2015, what I learned from it, how it affected me, and I also share tips on how to find Ayurveda retreats in Kerala with questions you should ask.
I'd heard about Ayurveda through Yoga classes, online research and tales from friends. Planning my travels to India, it seemed natural to take the opportunity to spend a few weeks in Kerala – the home of Ayurveda, and experience a Panchakarma detox for myself. Panchakarma is the process of purifying and cleansing the body (detox by any other word) using traditional Ayurvedic methods.
Each year, 700,000 foreigners travel to Kerala for Ayurvedic treatment.
Ayurveda, meaning the 'Science (or wisdom) of Life' in Sanskrit, is a 5,000 year old medicine system with its routes in Indian Vedic culture, and can be considered as an Alternative Medicine system. Ayurveda is the less well known but inseparable sister of Yoga; Ayurveda being the science behind the practice of Yoga.
ⓘ TIP: Planning a trip to India? Join our free India Travel Facebook group here!
Ayurveda is based on the five elements of Earth, Ether, Air, Fire and Water, and uses these elements as the basis of the 3 Constitutions or "Doshas". There are three Doshas (Vata, Pitta and Kapha) which form the life energy behind all of our bodily functions.
Armed with about as much knowledge of Ayurveda as contained within those two paragraphs above, and having scoured a bunch of online Panchakarma reviews, I booked myself in for an Ayurvedic Panchakarma (detoxification program) for two weeks in the Western Ghats of Kerala.
Are you looking for the best panchakarma treatment in Kerala? Search Ayurveda retreats here!
My main goals for my ayurveda detox retreat were to detox, relax, and to sort out my less than perfect digestive system.
It's fair to say that I didn't arrive for my treatments in Kerala in the best of shape. After a 5am flight with Delhi and the inspired decision to not go to bed that night before it, by the time I arrived at Kochin airport that day I was ready to abort mission.
Add to that the news that it was an 8 hour drive to the retreat nearly had my running to the nearest exit.
On arrival, I met the other guests. Some were staying for two weeks like myself, some staying for many months to aid recovery of serious illnesses. The first night I met two girls who'd been staying for a month and had gone through 3 weeks of Panchakarma followed by 1 week of Rasayana (Rejuvination). What I remember now is the looks on their faces when I asked them how their time had been. When I asked if they felt better now than when they arrived, the answer that I was not prepared for arrived in the form of 'not really'. I felt shocked – how could that be right? Wasn't Ayurveda supposed to cleanse our systems and make us feel better?
Over the coming days, as my treatments began at Ayurveda Yoga Villa, I had plenty of time to ponder this.
Travelling to India for the first time? You can read my post here about what to expect.
The Panchakarma Treatment.
I wasn't sure how many days would be needed for my panchakarma treatment, and my initial consultation with my warm and friendly doctor revealed that the 2 weeks I had allotted was not long enough (to do the full programme). Instead, they would do the parts that were most relevant for my constitution and concerns.
For a full panchakarma treatment you need around one month. My doctor expressed concern that I would be travelling after the treatment for another six weeks. I had assumed I would be fighting fit after my panchakarma treatment; in the Doctor's words it would take at least a month for my body to be back to "normal" afterwards.
Over the next 14 days I went through three of the main Panchakarma treatments. I'm not going to go into the details here, because everybody that I met had different experiences with the treatments, and well… if you're thinking of trying Ayurveda it's something you will experience for yourself! Given that my experience was so different from what I had expected, I decided to write this Ayurveda blog.
Looking for Panchakarma in Kerala India? Search Ayuveda and Yoga retreats in Kerala here.
My stay followed a rigid schedule: waking up at 4.30am for 5am Pooja (prayer ceremonies) each day, 6am Yoga, followed by meals, treatment & consultation with the Doctor during the day, then more yoga and evening pooja before bed time. Treatment included plenty of Ayurvedic massage experiences.
The Ayurvedic Diet is simple and comprises pure vegetarian food that is largely free of wheat, gluten, caffeine, sugar and dairy (except for ghee and cows' milk which are important to the Ayurvedic doctrine). Good Ayurvedic retreats will customise your diet and tailor the food given to you individually rather than feed everyone the same.
Set in the heart of the beautiful Keralan jungle on the edges of a nature reserve, there were welcome opportunities for walking by the river for when things got a little intense during the panchakarma detox.
As I reflect back on my ayurveda experience in Kerala, especially on the difference between my expectations and what I encountered, these are some of the learnings that stand out.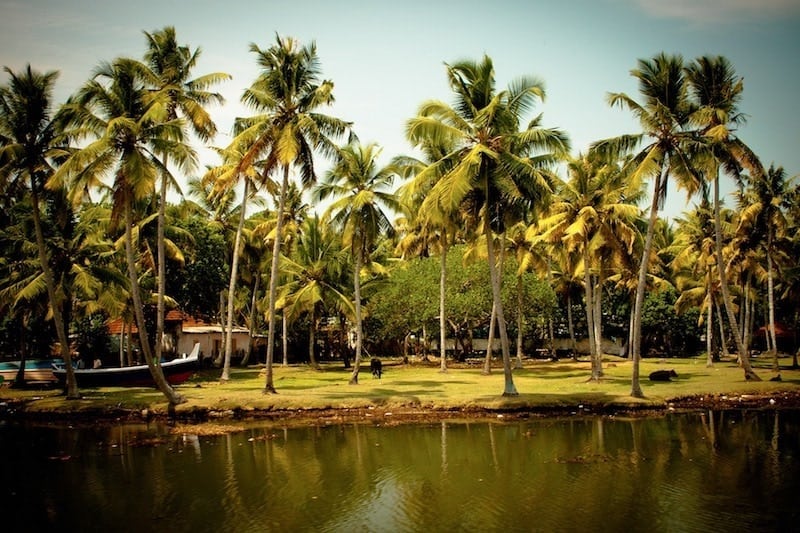 Lessons Learned from Ayurveda in Kerala.
No Pain no Gain. A little dramatic perhaps, but we always seem to look for the easy way. We're often looking for entertainment, for someone else to 'fix' us. I assumed that I would feel amazing at the end of the two weeks. I assumed that the more difficult/painful treatments would not apply to me. But they did. Ayurveda offers an array of treatments, many of which are totally discomfort-free and relaxing, such as Shiro Dhara (oil pouring over the head in a constant flow); but those treatments have far less impact if one has not been through the initial work of detoxification first so that there is a 'clean' body to work on.
We have to accept that one day at the spa is unlikely to have a significant or long lasting effect on our health unless we also look at how we treat our bodies on a day to day basis. The same goes for my stay. Two weeks' investment of time would of minimal benefit if I would fill my body straight up with 'toxins' again.
Take a Little Time. All food on the retreat was organic, with much of it grown in the gardens of the retreat centre or very nearby. Food that was not available organically was not served. It is part of the Ayurvedic tradition that food needs to be prepared, served and eaten with mindfulness and love. Before each meal was served all of the kitchen staff would chant and pray over the food. Compare that with how we typically prepare and consume food in day to day life and is it any wonder that our food, that should be our medicine, has become our poison. It's taught me that if I want to eat well, I will have to make lifestyle changes when I am at home: switching to eating more often at home as opposed to eating out; planning food shopping for the week or longer vs buying on the go for 1 day at a time.
You May Get More than you Bargained For. I came to the retreat looking for a health booster. What I got was a yoga practice that I can replicate daily (in my own home should I develop enough discipline!), time for myself to reflect (and finally start writing my travel journal), a yoga teacher who inspired me spiritually, and some friendships that have lasted well beyond the 2 weeks. Ultimately, our health – as well as being the most precious asset we have – is our body's way of showing outwardly what our inner state is.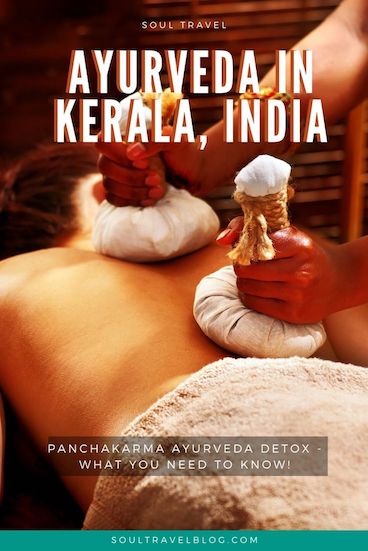 Pin this post on Pinterest!

And last but not least…
Did it work?
After my panchakarma experience, I certainly felt different. There are some things I can say with 100% certainty made me feel better.
Aches and pains in muscles were banished through application of herbal pastes, which – organic as they are – certainly packed a punch. I will say though that for at least two weeks after the retreat my body was very weak, my mind more anxious and my energy levels much lower than before. It's like being stripped bare. One month on though, as I write this, my digestion has definitely improved and the detox has helped me to make different decisions to before about what and how I want to eat.
One year on: An update.
What were the lasting effects of the panchakarma detox that I had in Kerala last year? It has definitely changed the way I look at food and my lifestyle in general.
I have learned to listen to my body more.
When I returned from my travels in January 2016 I went to see an Ayurvedic doctor at home in the Netherlands. When I'd come home my face had erupted in spots – something that had never happened to me before. After a couple of consultations it became clear that some of the treatments I'd received in Kerala had actually not helped. I'd been given treatments for air (Vata) dosha problems, whereas my biggest challenge was excess fire (Pitta).
After a few months of taking different herbs my trust in Ayurveda has been restored. Through simple changes to my diet (like cutting out / down on red meat), drinking coffee after my breakfast instead of before it, and eating more fruit and vegetables I have more energy and my digestion is a lot better. Whenever I feel overly tired, I know it's time to do pranayama or yoga in the morning again.
So would I do a panchakarma detox again? Yes. But my advice to anyone is to do your research on where you go and ask for recommendations on doctors if possible. You can also start at home with herbs and lighter treatments before committing to a multi-week detox to decide if Ayurveda is for you.
Looking to discover Spiritual India? You might like my post on finding soul in Rishikesh here.
Tips for finding the Best Panchakarma in Kerala.
Where to find the best Ayurvedic massage in Kerala will depend on your budget and the amount of time you have available. There are also some important questions to ask up front as to what to expect from your Ayurvedic Panchakarma treatment.
I recommend searching for retreats on the Book Yoga Retreats website.
Another option is to check Tripadvisor for reviews of places and general Kerala ayurveda reviews – this is what I did before booking Ayurveda Yoga Villa Kerala.
Questions to Ask:
What treatments are offered? How long do you need to stay for the treatments to be effective?
How long should I rest for after the treatment / what can I expect?
What food will be offered? Is it organic and Ayurvedic?
Where can I read online reviews from previous guests?
What is the accommodation like (often at Ayurveda centres it is simple and humble – forget any 5* luxury)
We are considering going to some new Ayurvedic centres in southern India – one that we haven't tried yet but have on our list is Ayur EcoYoga Ashram in neighbouring Karnataka – I hear good things!
Have you been on an Ayurveda retreat in Kerala or have you found the best Ayurveda in Kerala? Let me know in the comments below!
ⓘ TIP: Planning a trip to India? Join our free India Travel Facebook group here!
Read more about Travel to India on Soul Travel India: 
Pin this Post on Pinterest!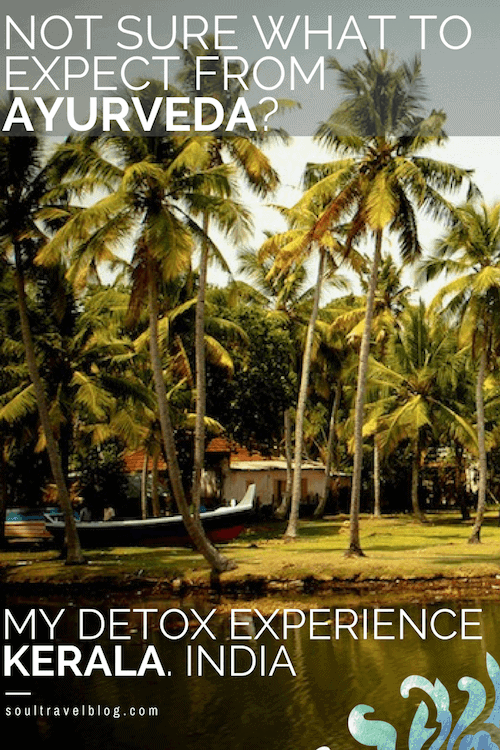 [activecampaign form=3]