India is far more than holy cows and incredible architecture. Home to some of the densest and beautiful jungles in the world, there's no better way to explore India's interiors in the hope of meeting Shere Khan himself than on an Indian safari and stay at a jungle resort in India. From the tiger-rich parks of Madhya Pradesh in the north to the off-beat forests of Karnataka, here are some of our favourite jungle lodges in India.
This post is part of a sponsored collaboration with Coral Road, who are our go-to website for booking sustainable accommodation in Asia. This post also includes compensated affiliate links. Read more about our partnerships and affiliate policy in our disclosure here.
What's in this Guide:
hide
My Favourite Jungle Resorts in India
Jungles and forests cover over 20% of India's land, and despite increasing pressure from development as the population of India continues to grow, are still a sanctuary for some of the most diverse and awe-inspiring wildlife anywhere in the world.
After all, there are few sights that make your heart flutter more than seeing a royal Bengal Tiger cross meters in front of your jeep, before you've had breakfast.
India's most popular jungles for safaris and tiger parks are located in the north of the country the the arid central region encompassing southern Rajasthan, Madhya Pradesh, and western Uttar Pradesh, and these regions are home to some of India's best jungle resorts and lodges (as well as your best chance of seeing a tiger). But venture out of these areas and there are plenty of jungles and forests to be explored. The Western Ghats, stretching from Maharashtra to the tip of Kerala form a haven for wildlife and birds.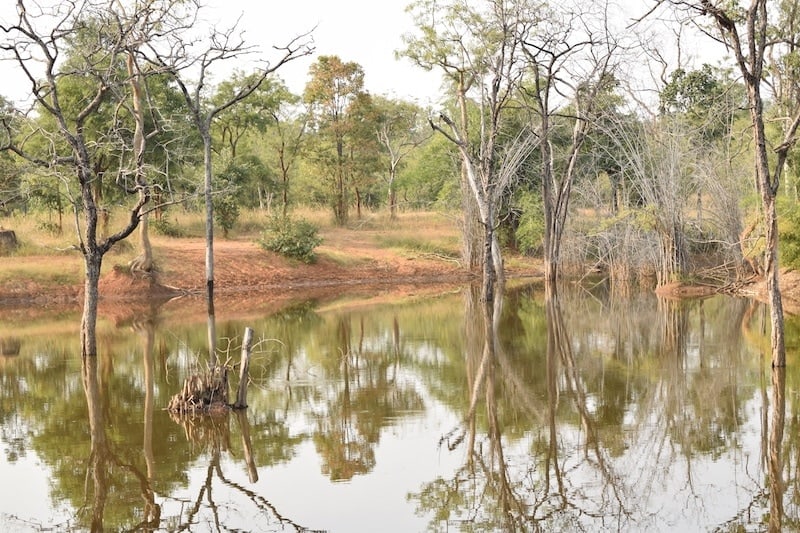 Best Jungle Lodges in India
We turned to our friends at Coral Road – our favourite booking platform for sustainable resorts and accommodation in Asia – for inspiration on how to experience the Indian jungle sustainably.
Here are our top picks for an unforgettable stay in India's wild. All of these lodges and resorts are also engaged in sustainable and eco friendly practices, and many also are actively engaged in working together with local communities and indigenous tribes who are native to these areas in much of India.
Remember that India's wildernesses are critically important to India – we rely on these jungles and forests for the air that we breathe everyday; as such we recommend that all travellers should avoid single use plastic when visiting these areas, and make sure you don't leave anything behind you.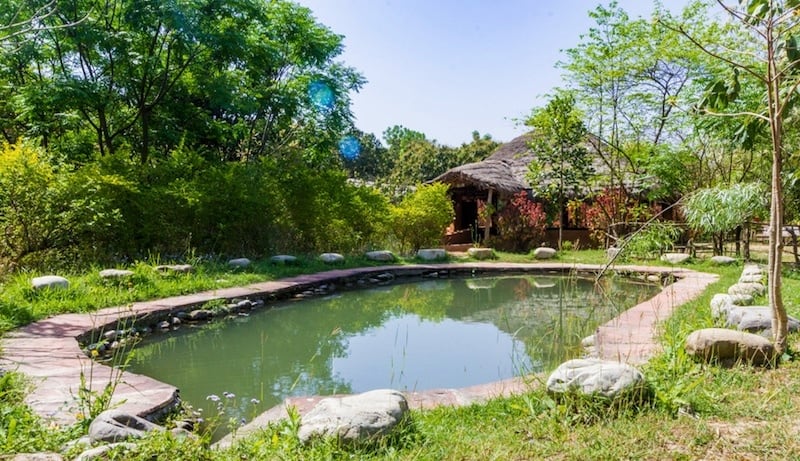 Camp Hornbill, Uttarakhand
Bordering Jim Corbett National Park and at the feet of the Himalayas, Camp Hornbill was set up in 2010 by local residents from the nearest village, Kyari, and it is solely owned and managed by the local community. Many of the locals who run it are professionally qualified from the Nehru Institute of Mountaineering, Uttarkashi.
The Camp features both mud houses and safari tent accommodation, and features a central hand-crafted community area. As well as being sustainably run by the community, Camp Hornbill is actively involved in re-forestation and forest conservation initiatives and cultivating increased environmental awareness. It's perfect for hikers, nature lovers and those interested in visiting Jim Corbett national park.
Svasara Jungle Lodge at Tadoba, Maharashtra
Located two hours away from Nagpur, Svasara Jungle Lodge is set right up against the edge of Tadoba Tiger Reserve. It's part of Svasara group, a small chain of environmentally friendly hotels across many of India's bio-diverse jungles, with the goal to provide high quality service and lodging, a truly memorable and special wildlife holiday, along with convenient safari planning (which can be a bit of a chore, trust us!).
The Tadoba-Andhari Tiger Reserve contains some of the best forest tracts and is endowed with rich biodiversity. According to legend, the tribal God 'Tadu' died here many years ago while fighting a tiger – a shrine was erected and the legacy of tigers lives on in this less-visited tiger reserve. The resort supports wildlife conservation initiatives and has implemented several eco-friendly measures on site, too, including growing much of its own produce.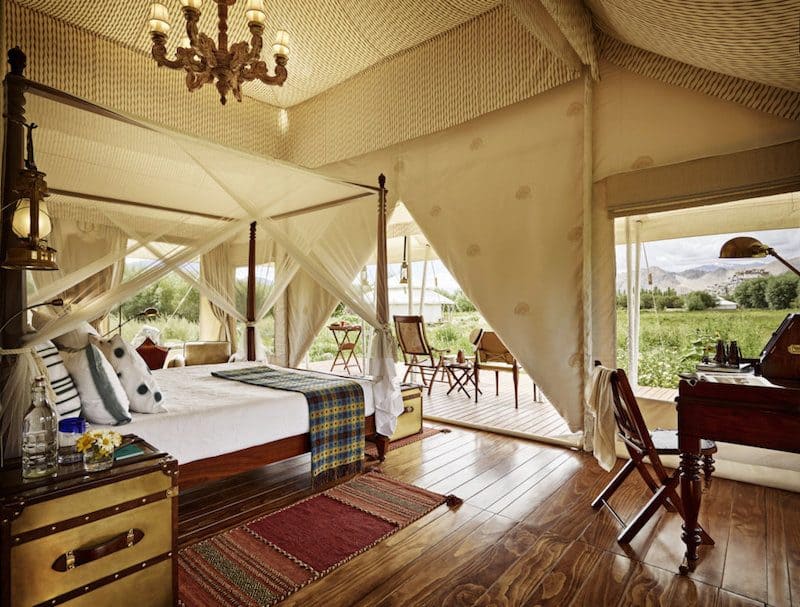 Khem Villas, Ranthambore, Rajasthan
Khem Villas is a luxury jungle camp at Ranthambore, Rajasthan's premier tiger reserve. The camp is designed to provide peace and tranquility within its luxurious and very personal atmosphere. Accommodation is high end, and you won't want for anything at this jungle lodge.
The focus at Khem Villas is not just Tigers but to go beyond Tigers by engaging visitors and informing them about the various challenges that threaten the survival of Ranthambhore and its Tigers. The resort is involved with two NGOs: Ranthambhore Foundation and Tiger Watch which help in providing health care, education, afforestation, dairy development, employment generation, monitoring of Tigers and more importantly sustainable livelihoods.
Although the tiger concentration is lower at Ranthambore than in Madhya Pradesh, many visitors flock here for its location in Rajasthan as well as the temple ruins within the park which make for a unique backdrop to see tigers.
The Treehouse Hideaway, Bandhavgarh, Madhya Pradesh
Known for having the best concentration of tigers anywhere in India, Bandhavgarh gets our vote as one of the best places to see tigers in India (we were lucky and saw a beautiful tigress here).
The Treehouse Hideaway is a truly unique accommodation option, with five beautifully designed and built (luxurious) treehouses. You can enjoy a view down onto the wild world below, or stay comfortably inside your room and enjoy the feeling of being at one with nature here. All tree houses have been made by local staff using regularised wood. Local craft knowledge and traditional expertise has been used at all quarters to ensure that the Tree Houses blend harmoniously with their surroundings.
Kanha Earth Lodge, Kanha Tiger Reserve, Madhya Pradesh
Adjoining the buffer zone of Kanha Tiger Reserve, Kanha Earth Lodge offers a true wilderness experience – close to the park, but away from many of the Kanha resorts that surround it.
The lodge has 12 luxury bungalows which have been inspired by Gond tribal architecture. They offer environmentally sensitive, low-impact accommodation through their design and use of local stone and waste wood, while the absence of neighbouring lodges or highways creates an ideal setting for nature walks, birding and cycling trips through the surrounding forest, so you can see plenty of wildlife from the Lodge itself!
Red Earth, Kabini, Karnataka
Red Earth Kabini is an unpretentious resort on the back waters of the Kabini dam and in close to Nagarhole tiger reserve in the southern Indian state of Karnataka (located between Goa and Kerala).
Described as "as close to silence as you can get", Red Earth is for those who want to deeply relax and surround themselves with nature. There are 20 well spaced out cottages here, complete with your own private jacuzzi for stargazing! The resort helps you organise jeep safaris and walks with naturalists, both around the property and in the Nagerhole reserve.
Spice Village by CGH Earth, Kumarakom, Kerala
Located a stone's through from the famous (but rather crowded) Periyar National Park in Thekkady, Kerala, resorts don't get much more sustainable than Spice Village. Modelled on a tribal village, the resort runs largely on solar power, has a huge organic farm for (literally) garden to table dining, makes its own paper, soap and cleaning products. There's no such thing as waste at Spice Village where everything is composted and re-used. Single-use plastic is a no-go, too, as the hotel has its own water filtration system.
Periyar is not the place to see tigers (don't let the sometimes-used "Periyar Tiger Reserve" name fool you), and it does get very busy. We do not recommend taking the boat cruise, but instead try your hand at rafting or going on a walk with one of CGH Earth's naturists into Periyar – it's the only reserve in India you can walk into!
Which Jungle lodge in India is your favourite? Let us know in the comments below!
Coral Road is committed to making sustainable travel the new normal by connecting sustainable travel providers with travelers who want to make a positive impact when they travel. All partners on Coral Road have at least one sustainability-related certification or award, and innovative initiatives like solar power, wildlife conservation, and greywater recycling. They have over 100 sustainable accommodations and tours to choose from in India and Southeast Asia ranging from tree houses in the middle of the forest, to mountain village homestays with locals. Connect with us on Instagram @thecoralroad for inspiration.
Planning a Trip to India? Read more on Soul Travel India: 
Pin this Post on Pinterest: