The mere mention of drinking tap water in India is enough to give many visitors an uneasy stomach, but the truth is there's more to safe drinking water in India than meets the eye (and less to be worried about). After living and travelling in India, here are our tips on how to drink clean water in India, without destroying the environment along the way!
This post contains compensated affiliate links. For more info, please see our full disclosure here.
A Guide to Safe Drinking Water in India for Visitors
When planning a trip to India, one of the frequent concerns of travellers is staying healthy in India – whether it's avoiding the dreaded Delhi belly or wondering how to find safe water to drink.
As usual with a lot of our pre-conceived travel ideas, the reality is often a little different on the ground. Indeed, bottled water is not the magic answer to concerns about safe water in India and you probably won't have to walk more than a few steps in India to see the impact of the plastic bottled water industry on the environment.
Just last week, a proposed ban on several types of single-use plastic was supposed to go into force – but didn't: Apparently due to the concern over economic consequences of its implementation. Saving India from being buried under a sea of plastic therefore falls on the common man (and woman) as a responsibility: Including us as travellers visiting India.
In this post we'll take a closer look at the drinking water situation in India, with a look at how travellers to India can drink safe water, without resorting to buying lots of single-use plastic too.
ⓘ TIP: Planning a trip to India? Join our free India Travel Facebook group here!
Dispelling a Few Myths about Clean Drinking Water in India.
Everybody knows that it's not advisable to drink tap water in India. But it's not that simple. In recent years, both Mumbai and Delhi have invested significant amounts of money in water treatment systems, to deliver clean and hygienic water to the homes of millions of Indians in both cities. In fact, in April this year, Mumbai water was declared safe for drinking, with reported better than global levels of contamination.
That said, we won't be encouraging travellers to drink straight from the tap just yet.
The problem is that even in these cities, the water pipe networks are old and in some places decaying. While Mumbai water may start out as pure from the treatment plant, there is not guarantee that it'll reach your tap as such, and it can be hard to know if water from a tap has been treated or has come into contact with contaminants along the way, especially during flooding.
Outside of major cities, there is little to no water treatment.
For that reason, we still advise that drinking water directly from the tap in India is not advisable. In the major cities you'll be fine brushing your teeth with it (I do that all the time), or you can use purified water for the purpose.
The Problems with Bottled Water in India
As soon as you arrive in India, you'll be expected to drink bottled water. As a tourist, locals will expect that you need to drink water from a plastic bottle, given that it's considered "safer", and generates quite a few bob to the local economy, too. The more touristic the place, the more the pressure to buy bottled water. (I've sometimes had to leave restaurants because they refused to serve me purified water instead of bottled water – more on the difference and what that is below).
India is quite literally covered in plastic waste, and we as tourists do not need to add to this. I'll skip the depressing plastic waste figures – we know that the world has a plastic problem, enough said. Given India's population and far from adequate waste disposal, as a country she does not need travellers adding to the problem.
The sense of reassurance many feel around bottled water in India is largely false. We tend to assume that bottled water is "safe" but in India that's not exactly true:
Most bottled water in India is not mineral water, it's purified tap water or "RO water" – see what that is below.
Bottled water in India is far from trustworthy. Many vendors fill up old bottles with regular water (or worse) for the sake of making a quick buck.
It's fair to say that if you want to stay healthy in India, drinking bottled water is not the best solution.
How to Drink Safe Water without Plastic Bottles
There are essentially two options here. One is filtering your own water, or the second is buying/sourcing water filtered in India to refill your own bottle with.
How to Filter your Own Water in India
You'll need to pack your own water filter when preparing for your trip to India. Here are our votes for the best water filter for India travel:
Steripen UV filter
The Steripen UV filter is small and super handy, and can be used in combination with your favourite re-usable water bottle (we love these ones). The Steripen uses UV filtration technology to kill nasties. It can't be used on cloudy water, but it's great for making tap water safe to drink. I've used a steripen on several of my trips to India and have remained happy and healthy.
Water Filter Bottle – Water to Go or Grayl
The other option is to carry a bottle with you that has a water filter built in. Both the Water to Go and the Grayl work using an activate carbon filter to eliminate bacteria, viruses, heavy metals and chemicals – leaving your stomach happy and healthy. We prefer the Water to Go because of its larger capacity and its zero waste filters, but the Grayl is more easily available around the world.
If you're heading out for more than a couple of weeks, make sure you buy replacement filters and take them with you as they can be impossible to find in India. You'll need at least one bottle per person.
Buy your Water to Go here and get a 15% discount by using promo code STB15
Or buy a Grayl Water Filter here!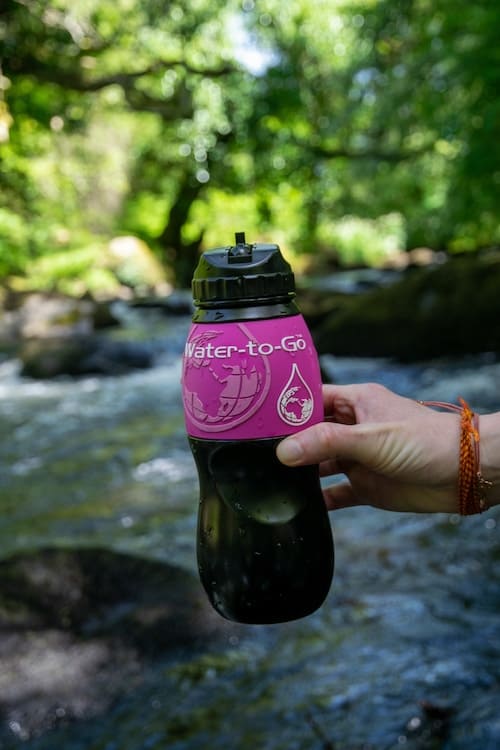 Getting Filtered Water In India
Throughout India, there are plenty of opportunities to access filtered water which IS safe to drink – you'll just need your own refillable water bottle. You can usually find filtered water in a few different places.
Filtered water in India is usually referred to as "RO water" – this is water that has been treated by Reverse Osmosis. This is extremely effective at killing any contiminants to the water and is often the same type of water as is sold in plastic bottles. Public places such as railway stations often have RO vending machines, and museums and monuments often have a station with RO water – sometimes it's free, sometimes you'll have to pay a few rupees. You can refill your bottle here.
In middle class Indian homes and in hotels, there will usually be a UV or RO water filter installed in the kitchen. You can give your bottle to kitchen staff and ask them to fill it up with filtered water. Many guesthouses have these too.
As a last resort, guesthouses / hotels often have a large water dispenser which you can use to fill your water bottle up – it's still plastic, but given that it's a large container it's still more efficient than buying bottles yourself.
Getting Creative – When there's no Filtered Water
In some places (usually rural places) there just isn't any filtered water around. This is where it really comes in handy having your own Steripen or water filter bottle. If you don't have one though, there are a couple of easy fall backs:
Drink boiled water. Ask for "Garam Pani" (hot water. This will have been boiled and is fine to drink.
In Kerala, in local eateries, you will often find warm, pinkish coloured water on the tables. This is boiled, ayurvedic water (with the addition of local herbs). This is safe to drink as it has been boiled as well (and the herbs might just give your skin a healthy glow!).
Other Things to Be Aware of with Water in India
There are a few other things to be aware of in your quest to stay healthy in India:
Most visitors do

not

get sick in India, and especially not more than a stomach upset for a day or two.
Give your stomach time to adjust – if you're not sure about something, trust your intuition. Your stomach is also likely to be more resistant after several days than when you first arrive.
Watch out for salads and peeled fruit. We don't recommend these as they will likely have been washed in untreated water, out of your sight. Anything raw/uncooked is best avoided.
Stick to fruits you can peel. There are some beautiful looking fruit salad trucks, but consume at your own risk!
Hot and boiled is fine – drink as much Chai as you like! 😉
Don't worry about perfection. There might be situations where you have to buy bottled water. In that case, just try and buy the largest size possible.
ICE. Generally ice cubes should be avoided (as you don't know what water they are made with), although in high end hotels and bars they are likely to be safe / made from filtered water. In India people generally believe that cold drinks are not good for you in the heat – as they shock your body and cause more heating up! You could follow the ayurvedic belief that warm water is actually cooling 🙂
Have you travelled to India? Did you find it easy to avoid bottled water? Let us know in the comments below!
ⓘ TIP: Planning a trip to India? Join our free India Travel Facebook group here!
Read more about Travel in India on Soul Travel Blog:
First Time India: How to Prepare and What to Expect
Responsible Travel in India – Tips for Travellers
Our Favourite India Group Tours – Itinerary Guide
23 of Our Favourite Eco Resorts in India
Pin this Post for Later on Pinterest!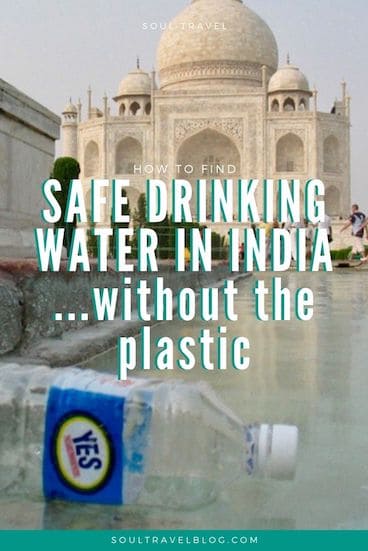 Haven't got your travel insurance for India yet? It's not too late – even if you're already travelling. We use and recommend World Nomads. Request a quote now by filling in the details below: