Finding the best travel insurance for India is an important step in planning any trip to the sub-continent! On my many trips to India I've used a variety of travel insurance providers and also experienced first hand what happens when you need access to healthcare in India. Here's our no-nonsense guide to our favourite travel insurance policies for India and what you need to know!
This post may contain compensated affiliate links, read more in my disclosure here. Thanks for supporting Soul Travel!
How to Choose the Best Travel Insurance for India – A Guide for Visitors to India
It's no secret that we love travel in India: After many trips to India and after living in Mumbai for the best part of a year, I've got to know my way around India, including getting to find out how the Indian medical system is and why you need travel insurance for your trip to India.
We know that planning a trip to India can be a daunting process, especially if it's your first time visiting India, and amidst the flurry of planning your itinerary and the places you want to go to, where you want to stay and how to get there, travel insurance might not seem the most exciting option on your India trip planning list! There are also so many companies offering travel insurance these days that things can quickly get overwhelming. Fortunately…we're here to help! 🙂
ⓘ TIP: Planning a trip to India? Join our free India Travel Planning and Tips Facebook group here!
Disclaimer – We are not insurance brokers and cannot provide legal or professional insurance advice; the contents of this guide is written from our own personal travel experiences with the aim of helping our readers find products & solutions that we personally use and enjoy. Travel Insurance companies & policies vary in their coverage of COVID-19. Please check policies carefully.
Psst.. In hurry or need a quick answer? We always use World Nomads for our travel insurance – for India and around the world. Get a quote for your India trip with them here!
Do You Really Need Travel Insurance for India?
We can start with the short answer: YES.
Digging into that a bit more deeply: We know that travel insurance is not the most exciting thing to spend your money on, and particularly if you're a backpacker it can be tempting to think that you'll skip it. We also hear people say that the cost of healthcare is much cheaper in India, so that if anything happens it will be cheaper to pay for it out of pocket.
But such arguments miss the point of travel insurance entirely. First of all, the purpose of travel insurance is to give you peace of mind and the freedom to enjoy your vacation, knowing you are protected if something does go wrong. Most of all, we buy travel insurance as a prevention measure: we believe in Karma, and we've found that the best way to ensure we don't get into any trouble on our trips is by having insurance!
Travel Insurance is designed to protect not only your health and well-being, but your documents, valuables, baggage, and it can also cover daily expenses that might quickly mount up should you find yourself delayed or stuck somewhere.
The thing is, while it may be cheaper to buy one off medication or take a single trip to the doctor in India than the cost of your travel insurance for a standard bout of Delhi-belly, what happens if (god forbid) you need intensive treatment or hospitalisation? Or if you're half way up a mountain in the Himalayas and need air-evacuation?
There are great quality medical facilities in India, but you want to be able to make sure you have access to them, and these will cost significant money. You might need to be transferred to the nearest big city, and you want to make sure those costs are all going to be covered.
We don't know about you, but we don't want to sit and think about every small thing that could go wrong when travelling to India or any foreign country. And that's the point of travel insurance: buy it once and let it do the worrying for you.
Like this? Pin it on Pinterest!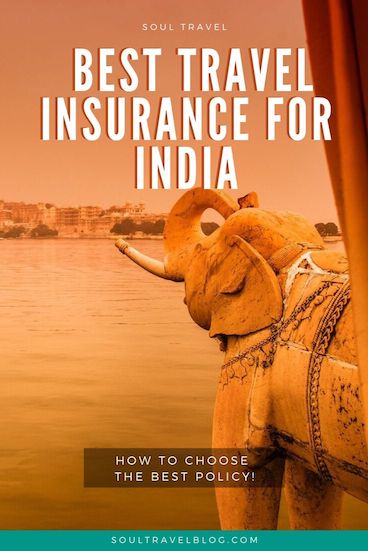 Who I Use for My India Travel Insurance
For nearly all of my recent trips to India, I've used World Nomads. Part of the reason I found out about them is the super-handy option to get insurance through them even if you're already travelling. There's usually a 72 hour waiting period until the policy kicks in, and then you're covered.
We've also used World Nomads for trips around Canada and in Europe – another reason we love them is that they cover most nationalities of traveller, which is a must for us seeing as I have a UK passport and Ravi has an Indian one, so the terms applying to both of us are often not covered by other insurance companies.
We recommend World Nomads because of our experiences with them, and also because of their commitment to responsible travel. Each traveller who books an insurance policy with World Nomads has the opportunity to support the World Nomads Footprints program, which uses micro-donations to support community development projects and conservation initiatives around the world. Find out more in the video below, which was filmed in collaboration with a wonderful community tourism project – Kabini Tourism – in Wayanad, Kerala, India, that we are lucky enough to have visited:
World Nomads also offer a 14 day cooling off period – that means that if you change your mind (or realise you made a mistake with your dates, as we did once!) you can change or cancel your policy within 14 days and get a full refund / the difference refunded if you change policy.
What Travel Insurance Covers in India
Travel insurance for India covers a range of elements, depending on which policy you choose. The following elements should be part of any policy:
Emergency Medical Expenses including Hospital Stays, Treatment, Repatriation
Personal Belongings & Valuables (you need to check the individual items maximum value)
Delayed / Lost Baggage
Trip Cancellation or Curtailment
Personal Accident
Hijack & Terrorism
Personal Liability
If you're planning on doing any adventure activities, you may need to add on an Adventure Pack (for example hiking, trekking, wildlife safaris, canoeing/kayaking, white water rafting, wildlife conservation volunteering).
Get your tailored quote by filling in the details below:
Which Policy to Choose?
World Nomads offer two different travel Insurance levels: The Standard Plan and The Explorer Plan. Prices below show the different policy amounts based on two weeks travelling to India for a UK resident: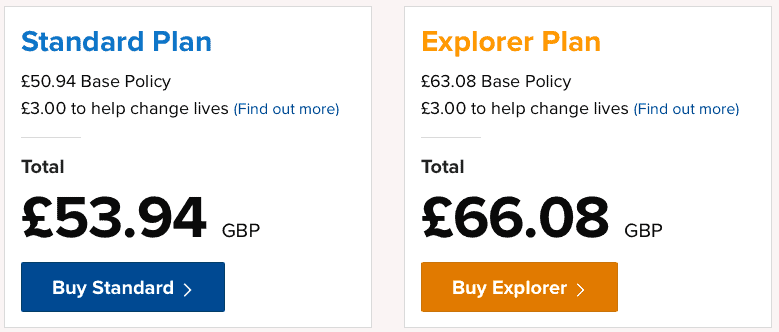 So what's the difference between these?
In short, the Standard Plan is a basic policy with fewer protections. Health Cover is usually less, and you'll find the amount of compensation you'd receive for things like lost travel documents, lost baggage, cancellation and related expenses are significantly less. Personally, I like to choose the Explorer Plan as it gives me greater peace of mind.
World Nomads works with global healthcare company, AXA as a provider for health insurance.
OPTIONAL EXTRAS:
After you've decide which plan to go with, there are a couple of extras you can/may need to add on, this can be done with either the Standard or Explorer Plan.
Firstly, you can choose to insure specific valuable goods (cameras, laptops, your diamond collection…) to ensure they are covered in the policy. There's usually a limit to how much will be paid out per item which may not be enough to cover expensive items.
Secondly, if you're planning to get adventurous or do any outdoor activities on your trip, you'll need to check to see if your planned activities are included in your policy (some are included as standard, some aren't and you'll need to add on). There's a handy search box where you can search for your activities and add them into your insurance – there are conditions listed below for this coverage, including for example that you use a licensed hiking guide. If you have any questions about your specific activity, you can call World Nomads and ask them directly to be sure.
What Happens If I'm Already Travelling?
If you're already travelling, for most nationalities you can buy a travel insurance policy as usual, but there will be a waiting period before it comes into effect and you will be expected to disclose any pre-existing medical conditions. The typical wait period before the insurance starts with World Nomads is 3 days / 72 hours.
Click here to get a quote when already travelling
How to Claim Through your World Nomads Travel Insurance Policy
In the unfortunate situation that something does go wrong, the most important things are go get in touch with World Nomads / your insurance company ASAP and to keep any and all correspondence and paperwork such as police reports, medical bills and any receipts. You can find all of the World Nomads instructions for how to claim here.
It's important to print off a copy of your insurance certificate and policy and take it with you on your trip, and make sure you save the claims number in your phone as well as keeping a copy of it elsewhere so you have the information handy in case you need it.
Here are some things that we have found it useful to note when wanting to make a claim through travel insurance:
Notify the travel insurance company as soon as you think you might have to make a claim. For example, if you need hospital treatment, the insurance may have arrangements with certain hospitals and send you there directly (you don't want to find out later that they won't cover you because you didn't contact them in time)
Keep in regular contact with your insurance company to let them know the situation and allow them to give you advice on how to proceed
For some expenses, the insurance company will pay the healthcare provider directly rather than you having to pay out of pocket – ask them about this.
Keep ALL of the paperwork: Receipts, doctors' appointments records, prescriptions, invoices, travel costs & receipts, copies of communication. If you have to go shopping for clothes because your baggage gets lost – keep those receipts. You may be asked for all of this later.
If there is an incident, crime or something is stolen, always get a police report – you'll likely need it for your claim.
If in doubt, ask. We've found World Nomads to be really helpful, and it's better to ask ahead of time if you're not sure if something is covered!
Travel Insurance for India FAQ
Here are some of the questions we are most frequently asked and / or have had ourselves about travel insurance!
Who can buy travel insurance with World Nomads? 

Most nationalities! Note that to be a resident of a country (the site asks where you are a resident of) this means permanent resident or citizen – normally where you hold the passport of or return home to. It can't be a country where you are a temporary resident or are just visiting. 
Are there any Age Limits? 

You have to be 64 or under to buy travel insurance with World Nomads. 
How long can I Buy Travel Insurance for?

The maximum for India on a visitor visa is 6 months, as that's the maximum permitted length of stay in India on any tourist visa at one time (if you are re-entering again after the 6 months, you'll need to buy a new policy for that). 
Can I buy one policy for multiple countries? 

Yes! Just list the countries on their website when you fill out the quote. If you're not sure which countries you'll be visiting yet you can give them a call to discuss options, there is usually a worldwide policy option. Note that travel insurance is never valid in your home country. 
Are there places my Travel Insurance isn't valid? 
With any policy, we recommend carefully reading the terms and conditions before you buy it, or as soon as you receive the insurance documents. In all cases, countries or areas that are covered by western government travel warnings and have "avoid all travel to" or "avoid all but essential travel to" level warnings are not covered. You're unlikely to come across many of these if you're visiting well-known touristic locations or travelling as part of a tour. These exclusions are true for most insurers and not only World Nomads. 
Currently, for India at the time of writing, travel in Kashmir (excluding travel in the city of Jammu), along the India – Pakistan border (with the exception of the crossing at Wagah) and some parts of the state of Manipur in North East India fall into this category, and as such travel to these places is not covered by your travel insurance.  
Check in advance for any updated travel warnings before your trip, and if you are in doubt about if a certain area is covered, phone World Nomads for clarification and peace of mind. 
Get your Quote with World Nomads Today!
Which travel insurance would you recommend for travel in India? Have you ever had to make a claim? Let us know in the comments below!
Read more on Travel in India:
ⓘ TIP: Planning a trip to India? Join our free India Travel Planning and Tips Facebook group here!
Pin this on Pinterest!