One of the quintessential travel experiences in India, you don't want to miss these: the best train journeys in India from luxury trains, toy trains and "regular" trips, from all around the country!
Choosing the Best Train Journeys in India
We don't keep it much of a secret that hopping on a train is our favourit-est way to travel, especially in India, where you can be assured of smiles, lots of people, great views, and probably a spot of adventure along the way.
Despite the advent of flying in India, we'd rather take the train any day: It's much more scenic, fun, is better for the environment, and you're guaranteed to go home with stories to tell vs sitting in yet another plane.
Choosing this list of our recommended train journeys in India for visitors was not the easiest of tasks – simply because there are so many worthy contenders! And so, we drafted in a little help from other travellers and writers, and asked them to share their best train journeys in India too. We've covered toy trains, "regular trains" and luxury trains from all corners of the country to light up your train travel wanderlust.
Planning train travel in India is not always straightforward (we've written EVERYTHING you need to know about that over here – so make sure you keep it bookmarked). But fortunately, arranging train travel in India is getting easier, with the advent of online agencies that can book tickets for you without you having to sign up for an IRCTC account: We use and recommend 12go.asia for booking train tickets in India as a foreign traveller.
ⓘ TIP: Planning a trip to India? Join our free India Travel Facebook group here!
Best "Regular" Train Journeys in India
No bells and whistles here, these are some of our favourite "regular" Indian train journeys with great views and more that we recommend taking if you can!
Jan Shatabdi Express from Mumbai to Goa
Does the idea of rolling out of sweaty, busy Mumbai at daybreak and arriving by the sea in Goa in time for your prawn curry for lunch sound appealing? Thought so. Many people fly from Mumbai to Goa, but in our humble opinion they miss the best part.
The train from Mumbai to Goa travels what's known as the Konkan railway, and it's actually one of India's most recent railways. It was thought for decades to be too difficult terrain to build a railway through to connect Mumbai and Panjim, and the British declared it un-feasible and impossible. It was not until 1998 that services fully began, and Mumbai was finally connected to Goa, Karnataka and Kerala on a direct line.
This line winds through the western ghats (hills) in south Maharashtra before entering Goa for the most scenic part of the trip, across rivers and backwaters with glimpses of the ocean.
Many trains ply the route from Mumbai to Madgaon (south central Goa), Thivim (for North Goa) and further south to Canacona. If you travel overnight, you'll miss the views (the best part of this journey) so we recommend taking the day train if you can, the best of which is the Jan Shatabdi. The Tejas Express is one of the new high-end trains but has sealed windows and automatic sealed doors – so hardly great for photos!
How to take this train: The Jan Shatabdi (12051) leaves Dadar in Mumbai at 05.25 daily, arriving in Madgaon at 13.50. You could also take this journey in reverse from Madgaon to Mumbai which is also beautiful. In winter (Nov-Feb) sit in non-ac chair car class for fresh air and views out of the open windows. At other times, opt for the AC option. Tickets must be purchased in advance.
Search and book tickets here for Mumbai – Goa on 12go!
The Deccan Queen from Pune to Mumbai
My first solo train journey in India left quite an imprint on my memory. Clambering on to the Deccan Queen while it was still dark in Pune to begin the 3 hour journey in Mumbai I'd been told that the pantry car (catering) on this train was good, and not to miss the chance to have breakfast.
Happily filled by my masala baked beans on toast (no I didn't get sick), I happily dozed on the train as the sunlight started to creep in. I woke up to see the train twisting through the dramatic ghats with stunning views out onto the hills of Maharashtra in the morning light. I curse myself to this day for not being quicker with my camera. Just after 10am, the train creeps in to Mumbai's best known and best-loved railway terminus – CS(M)T (formerly VT), and the heart of south Bombay.
Many trains run the popular route between Pune and Mumbai, but we recommend this one because of a) the morning light against the hills in winter and b) the food. Plus, there's a certain something about taking a train named after a queen…
How to take this train: The Deccan Queen (12124) leaves Pune at 07.15 and arrives in Mumbai (CST) at 10.25. In winter, you can take non-AC chair car class (2nd Sitting) for mountain air and better views. In hotter months / monsoon we recommend AC. Tickets must be purchased in advance.
Search and book tickets here for Pune – Mumbai on 12go!
The Gatimaan Express from Delhi to Agra
Contributed by Soujanya from thespicyjourney.com
Similar to a shatabdi express, The Gatimaan Express is one of the first high-speed trains in India, and is the currently second fastest train in operation in India. It's a high speed all air-conditioned train that runs between Delhi and Jhansi, stopping at Agra along the way.
The train originates at Delhi's Hazrat Nizamuddin railway station in the south of Delhi, and ends at Jhansi Junction railway station, stopping in-between at the Agra Cantonment Railway Station. It is highly recommended to take this train while going to Agra from New Delhi.
One of the main reasons why the train is preferred is because it's the fastest train between Delhi and Agra – covering a distance of 188 km in 100 minutes. Secondly, the train is clean, fully air conditioned and there are (free / included) meals served on board by attentive staff, which are fine to eat. There are two classes available for the Gatimaan express which are executive AC tickets priced at INR 1500 and regular AC tickets costing INR 750. The main difference between the two is legspace, and more food in executive class. Regular AC is fine. The train operates on all days, except Fridays (seeing as the Taj is closed on fridays).
How to take this train: The Gatimaan Express (12050) leaves Hazrat Nizamuddin in Delhi daily except fridays at 08.10, arriving at Agra Cantonment at 09.55. In the reverse direction (train number 12049), the Gatimaan leaves Agra Cantonment at 17.50 and arrives back at Delhi Hazrat Nizamuddin at 19.30. Tickets need to be booked in advanced, preferably at least a few days. If this train is fully booked, a good alternative is train #12002 from New Delhi station to Agra.
Search and book tickets here for Delhi – Agra on 12go!
Bangalore to Goa
Contributed by Madhurima of orangewayfarer.com
Because India is a world in itself, different rail routes will give you a taste of different terrain. From window scene to quick snacks, even the taste of Chai differs on Indian train journey. One of the most scenic Indian train journey is the one from Bangalore to Goa.
With cheap airfares and frequent bus service, many people want to make it quick to Goa. I say, slow down. And make the most of spiraling railroad through the Western Ghats, which will gradually descend to the white sandy beaches kissing Arabian sea.
One of the most rewarding rail journeys to Goa is passing the Dudhsagar falls. Come monsoon, the fall regain all her Vigour and stage a fantastic show. Monsoon also means restricted access to Dudhsagar trek, making the rain journey to be the sole chance to view the falls. The train usually slows down as it approached the fall. You'll be able to see a lot of people peeping out of the window in awe. Dudhsagar (ocean of milk, literally) appears twice, on both sides of the train. But Dudhsagar is short lived. Beyond that, the 10 hours long journey still proves its worth, when the train enters numerous stone tunnels and gradually ascends to a world of mist and lush green verdant valley of the Western Ghats.
How to take this train: There are several trains running from Bangalore to Vasco da Gama in Goa, but to be able to see the falls at Dudhsagar, you want one that arrives in Goa during daylight hours. (The nearest station to where the train passes by the falls is Kulem). Train #17316 from Chennai does that, or train #17603 depending on the day of the week. The falls and scenery are at the most lush during monsoon (July-September). Tickets must be booked in advance.
Search and book tickets from Bangalore to Goa on 12go here!
Odisha, Kendujhar to Bhubaneswar
Contributed by Renuka from Voyager for Life
My favourite train journey was in Odisha, an eastern state of India – from Kendujhargarh to Bhubaneswar. While Kendujhargarh is a small town known for its many waterfalls, Bhubaneswar is the capital city of Odisha. It's a 5-hour journey in a chair car coach, which is quite comfortable and fun.
The highlight of this train journey is the constant sight of beautiful landscapes that one gets to witness along the way. Although the entire state of Odisha has amazing natural beauty and there are several train routes that you can take to enjoy the scenic landscapes, the Kendujhargarh-Bhubaneswar route is perhaps the most captivating one. There's a certain mellow quality about the hills and open fields that you pass by. Since the train departs in the afternoon from Kendujhar and reaches Bhubaneswar towards the evening, there's a prospect of enjoying an evocative sunset, too.
To make the most of your train journey, ensure to book a window seat! It's a delightful experience to be glued to the outside view until a chai or coffee guy sneaks you out of your daydream, which is not a bad deal either. The coffee that you get to have on this route is fantastic.
How to take this Train. There are four daily trains, the one coinciding with sunset being the 18415 Barbil – Puri Express. Classes are Chair Car (AC) or second sitting. Tickets are available on the IRCTC website or in person at the station, book a few days before if you can.
[activecampaign form=3]
Delhi to Kota, Rajasthan
Contributed by Priyanka of On My Canvas.
Delhi to Kota is one of my train journeys in India that has stayed with me for a long time. As the train leaves the chaotic stations of Delhi, it goes through a range of terrains. The life going on around the small stations in between is enough to make any traveler curious. Houses perched on the roadsides are shaken to the core when the train rambles through the town. Children in the streets, waiting for the train to pass over, wave as it does.
Getting down at the Mathura junction to get some peda (sweets) isn't more customary than getting off the train at Bharatpur to get some early taste of the lemony poha (beaten rice) that is typical of Rajasthan. Travelers who visit the Pushkar mela would know all about the poha.
But after the train crosses further into Rajasthan, it crosses a desert landscape. The landscapes become dry, and vegetation is sparse. Dry winds blow in, but one could only experience the change in these if the coach is non-air conditioned, as scrub and bush surprisingly creeps in, as the train heads further south in India's desert state.
Save this for later on Pinterest: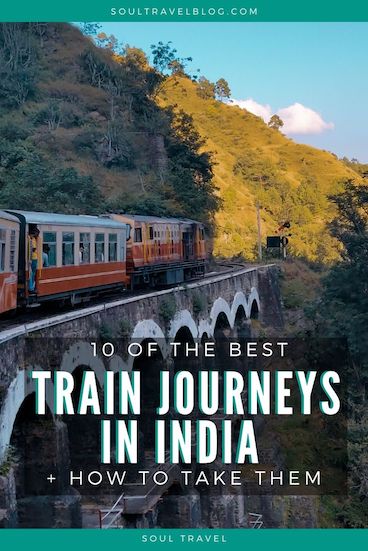 The journey was my favorite for it took me from the warmth of my house to the strange city of Kota where I studied as a little girl. Between the comfort of home and hard student life, the train journey was a transit that I wished would never end. And then there were the station snacks that would lure any child to keep going back and forth by train.
If you're looking for a gorgeous railway journey while enjoying some local snacks on the way, Delhi to Kota is a good one. The journey is special for the sharp contrast between the scenery and the culture of Delhi and Rajasthan.
How to take this train: To get the effect of the changing climate, book a non-ac class such as 'Sleeper' or 2S (2nd sitting). The train journey lasts between 6-7 hours, depending on which train you take, and there are many different trains leaving from both New Delhi station (NDLS) and Hazrat Nizamuddin station in the south of Delhi. For a reliable train with a non-air conditioned option, you can take the Jan Shatabdi train #12060 which leaves Hazrat Nizamuddin daily at 13.15.
Search & book tickets from Delhi to Kota here on 12go!
Best Toy Train Journeys in India
Otherwise known as mountain railways of India, India is home to several toy train journeys that were built on narrow gauge, to transport primarily holiday makers to the country's hill stations to escape the sweltering summer temperatures.
Two of the most famous are the Kalka-Shimla railway and the Darjeeling Himalay railway. Another mountain railway from Srinagar (Kashmir) to Leh (Ladakh) is planned for the future, making it the highest railway in the world, but construction has yet to begin.
Nilgiri Toy Train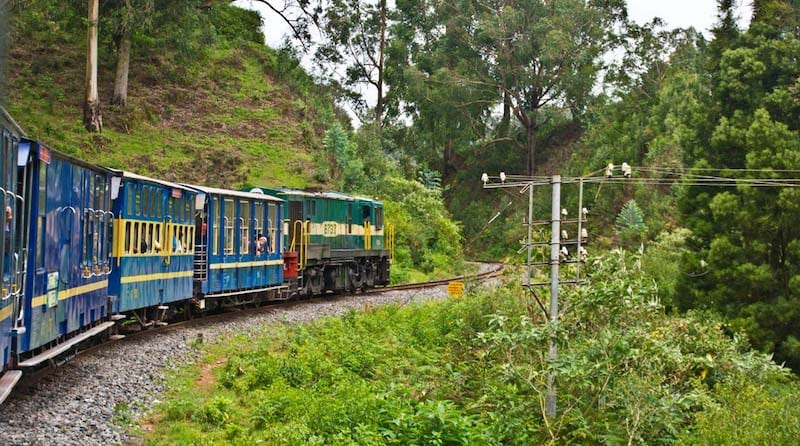 Contributed by Sapna from My Simple Sojourn.
The Nilgiri mountain railway is a UNESCO world heritage site. The train runs with steam locomotive engines and its speed varies between 15 to 30 Km. The Nilgiri mountain railway has the steepest track in Asia with a maximum gradient of 8.33%. This railway track has the Abt rack and pinion system to climb this gradient.
These trains operate between Mettupalayam and Udhagamandalam. (Ooty). The initial 7 Km journey is through the plains, where you will see the Paddy fields on both sides. Afterward, the train enters the Nilgiri Mountain range and passes through the mountains.
I love this journey because of the scenic beauty. You will see lush green mountains, deep valleys, cross 250 bridges and pass through 16 tunnels in 46 Km. There are several curves and hairpin bends on the way. As the train crosses Coonoor, you will see the beautiful tea gardens on both sides of the track. The toy train journey is an extremely joyous experience.
There are general class and First class category in this train. The main difference between the two classes is space. In the first-class, you will get more space to sit and keep the luggage in comparison to the general class. Otherwise, both are more or less similar. It is advisable to book the tickets in advance because the train has limited seats, which get filled very fast. Traveling by this train should be on everyone's list when in the South of India.
How to take this train: Tickets are bookable via the IRCTC website in advance, or in person at one of the stations at least two hours before. The train does get busy, so advance booking is preferable (you'll need an IRCTC account). Timetable and more info on the route can be found here.
Kalka Shimla Railway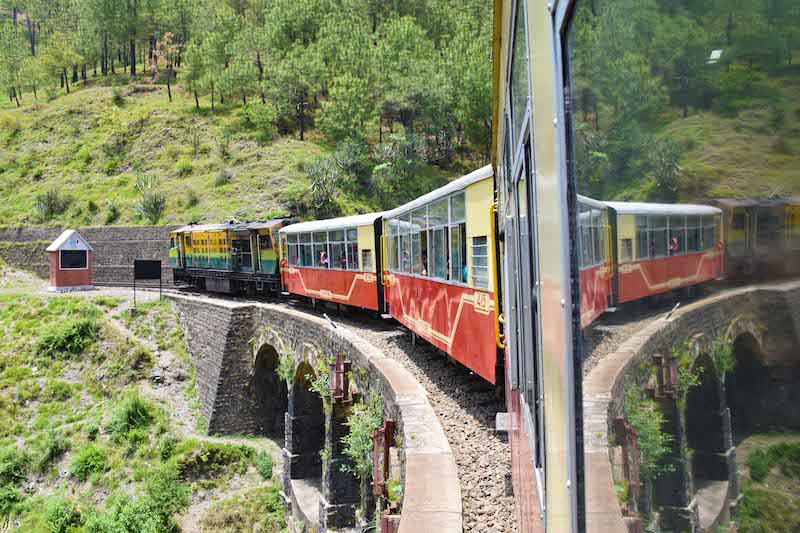 Contributed by Amrita from Tale of 2 Backpackers
Train journeys in India can be a bag of mixed feelings. While some train journeys can be a wonderful experience, others can be quite hectic. Nevertheless, I have always loved train journeys. There is a subtle romanticism and charm in train journeys that I cannot find in other modes of transport. One of my favourite train journeys in India happens to be the Kalka Shimla Railways – the toy train ride from Kalka to Shimla. I had however taken the journey on the other way from Shimla to Kalka after completing the Rupin Pass Trek.
Kalka Shimla Railways was awarded the UNESCO World Heritage Site in 2008 as it is quite an engineering feat, considering the fact that it was opened for public in early 1903. This mountain railway runs on narrow-gauge tracks (2 feet tracks). The railway has 988 bridges, 919 curves and 102 tunnels in the 96 km it runs.
The train journey is an experience of a lifetime. As the slow train chugs through the mountains bridges manoeuvring the curves, there is a feeling of thrill and excitement. Also, the natural beauty of Himachal Pradesh is unmatched. There are 16 stations between Shimla and Kalka. These stations look quaint and like picture postcards, the best one being Barog. The train moves through the forests, villages and some rugged terrain. The railway stations give a feeling of the old colonial days. The six hours train journey through surrounded by pine and forest trees is definitely one of the most pleasant train journeys in India.
How to take this train: There are several different trains that run from Kalka to Shimla, from regular passenger trains with basic unreserved seating, to tourist trains with vista dome coaches attached. Tickets can be bought up to 120 days in advance via the IRCTC website. This article has a full breakdown of the different trains and comfort levels.
Best Luxury Trains in India
For those looking for the wow factor of life on the rails in India.. the country has some world class luxury trains. If you dream of sipping sweet chai from your full length bed in a private cabin in silk dressing gown… look no further than these!
The Golden Chariot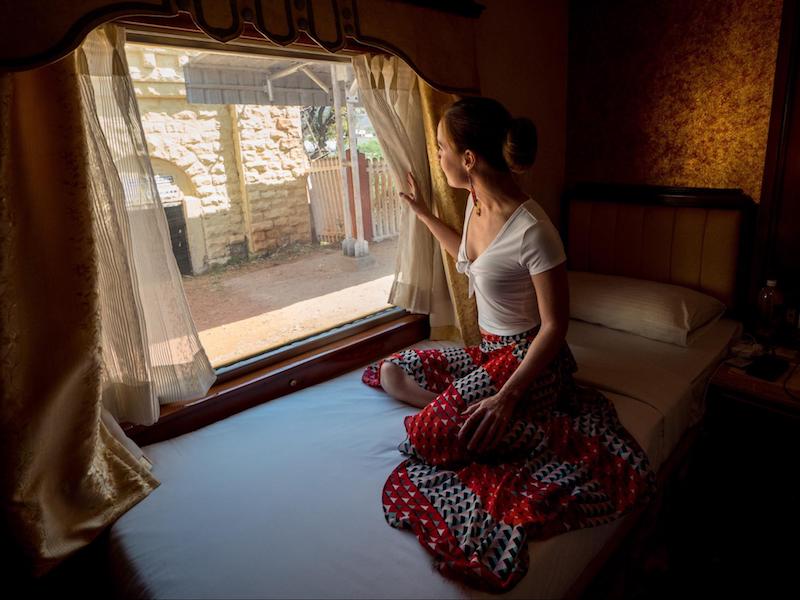 Contributed by Mar from Once in a Lifetime Journey
The Golden Chariot stands out among the four luxury trains of India as it's the only one in its category that operates in the south of the country.
The aptly named Pride of the South and Southern Splendor routes are epic and majestic 8-day journeys that pass through some of southern India's most beautiful places. They both start and end in Bangalore with the former passing through Mysore, Shravanabelagola, Belur, Halebidu, Hampi, Pattadakal, Badami caves and finally Goa. The latter makes stops at Chennai, Mahabalipuram, Pondicherry, Kerala and so much more.
Rooms are decorated, as well as named, after the different dynasties that ruled Karnataka, for example Ganga, Sangama and so on. Travelers can choose between a twin or double room, which are more suited for couples sharing a single bed. Both have large ensuite bathrooms that are spacious for a train and have enclosed showers. Beds are full length and not the usual fold up types that one finds on other trains in India.
The train even includes a sampling of gym facilities. Food is served in two separate restaurants (dining cars) and there are even two kitchens onboard that feed up to 80 guests at a time – one for Indian cuisine and the other for Western-style cooking. And the food is absolutely delicious, both the large Western menu and the local Karnataka cuisine from the south of India are some of the best you will find.
The best part of the Golden Chariot is the fantastic service, where passengers are treated like royalty. While locals can hop on and off at will, foreigners have to book the entire 8-day journey, but riding in luxury in India's south is a once in a lifetime experience and is absolutely worth it.
How to take this train: Tickets/tours can be booked on the Golden Chariot's website or through select travel agencies.
The Palace on Wheels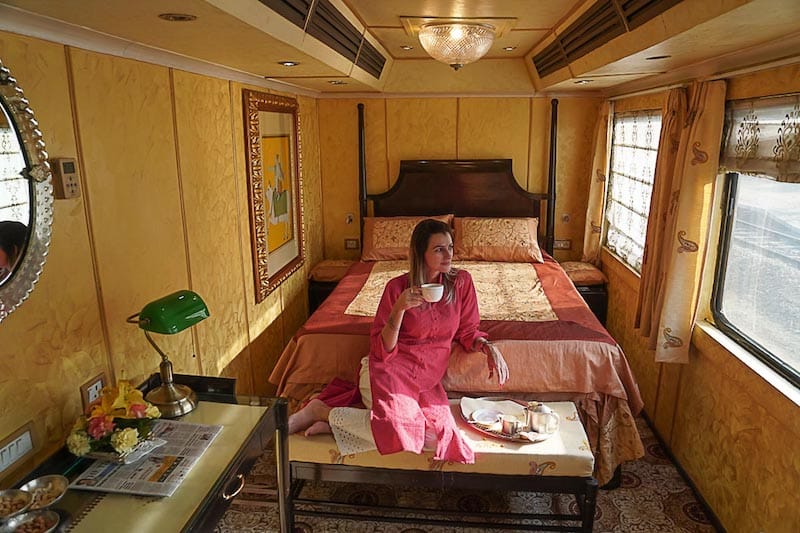 Contributed by Natalie from Love and Road.
The Palace on Wheels is a luxury train journey through Rajasthan and Agra: It's a 7 day trip on board a vintage luxury train that whisks you back in history to a grander era of train travel. On board you will find draped curtains, silver cutlery, and butlers that will take care of everything you need during this luxury adventure.
The Palace on Wheels journey starts in Delhi and every day you will wake up in a new place. Most of the traveling is overnight, so you will arrive fresh and ready to explore a new destination. In every destination, guides and transport will take you to the main attractions, including the most impressive forts in Rajasthan. Along the way you'll learn about the culture and food of this beautiful part of India.
The train crew organizes all the activities and entrance fees; you only need to follow the instructions and have fun. The price of the train trip includes all meals; you'll get breakfast, lunch, and dinner served onboard or in a restaurant/hotel in the destination you are visiting. And every time you go back to the train your butler will be waiting for you with fresh tea/coffee and biscuits.
Every room has an assigned butler that will organize your schedule, maintain your cabin, and help you with everything you might need or want. The train offers luxury double rooms and standard twin rooms. There are two rooms per carriage, and in the cabins you will find a bed, wardrobe, sitting area, and a private bathroom.
My husband and I loved the Palace on Wheels experience. The hassle-free train journey is perfect for travelers that want to see the best of Rajasthan in a short time and without worrying about booking transportation, hotels, and activities by themselves.
How to take this train: Tickets/tours can be booked through the Palace on Wheels website and through select travel agencies.
In addition to the above luxury trains, there is also the Maharajas Express which covers a range of classic itineraries in northern India, and the Deccan Odyssey which tours beautiful Maharashtra.
Have you travelled by train in India? Which was your favourite journey? Let us know in the comments below!
Read more about travel in India on Soul Travel India:
[activecampaign form=3]
Pin this Post on Pinterest