This Rajasthan Itinerary covers how to get the best out of your trip to India's land of kings with the best places to visit, how to travel in Rajasthan, plus our tips for off-beat travel in Rajasthan and how to avoid the crowds!
This post contains compensated affiliate links. You can read our full disclosure over here.
Plan the Perfect Rajasthan Itinerary for 7, 14, or 21 Days!
There's no doubt that Rajasthan is worthy of its popularity among visitors to India: There's nowhere in India that's quite like Rajasthan – for its sheer colour, grandeur, contrast and ability to impress.
Rajasthan was my first (of many subsequent) experience(s) of solo female travel in India and it remains one of my favourite places to visit in India to this day.
It's sheer size is also a conundrum for visitors – getting around and across Rajasthan takes time, and it's not possible to see the whole of Rajasthan in a few days. (Worry not though – we do have some suggestions on what do to if you have less time for Rajasthan though, see below).
Rajasthan stretches over 342,000 square kilometres (132,000 square miles) and makes up over 10% of the total geographical area of India. Travelling Rajasthan you'll cover desert, mountains, lakes, forests and grasslands.
There is plenty to experience in Rajasthan for history buffs, wildlife lovers, shoppers, foodies, and adventure travellers too.
These itineraries are designed to help you get the best out of your time in Rajasthan and leave you with many fond memories of India's grandest state.
IMPORTANT: Please read our notes below under "how to use this itinerary" for the colour coding!
Rajasthan Travel – Know Before you Go
If it's your first time visiting Rajasthan, or India, here are a few things to know in advance:
As mentioned, Rajasthan is a huge state. Getting from Jaipur to Jaisalmer takes about 12 hours – so don't plan too much in and leave days in between travel. Distances are long, so you'll want a couple of days in each place!
The easiest "entry" city for Rajasthan is Delhi. Delhi is only 4 hours from Jaipur (by train/road). If Rajasthan is the focus of your India trip, we recommend booking international flights in and out of Delhi as opposed to other major Indian cities.
Despite its popularity as a tourist destination, Rajasthan is relatively conservative. You may not see many women outside after dark (especially outside the big cities) and dressing conservatively is appropriate. If you're travelling as a (solo) woman, we recommend adjusting to fit in with the local culture a bit (e.g. not wandering around by yourself much at night). Read my full

guide to what to wear in India here

.
Some of Rajasthan's best known landmarks have become popular Instagram spots. If you want photos of these places without crowds in (or you just want some peace and quiet), get up (very) early.
The most popular and best time to visit Rajasthan is in the winter (October – early March). However that's also when everyone visits Rajasthan. If you want off-season prices and a quieter experience you could visit July – September during monsoon, which is not very heavy in Rajasthan.
In winter, Rajasthan can get really cold at night. In Jaipur in January I shivered away as temperatures dipped down to 5 degrees celsius at night (many buildings do not have heating). Bring at least one warm layer (sweater / fleece / jacket) for the evenings. In the daytime, in the sun it can still be warm.
There are plenty of opportunities to ride elephants and camels in Rajasthan, but know that the ethics of many of these activities are questionable (at best) – the animals are often not well treated / looked after.
READ MORE in our Rajasthan Travel Guide (includes packing list, travel tips & more)
Tourist Hustle & Scams in Rajasthan
Seeing as Rajasthan sees a lot of tourists, it's home to some occasionally elaborate but usually un-original tourist scams that pray on first time visitors. It's worth being aware of these, although don't spend too much time worrying about them.
The classic guesthouse commissions racket is alive and well. Rickshaw drivers will want to take you to guesthouses that pay them commission. If they tell your hotel is closed, burned down etc just ignore them / find another driver.
Touts for transport who try and meet you off trains etc want to offer you overpriced taxi rides – just ignore them and use the official taxi line / use pre-paid taxis from stations.
Rickshaw free "shopping tours" or free "sightseeing tours". If anything is "free" it will involve you being taken to any number of shops that pay the driver a commission.
In Jaipur there are a number of gemstone scams. Don't buy gems unless you know what you are doing.
In Pushkar, beware Pooja scams where "holy men" offer to perform a ceremony for you- there'll be a request for a large donation at the end.

Always

agree a price for services, tours etc ahead of time. If you don't, it's going to get awkward at the end. If someone tries to "show you around" at tourist sites, they are going to want paying.
If shopping in markets, always hustle hard. Don't feel bad about it – Rajasthan is used to cash rich, time poor tourists and the prices are inflated.
Check your change, even at official ticket counters, and check they have not given you old, pre-demonetisation notes (which are worthless).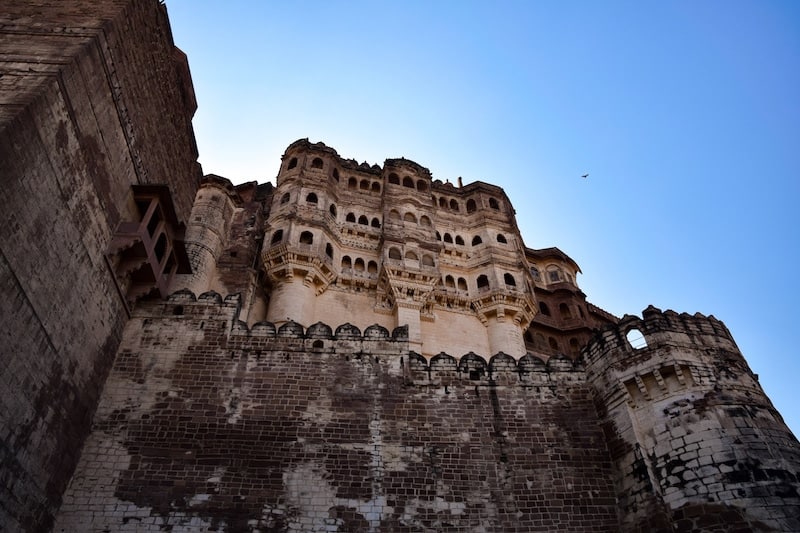 Highlights of Rajasthan
If you're in a hurry and are wondering which are the best places to visit in Rajasthan, these are some of our favourite experiences from the "princely state":
Drinking saffron chai in the streets of Jodhpur's "Blue City", after a walking tour of Jodhpur's incredible fort
Filling peaceful mornings in the holy town of Pushkar with people watching on the ghats by the lake
Staying in a royal ancestral homestay in Chandelao
Wandering the old streets and step wells in Bundi
Waking up to watch the sunrise over Lake Pichola, Udaipur
Getting Around Rajasthan
Our favourite and recommended way to travel in Rajasthan is by train, if you are up for a bit of an adventure! You can read the full (and long) lowdown on train travel in India in our guide here. We recommend 12asia.go for booking trains online without and IRCTC account. Where trains are not available, buses often are (we recommend Red Bus as a handy way to check routes and times).
There are also a couple of sections of the journey where hiring a car & driver would be an advantage – for instance between Udaipur and Jodhpur so that you can take in Kumbalgarh and the temples at Ranakpur.
You can also hire a car and driver for the duration of your trip if you want to visit places not easily reached by public transport – we always recommend booking drivers through hotels you are staying at for a good recommendation.
Share this Post on Pinterest:
How to Use this Rajasthan Itinerary Guide
We've colour coded the itinerary suggestions, depending on how much time you have. Under each destination you'll see a coloured box indicating the time we recommend spending in that place (according to your total length of time in Rajasthan.
Towards the end of the itinerary you'll find places which are only suggested for longer itineraries – but you can switch these into shorter itineraries if you are willing to forgo other places in stead.
It's up to you to tailor your own perfect trip based on these suggestions 🙂
The colour coding is as follows:
07 Day Itinerary 14 Day Itinerary 21 Day Itinerary
Make sure you scroll down beyond the places summary for a map and detailed route for each itinerary!
Places to Visit in Rajasthan on your Trip
Jaipur
Rajasthan's biggest city, Jaipur is also one of the most popular places to visit. The Pink City captures the imagination of many and there are enough forts and palaces, havelis and bazaars to keep you busy here for days! Just come prepared to bargain hard 😉
THINGS TO DO
Visit the City Palace, Johori Bazaar and Nahargarh Fort in Jaipur
Take yourself on a walking tour of the Pink City at your own pace
Head out to Amer to see the Amer (Amber) Fort
Discover Jaipur by bicycle for a unique experience
The Hawa Mahal is beautiful from outside but doesn't offer much additional value from going inside (and is not recommended for those with chlostrophobia). The shop owners opposite the Hawa Mahal will try and get you to come up to their "view point" which involves a cafe with the most over-priced drinks in India 😉
Make a visit to Anokhi printing museum & shop to learn about traditional block printing, or

take a block-printing workshop

Want to do something Different? Take a sunrise hot air balloon ride to see Jaipur from the skies!
STAY
Family-owned Arya Niwas (mid range) | Chalo Eco Hostel (budget) | Samode Haveli (luxury)
EAT
LMB Restaurant (Johori Bazaar) serves up reliably delicious vegetarian curries at a good price | Lassiwala (MI Road) serves up delicious Lassi (come early to avoid disappointment) | Peacock Rooftop Restaurant (at Hotel Pearl Palace) offers views and great value food.
Bundi
A haven of calm compared to Jaipur (relatively speaking!) Bundi is a bit of a gem. You can happily spend a day or two here, wandering old streets, navigating through the (less busy than Jodhpur's) blue city, and pondering the city's beguiling palace.
THINGS TO DO
Explore Bundi's step wells (boaris). In total there are about 60! The most impressive is Raniji-ki-Baori (the Queen's step well).
Bundi Palace and Taragarh Fort – you can buy both tickets together at the Palace entrance to save circling back on yourself. The Fort offers some nice views over the palace and city but keep a look out for the monkeys as the grounds are quite wild still (taking a stick with you is recommended).
Wander Bundi's old blue city at your own pace on a walking tour
STAY
Haveli Bruh Bhushanjee is family run and has great views from the rooftop!
EAT
Krishnas Chai is one of the best tea stops in the old city | Out of the Blue serves good Italian food if you need a break from curries.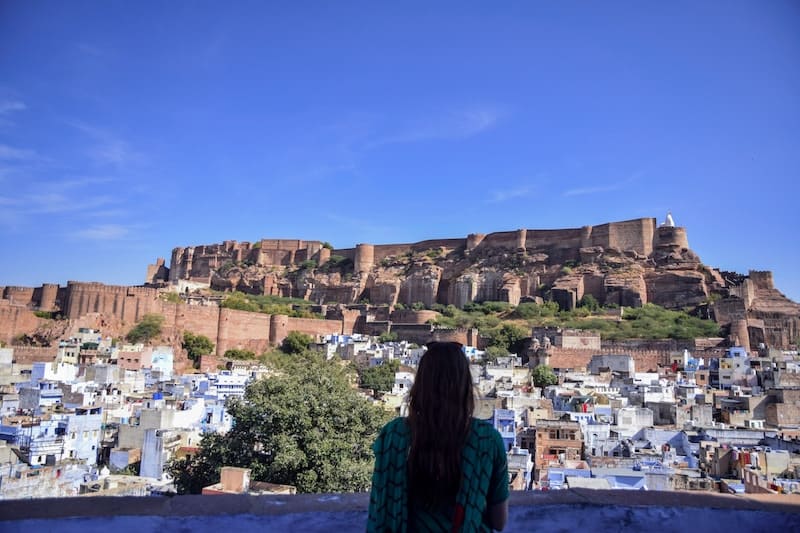 Jodhpur
The Blue City has a real local charm that leaves many travellers smitten. Despite being a popular spot, that doesn't seem to bother the locals who seemed as friendly as can be. I didn't go to Jodhpur with particular expectations, but found that there is something special about this place that made me want to stay a while.
THINGS TO DO
You can't miss Mehrangarh Fort (it towers over the whole city) and is a sight to be hold. Grab an audio tour for a more enlightening experience.
On your way down from the fort, wander through the beautiful Rao Jodha desert rock park
Take a walking tour of the Blue City
Visit Umaid Bhawan Palace east of the old city, the museum is open to the public although the hotel & royal residence are not.
Something different? Go zip lining with Flying Fox!
STAY
Our favourite – Castleview Homestay is a beautiful restored Haveli (Budget) | Suraj Haveli (Midrange) | RAAS Hotel (Luxury)
EAT
The Omelette Shops just by the Northern Gate of Sardar Market serve tasty, cheap omelette sandwiches (perfect for a snack) | Indique is a beautiful rooftop place to eat | Shri Mishrilal Hotel (Sardar Market) serves the best Lassis.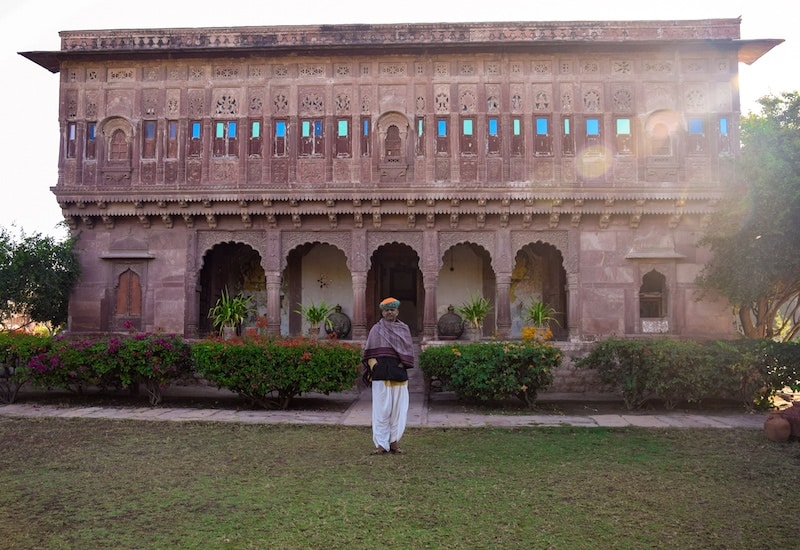 Chandelao
Chandelao is a small village, about 40kms from Jodhpur, which nobody much has heard of. Which is why we're featuring it. For a break from the tourists and tour buses, get off the beaten path here with a visit to this beautiful historical home and homestay (more like a hotel – this is a beautiful place) at Chandelao Garh.
The homestay is the ancestral home of part of the Jodhpuri royal family. Run by Mr Praduman Singh, the welcome is warm, and they arrange "safaris" (jeep trips) around the surrounding village, countryside and local towns. You can learn more about rural life in Rajasthan as well as seeing wildlife and birds. The easiest way to get here is to arrange a pickup/transfer from Jodhpur directly with Chandelao Garh.
Check availability and rates for Chandelao Garh here.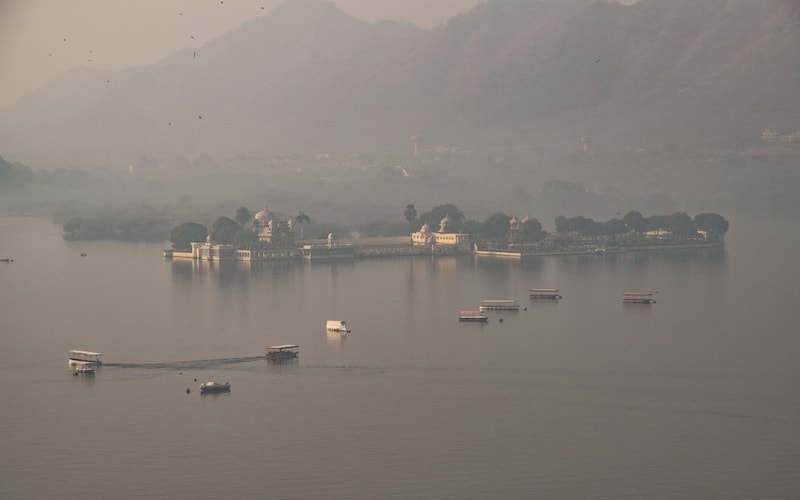 Udaipur
Dubbed India's most romantic city, the Venice of the east and anything James Bond it can lay its hand on (Octopussy was filmed here 36 years ago but you'll still have to hear about it), Udaipur is unapologetically touristic and commercial. But don't dismiss it just yet. You may just find yourself, too, falling under Udaipur's spell…
THINGS TO DO
Get up early and visit Udaipur's City Palace. Arrive before the gates open (09.30) and you may have the place to yourself (I did) as you admire the morning light over Lake Pichola before the tour groups arrive
Take a boat trip on Lake Pichola – try for around sunset if you can. It's worth taking one that stops and lets you explore Jag Mandir – one of the island palace hotels on the lake (the other one is the Taj, which you can only visit if you are staying at). Tickets for the boat trip including Jag Mandir can be bought (separately) at the City Palace ticket counter.
Visit the Monsoon Palace if you have time – the palace itself gets mixed reviews and is rather faded, but the views over Udaipur and the Lake are wonderful.
On your second day in Udaipur consider a half or full day trip to Kumbhalgarh – a 15th Century Marwari fortress about two hours from Udaipur.
Something different? Learn about making Rajasthani puppets at this workshop!
STAY
We recommend staying on the quieter, Hanuman Ghat area of town where you can look at the view of the City Palace (which is stunning when lit up at night):
Panorama Guest House (Budget) | Lake Pichola Hotel (Midrange) | Taj Lake Palace (Luxury)
EAT
We loved Millets of Mewar Cafe (Hanuman Ghat) which serves vegan and gluten free options, while supporting the local community | Queen Cafe (Bajrang Marg) has a homely vibe and great vegetarian Indian dishes.
Ranthambhore or Sariska
This is your chance to get back to nature, jump in an early morning Jeep Safari, and experience the magic of the Indian jungle. You may get lucky and see a Bengal Tiger – Tiger populations have been on the rise again in India in recent years, and Ranthambhore has a relatively high density of tigers.
Ranthambhore, however is becoming increasingly overcrowded and encircled by resorts so we recommend going elsewhere to see tigers and experience the jungle if you can. Madhya Pradesh offers some of the best tiger viewing opportunities in India (Kanha, Bandhavgarh and Pench). Sariska is an alternative in Rajasthan and although they have fewer tigers and a complicated history, your visit can make all the difference to the conservation of tigers there – we highly recommend it.
THINGS TO DO
Here it's all about slowing down and following the beat of the jungle. Book your accommodation and Jeep Safaris ASAP as they are super popular and get booked up. You can book your Jeep Safaris through your accommodation or directly through the Rajasthan Forest Dept website.
STAY
SARISKA: Utsav Camp Sariska in Alwar
RANTHAMBORE: Nahargarh Ranthambhore
IMPORTANT THINGS TO KNOW FOR SAFARIS
Wear neutral colours (greens, beige) to blend in. Avoid bright colours and wear layers as it's cold on winter mornings.
Smoking and flash photography are NOT allowed
Be quiet, listen to what's around you and don't chatter or make loud noises. That'll reduce your chances of seeing wildlife immediately
We don't recommend taking the cantors (large busses). Although cheaper, the chances of seeing wildlife is less from these, they are loud and disruptive, and views are restricted. Take a smaller jeep instead.
Make sure you don't leave any waste behind you, avoid any use of plastic. You don't want a tiger dying from eating your water bottle.
Forestry departments have strict quotas of visitors per day, so book as soon as you can. Many national parks close for the monsoon season (May-October).
Most resorts offer packages with evening and morning safaris. Evening safaris are beautiful, but the morning ones are when you have the chance of seeing more wildlife…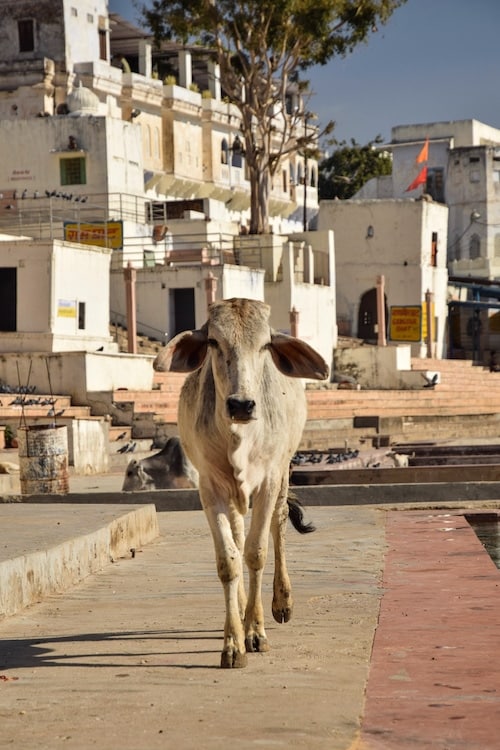 Pushkar
Pushkar is centred around its holy lake, said to have been created with Lord Brahma dropped a lotus flower. Today it is an important pilgrimage site which Hindus should try to visit once in their life time. The Lake is surrounded by bathing ghats and the town is home to one of the few Brahma temples in the world.
Aside from its devotional significance, Pushkar is a hippy town which attracts travellers in search of some rest and some spiritual influence. A mix of the devotional and the touristic, Pushkar is a great place to escape the big cities and just relax for a couple of days.
Given its religious status, Pushkar is a dry town (no alcohol).
THINGS TO DO
Part of the point of Pushkar, is you don't really have to do anything. It's more about being than doing. My favourite activity here was morning chai at the Jaipur Ghat, people-watching over the lake and bathing ghats. If you get itchy feet after a day or so, you can:
Explore Pushkar's Market – a predictable mix of tie-dye, "kashmiri" shawls and tribal jewellery. Haggle hard.
Head out of town (rent a motorbike) and explore the Shiva Temples about 8km out of town, which takes you through quiet villages.
Walk up to Savitri Temple, about 15 minutes up the hill for a beautiful view down over Pushkar (especially beautiful early morning or for sunset.
STAY
Pushkar is more of a budget traveller haunt so the options here reflect that.
Hotel Everest (Budget) | Inn Seventh Heaven (Midrange) | Hotel Brahma Horizon (Luxury)
EAT
Pushkar is full of roof-top cafes offering much of the same traveller food, from banana pancakes to more authentic curries. We love Sunset Cafe (Jaipur Ghat) for its setting | Honey & Spice (Laxmi Market) for its homemade cakes& south Indian fare.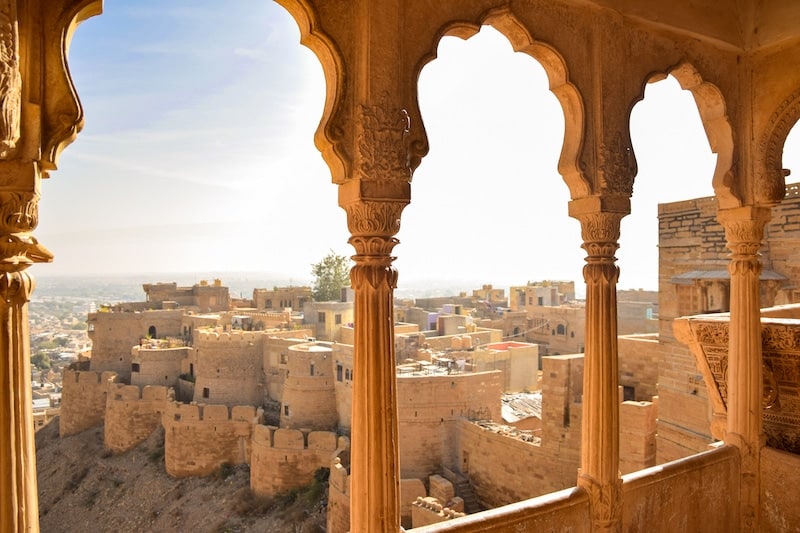 Jaisalmer
Located in the far northwest of Rajasthan, Jaisalmer is home to a living fort (a real-life sandcastle) and is a popular place for going on desert and camel safaris. Unfortunately many of the camels have seen happier days (a lot of them are skinny and scarred) and we have yet to find an ethical safari operator. The desert is also more like scrub – with a couple of sand-dunes in between – it's not the place to live out your Lawrence of Arabia fantasies.
THINGS TO DO
The highlight of Jaisalmer is its honey-coloured Fort which is home to some beautiful havelis. You can visit the fort museum and grab an audio-tour of the palace areas (but if you've visited plenty of other Forts by this point, wandering around the (free) commercial areas of the Fort may be enough).
Jain Temples lie within the fort walls and are a maze-like, interconnecting set of beautiful sandstone temples.
Gadisar Lake is a good spot to people watch, especially around sunset.
STAY
The surge in guesthouses and restaurants inside Jaisalmer Fort is hastening its erosion, as more water has to be pumped in and cracks get worse. For this reason we do not recommend staying inside Jaisalmer Fort and suggest staying outside the Fort instead (you get better views, too). These options are all outside the Fort:
Hotel Renuka (Budget) | Shahi Palace (Midrange) | 1st Gate Home (High End)
EAT
Desert Boy's Dhani has Rajasthani cultural displays and an authentic menu | Natraj serves great south Indian dosas with a side view of the beautiful Haveli next door.
Osiyan
Also spelt Osian, Osiyan is a small town about 40km outside of Jaisalmer, and a chance to experience life in the real Rajasthani desert away from the commercialism of Jaisalmer.
We recommend staying at HACRA, a sustainable and community lead homestay project who have a rustic homestay where you can experience living in simple huts and learning more about life for Rajasthani's living in the desert. This was one of my favourite experiences travelling through Rajasthan and taught me a lot about desert life.
There's also the option to stay at their new "Maharaja Camp" which consists of higher end glamping.
HACRA offer a number of packages and tours which include meals during your stay. They recommend two nights as a minimum.
Bikaner
Often overlooked on Rajasthan itineraries, I ended up in Bikaner sort of by mistake. And I'm glad I did. Bikaner is a bustling town in North Eastern Rajasthan, and celebrates its camel festival annually in January or late December. Bikaner sees a fraction of the tourists of say, Jaipur, but has plenty to do, and Junagarh Fort is particularly beautiful.
THINGS TO DO
Hara House (see below) have just launched a more

ethical version of the Camel Safari

. Working with local farmers who treat these animals well, it's possible to go for an overnight desert stay in their desert camp at Chandasar. Riding is only permitted for short periods and most of the travel is done in carts.
Wander the lovely Junagarh Fort and Old City
Visit Bhandasar Temple, one of Bikaner's Jain temples, carved from beautiful yellow stone. Behind Bhandasar is a Hindu Lakshminath temple, too.
You can also visit the famous Rat Temple, around 30km south of Bikaner. Not for the squeamish!
STAY
Hara House (Budget) | Narendra Bhawan (Midrange/Luxury)
EAT
Bikaner is famous for its sweets and spicy food. Sweet shops and some basic restaurants such as Laxmi Hotel are opposite the railway station.
7 Day Rajasthan Itinerary Route
Our one week Rajasthan Itinerary route looks like this:
Day 0 Delhi
Day 1-3 Jaipur
Day 3-4 Jodhpur
Travel from Jodhpur to Chandelao by Taxi, stopping at Ranakpur Jain Temples & Kumbalgarh Fort
Day 5 Chandelao
Day 6-7 Udaipur
READ MORE: First Time Delhi Travel Guide
14 Day Rajasthan Itinerary Route
Our two week Rajasthan itinerary looks like this:
Day 0 Delhi
For Ranthambore, take a train from Delhi to Sawai Madhopur Railway Station (10kms from Ranthambore). Search trains here.
For Sariska, take the train from Delhi to Alwar, where most accommodation is located. Search trains here.
Day 1 Ranthambore or Sariska
Day 2-4 Jaipur
Day 5 Bundi
Day 6-7 Pushkar
Day 8-9 Udaipur
Day 10-11 Jodhpur
Day 12-13 Bikaner
READ: A Complete Guide to Train Travel in India for Visitors!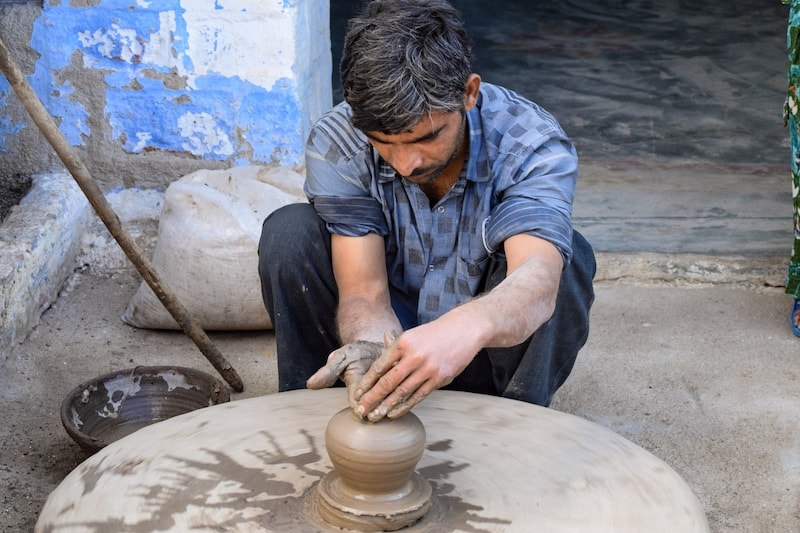 21 Day Rajasthan Itinerary Route
Our three week Rajasthan itinerary looks like this:
Day 0 Delhi
For Ranthambore, take a train from Delhi to Sawai Madhopur Railway Station (10kms from Ranthambore). Search trains here.
For Sariska, take the train from Delhi to Alwar, where most accommodation is located. Search trains here.
Day 1-2 Ranthambore or Sariska
Day 3-5 Jaipur
Day 6 Bundi
Day 7-8 Pushkar
Day 9-11 Udaipur
Take a taxi from Udaipur to Chandelao, and stop at Ranakpur Jain Temples & Kumbalgarh Fort on the way.
Day 12 Chandelao
Take a taxi or transfer from Chandelao to Jodhpur.
Day 13-14 Jodhpur
On some days there are trains from Jodhpur to Osiyan (journey time 1 hour). These are not bookable online but you can see the timetable here. Otherwise take a taxi or arrange a transfer with HACRA.
Day 15-16 Osiyan
Day 17-18 Jaisalmer
Day 19-20 Bikaner
Read more about Travel in India on Soul Travel Blog:
First Time India: How to Prepare and What to Expect
Our Favourite India Group Tours – Itinerary Guide
A Complete Guide to Train Travel in India for Visitors
Share this Post on Pinterest!