Just a few miles yet a world away from the hectic centre of Jaipur, Dera Amer Camp is a very special place to stay. Experience the beauty of the desert wilderness, nights under starry skies and the friendships of several rescued four-legged friends – all within India's popular Golden Triangle. Read on to learn more about staying about Dera Amer, Jaipur.
This post contains compensated affiliate links. For more info and my full disclosure, please read here.
Dera Amer Camp, Rajasthan
I could see the thick legs, steady and poised like grey tree trunks waiting as we approached. Not your usual reception welcome committee, Laxmi and Rangmala were standing at the gateway, along with their mahouts.
Less than 30 minutes outside of Jaipur city, and within a stone's throw of the legendary Amer (often referred to as Amber) Fort, Dera Amer Camp is a luxury glamping experience that's perfect for animal lovers, conservationists, star-gazers, wild souls and travellers who are simply weary of India's big-city honking.
Dera Amer offers a sanctuary for travellers exploring Jaipur, but also for the rescued wildlife that call the camp home. Laxmi and Rangmala are the camp's two adopted elephants, who have been given a loving home, away from the painful and tragic conditions that await most elephants in Rajasthan these days (read more below). Along with the pachyderms, there are two suitably grumpy but simultaneously charming resident camels, and peacocks that shadow your every move around the grounds.
Designed with sustainability and responsibility at the very heart of its philosophy and offering, Dera Amer is the perfect place to stay in nature within easy reach of Jaipur.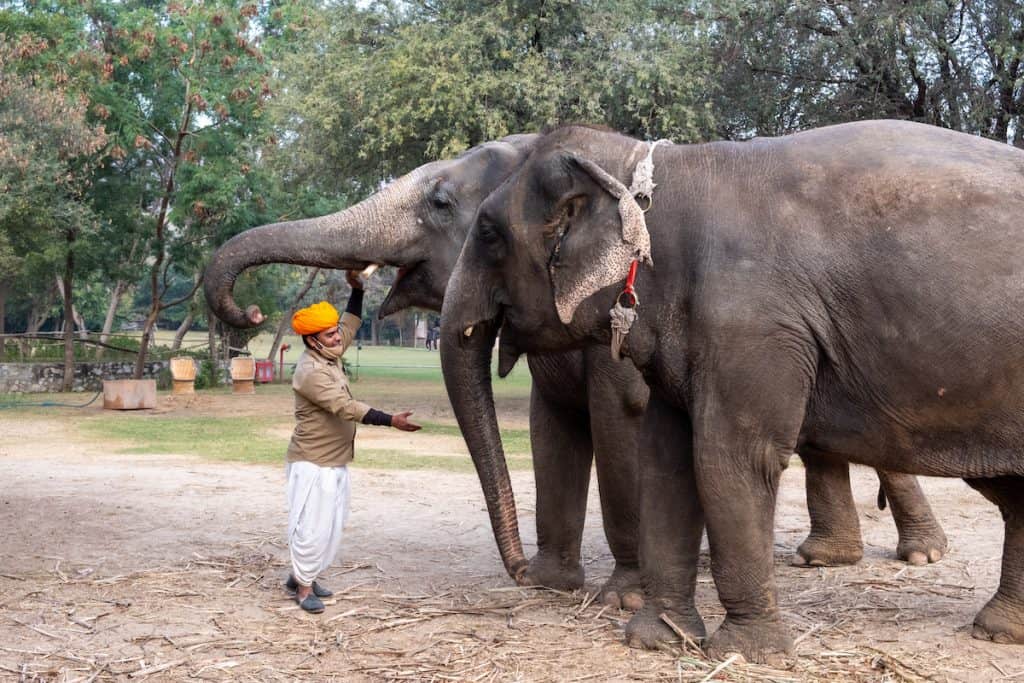 Staying at Dera Amer Camp, Jaipur
Dera Amer is home to just 6 luxury safari-style Glamping tents, making this the perfect luxury camping in Rajasthan experience: No detail has been overlooked when it comes to the comfort and experience of staying here.
The tents are fitted with their own attached luxury private bathrooms and include high-end bespoke wooden furnishings from the Raj era – evoking a sense of nostalgia, comfort and that subtle but powerful call to adventure in the wild. The tents are dotted throughout the grounds to make the most of the peaceful setting, and all have their own outdoor seating areas where you can relax, sip your morning chai and simply enjoy the sounds of the wilderness.
During my stay here, I drifted off peacefully in the soft cosy bed each night, to be woken by the winter birdsong each morning.
One of the highlights of staying here is you get your very own private butler during your stay – Dera Amer employs the vast majority of its staff from the local villages – who are on hand to bring you refreshments, coordinate time with the elephants (more below), accompany you on walks around the grounds, and generally make your time at Dera Amer even more amazing.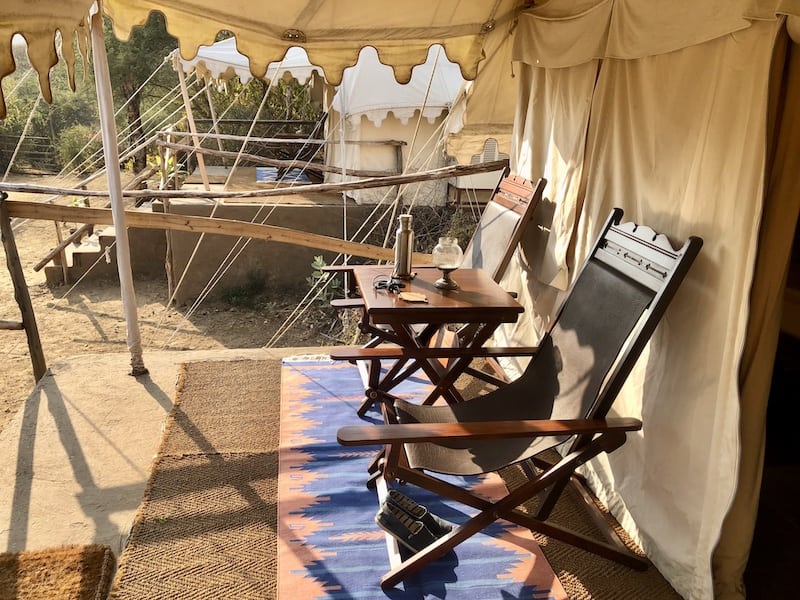 But perhaps best of all, evenings are a treat here – I would find myself craning my neck to simply look up at the starry night sky, with zero light pollution and just desert wild around, while enjoying the warmth of a winter camp fire and a gin & tonic. There are multiple locations around the camp that are used for dining, so there's always a new backdrop while you enjoy the camp's amazing food …
…Speaking of which – when it comes to food you won't be disappointed by what's on offer here at Dera Amer Camp. Using a majority of vegetables grown on the organic farm at the camp, you'll enjoy a mix of local Rajasthani cuisine, vegetarian and non-vegetarian Indian thalis and meals, or western dishes on request. It's all freshly prepared, made with love and delicious!
Laxmi, Rangmala, Lucky & Co.
But perhaps despite the amazing food, service and accommodation, the true highlight of staying at Dera Amer, is the time you get to spend with its 4-legged friends, which make it quite unlike any other place I've stayed in India.
Laxmi and Rangmala, the camps two elephants spend their time accompanying guests around the grounds, getting fed and watered and cared for by their mahouts. They wander around freely and are lovingly tended by their mahouts – but these elephants haven't always had it so good.
Conditions for elephants in Rajasthan are hard – almost all here are 'employed' in tourism.
Despite elephants being a common sight on the streets of Jaipur, and in other places across the state, elephants are not indigenous to Rajasthan, and in fact, they cannot even breed here as conditions are too dry (the eles prefer lush forests and jungle with plenty of water around – suffice to say that's not a natural match for the desert state of Rajasthan).
And so, the only elephants that you'll find in Rajasthan are captive. Conditions in the tourism industry are hard, with elephants slogging up and down to the Amber fort carrying heavy tourists along paved roads under the hot sun. And these are some of the better conditions. When not being ridden, elephants are often used at weddings, where they are exposed to loud music and firecrackers for hours on end, or at worst, they are used as begging elephants and forced to endlessly wander the streets of cities.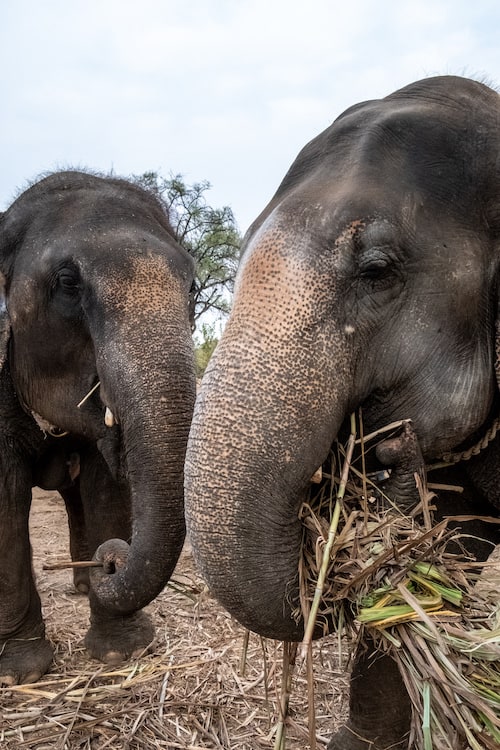 The debate about ethical elephant tourism (and the lack thereof) is long and complex – and personally I'd begun to feel pretty cynical about all of it (I will save that story for another time). Suffice to say there aren't any perfect solutions, only a hundred different shades of elephant-grey.
Dera Amer's approach has been to adopt elephants where it can to give them (and their mahouts) a loving and comfortable home, where the elephants can interact with guests at the camp, on the elephants terms. There's no riding permitted, and the elephants are free to wander around, they're never kept chained up. Dera Amer has been working with leading Indian animal welfare charity Wildlife SOS to provide the best conditions for these two beautiful elephants who are used to interacting with humans.
As a guest at Dera Amer, you'll get to walk next to the elephants (they may come to pick you up from your tent in time for breakfast ;-)), feed them the odd banana or jaggery cake, give them water, and perhaps a good scrub!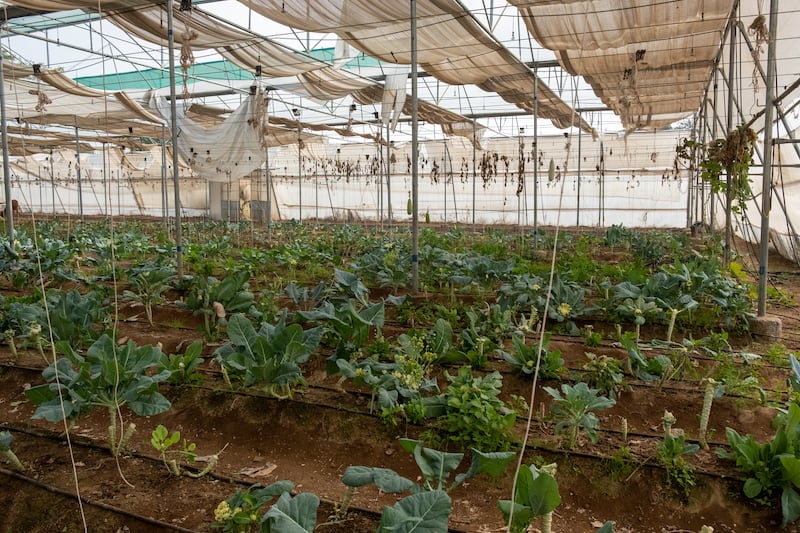 Sustainability at Dera Amer Camp
Around 30 years ago, the Singh family who own Dera Amer Camp acquired 180 acres of land with the mission of returning it to its natural, unspoiled state so that it could be a sanctuary for local plant and wildlife. The result today is the beautiful retreat that is Dera Amer and surrounding wilderness that has become a welcome escape for humans and animals alike.
The stay experience at Dera Amer has been created lovingly with sustainability at its centre. From the care given to the adopted animals, to the canvas Glamping tents which leave minimal impact on the land, to the organic farming on site and use of local ingredients in the food, to the engagement with the local village communities to spread the positive impacts of tourism – you'll find that most aspects of your stay here have been deeply considered as to their impact.
You won't have to travel far in Rajasthan to realise that respect for water is inherent in Rajasthani culture – as one of the most scarce, and valuable, resources, it is treated as precious. Out here in the desert, responsible consumption of water remains a challenge, and Dera Amer is doing its part by sharing the need for moderation in use of water with guests.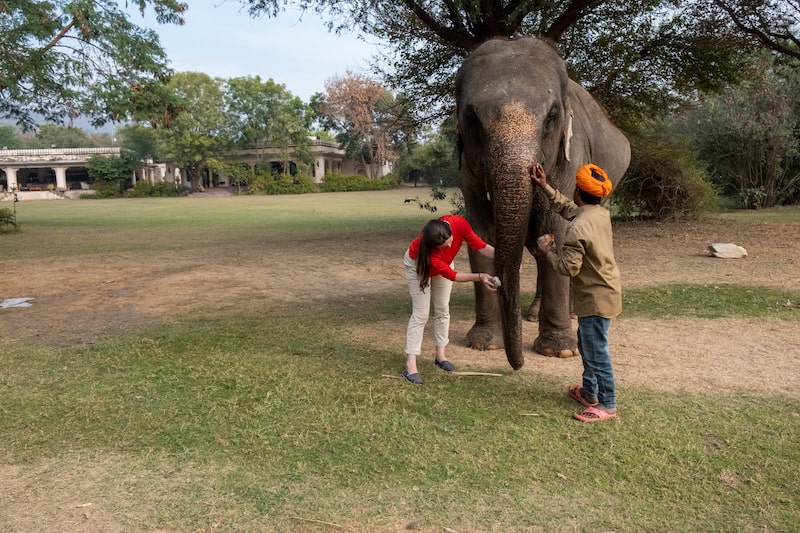 Things to do at Dera Amer Camp, Jaipur
Located just a stone's throw from Amer and its fort (also known as the Amber Fort), Dera Amer is just a short drive from some of Jaipur's top attractions, however there's also so much to do on site, that you'd be quite happy to stay at the camp and away from the sightseeing crowds. The Anokhi textile block printing museum is also located at Amber if you decide to venture there.
The camp offers plenty of opportunities for walks around the local villages, desert hikes together with Lucky (the resident camel), bird watching, and strolling around with the elephants in between just taking time out to unwind, read a good book and enjoy the hospitality.
Final Thoughts about Dera Amer
Dera Amer is a truly unique place to stay – for its environment, attention to detail, focus on re-wilding, the service and – not least – its very special animal friends.
There are few places in the world where you can wake up to the sound of trumpeting knowing that the elephants are waiting to walk you to breakfast, and being properly cared for and loved.
If you're looking for a special spot to stay in Rajasthan that's close to all the amazingness that Jaipur has to offer that really cares about its impact – look no further. Dera Amer is perfect for honeymoons, romantic breaks, and also for family getaways (the kids will love the eles).
Check rates & availability for Dera Amer here
Editorial note: Thank you to Dera Amer Camp for hosting my stay with them – as usual this doesn't affect my thoughts, ideas and recommendations!
Plan Your Dream Trip to India on Soul Travel India:
Rajasthan: Your Complete Travel Guide to the Desert State
Chandelao Garh, A Royal Homestay near Jodhpur, Rajasthan
Searching for Rajasthan's Leopards in Jawai, India's best Leopard Safari Spot