What to wear in India on your trip there is a topic that provokes a lot of thought, discussion and debate! And so… I'm here to help. Over the years, what is appropriate for travellers to wear to India has changed a lot – so read on for plenty of tips for how to dress in India – and have a few myths dispelled along the way!
This post contains compensated affiliate links. For more info and my full disclosure, please read here.
What to Wear while Travelling in India?
Knowing what to wear in India for travelling can feel confusing – and it's not helped by the fact that there are many nuanced answers to this question – especially if you're wondering how to dress in India as a female tourist – which let's face it is a lot less straight forward than it is for men!
But fear not, I'm here to help. After 8 years of travelling to India for extended periods, I've had plenty of chances to test out what does – and doesn't – work when it comes to picking what to wear to India.
As a woman, the reality of what to wear while travelling India has changed a lot in the last few years (for the better) but it's still not a place you can just turn up to in micro-shorts and a singlet/spaghetti strapped-tops.
Fashion, dress-standards and what is considered 'appropriate' for clothing for female travellers to India is rapidly changing here – even in the last couple of years what might not have been ok is now fine – in some places.
When you're mulling over what to pack for your trip to India, remember this: India is a sub-continent, populated by over 1.2 billion people. In cities like Mumbai, you're just as likely to see local girls in hot pants getting out of Ubers on a saturday night out going clubbing as women in sarees – but that doesn't mean you'd feel comfortable wearing yours wandering around the sights of Agra or even riding around on the Mumbai local trains.
There is no one answer to the question "what to wear in India". Rather there are as many answers as there are times of day – such are the nuances of this rapidly changing country and culture.
So – what can you wear as a traveller to India? Let's get stuck in!
Dressing for Safe Travel in India
I'm guessing what brought you to this post is your desire to a) be safe travelling in India and b) be culturally appropriate and respectful while travelling in India. So firstly: Thank you for reading! The world needs many more sensitive travellers like you.
Secondly: Despite the warnings and cautionary tales, India is an incredibly rewarding place to travel, and the vast majority of female (and male) travellers who venture here do not experience any trouble. If you follow your common sense, keep an eye on your surroundings, and are aware of how you are perceived when deciding how to dress for travelling India, then it will increase your safety, too!
Rightly or wrongly – know that what clothes for India travel you choose does have an impact on how you may be perceived while travelling around India – especially if you're venturing off the beaten path. Which is why how to dress in India as a tourist is an often debated topic.
Whatever you wear in India, if you don't look Indian, you will stand out, and you can expect to be stared at and get attention. But wearing revealing clothes on top of that, can add some masala to the attention. Which you probably don't want! Foreign women are sometimes perceived as "exotic" and naturally attract increased interest in what is still a male dominated society – so to mitigate that you will probably want to cover up more than you might at home (while staying cool).
Do's and Don'ts of dressing in India
Based on my experiences of travelling in India, usually solo:
Do look around you: Take note of what local women are wearing, what areas of the body they are covering, and take your cues from them (I'm not saying you have to buy a saree but if everyone around you is in shorts, you're probably fine in the same).
Do ask if you're not sure: Ask local friends if you have them, ask other hotel/hostel guests, or ask tour guides for feedback on what you're wearing if you're really not sure.
If you're at the beach,

don't

wear swimwear off the beach, even just to cross the road to get your coconut water. Many of India's beautiful beaches are actually in more conservative communities (depending where in the country you are) and not dressing properly causes offence. In Goa or at resort beaches, bikinis are fine, but on local beaches or waterfalls etc it's better to swim partially clothed (a loose t-shirt over your swimsuit is a good idea).
Don't ever sunbathe topless or skinny-dip. Even if you think no-one can see you, they probably can. And do you really want your chest going viral on WhatsApp?
Legs are bared more and more compared to a few years back. In places like Maharashtra, Goa, Kerala, Uttarakhand & Himachal Pradesh, wearing knee-length skirts are just fine. In Central/North India you'll still find most women covering their legs with long skirts/trousers (pants)
Don't show off your cleavage. Although sleeves are getting shorter and shorter, Indian women don't like to display their assets publicly and the 'dupatta' (long scarf worn backwards across the chest) is primarily used as a 'boob defender' ;-).
Don't wear spaghetti or thin straps unless you're on the beach – but short sleeves / sleeveless tops (thick straps) are generally fine.
Do wear bright colours: Not only will they make your feel more cheerful, you'll blend in to India's rainbow of colour!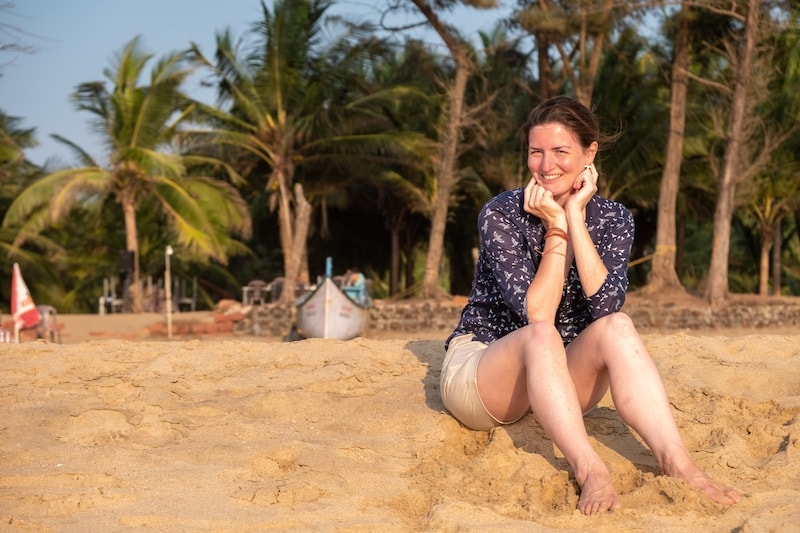 What Not to Wear in India
In general, unless you're in a beach area, here are some things to avoid wearing in India as a female traveller:
Strappy tops & vests
Anything that shows cleavage
Short shorts or dresses (knee length and longer dresses are best, shorts should not expose your butt and are a no-go in more conservative cities/areas, like Agra & Varanasi)
High Heels! You will not need them unless you're planning to go clubbing in Delhi/Mumbai/Bangalore
Super tight, figure hugging clothes (but normal tight jeans are just fine, especially if worn with a loose top)
Dispelling a Few Myths
Given that India has been portrayed in a certain light in the media, travel advice tends so err on the cautious and a limited view of what it is like to live and travel in India has developed. Let's be clear on a few things.
It's

not

always hot in India. Depending on when and where you travel, you may need warmer layers too.
You don't need to cover your hair in India (unless you're entering a Sikh or Muslim religious shrine/temple/mosque)
You don't need to wear Indian clothing – see more below!
Younger and city-dwelling Indians are just as likely to be sporting t-shirts and skinny jeans than traditional Indian dress. It all depends on where you are.
You don't have to wear elephant or harem pants. India is loved as a hippy, backpacking destination but it is perfectly possible to travel here and look smart, too!
You can wear jewellery -maybe leave your diamond collection / family jewels at home 😉 but many Indians wear a lot of jewellery, so don't be afraid to get some local jewellery for yourself, too (negotiate!).
Should you Wear Indian Clothes?
For my first solo trips to India, I followed the advice that wearing local clothing would earn me more respect and be safer as a solo female traveller. I headed out shopping and got myself a few kurtas (tunic style long tops with splits below the waist – they vary in length from waist length to below the knee), as well as a custom made salwaar kameez.
All of this was great fun and very inexpensive, but I found myself attracting plenty of attention and comments for my Indian-style attire, particularly in the big cities. I found myself wondering: Would I just have blended in better if I had been wearing western clothes?
The answer is probably yes, in some situations – and I'm definitely not advocating wandering around India in a saree. Here's what I suggest:
In ALL of India you are just fine in western clothes – as long as you cover up in more conservative areas – t-shirts/shirts and jeans are always fine.
The main reason to buy & wear Indian clothes is because a) they're beautiful and b) they can help with staying cool in the heat.
In rural areas and villages (where you'll need to dress more conservatively), wearing a kurta top over your trousers can be a great way to fit in, dress respectfully and keep cool.
Some parts of India are more conservative than others – e.g. Uttar Pradesh & Rajasthan are more traditional than Maharashtra, so local clothing as above for rural India can be helpful, especially if you're going off the beaten path.
If in doubt: Look at what the local women of your age around you are wearing and use that as a barometer.

In general, Sarees are the worn by married, Indian women, or for special occasions – and I don't recommend wearing them out and about on your travels unless you are invited to wear one to a special occasion or event (such as a wedding) to avoid cultural appropriation. If you are gifted one or want to buy one as a souvenir, that's fine!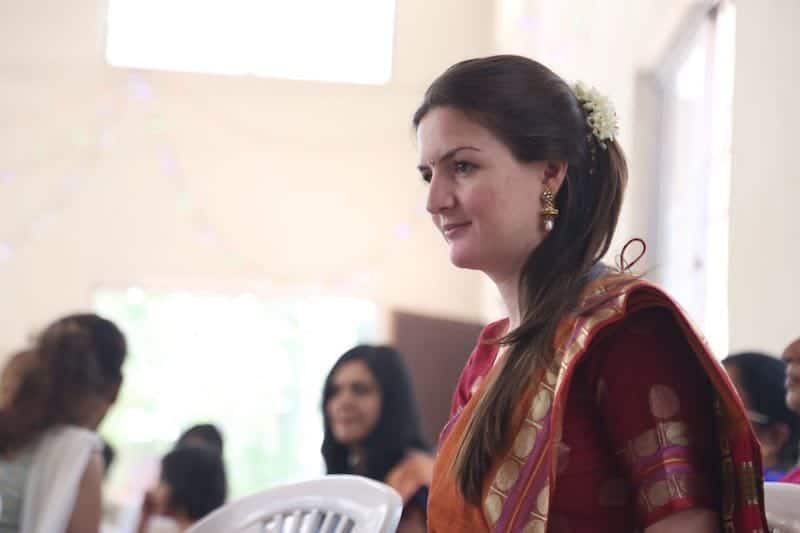 What to Wear in India: The Essentials
Here are my recommended essential items for dressing in India for Women. Go for natural fibres / fabrics whereever you can as these keep you cooler and are more comfortable (plus they are better for the environment).
Accessories
Sunglasses – not only for keeping the sun out, but great for avoiding any stares from would be Romeo's. I love ethical brand Pala Eyewear.
A secure handbag / purse. I love crossbody bags as you can keep them in front of you and on your person at all times (i've always used crossbody bags when travelling in India). A

basic leather one

is good, or for added security you can

use a Travelon one

which has additional security measures built in!
Jacket – If you're travelling to northern India in Winter, then pack a compact light down jacket or windproof layer to keep you warm on cold winter mornings and evenings. I have been so grateful for my one like this many a time. A jacket is a must for wearing on Safaris in India too as it's chilly before the sun comes up.
Top Half
Bottom Half
Loose fitting harem pants or Linen trousers like these
Leggings (only wear under a long top that covers your bottom)
Jeans – skinny or regular (we suggest 1 pair is enough)
Modest shorts for the beach (not ones that expose your 'cheeks!)
A long, loose skirt or Linen trousers like these – skirts are great for bus travel in case you have to go to the bathroom in nature! Make sure your long skirt is not too tight and doesn't have tall slits in the side. (I saw a girl wearing a long skirt with thigh-high slits in at the Taj Mahal – and every man in sight was gaping at her.)
Maxi and Midi dresses are a great idea, to help stay cool and look stylish – get ones with sleeves if you can find them. Vibrant colours are much more practical than white ones which will get dirty super quickly.
Swimwear for India
A loose fitting kaftan or maxi dress can be handy if you'll be hitting the beach
A bikini or swimsuit is fine for resorts or the touristy beaches of Goa and Kerala. On local beaches, waterfalls or in the countryside I suggest swimming with a t-shirt & shorts on as locals swim fully clothed.
Don't ever walk around off the beach in your swimwear
Footwear
I suggest taking a pair of sandals / flip flops for chilling out in (I love Reef who contribute to cleaning up beaches around the world). These are also super useful for visiting temples where you need to remove shoes.
A pair of covered pumps / canvas shoes such as Toms for travel and walking around cities to avoid your feet being filthy the whole time – light, neutral colours like grey / tan are best for not showing the dust and dirt
Hiking shoes if you're going to be trekking (breathable ones are recommended and make sure you wear them in beforehand)
You can buy cheap "chuppels" in India (pretty decorated sandals) so leave plenty of space in your bag!
What to Wear for Yoga in India
Leave your tight leggings, racerbacks and spandex at home!
Loose fitting cool t-shirts
Baggy yoga trousers / harem pants
Yoga in India is a modest affair and you won't see the tight yoga clothes that have become a staple of "western" yoga much. Try to bring tops you can tuck into your trousers to avoid flashing during your downward dogs!
Pin me for Later!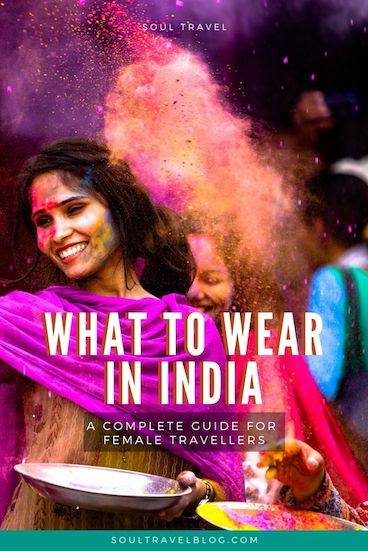 Knowing What to Wear and When
As you'll see in my "should I dress in local clothing" section – I recommend adapting what you wear depending on where you are in India. The easiest way to judge this is to look at what people your age are wearing around you. In general, in cities and touristy areas you are fine in western clothing (but do stick to the rules of not showing your shoulders, chest or legs above the shin).
Even in some more touristic areas – notably Agra, Varanasi and other parts of central India, these regions are more conservative and you will want to cover more than you'd need to on the beaches of Goa. In other specific situations such as going on Tiger or other Wildlife Safaris in India you'll want to be covered and wearing neutral tones – leave that beautiful bright red top at home.
ⓘ TIP: Travel Insurance is a must for India – we use and recommend World Nomads – Get your quote here!
What to Wear in India for Men
Ah, guys, you have it so easy! Much of the debate around how to dress as a traveller to India is related to women because of the traditional society that exists there. As a man you can wear pretty much what you would at home, although a few things to bear in mind:
Shorts are now much more popular in metro- India (the cities) as well as on the beach, and knee-length shorts are just fine.
Don't walk around topless unless you're on the beach
You don't need to wear local clothing – even in villages. You'll get a few odd looks if you wander India in a Salwar Kameez!
The best bet? Jeans / Chinos and t-shirts / shirts. We recommend light jeans and cotton t-shirts or polo shirts for a slightly smarter look.
Final Words of Advice
If you research in advance (like reading this post!) and do your packing right, you won't have to worry about what to wear in India when you're there! Job done!
Try not to pack too much – no-one likes lugging a heavy bag around while travelling – flexibility and items you can mix/match are the key. Last but not least save some space for shopping in India because there are so many beautiful clothes, scarves and accessories you'll want to buy once you're here!
Next step: Have an amazing time in India!
Plan Your Trip to India with Soul Travel India:
How to Plan your Dream Trip to India – Complete Guide
The 21 Best Places for Solo Female Travel in India
The Best Places to Visit in India – For Every Month of the Year
Can I Wear Shorts in India?
In touristy beach areas like Goa, shorts are perfectly fine, and in cities like Mumbai shorts are commonly worn too (by women as well as men). In other cities and in more conservative parts of India, shorts are to be avoided – and in any case make sure they are modest shorts rather than ones that leave your 'cheeks hanging out!
Should I Buy Indian clothes for travel in India?
Only if you want to! Indian clothes are beautiful and you may find the colourful Kurta tunics hard to resist… but wherever you are travelling, western clothes are just fine as long as you dress respectfully. Out of respect for Indian culture, wandering around India in a Saree is not suggested.
What Swimwear is appropriate in India?
On touristy beaches (like in Goa & Kerala) and at resorts and luxury hotels, bikinis are just fine. A sarong is handy to cover up a bit while walking up and down the beach – and make sure to cover up as soon as you leave the beach/pool. In rural areas and for swimming in rivers & waterfalls you may feel more comfortable doing as the locals do and swimming in shorts and t-shirt.
Pin this on Pinterest!