Jawai, located in the heart of Rajasthan is leopard country – and if you want to see more of India's beautiful wildlife or spotting a big cat is on your "bucket list", you won't want to miss going on a Jawai leopard safari. Find out about the work that is ongoing to conserve space for the leopards and how to choose a responsible place to stay on your Jawai safari.
This post contains compensated affiliate links – which if you purchase through, Soul Travel India may receive a commission. Thank you for your support. Find out more in my disclaimer here .
Welcome to Leopard Country
It's 8.30am on a Sunday morning early in December. A large, male leopard stares nonchalantly from his rocky outpost as the Ahmedabad passenger express train trundles past on the railway line below.
This is leopard country. In the heart of central Rajasthan, in the beautiful Aravalli hills dotted between Udaipur and Jodhpur, I've come to the best place in the world to see Leopards (in the wild).
This is the new relationship paradigm between humans and leopards. Leopards are known for their adaptability and ability to survive in even the most urban of environments in India's mega-cities, but here, at Jawai at least they have been afforded hard-fought for protection.
I'd come to Jawai to stay at Bera Safari Lodge and meet its owner, Shatrunjay Pratap Singh, who has been the driving force behind Leopard conservation in Jawai for over the last decade.
The Leopard Cause
When you think of big-cat conservation in India, Project Tiger probably springs to mind. Efforts in India – and in Madhya Pradesh (Central India) particularly – to increase the populations of Bengal Tigers have seen a lot of success. But the Leopard, to a large extent, has not received the same attention.
In India, as people and development have spread, the Leopard has become a success story at adapting to its human surroundings, but it's not without its problems. Given the relative prevalence of the Leopard in (semi) urban areas, it has not been awarded the same prestigious status as its larger, striped brother.
Safeguarding land to retain as protected habitat for Leopards has been even more of a struggle than it has been for the tiger. Statistics report that for every single tiger death in India, there are six leopard deaths, making this beautiful cat highly vulnerable and in need of more protection.
The difference is that a Leopard's death does not make headlines, a tiger's does.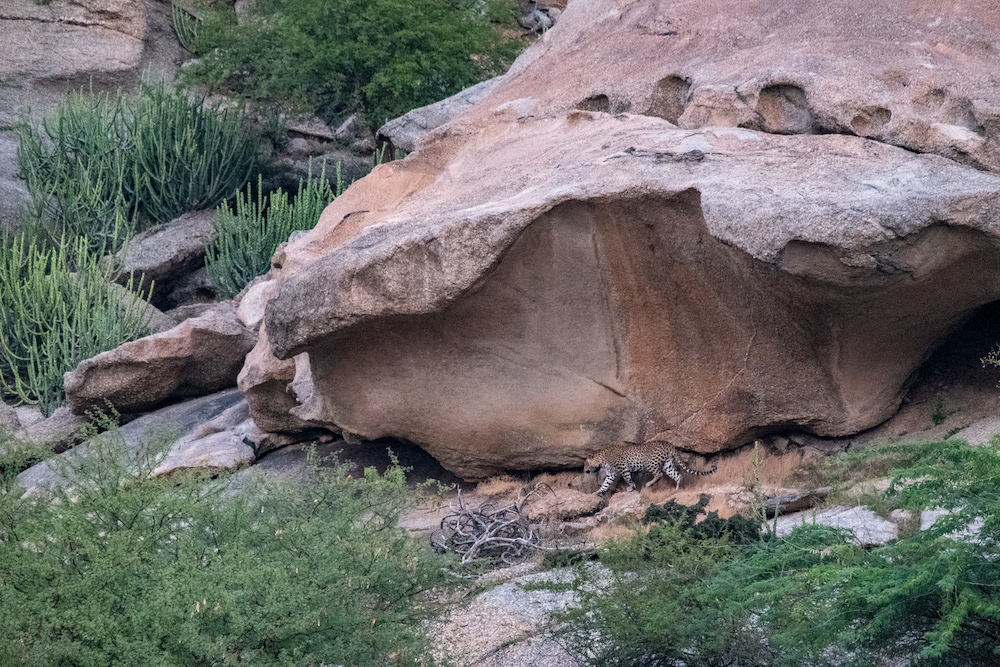 In central Rajasthan, the desert scrub and rocky outcrops of Jawai make for the perfect leopard territory, but even that has had to be clawed back from the jaws of industry.
The owners of Bera Safari Lodge have been leading the fight against mining in Jawai for over a decade. As a direct result of their work with the local Panchayyat (village assembly) and government at different levels, the forests of Jawai Bandh were awarded the status of conservation reserve in 2013, and mining was banned in 2015.
The threat of mining remains, as profit hungry companies continue to eye the area for its rich quarry, and so the fight to keep the miners out and the leopards protected is endless.
But since the mining ban, Bera is the only area of Rajasthan to have seen a significant recovery in leopard population.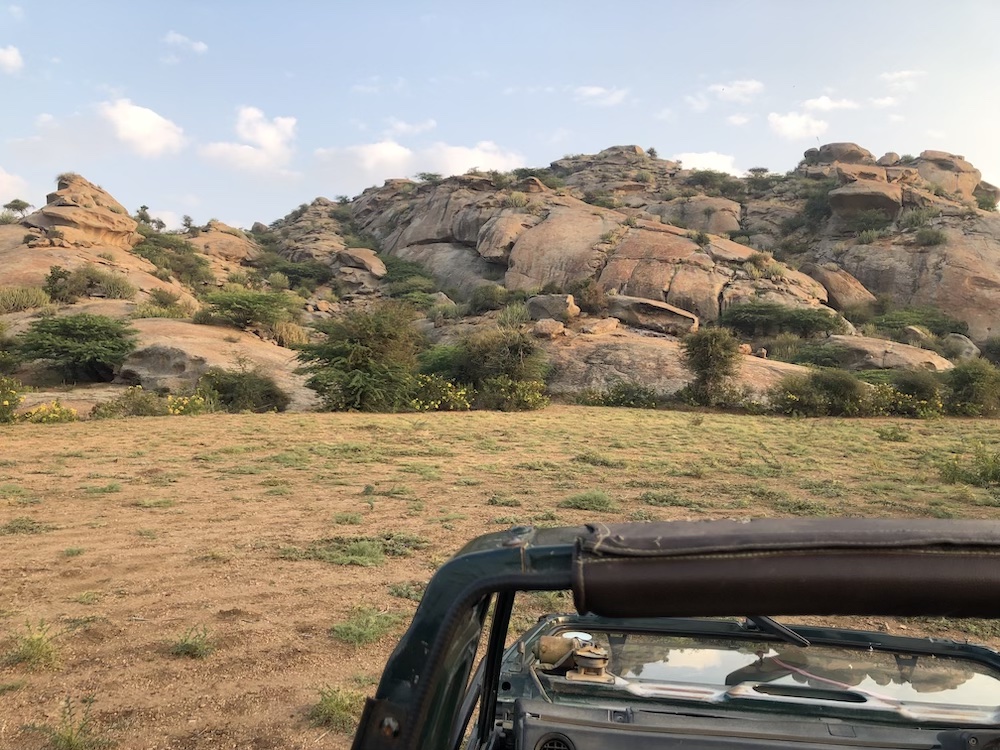 Jawai Leopard Safari Trips
A highlight of any trip to Rajasthan should be a visit to Bera Safari Lodge and the chance to go on their Jawai leopard safaris. Similar to safaris in India's national parks, the lodge offers 2 safaris per day: Morning and Sunset.
Your chances of seeing a leopard while on safari here are the highest of anywhere in the world, thanks to the recovering leopard population here. Thanks to the rocky terrain, safaris can be done in a way that are not intrusive to the leopards, either, as the leopards have plenty of space to retreat to on the rocks, where the safari gypsy's (jeeps) don't go.
Leopards are nocturnal creatures, hunting between dusk and dawn, with the best time to see them being when they are leaving their caves in the evening around sunset, or coming back to them in the early morning.
I was lucky enough to see Leopards on both my morning and evening safaris, but there is an undeniable magic to heading out in the morning darkness, in the brisk air of winter just as the light starts to creep in, with no idea what you'll find. There are also far fewer jeeps out in the morning, meaning you get the best of the leopard sightings pretty much to yourself.
The best way to go organise a Jawai leopard safari is through your lodge in Bera. There are also operators who offer just evening safaris if you are not staying in the area, but these give you much less of the full Leopard safari experience, and I recommend staying in the area at a lodge instead for 1-2 nights and doing a leopard safari that way.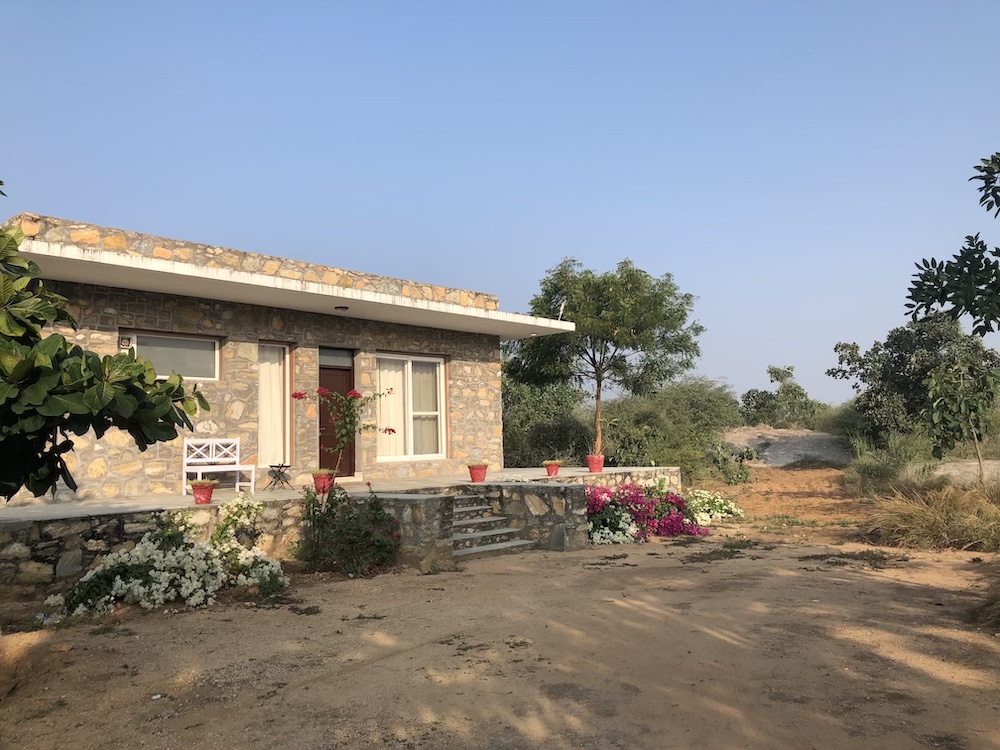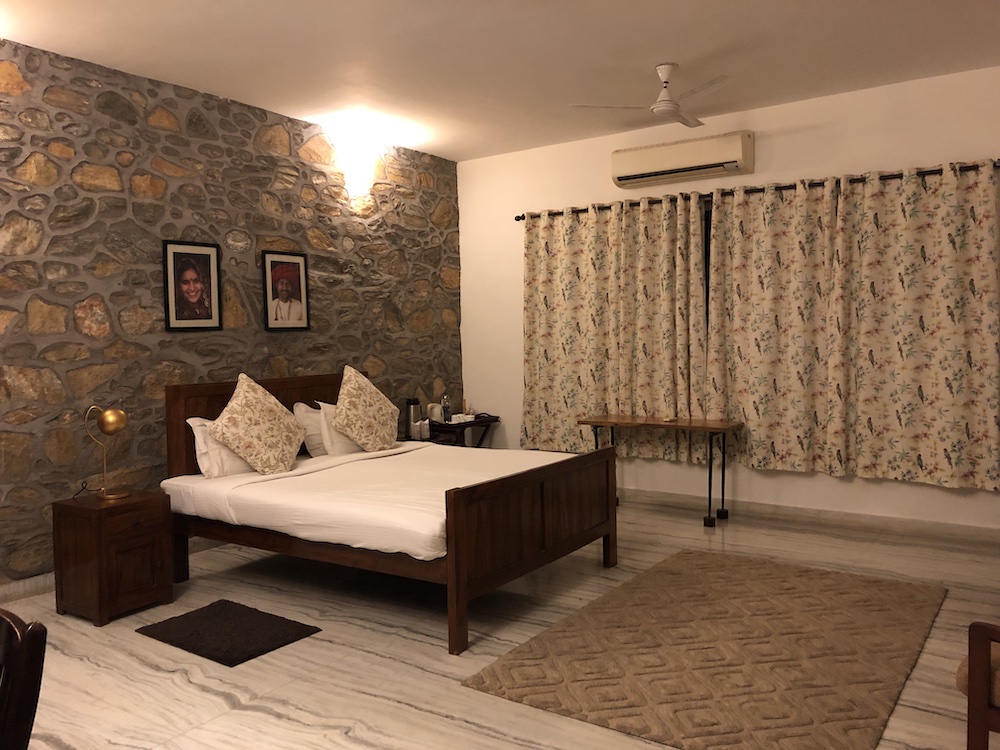 Staying at Bera Safari Lodge
If you're looking for a Jawai leopard safari lodge to stay at, look no further than Bera Safari Lodge. Not only are they the pioneers of leopard conservation in Bera, but they're also the best hosts with a total of just 5 luxury cottages nestled among the rocky desert landscapes of Jawai.
The cottages feature some of the most comfortable beds I've stayed in and panoramic windows that frame the mountains and landscape – if you're really lucky, you might just get to see a leopard from your bed (it has happened).
The lodge itself is an extension of the rugged wild landscape, with cottages dotted around the grounds for both privacy and the feeling of being out in the wild. Over 30 different species of bird can be observed at the lodge, with hundreds more at Jawai Bandh (dam) just a few miles to the north.
One of the best moments of the day is gathering around the camp fire after your evening safari to exchange sighting stories with fellow guests, learn more about leopard conservation from the owners, and gaze up at the incredible view of the stars (the skies are dark out here thanks to the absence of light pollution from cities).
Food at the lodge is delicious and all home cooked with the use of local veggies grown by neighbouring farmers and eggs from chickens reared on site.
Above all, staying at Bera Safari Lodge is a direct chance to contribute to the conservation of leopards in the area by supporting the ongoing work to safeguard this land for the leopards.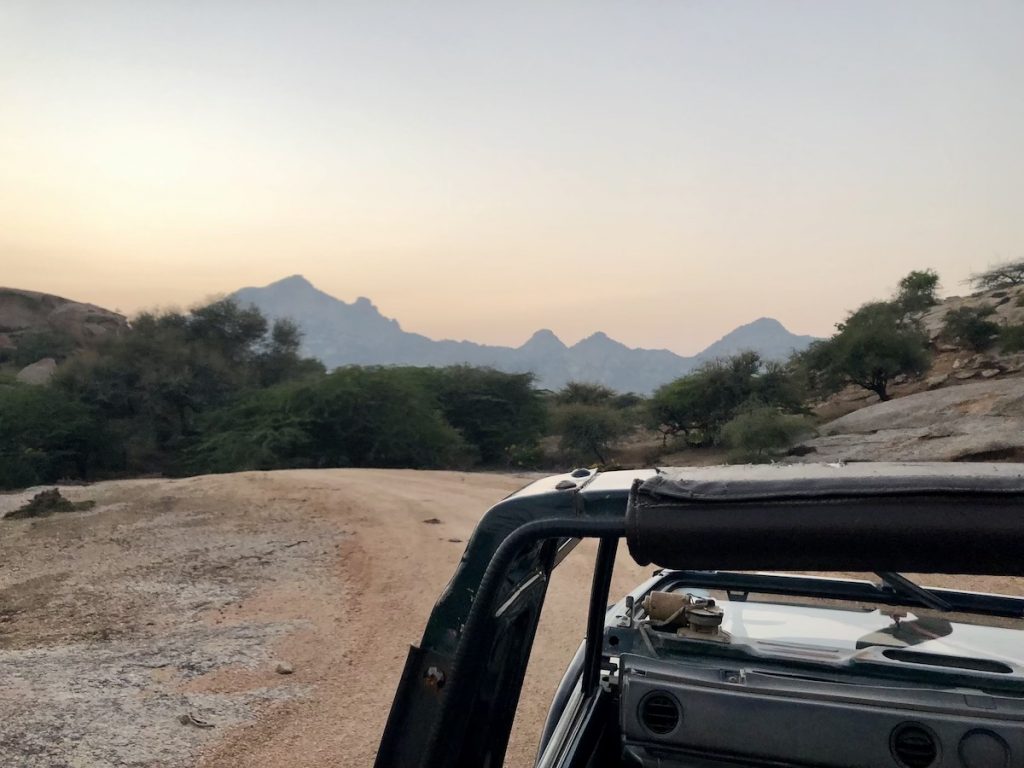 Why go on a Leopard Safari in Rajasthan?
The chance to go on a leopard safari in Bera through a conservation-focused lodge such as Bera Safari Lodge is a truly unique experience, and one that directly enables the ongoing conservation work in protecting the leopard.
Despite the lack of headline interest around the leopard, it is estimated that India has already lost between a whopping 75-90% of its leopards over the last 200 years.
For that trend to be halted, we need to support conservation through methods such as tourism, which help to prove a direct economic value to safeguarding leopards.
As some tiger reserves in India become over-crowded with shutter-hungry visitors eager for a snap, Jawai remains largely crowd-free, and is an experience that is off the beaten track as well as positive impact when done through a responsible tourism focused operator.
Check availability and enquire with Bera Safari Lodge for accommodation & safaris here!
Plan Your Trip to Rajasthan with Soul Travel India:
Rajasthan Itinerary – Plan your perfect 7,14, or 21 day Rajasthan Trip
Pushkar Organic Review – A luxury Farmstay near Pushkar