If you're looking for resorts near Pushkar, Rajasthan and want a chance to stay somewhere where you can peacefully reconnect with nature within easy access to the holy town of Pushkar, then look no further than this beautiful eco resort.
This post contains compensated affiliate links – which if you purchase through, Soul Travel India may receive a commission. Thank you for your support. Find out more in my disclaimer here .
Pushkar Organic Resort near Pushkar
Famous for its annual camel fair and spiritual pilgrimage sites, Pushkar has become a firm favourite on any Rajasthan itinerary. But along with its increasing popularity have come increasing crowds, and on my recent visit to the area, I decided to get away from the main drag of Pushkar itself and budget guesthouses in exchange for a more peaceful stay in the area.
Located just 10 minutes' drive from the town of Pushkar itself, Pushkar Organic is a beautiful high-end farm stay where guests can come and experience the simplicity of living off the land and reconnect with a more natural way of life. It's perfect for those who want to get away from the hustle and bustle of Rajasthan's cities, be close to Pushkar, work from "home" for a longer period of time, or simply experience what living in a beautiful farmhouse (without having to do any of the work!) is like.
You can find my experiences from my recent stay at Pushkar Organic below – the TL;DR version – if you dream of living off the land and are looking at beautiful sustainable resorts near Pushkar options, you'll definitely want to consider Pushkar Organic.
Check Rates & Availability for Pushkar Organic here!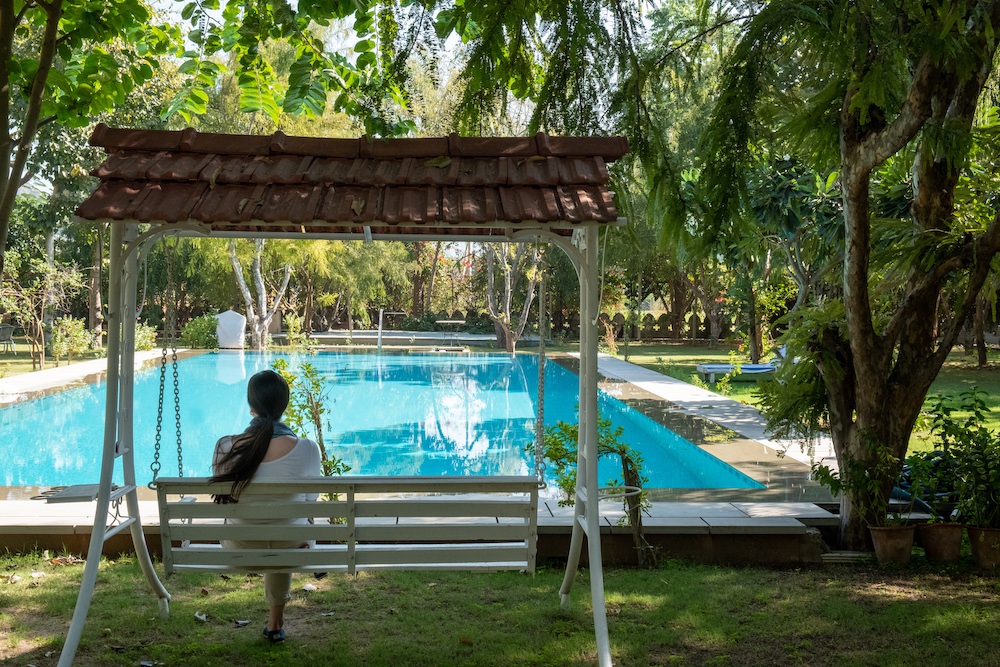 Staying on a Working Farm, in Luxury
Pushkar Organic is a working farm, producing all its own dairy products (paneer, milk, yoghurt) as well as the vast majority of all fruits and vegetables eaten on site. From Amla (Indian gooseberry) to papaya, freshly laid eggs from the farm's chickens and plenty of healthy veggies, the farm provides healthy, pesticide-free ingredients for the home-cooked meals served here every day.
The farm is home to beautiful Marwari (Rajasthani), horses – famous for their cute looking swivel ears and hardiness – goats and chickens which guests can spend time with.
The best thing about being on the farm is undoubtedly getting to eat all the delicious produce – all meals are home cooked and use the farm grown produce as much as possible. Room rates include meals on the farm. If travelling around India and sampling the many different foods and street foods has been taking its toll, a few days here will feel like a treat for your stomach and you'll quickly feel the difference!
Accommodation at Pushkar Organic
Pushkar Organic has just 12 rooms, spread across 3 countries – Standard, Luxe and Suites. I stayed in a Standard room which was beautiful, light and very spacious, with marble floors, side tables and a desk underneath a window facing out onto the central garden area. The desk (combined with the high speed wifi) was the perfect spot for catching up on work while being able to look outside to the gardens.
Luxe rooms are located on the upper floor (standard rooms are ground level) and offer more space, more privacy away from the main garden area, and your own balcony. The suites offer even more space and a huge granite bathroom including a soaking tub for two, and your very own private garden area.
The rooms have been designed to keep cool during the hot Rajasthani summers with maximum use of granite and marble, although there's also AC if you need it. Inside the rooms, all of the furniture is lovingly made on site by local craftsman using sustainable materials.
Check rates and book Pushkar Organic here!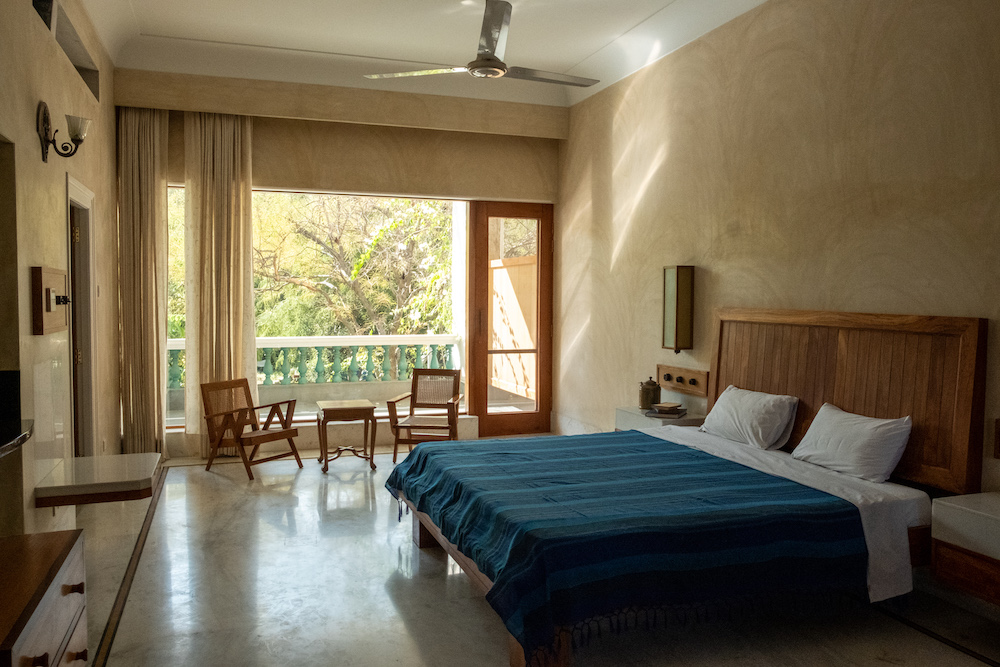 Experiences at Pushkar Organic Farmstay
Despite being the perfect place to 'get away from it all' there's plenty to do at Pushkar Organic. One of the best things to experience here is the general slow pace and finding time to just wander the garden or read a book by the pool and find that time has become flexible – slow enough to truly unwind, and yet somehow the day becomes filled with the magic of many nothing moments of just being and soaking in the surroundings.
Daily yoga classes are available and you can join a cooking class to try your hand at cooking local Rajasthani cuisine and other Indian dishes using ingredients from the farm. Pushkar is within easy reaching distance by road (1.5km) and there are plenty of local hikes you can do for sunrise or sunset including climbing Ratnagiri hill to visit Savitri temple and get a beautiful view over Pushkar.
A Sustainable Place to Stay
Alongside all the effort that goes into being self sustainable with what is consumed in terms of food, significant effort has been put into making the whole experience of staying at Pushkar Organic as sustainable as possible.
Furnishings throughout the resort have been crafted on site by local villagers from reclaimed wood, up cycled furniture and local resources wherever possible – you can even visit the workshop on site. Wood has been reclaimed from old ships and buildings, creating a feeling of history and earthiness at the resort, but also following a minimalistic design style. Everything at the resort has been thought through to showcase the quality of the craftsmanship as well as the sustainability of the materials.
As you'd expect from a resort centred around sustainability, single use plastic is avoided wherever possible, with filtered water placed in beautiful glass bottles in guest rooms. There are future plans to switch to solar heating for water and power, too.
Want more inspiration for your Rajasthan trip? Read my full Rajasthan Travel Guide here!
My Experience at Pushkar Organic
After several weeks of travelling around North India, I arrived at Pushkar Organic feeling tired and with an irritated stomach from eating too many different types of food.
What I found here during my stay was an experience of peace and homely welcome, which served as a tonic for my travel-weary body. After just a day, my stomach could feel the difference from eating the home-grown veggies and dairy. And I started to relax into the simple way of being on this farm happily resting, working, interacting with the farm animals, and watching the world go by.
To get the best out of a stay here, plan to come for at least a few days. Pushkar Organic is the kind of place where time passes quickly – before you know it, the days merge together and you could happily spend weeks here. If you can, a 3 night minimum stay works best to feel the benefits of coming here.
Check rates & availability for Pushkar Organic here!
Editorial note: Thank you to Pushkar Organic for hosting my stay with them in exchange for a review. As usual, my opinions expressed above are purely my own and reflect my true experiences during my stay!
Plan your Rajasthan Trip with Soul Travel India:
Plan your perfect Rajasthan Itinerary