There are some incredible Eco Resorts in India – if you know where to look! Here are some of our favourite eco resorts and lodges that celebrate India's biodiversity and support local communities too.
This post contains compensated affiliate links. Click here for our full disclosure.
My Favourite Eco Resorts in India
Often overshadowed by her architecture and colourful culture, it's arguably India's nature that is the real star of the show. And although it may not be as well known as destinations like, say, Costa Rica, for its ecotourism, India is leading the way in Asia with some inspiring eco resorts and lodges that will leave you not wanting to… well, leave.
A little known fact: India is actually home to 7% of the world's biodiversity. And where better to immerse yourself in that (and enjoy a slower pace of living for a few days) than at one of the country's growing number of sustainable resorts?
From simple eco lodges to high end sustainable luxury resorts that will cater to your every need, we've put together this guide to some of our favourite eco resorts and lodges around India. These are not simply places that involve the outdoors, but places that have actively put measures in place to minimise their environmental impact, use renewable energy sources, and are directly benefiting local communities too.
As this list continues to grow, thanks to huge interest in responsible tourism in India, we will keep adding – and please feel free to let us know any of your favourite eco resorts or lodges at the end of this post!
READ MORE: Responsible Travel in India – What you Need to Know
ⓘ TIP: Planning a trip to India? Join our free India Travel Facebook group here!
Eco Resorts in Rajasthan
The desert state of Rajasthan is one of India's most-visited areas and home to some of the country's top tourism attractions. It's also home to some beautiful eco lodges and resorts, too!
Khem Villas (Ranthambore)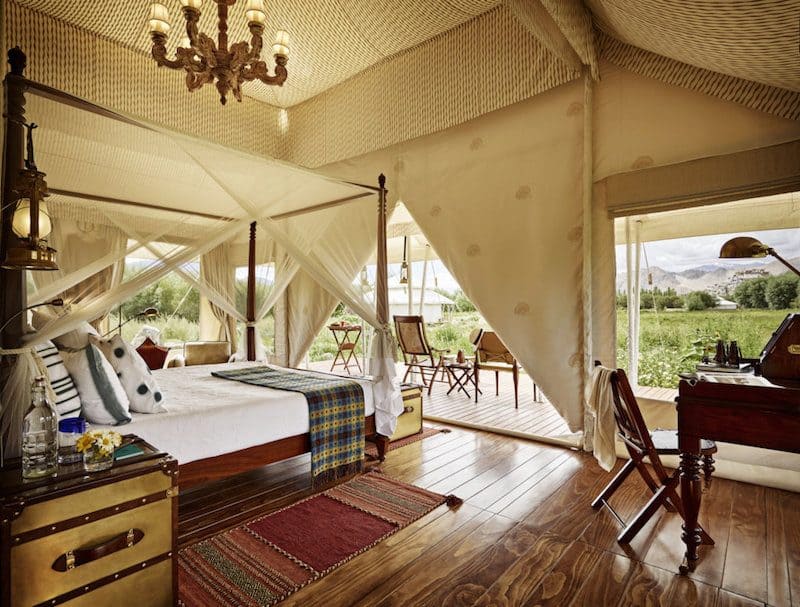 Khem Villas is a luxury jungle camp at Ranthambore, Rajasthan's best known tiger reserve. The camp is designed to provide peace and tranquility within its luxurious and very personal atmosphere. Accommodation is high end, and you won't want for anything at this beautiful glamping cum eco resort.
The focus at Khem Villas is not just tigers but to go beyond the tigers by engaging visitors and informing them about the various challenges that threaten the survival of Ranthambhore and its striped cats. The resort is involved with two NGOs: Ranthambhore Foundation and Tiger Watch which help in providing health care, education, afforestation, dairy development, employment generation, monitoring of Tigers and more importantly sustainable livelihoods.
For more info & rates at Khem Villas, Click here.
Although the tiger concentration is lower at Ranthambore than in Madhya Pradesh, many visitors flock here for its location in Rajasthan as well as the temple ruins within the park which make for a unique backdrop to see the tigers.
READ: Rajasthan Travel Guide – Rajasthan without the Crowds
Hara House (Bikaner)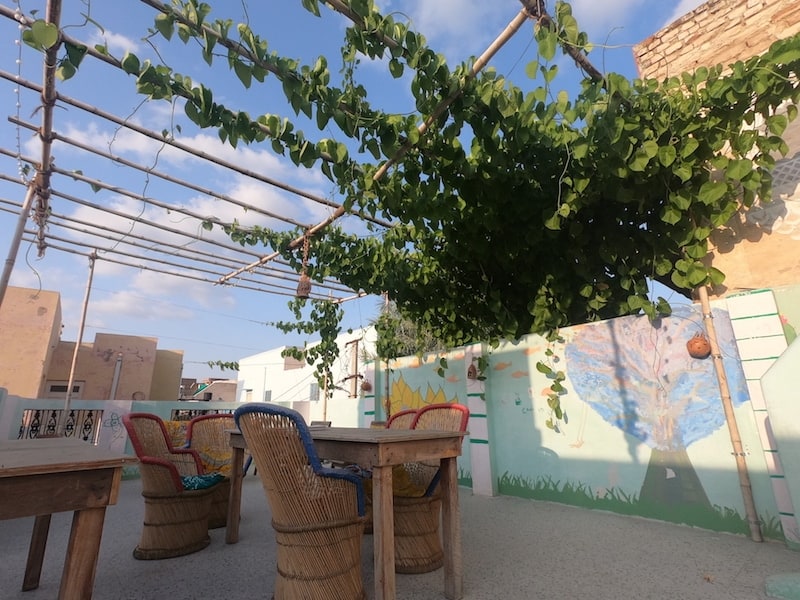 If you want to experience the best of Rajasthan's princely grandeur and desert culture, but with fewer of the crowds that make it to Jaipur and Jaisalmer, Bikaner may just be the place for you.
India's first "zero waste guesthouse", Hara House is a simple, budget friendly guesthouse that invests 20% of its profits in building community in Bikaner through social development initiatives and its community centre, as well as putting focus on eliminating plastic waste from tourism that crosses its doorstep. Hara House's goal is to achieve 90% diversion from landfill and refuses to buy and products wrapped in plastic, and helps their guests to do the same! The guesthouse is also working towards 100% solar power by 2021.
Hara House is located just steps from Bikaner's city centre and Junagarh Fort, and offers simple basic doubles and dorm style accommodation.
For more info & rates at Hara House, click here.
Chandelao Garh (near Jodhpur)
Around 40km outside of Jodhpur, Chandelao is a beautiful grand house, transformed into a luxurious homestay – and comes highly recommended! If you stay here, we highly recommend taking a trip around the village with Chandelao's local guides for an insight into desert life.
Chandelao Garh is the home of former generals of Marwar (as the region of Jodphur, Rajasthan, was once known). The main part of the house was built in 1744 and has been well looked after to retain its charm and beauty. Chandelao is the ancestral home of the rulers of Chandelao village and the surrounding area and is still run by the family today.
Alongside the homestay, Chandelao is home to Sunder Rang arts and crafts centre. The centre provides employment opportunities to women from Chandelao village and beyond.
Women apply to come and work at the centre to make handicrafts (which are sold to visitors of Chandelao and beyond). 60% of the profit of each product sold goes directly to the woman who made the item, the remaining 40% towards running costs for the centre. Sunder Rang centre provides optional schooling programs for the ladies that work there, providing the opportunity to learn languages or study at the computer centre next door.
For more info & rates at Chandelao Garh, click here.
Eco Resorts in Madhya Pradesh
Jungle Book central, Madhya Pradesh is the place to come if you want to try your luck searching for India's regal big cats on a Tiger Safari, and is home to some of India's best National Parks and Tiger Reserves. Make sure you book ahead, especially between November – February as accommodation and jeep safaris book up fast on a fist come first served basis (all tiger reserves have a maximum quota of visitors per day).
Pench Tree Lodge (Pench National Park)
Recommended by Abbie of Speck on the Globe
Spend your evenings after a safari sleeping in a tree house in the Jungle! Pench Tree Lodge not only is comfortable, but they are conscious about the environment. There are 6 cottages and 6 treehouses, making the property feel peaceful and exclusive without being overcrowded. The treehouses are a perfect unique accommodation experience. They are constructed around existing trees, with the utmost care not to disturb the wildlife.
The buildings at this boutique property are made from reclaimed or locally sourced materials. The Lodge is located in a more underdeveloped area adjacent to the park, helping to spread tourism economy while still being mindful of the original residents of the region.
The commitment to the environment is clear from check in at the lodge. There are reusable water bottles provided with clean drinking water stations placed throughout the property. Small details like organic, refillable toiletries in the bathrooms are noticeable during a stay here. The property has an on site garden and the menu is reflective of seasonal ingredients that are grown just steps from the kitchen.
Safari tours through Pench Tree Lodge have conservation efforts as their main goal. The jeeps are small and a naturalist accompanies each vehicle to the park so that you can learn more about the park and its inhabitants. Along with the guide, the naturalists makes sure that the cars are following the rules of the park and are there to ensure safety for the animals as well as the guests. Their knowledge and commitment to conservation is what makes them stand out above the rest.
Click here for more rates & info for Pench Tree Lodge!
Kanha Earth Lodge (Kanha National Park)
Kanha National Park and Tiger Reserve is thought to be the original inspiration for Rudyard Kipling's book, the Jungle Book. If you're intent on living out your own Mowgli fantasy, Kanha would seem like the natural place to start.
So perhaps it's no surprise that Kanha National Park gets busy and books up quickly. If you're planning on visiting Kanha, we recommend booking your accommodation and safaris several months in advance. Many of the area's lodges can help with booking your safaris directly.
Adjoining the buffer zone of Kanha Tiger Reserve, Kanha Earth Lodge offers a true wilderness experience – close to the park, but away from many of the Kanha resorts that surround it.
The lodge has 12 luxury bungalows which have been inspired by Gond tribal architecture. They offer environmentally sensitive, low-impact accommodation through their design and use of local stone and waste wood, while the absence of neighbouring lodges or highways creates an ideal setting for nature walks, birding and cycling trips through the surrounding forest, so you can see plenty of wildlife from the Lodge itself!
For info & rates at Kanha Earth Lodge, click here.
Eco Resorts in Maharashtra
Often overlooked by visitors (apart from Mumbai, perhaps), Maharashtra has more than its fair share of beauty, and some game-changing sustainable lodges and hotels, too.
Abode Bombay (Mumbai)
More one for urban jungle lovers, Abode Bombay is a boutique hotel that has done everything in its power to keep its environmental impact low and its social impact positive. The hotel has introduced a number of sustainable initiatives, from eliminating plastic to recycling soap ends in partnership with the Kalwa-based Sundara Fund.
The hotel employs local guides, partners with a firm of all-women taxi drivers, and works with the national association of the blind to work with their therapists for the hotel's spa offerings.
Abode is a welcome retreat in the beautiful – but sometimes crazy – city of Mumbai.
For info & rates at Abode Bombay, click here.
Maachli (Sindhudurg)
Award-winning Maachli is a rustic retreat-cum-farmstay in the depths of Maharashtra, on the beautiful (and as yet little known) Konkan coastline. Less than 50km north of Goa, this part of India has lots of the lush greenery and coastline, but without the Goan crowds.
Maachli is designed with the concept of bringing man back into union with nature, and it manages to do just that. This is a place for embracing the simplicity of life, rather than expecting all modern conveniences. Simple A-framed huts are designed in a way to maximise the breeze as natural air conditioning (rather than the electric alternative), and the activities here extend to going for a walk, appreciating the plants, learning about pottery making, or simply sitting back and reading a book.
We challenge you not to be rejuvenated by a few days at Maachli.
For info & rates at Maachli, click here.
Eco Resorts in Goa
Despite its fame for partying and just soaking up the sun, there is a more sustainable version of travel in Goa, too – one which embraces the lush jungles and cultural diversity that is found here.
Yab Yum Beach Resort (Ashwem)
The owners of this garden-like resort, right by the beach in Ashwem might be modest about their environmental achievements, but this is one of our favourite eco-minded resorts we have stayed at in India.
The high-end mud-hut like rooms are built from local mud and clay, painted in a beautifully comforting shade of dark red inside and thatched with local palms, to provide a cooling place to sleep (no air con required) that feels nurturing to the soul. Not only does it leave no environmental trace, but it's scientifically proven that sleeping surrounded by natural mud is good for you.
The resort doesn't have a pool (that's called the Arabian Ocean, about 100 meters' walk from your bed), and the emphasis here is on tranquility and yoga. There are daily yoga classes (which were medicine for our limbs that were tired from travelling), and most early mornings you can have Ashwem beach to yourself.
Ashwem is located within easy access of Arambol, Morjim and Anjuna for those looking for more action.
For info & rates at Yab Yum, click here. 
Wildernest Resort (Chorla Ghats, North Goa)
Wildernest could be said to be one of the few places in Goa where you can hear silence.
Located well away from the coast up in the hills and border with Maharashtra and Karnataka, Wildernest is a true nature retreat for those that really want to be away from it all (don't come here expecting wifi), but the rooms are modern and stylishly decorated. Nature takes centre stage whether it is from the resort's infinity pool that looks out over the ghats (hills), or on a hike with one of the resort's naturalists. There are also a number of hides here which make it the perfect spot for birding and wildlife enthusiasts.
Wildernest also runs a wildlife research and conservation facility which attempts to raise awareness about the wildlife habitats of the Western Ghats in particular and the environment in general amongst the local communities and villages of the region.
For info & rates at Wildernest, click here. 
READ: A Travel Guide to Goa, without the Crowds
La Mangrove (Galgibag)
Tucked away in the very south of Goa, south of Palolem, La Mangrove is a real "hidden gem". Not many travellers venture this far south in Goa – so if you want Goan beaches that are quiet and un-developed, this may be the place for you.
La Mangrove is a luxury 'glamping" resort with just six teepee style tents – which come with full size double beds, plush linens, power outlets to charge your phone, and even space to hang your clothes inside. Private bathrooms are a few meters away with composting toilets and wonderful outdoor rain-showers.
The resort itself is located a few minutes walk from Galigbag beach "turtle beach", on the banks of the Galgibag River. Wake up to views of the serene mangroves and river and enjoy time to relax away from Goa's crowds.
For info & rates at La Mangrove, click here.
Eco Resorts in Karnataka
Less visited than the neighbouring states of Goa and Kerala, Karnataka is an important region in India for bio-diversity, with some of the last remaining virgin forest in the country. For wildlife enthusiasts craving a little peace and quiet, Nagarhole and Bandipur are national parks you won't want to miss.
Bandipur Jungle Lodges (Bandipur)
Recommended by Sinjana from Backpack n Explore
Started in 1980, Jungle Lodge Resorts group is a Public-private partnership (PPP) of the Karnataka government and Tiger Tops. This is the first eco-tourism venture in India, and they have many branches in exotic locations of Karnataka. I stayed at one of them which is in Bandipur. It is in a serene area near the jungles of Bandipur and organizes ethical safari tours for boarders. The packages are at the per-person level including lodging, meal and safari. We booked a twin-sharing room and were pleasantly surprised to see they were independent cottages in the lap of nature.
Each the cottage was named after an animal found in Bandipur forest and had exquisite wall paintings of the same. Rooms are clean and spacious but do not have Television or air-conditioners. However, because of the way they are built and the green cover of the surroundings, we never felt hot inside the room, even in summer. They provide three meals per day, and evening snacks. I loved the quality of food, thought options are limited. There is a hammock outside each cottage but beware of the monkeys around. As a part of the basic safari package we also got a chance to enjoy a documentary about the life of a tigress in the Bandipur jungle.
For info & rates for Bandipur Safari Lodge, click here.
Red Earth Kabini (Kabini, near Nagarhole)
Red Earth Kabini is an unpretentious resort on the back waters of the Kabini dam and in close proximity to Nagarhole tiger reserve.
Described as "as close to silence as you can get", Red Earth is for those who want to deeply relax and surround themselves with nature. There are 20 well spaced out cottages here, complete with your own private jacuzzi for stargazing! The resort helps you organise jeep safaris and walks with naturalists, both around the property and in the Nagerhole reserve.
Red Earth are a small group of hotels that were founded with the commitment to sustain the environment around them as well as the local community. The focus is on local: Local people, local produce, supporting local arts and crafts that are at risk of dying out, and sourcing from local fishing and farming communities.
The group support and run Nilgiris Wayanad Tribal Welfare Society (NWTWS), an NGO working in the field of health, education and community development in the forested areas of the Nilgiris in Wayanad by running schools for tribal communities and helping provide medical care.
For info & rates for Red Earth Kabini, click here.
Eco Resorts in Kerala
Referred to as "God's own Country", Kerala is not short of charms, and it's not a surprise that it's one of India's more popular regions for travellers. Parts of Kerala, though, have been feeling the burden of tourism, and we recommend staying at one of these eco resorts that care about their impact if you can – especially when in or around Kerala's delicate backwaters ecosystem.
Spice Village (Thekkady)
Nestled up in the hills (western ghats) in Kerala, Spice Village has been recognised again and again for its pioneering sustainability efforts. When it comes to sustainable luxury resorts in India, it's hard to beat Spice Village.
Located in the perfect position for visitors interested in exploring Thekkady and visiting Periyar National Park (or just cooling down from the humidity of the coast), Spice Village is feel good luxury at its best. The resort is designed around the concept of a traditional Keralan spice village, with every guest room laid out as a private bungalow within the grounds. The grounds itself are full of tropical vegetation and wildlife (as well as an organic garden), and the resort has naturalists on hand to show you around.
READ: Kerala Travel Guide – The Best of Responsible Travel in Kerala
The resort houses a huge solar plant which provides nearly all of the resort's energy, and the emphasis here is on self-sufficiency. Spice Village grow their own food, use ayurvedic, natural cleaning products, make their own soaps and even paper too.
For info & rates for Spice Village, click here.
Spice Coast Cruises by Coconut Lagoon (Kumarakom)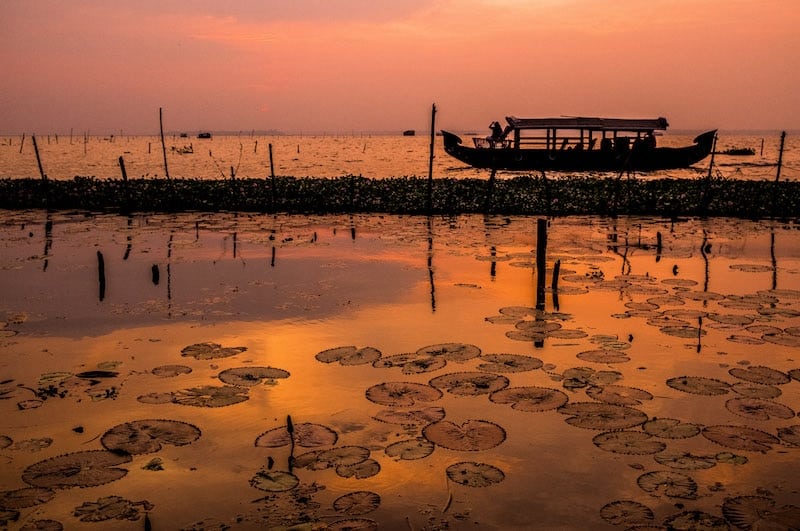 Nestled along the shores of Lake Vembanad, Kumarakom is one of the leading places in Kerala for responsible tourism and is one of your best bets for experiencing the Kerala backwaters in a way that supports the local environment.
Houseboat tourism on Kerala's backwaters has been at the centre of controversy among local communities, who are feeling the effects of polluted water thanks to houseboat fuel, waste and noise pollution from a huge number of boats plying the water blaring loud music. CGH Earth, who run the serenely beautiful Coconut Lagoon Resort have developed a more sustainable version of the houseboat too: A traditional Kettuvallom (rice barge) that operates using a mixture of solar power and vegetable oils in order to mitigate environmental damage.
For info & rates for Spice Coast Cruises, click here.
Vythiri Resort (Wayanad)
Recommended by Imma from A World to Travel
These days – motivated by the popularity of all things eco-friendly – many hotels claim to be responsible, when the truth may be a little different.
I visited Vythiri Village in 2014. Back then, it was already a luxury resort classified as responsible. And so it seemed to me. In the middle of a lush forest near Wayanad, in the popular Indian state of Kerala, Vythiri stands as a haven of peace, in perfect communion with nature. There are hanging bridges that cross rivers, cabins in the trees, a menu adapted to the reality of the area, local workers, and a construction that respects the materials of the area.
"Tread softly, you're entering nature's home ground" is Vythiri's motto, which is fitting for a thoughtfully designed resort located in dense, tropical rainforest on the edge of the Nilgiri Biosphere Reserve (which contains the Nagarhole and Bandipur parks over the border in Karnataka).
Accommodation here is made up a range of tree houses, pool-side villas and suites, and some secluded cottages for a complete jungle hideaway experience. There's a spa, Ayurveda centre and a choice of pools to soothe your limbs after hiking around the property's grounds.
For info & rates for Vythiri resort, click here. 
ⓘ TIP: Planning a trip to India? Join our free India Travel Facebook group here!
Eco Resorts in Pondicherry
The former French enclave on India's south eastern coast is a world away from other parts of India, and has some hidden eco-gems, too:
Dune Eco Village & Spa (Pondicherry)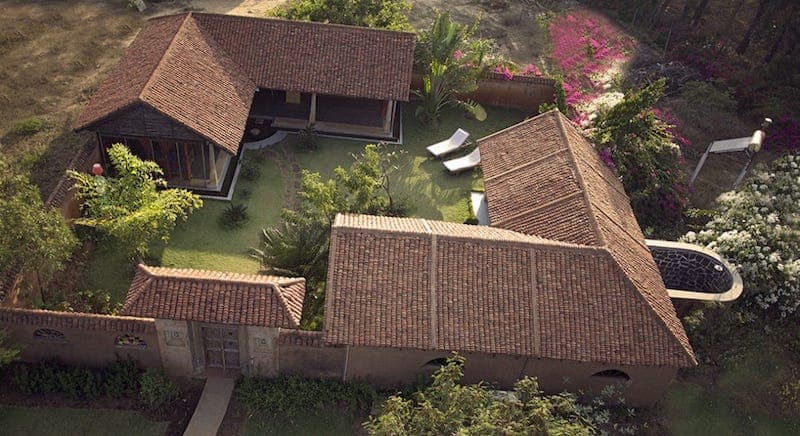 Recommended by Priya from Outside Suburbia
We have made several trips to India over the years and stayed at a few different hotels and luxury resorts. The simple yet serene Dune Eco Village and Spa resort in Pondicherry is by far our favourite.
It is a place of peace, a far cry from the fast-paced world and traffic-clogged Chennai were my family lives. There are over 50 bungalows of which no two are alike – each one is uniquely designed and created by various artists, designers and architects from all around the world are on a 35 acre beachfront land. The bungalows bring together luxury and natural living. They are reclaimed from Colonial houses, Chettinad palaces, and Kerala planter's mansions. The bungalows are fully equipped with solar water systems and organic linen. They even had an outdoor shower which was fun.
The 2 restaurants in the resort serve healthy gourmet fusion food, prepared using organically farmed vegetables. The Spa at Dune offers Ayurvedic treatments, yoga and meditation as well as many alternative therapies.
Dune Eco Village now even has a Deepak Chopra Healing Center inside which offers Ayurvedic treatments and yoga and meditation, as well as many western massages and hot water therapies like Water Shiatsu and Water Yoga. I can vouch that the Ayurvedic massages are the most relaxing ever had during my travels and my kids to this day remember and rave about the activities at this eco-resort.
For info & rates for Dune Eco Village, click here.
Eco Resorts in North East India
North East India is little wandered in comparison to the rest of the country, and is culturally diverse from many other parts of India. Here nature rules, with organic farming widespread, bridges made from tree-roots, and lush monsoon wetlands. Big-hitter Kaziranga draws visitors to Assam, with hopes of spotting its famous Rhino.
Diphlu River Lodge (Kaziranga, Assam)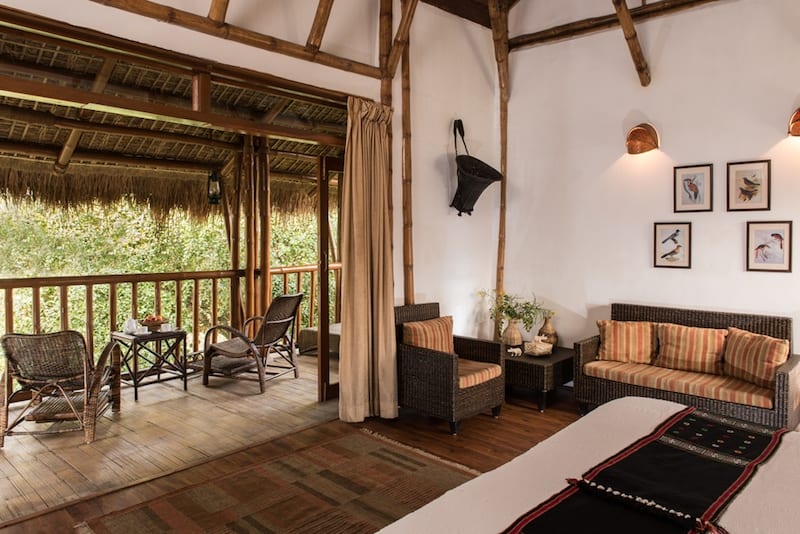 Fit for royalty (literally – even Wills and Kate have stayed here), Diphlu River Lodge is a much acclaimed haven of calm and natural beauty in North East India, close to Kaziranga National Park.
The resort has a casual, laid back but intimate environment with a focus on appreciating the surroundings. There are 12 cottages, all beautifully made with natural materials such as wood and bamboo, and thatched with palm leaves to blend in seamlessly with the surroundings. They also practice organic farming and a number of waste reducing methods, such as composting and grey-water recycling.
The lodge has its own trained team of naturalists who accompany guests on visits to Kaziranga. Alongside jeep safaris in the park, the resort also arranges river trips to see river dolphins, river cruises on the Brahmaputra, and tea garden visits.
For info & rates for Diphlu River Lodge, click here.
La Maison de Ananda (Majuli, Assam)
Located on the biggest river island in the world, Majuli is an island on the Brahmaputra river which – despite concerns about its erosion and ultimate disappearance – is a serene corner of India to unwind in, and as yet sees only a trickle of travellers.
La Maison de Ananda is the first and best loved guesthouse on the Island. Literally meaning "house of happiness", it's not hard to see why. Constructed on stilts with timber, the guesthouse belongs to a local tribal family (the Mishing tribe), and the house has been built in their traditional style. It's a simple affair, just like the laid back way of life on this island.
For info & rates for La Maison de Ananda, click here.
Kohima Camp, The Ultimate Travelling Camp (Nagaland)
Set up for summer each year for the Hornbill festival, Kohima camp is a luxury tented camp set up in the forest wilderness, lending a touch of glamour and luxury to enjoying staying in beautiful north east India's outdoors.
The tents are large and come with en suite luxury bathrooms and verandahs. Each tent is boasts a large four-poster bed, colonial style desks, chairs, sofas and armchairs and large cupboards. Each camp has a Reception Tent and a Dining Tent, with the former equipped with an extensive library and board games and the latter offering local, Indian and international dishes made from locally sourced ingredients.
The camps offer guided, immersive tours ensuring that guests get an insider's experience of Nagaland, its traditions and cuisine. Perhaps the perfect place to fully experience nature in the region.
Click here for more info and rates for Kohima camp!
Eco Resorts in Himachal Pradesh
The Wanderer's Nest (Chitkul, Kinnaur)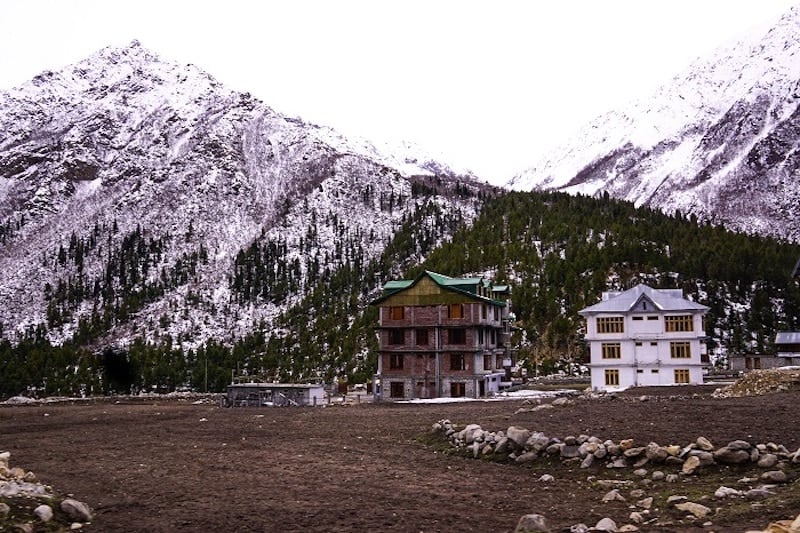 Recommended by Pashmina from The Gone Goat.
If you ever solo travelled to Northern India, you will come across quaint villages like Chitkul in the Kinnaur region of India under the shadow of the Himalayan ranges. Staying in an eco-friendly lodge like The Wanderer's Nest in Chitkul provides you an experience of living in the last inhabited village on the old India-Tibetan border.
It is not a place where one can simply expect modern amenities but you can be assured of the simplicity of the lodge and the most scenic river – the Baspa River covered with huge oak and pine trees.
The lodge focuses on offering creative musicians, writers, artists and other people in similar fields an opportunity to reconnect with nature with its trekking and fishing activities. During the day, it feels freeing to hike to the Baspa river valley, engage with the the local tribes' people in nearby Raksham village under the cherry blossom trees, and even go fishing for trout in the river.
The lodge focuses on offering an experiential-oriented stay that complements the nature and its work through human creativity with your only companion, the solitude of the Himalayas. The lodge keeps to its eco-friendly ways in respecting the environment an offering a humble abode in the Himalayas without destroying the environment. Annual events like the Artists Meet are held to gather all creative thinkers in the Baspa valley.
For info & rates for The Wanderer's Nest, click here.
Eco Resorts in Ladakh
Referred to in tourism literature as the roof of the world, Ladakh can't fail to impress. It's popularity as a destination has been steadily increasing, but the ecosystem of Ladakh – as a mountain desert – is delicate. The best way to explore Ladakh is on foot, on one of its stunning treks, or shoulder to shoulder with locals travelling to and from Leh in a bumpy bolero (share taxi).
Nubra Eco Lodge (Nubra Valley)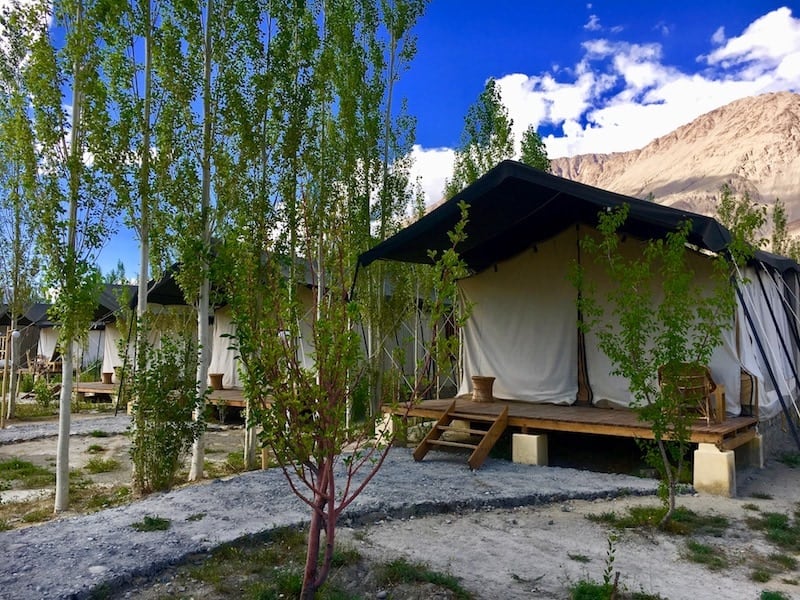 At a comfortable 2,700m altitude (compared to the surrounding areas that is), Nubra Eco Lodge is nestled into Nubra's sandy valley with stunning views onto the Karakoram mountain range and desert valley. Wild apricots grow in the orchard, and much of the vegetables are grown on site in the lodge's organic garden.
In addition to the organic garden and low-impact tented accommodation, Nubra Ecolodge uses solar power for all its hot water (meaning deliciously hot showers on demand) to lower its environmental footprint. There is plenty of filtered drinking water available, meaning you can happily forget buying plastic bottled water (and use a refillable bottle instead). The lodge does its best to encourage guests to drink the fresh Himalayan filtered water as opposed to adding to Ladakh's plastic waste problem through buying bottles.
For info & rates for Nubra Eco Lodge, click here.
Nimmu House (near Leh)
Located in the small village of Nimmoo about 45 minutes outside Leh, Nimmu House is a seamless immersion into Ladakh and its culture. Nimmu house is a heritage home, that once belonged to the royal family of Ladakh. This hotel is part of restoration project filled with passion (as well as a commitment to sustainability), driven by the goal to preserve Ladakhi culture in an authentic way, using sustainable materials.
Meals are cooked using authentic, local Ladakhi ingredients (a hot topic in Ladakh as local crops have gradually been replaced by thirsty rice fields), and there are four beautiful guest rooms inside the heritage house. Additional accommodation is in 7 luxury tents spread in the orchard that surrounds the house.
The hotel arranges a number of activities, from river rafting, trekking, guided village walks, to cooking workshops mountain biking.
For info & rates for Nimmu House, click here.
Eco Resorts in East India
Off the beaten path for many, East India from Bengal to Orissa and further south is far less known and explored by foreign tourists – reason enough to visit in our opinion!
Calcutta Bungalow, Kolkata
Located in North Kolkata, this beautiful period bungalow is full of charm, character and little touches that make a stay here every bit a warm and memorable experience. With only 6 rooms, this Kolkata hotel is a bit of a secret and is run by the founder of Calcutta Walks. All the rooms face onto a courtyard in the centre of the house.
The hotel is located in an old Kolkata neighbourhoods that is made up of closely-knit communities, making this somewhere to experience the "real Kolkata". The hotel provides bicycles to explore the neighbourhood, and the ghats (steps) of the Hooghly River are a 10-minute walk away. Or you can opt to join one of the tours offered by Calcutta walks.
Click here for more info & rates for Calcutta Bungalow!
Where's your favourite eco resort in India? Let us know in the comments below!
Read more about India on Soul Travel:
Favourite India Group Tours – Itinerary Guide
The Best Travel Insurance for India Travel
Pin this Post on Pinterest: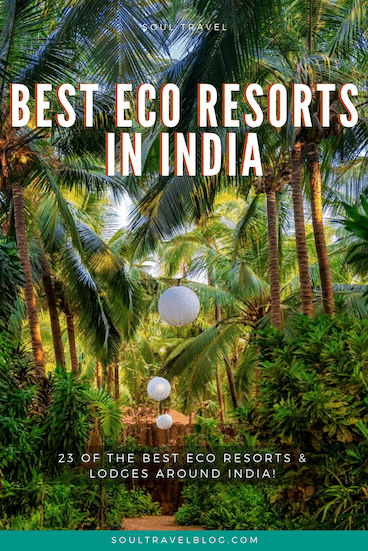 [activecampaign form=3]