Travel in India is not without its challenges, and solo female travel in India perhaps more so. Should you travel solo in India as a woman? I take a look at why I think India is an amazing destination to visit – and how to be smart as a female traveller there.
This post may contain compensated affiliate links – please see our full disclosure for more info.
Solo Female Travel in India: Your Guide
If you've read a few of my blogs already, you'll know it's no secret that I'm a big fan of travelling around India by myself – female solo travel India may not always be easy – but it really is worth it – in my view.
There's no denying that unfortunately India has not always got the best image as a travel destination. Mention that you're travelling there as a woman, alone, and you're likely to get some raised eyebrows, wherever you live in the world.
It's also undeniable that it's far easier to travel in India with a man or as a man – even as a solo male – which is why I'm dedicating this post to women travellers contemplating a trip to India.
One of the most frequently asked questions in my Facebook Group is "Is India safe for solo female travellers?"
The answer to this question is nuanced, and is why I've written a whole series of guides plus a workshop on safe travel around India for women.
What I will say straight off, is if you're looking for adventure, culture and are willing to experience India with an open mind – you might just find yourself agreeing that there's no better place to travel to as a solo woman.
Despite the negative press that India gets as a travel destination for women, it's worth noting the statistics don't all add up. Statistically, when you look at the stats for various nationalities needing assistance while abroad for assault or sexual harassment, India is way down the list – after the USA, France and Thailand. For every headline about a female tourist getting into trouble, there are thousands of visits that are trouble-free. It's actually local women who have to put up with far more hassle than foreign visitors.
That said, solo female travel in India is not for everyone. I'll help you work out if it's for you in this post!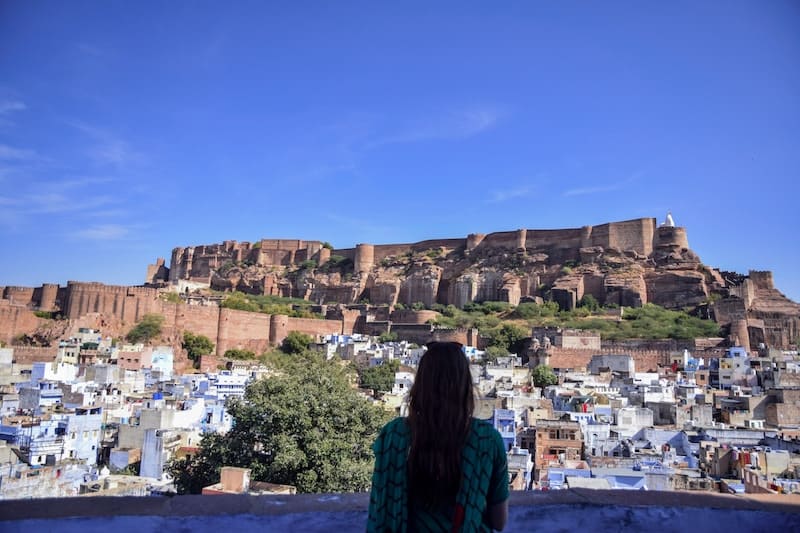 As someone who's travelled around various parts of India solo over recent years, subsequently to meet my fiancé in Mumbai, and then travel with him, I've experienced some of the highs and lows of India solo female travel myself, too.
This guide looks at what you need to know about travel for women in India, how to decide if it is right for you, my top tips for solo female travel and how to stay safe in India, as well as the perspective of Indian solo female travellers.
Why is Travel in India Different for Women?
Like other countries in the region, India's society is still patriarchal and traditional (especially in rural areas) although things are changing (modernizing) very fast.
Men have long called the shots in India – like in other parts of the world. But in India, the population imbalance, with many more men than women, adds to the strong patriarchal feeling of society here.
The traditional place for women was in the home, out of sight and out of trouble, as it was in most "western" societies until the 60's. Only, this culture has endured longer in India, and although a record number of women are now working and have the freedom to choose more what they want for their own life, there are elements of the traditional ways that run deep. Despite the number of women working full time, not many Indian men are learning to cook.
Stay at home Dads are not really a thing. Yet.
As such, women in India did/do not have much free time, and the idea of travelling (especially solo) was something of a foreign concept – but this has rapidly been changing in the last couple of years.
In parts of the country there's a hugely disproportionate ratio of men to women.
Which means a lot of men to fight for a woman's attention.
Things are changing fast, you'll find women calling the shots and holding the top jobs in many a fortune 500 company. Women are also travelling – more and more – by themselves, and are choosing to marry later (if at all) in favour of enjoying their own life.
Conversely, in some rural societies child marriage is still an issue, and in places it's a fight to persuade families to let their girl-children to go to school.
During my travels alone in India I've had many well-meaning Uncles tell me it is "not advisable" for me to be travelling alone. Whereas a man would probably get a handshake.
Much as it can be difficult for foreign women travelling in India alone, it is arguably much harder for Indian women – who receive less "foreigner privilege" and are expected to tow the line and put their families above their own desires to travel around their own country.
Is Solo Female Travel in India Right for You?
India is not Bali. It's not Italy either.
It's not the sort of place that's easy to just show up, un-prepared. And it's not the sort of place where you can travel without being willing to adjust your own behaviour for your time there, if you're the kind of soul who likes to be able to dress as you want and walk wherever you want late at night.
India favours those who adapt and persevere, but the going can be challenging from time to time.
In different places in India I've looked around the streets of an evening and realised there was not a woman in sight: A cue that I, too, would be better off eating dinner in my hotel rather than wandering around.
As a woman travelling alone in India, it's also not necessarily the place to embrace your inner feminist and decide that you can wear those micro-shorts after all, regardless of what people think. It's just not worth the hassle.
To enjoy travelling India as a solo woman, I recommend:
Having some experience of travelling solo elsewhere in the world, preferably outside of Europe and North America.
Being prepared to cover up and dress conservatively (that means covering your legs, your shoulders, and everything in between).
Being prepared to accept that sometimes you will get ignored if there are men around – they may well all speak to each other and not to you.
Understanding that you will get stared at and asked questions that might feel rude (are you married, where's your husband, why are you alone, how old are you, why don't you have children…)
Not getting publicly outraged about the patriarchy. I'm not saying you have to agree to it, but it's best to avoid making a scene.
Being able to move past a bad experience if you do have one. Men may try and 'brush' past you, make lewd comments or even try to grab your butt. Get angry, report them if you can and move on but don't let it ruin your experience of beautiful India.
Think you can deal with these things or feeling on the fence? Then read on!
READ MORE: What to Wear in India.
If solo female travel in India doesn't feel quite right, then why not join a small group tour? We recommend G Adventures India tours as a great way for experiencing India with some ready-made friends along the way.
Browse G Adventures India Tours here!
Solo Female Travel India – Times are Changing
Over the last 2-4 years there has been a very noticeable shift in attitudes towards solo female travel to India. Whereas even 5 years ago, it would have been much harder for travelling India alone female options because of the perceptions projected within India that "it's not safe", times are rapidly changing and you'll now find many more solo female travellers in India – both local women and foreigners.
Thanks to the increasing uptake in solo female travel among Indian women, travelling to India alone as a woman is becoming easier, more widespread and more and more accepted. You'll find many urban Indian women travelling by themselves, although solo female travel still remains out of reach for women from more rural, traditional communities.
Given the increasing prevalance of solo female travel around India (although to be clear it's still not the norm), it's easier to meet other solo female travellers in popular tourist destinations, and you'll stick out less in some areas – which all makes it a bit easier.
Essentials for Solo Female Travel in India
Unlocked mobile phone – to put your local SIM card in when you arrive
Cotton or light Scarves (to cover yourself when need be e.g. entering temples)
Travel Insurance – essential!
Guidebook / Digital Version if you're travelling light (information is power!)
Dark sunglasses (for avoiding eye contact with would-be Romeos)
A good book (for ignoring would-be Romeos)
A dose of feisty confidence! (comes from within ;-))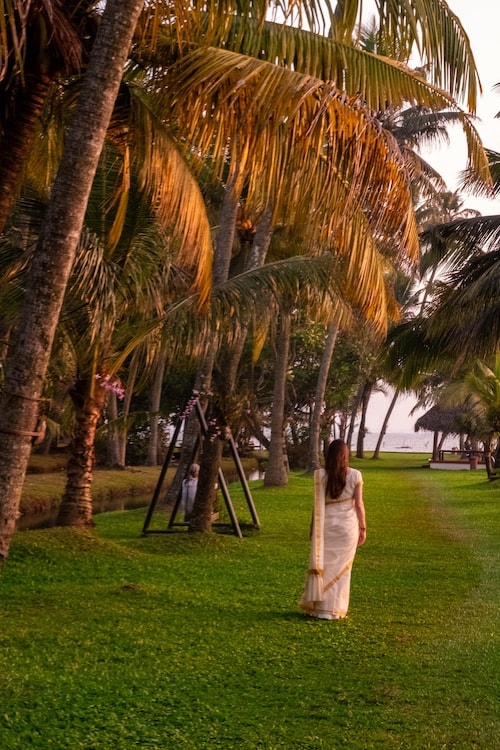 Tips for Solo Female Travel in India – Advice for Safer Travel
Here are some of the tried and tested tips I stand by, that I've learned from others and picked up along the way on my own journeys. They've made a big difference and I hope they can help you, too!
1. 99% of People in India are Good. Most importantly: The vast majority of Indians are incredibly warm, welcoming and kind. Guests are considered to be messengers of God in India, after all. As a traveller, people will often rush to look after you and will be curious about you in a friendly way. But, as a country with over a billion inhabitants, there are bad apples, and some people who will just try their luck to see what they can get – like anywhere else in the world.

2. Plan Ahead. As a solo female traveller in India, I don't advise winging it when you first arrive. Book your accommodation (at least for the first night in a place) ahead of time so you know where you are going to, book trains well in advance (1 month if possible) so you are guaranteed a berth in a good class of travel. You don't want to end up stranded somewhere after dark because you failed to plan.

3. Let Someone you Trust Know Where You Are. Let a friend or family member know your movements, where you are staying, etc and keep them updated.

4. Don't Scrimp on Spending. I recommend spending a little more and avoiding the cheapest of hostels and choose comfortable accommodation which is likely to be cleaner and safer. I don't recommend booking a mixed Dorm room in a hostel (which are full of men most of the time). Female only dorms are great and a good way to make friends. I book my accommodation in India on Booking.com and look for properties with a review score higher than 8 (usually), preferably from female travellers.

5. Don't Post Your Exact Whereabouts in real time on Social Media. I learned the hard way with this one, when someone actually turned up at my guesthouse after a Facebook post. General locations are fine but don't post things about your accommodation until after you've left, unless you have a fully private account.

6. Don't Share too Much with Strangers. In a similar vein I also recommend not sharing too much with strangers or people you've just met – don't tell them you're travelling alone, where you are going next, and especially not where you're staying.

7. If you are of Child-bearing Age or Above, it's easier to be "Married". When you're talking to urban middle-class Indians your own age, you can share your actual status, but when talking to guides, drivers, strangers, people you don't know, curious families on trains, etc etc it's generally easier to just say you are married, and it cuts down on dealing with would be admirers (of which you will have plenty!). If men start hassling you, it's good to say your husband is coming to meet you later, is waiting for you, or fake a call from your husband. You don't need to wear a wedding ring, as being married is the norm in India, people will believe you!
Pin it on Pinterest: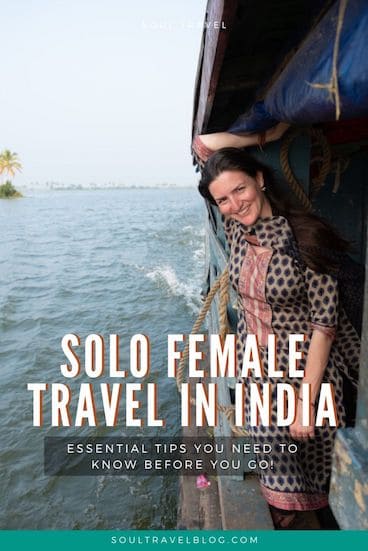 8. Get a Local Simcard. A local simcard in India is handy in so many ways. Avoid tuk-tuk detours, check which platform your train is going from, book OLA cabs and phone a friend and loudly read the license plate of a taxi driver out to them (so the driver can hear you) if you feel you need to. If your phone is locked, consider getting a cheap unlocked one for use in India. The easiest place to get a sim card is at the airport (Airtel has booths in Delhi international arrivals and some other airports).

9. Not all places in India are for Nightowls. Some cities in India are safe at night (e.g. Mumbai) but many are less safe for solo exploration (e.g. Delhi). During my time in Rajasthan, darkness would fall and all the women would disappear. In conservative states / areas I recommend eating dinner in your hotel/hostel instead of going out. If you're not sure, ask your hotel or other travellers for advice. If you do go out at night it's better to take a taxi (not a rickshaw/tuktuk) and always tell someone you trust where you're going.

10. Arrive in Daylight. Always try to reach a new city during the daytime, if you possibly can. Given India's schedules and long journeys, I know from experience that's not always possible. If you arrive in the middle of the night, there's a couple of things you can do: 1) book a nice hotel and arrange a pickup directly with the hotel. Make sure you have the driver's number, name and a clear arrangement about where to meet them and how you will identify it's actually them. 2) Bed down for a few hours until it gets light at the train station ladies' waiting room / other well lit public area of the station with plenty of women around if you are arriving by train. Train stations are policed and often busy at all times given the 24 hour nature of Indian Railways. Not exactly 5* but will keep you safe.

11. Get the Upper Bunk on Trains. This gives you more privacy. I recommend two tier AC (AC2) or three tier AC (AC3) if you're on a budget. I've taken 'sleeper' (this is the non AC sleeper class) during the day in south India, which was okay for a daytime short trip, but I would not recommend doing it at night. If you want to try non AC 'sleeper' then start off in AC and work up to it once you've found your India feet. Read more tips for train travel as a woman here.

12. Check your Door (and Room). If you don't feel a lock on your hotel room door is secure, it probably isn't. I recommend carrying a rubber door-stopper/wedge with you and stick it under your door from inside if need be as extra security. It has been known for there to be peep-holes in budget hotels – have a look around your room on first arrival to have a quick check for anything, and if you don't like it switch rooms or hotels. Trust your gut.

13. Don't wear Swimwear off the Beach. In Goa and at resorts / hotel pools bikinis are fine, but don't walk around outside these areas without covering up. It causes offence to locals and you never know who's watching. On local beaches swimming in clothes or with a loose t-shirt over your swimwear is advised. On that note, never sunbathe topless – there are guaranteed to be men hiding in the bushes even if you can't see them!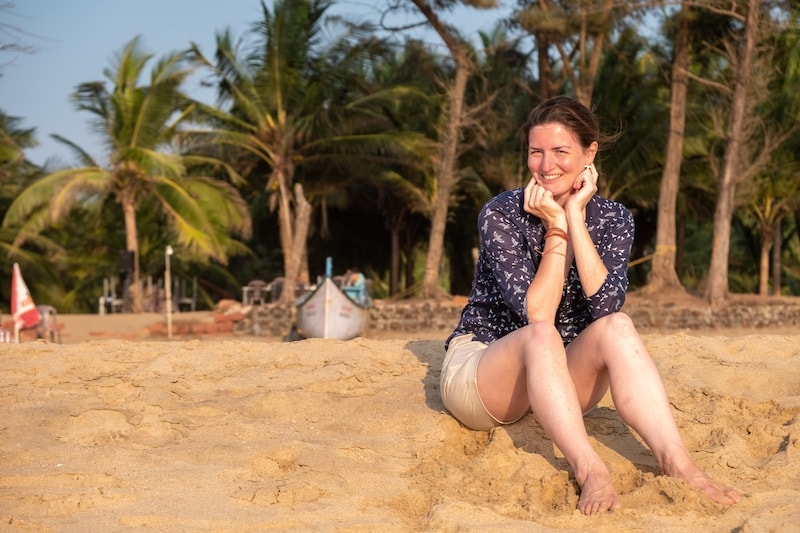 14. Men don't Massage Women in India. When it comes to Ayurveda or spa treatments in India, treatments are generally performed by the same sex. If a man offers to massage you, something's probably up – say no or request a woman.

15. Be Guarded / Reserved when Needed. It's not generally normal for men and women who don't know each other to strike up a personal conversation and share a lot of information. Women tend to be more guarded and speak limitedly to men they don't know. If a man you don't know is being very friendly, he probably doesn't just have friendship on his mind.

16. Feel Free to Stare Back. You'll quickly find that many men stare at you (especially if you look non-Indian), feel free to give them a deathstare back and then turn away. Let them know through your eyes that you aren't afraid to give them a good kick between their legs if need be – confidence rules. I was advised often to avoid eye contact, which can also work, but in some cases, a hard stare can cut the nonsense quicker if you're in a place where you feel physically safe.

17. Pack your Confidence. There's no need to be over polite in India, especially if people are crossing your boundaries. If a man tries something, shouting and creating a scene is a great strategy. Report perverts or ask a family or others for help if need be. You'll also need sharp elbows for jostling your way through Indian crowds 🙂

18. Establish clear Boundaries. Calling men Bhai (brother) or Kaka (uncle) can help to establish that you have a respectful, platonic relationship with them. Works well for distancing. Avoid hugging men you don't know well / kissing on the cheek. If you want to keep people at a distance simply waving hello/goodbye works well, or putting your own palms together in 'namaste' as a greeting.

19. Be Selective with the Selfies. Selfie culture is huge in India, especially with foreigners. You'll likely get inundated with requests at monuments and tourist sights. Personally, my policy is to say no to single men or groups of men but yes to families and women/girls. Some women allow one single photo with a group of men. If you do have a selfie with a single man, said selfie will likely be circulated on whatsapp to all his friends with you featured as his new "girlfriend". If guys get super annoying, turn your phone on them and video them…they may suddenly get camera shy!

20. Trust your Intuition. India is often said to run on intuition, and I recommend exercising yours as a traveller too. If a situation, person or place doesn't feel right, trust your gut. Leave. Make an excuse. Find a family to latch on to. It's much better to spend a few extra rupees if need be, or be "rude" to get out of a situation to feel safe than stay somewhere you're not feeling good.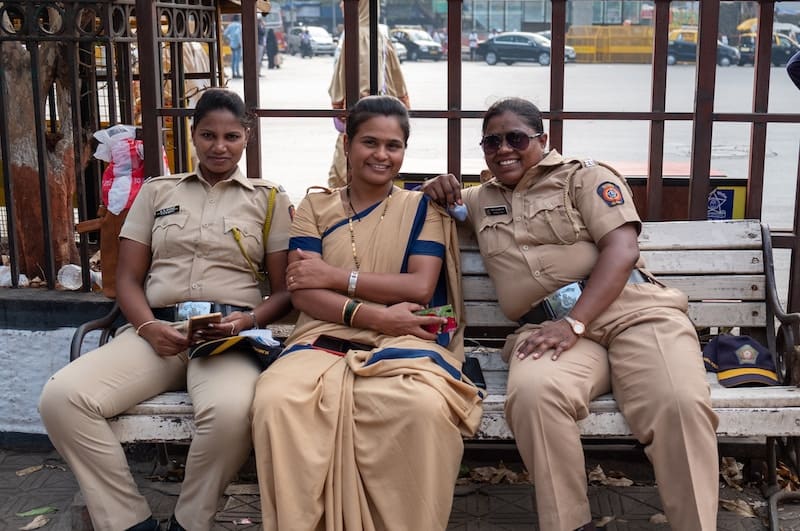 21. The Most Touristy places tend to be Higher Hassle. It's no accident that Agra, Delhi and Jaipur tend to be some of the harder places for solo female travellers. The culture is more conservative, these cities are big and noisy, and the high number of visitors who don't have much time but do have plenty of money (and don't always dress in accordance with Indian customs) means they can attract people looking to take advantage. I suggest visiting these places at the end of your trip once you've got your India shoes worn in. (See below for suggestions of where to visit first).

22. Leave the Pepper Spray at Home. I never suggest taking weapons with you. Instead, if you're feeling nervous about your trip and want to boost your confidence, you could learn a few self-defence moves or take a self defence course.

23. Trust your Karma and that you are meant to be here. India also runs on karma. I've found that maintaining a positive outlook and generally believing that most people mean well, helps. It's certainly much better than being afraid of everyone I came into contact with! Like attracts like – give out positivity and confidence, and you may just find more of the same :-). If you feel yourself called to India, you are meant to come here.
ⓘ TIP: Travel Insurance is a must for India – we use and recommend World Nomads – Get your quote here!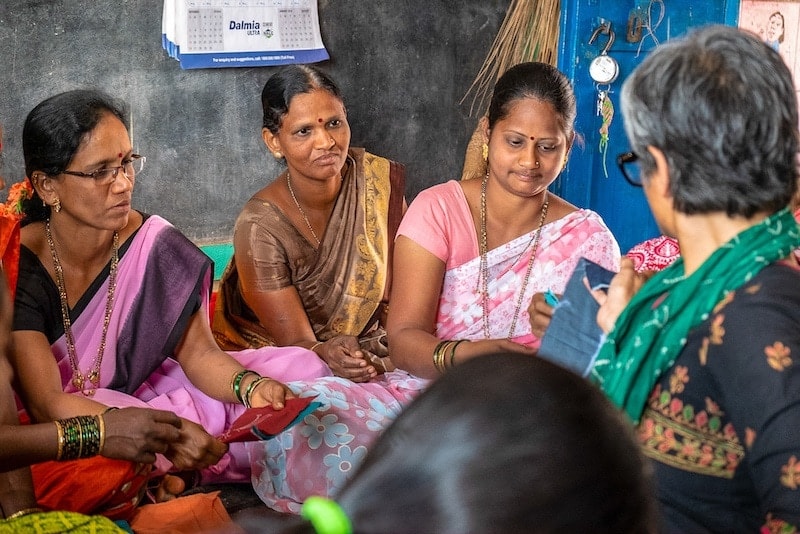 Why India is an Amazing Place for Solo Female Travel
With all of the things to be aware of for travel to India – is it really worth it?
For me (and many other women I speak to) the answer is a big resounding YES! If you're willing to put in the effort, India rewards. Perhaps like no other place.
Mastering solo female travel in India takes patience, practice, mistakes and guidance from others. Many travellers come away with a sense of achievement as well as delight at having been able to experience a country that many will never make it to.
To travel in India as a woman alone is to travel within yourself and get to know yourself on a deeper level, overcome fears and gain confidence to navigate through life. Patriarchy may be more visible in India, but, hidden, it influences most areas of our lives as women. Much as the Taj Mahal is beautiful (and any other of India's landmarks), the real beauty of travel in India lies in learning to trust ourselves in situations we have no reference point for.
You don't have to be alone in India if you don't want to be, either. Many travellers make it to India and there is an established traveller community & infrastructure in many parts of the country. Hostels in major destinations are a great option for making some travel buddies for part (or all) of your journey. Recommended traveller hubs: Rishikesh, Mumbai, Delhi, Kochi and the main Rajasthan towns such as Jodhpur, Pushkar & Jaipur.
India is home to Shakti – the divine female energy – and is home to many powerful goddesses too. Just as men are revered in India, so are women. And it's our job to remind the men of that 😉
As a woman travelling to India you are more likely to get a unique experience, too. You're more likely to be invited into homes, befriended by Indian women, and taken into confidence more than male travellers or mixed groups will be.
Recommended Places for Solo Female Travellers in India
I recommend starting with more female-friendly places in India if it's your first solo trip to India, and working up to the places that have higher hassle after you've got a bit of India experience under your belt.
Read my full list of women-friendly places to travel in India here!
Have you travelled as a solo woman in India? What tips did you find most helpful? Let us know in the comments below!
Planning a trip to India? Join my free India Travel Planning Facebook group here!
Read more about Travel in India on Soul Travel India:
Exploring the Rann of Kutch, Gujarat, in photos
Restoring connection with Indigenous culture at Kanha national park, Madhya Pradesh
Share this post with others / save for later on Pinterest!
Soul Travel Blog is a participant in the Amazon Services LLC Associates Program, an affiliate advertising program designed to provide a means for sites to earn advertising fees by advertising and linking to amazon.com, amazon.co.uk, amazon.ca. Amazon and the Amazon logo are trademarks of Amazon.com, Inc. or its affiliates.
[activecampaign form=3]