After several days exploring Kochi and Kerala's backwaters, the charm of the near 100% humidity started to wear off. We decided it was time to head inland and uphill, in search of some cooler air and new experiences.
We travelled by bus from Kottayam to Kumily (the nearest town to Thekkady), and almost enjoyed stunning views of hills, tea plantations and jungle as we climbed the ghat by road (there are a total of nine hair pin turns). Unfortunately for us, our bus driver seemed to either be running really late or just generally determined to drive in the craziest way possible. For more less of a "thrill", more comfort and view / photo stops – hire a taxi / private driver for the drive.
Arriving in Thekkady we were welcomed by a cooling breeze and a small town catering to tourists who come in large numbers to see Periyar Tiger Reserve – the main attraction of the area.
Things to do in Thekkady.
Most of the "activities" as such in this area revolve around Periyar in one form or another. We enjoyed strolling around town, sampling and haggling over the price of banana chips, and being at one with nature in our beautiful (and very sustainable resort) – Spice Village – more on that below.
Here are some of the things to do in Periyar (which is called Periyar Tiger Reserve and Periyar National Park interchangeably). Probably best to be clear on one thing from the outset though: your chances of seeing a tiger here are extremely low. Instead, spending time in Thekkady is a great opportunity to get back in touch with nature, unwind, and enjoy Kerala's beautiful scenery and wildlife.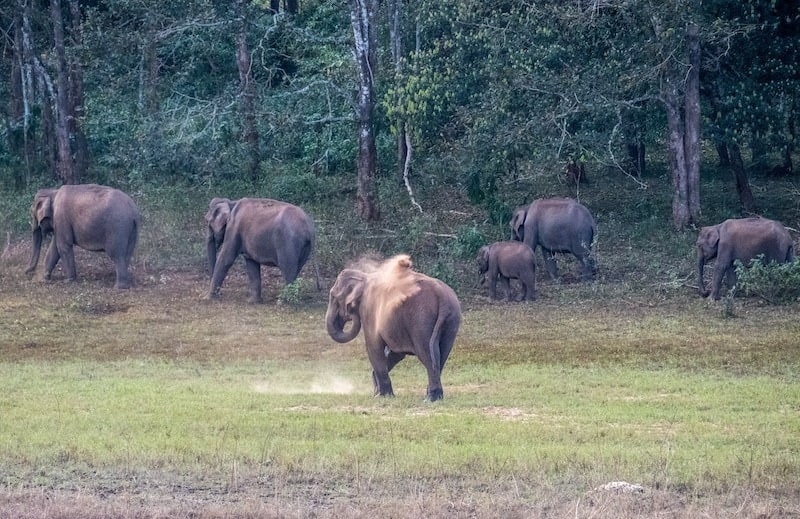 Nature Walks into Periyar – This was our favourite way to explore a small part of Periyar. One of CGH Earth's Naturalists from Spice Village introduced us to a local guide, who took us for an early morning walk into Periyar National Park. Yes – we walked into the tiger reserve. Periyar is unique in India in that it's one of the only parks that the public are allowed to walk into (escorted by a guide). Only a small area of the park is available to explore on foot (and perhaps luckily for us not the part where the larger / more dangerous wildlife are commonly found), and the walks are well managed.
We saw lots of birds, were pointed out different plant species, and had the opportunity to experience the early morning peace and beauty of the forest. We came across a herd of hungry (and apparently grumpy!) byson (wild buffalo) who had started brawling with each other. We hastily retreated backwards, marvelling at the noise and energy.
The nature walks are one of Periyar's community tourism initiatives – one of the best things about them (aside from experiencing a much quieter version of Periyar than you're likely to see anywhere else) is that they support tribal communities that live around Periyar national park. Guides are usually from these tribal villages, and the walks provide employment and direct financial benefits from tourism to the park.
Walks can be organised through your hotel or you can try directly at the entrance gate to Periyar, where the buses into the park leave from.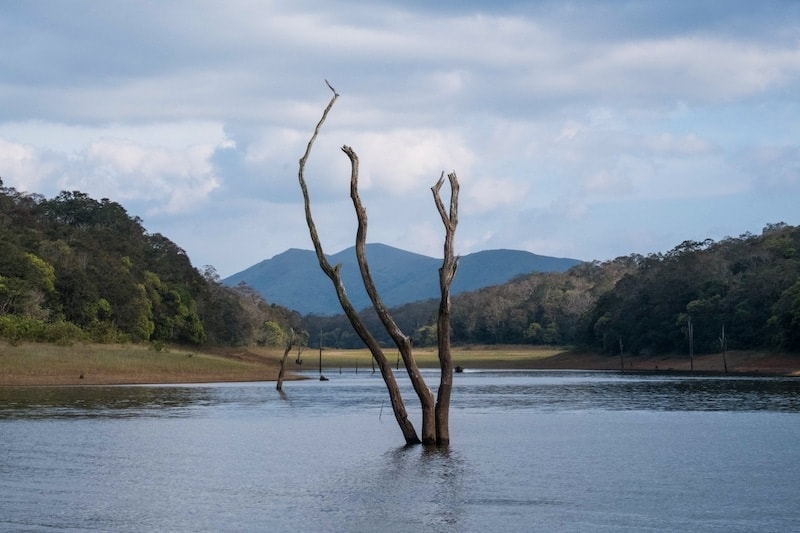 Boat Trips on Periyar Lake – There are boat cruises of Periyar lake that leave throughout the day – the last (and most popular) one being at 3.30pm. We were told that tickets had to be bought the day prior, but it turned out that if you go to the KDTC office inside the park, you can buy tickets on the day itself (turn up 1.5 hours early to buy). The Periyar Lake boat trips are the most popular activity in Periyar, and it was our least favourite activity during our time in Thekkady.
The boat trip is more of a cruise than an opportunity to see wildlife. Although we were very lucky and got to see a herd of elephants on the lake edges, we did not enjoy the boat trip overall – passengers were noisy and disrespectful – there was pushing, shoving and clashing of selfie-sticks to get on board the boats, and lots of shouting. Signs asking passengers to be quiet on board were ignored. Boat staff absent-mindedly threw their plastic bottles into the water. It's fair to say that the beauty of the lake and our elephant sighting was marred.
We regretted going on the Periyar Lake boat trip and do not recommend it.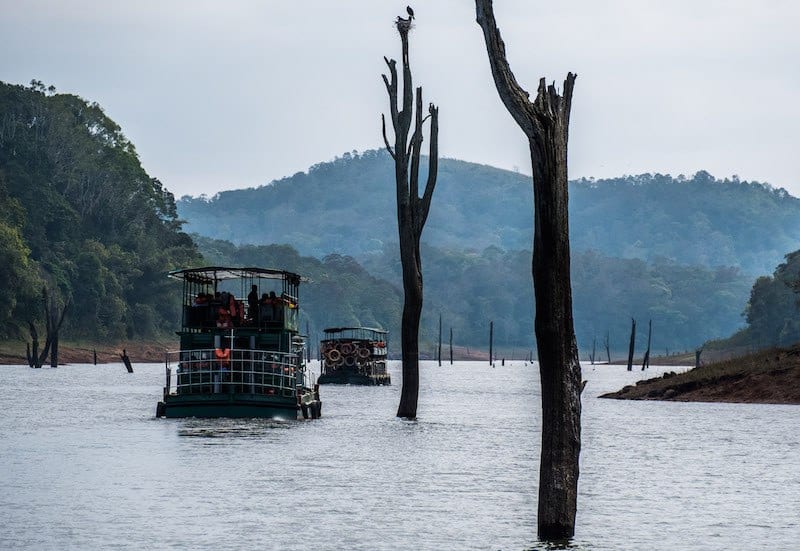 Rafting on Periyar Lake – As an alternative to the noisy and over-popular boat trip, a different option is to raft across the lake instead on your own bamboo raft. The rafts leave at around 8am and capacity is limited so book ahead! Rafts are accompanied by a guide as well as an armed forest ranger. If going back to Periyar, this would be our preferred way of exploring the lake.
Trekking – As well as the nature walks into Periyar (see above) a number of other trekking options are available into beautiful surrounding areas. Treks vary from one to multi-day, with the longer ones covering higher elevations and being more difficult. Treks are always accompanied by guides and armed forest rangers. Find out more information about treks via your hotel.
Support Tribal Heritage – Around the forests of Periyar, there are different tribal groups who have been living on the edges of the park for generations. Two of the larger tribes are the Mannan and the Paliyan. As development in India continues at a fast pace, such communities face the threat of losing their traditions to time and memory. Tourism provides an opportunity to help preserve some of their traditions, interest in tribal life, as well as providing economic benefit from tourism to local people. You can visit the tribal heritage museum, or go on a walk with a guide from one of the tribal communities.
Staying at Spice Village: Kerala's most Sustainable Resort.
One of the main reasons we decided to journey to Thekkady was to have the chance to see Spice Village, CGH Earth's (and Kerala's) most sustainable resort. The resort is built in the style of a tribal (Mannan) village, and is laid out as a series of traditional huts with thatched roofs. The eco-friendly resort has been built with local materials, a good dose of traditional local wisdom and lots of respect for the environment in which it sits.
Wandering around the acres of grounds between cottages at the resort is a mindful exercise in itself. Well away from the hustle and bustle of life, the grounds form gardens and are peppered with labelled plants – from spices, to fruit trees, to the huge organic farm which enables much of Spice Village's food to go directly from garden to kitchen to guest the same day. Linger long enough while walking and be offered fallen chickoos (fruit) by the housekeeping staff, or pause to see black monkeys quietly sitting and watching you from tree branches over head – both things that we experienced.
Sustainability at Spice Village, Kerala.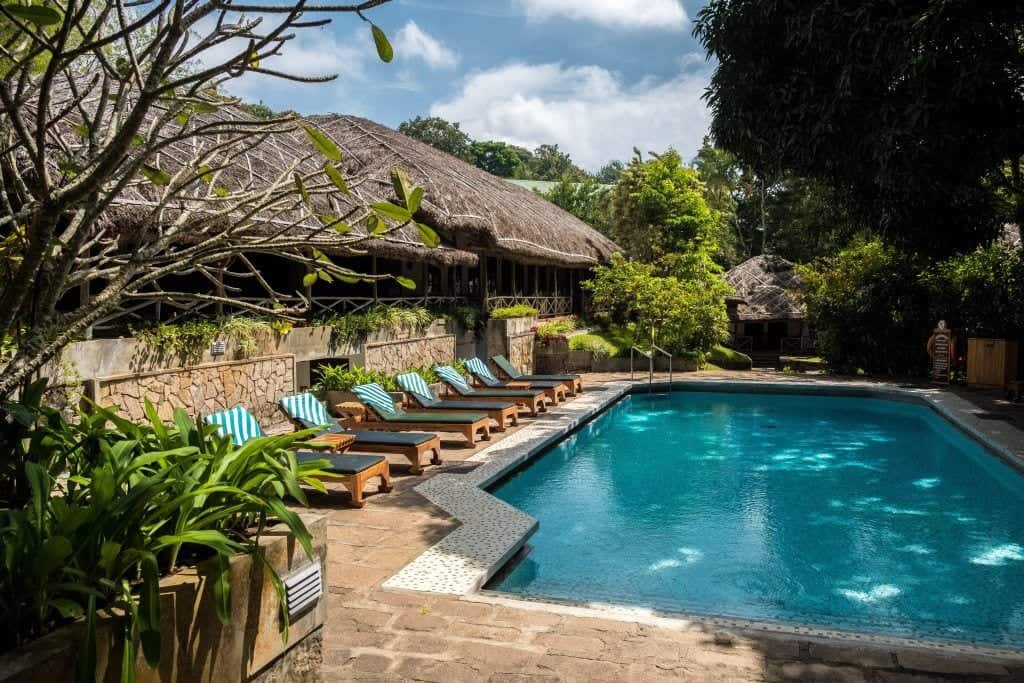 Spice Village is a resort where sustainability is not an add-on, but truly integral to the way the place runs. We're not the only ones to have noticed; Spice Village and the CGH Earth group have been winning awards for their responsible tourism initiatives every year since 1994.
The resort is also one of India's few certified organic hotels.
We walked around and saw the huge solar farm with over 650 solar panels, storing energy from the sun in over 70 massive batteries and powering most of the operations in the resort. No less than three different types of compost are produced from different kinds of waste on site, some of it being used to produce biogas which is then used as fuel for cooking in the staff accommodation. Cleaning products used throughout the resort are ayurvedic or organic, as are the guest toiletries.
Drinking water is filtered on site (free of chemicals of course) and bottled in glass bottles. No plastic is used. Notices are prominently displayed in all guest rooms, educating us on the use of water while brushing our teeth or shampooing our hair. And perhaps most uniquely, all paper used in the resort is recycled: Spice Village has its own paper making workshop where the paper handmade from used waste material.
The Rooms
Rooms at Spice Village are in fact cottages, modelled on traditional Mannan homes. You won't find air conditioning, but instead rooms that have been designed to be in harmony with nature, and the cooling air that the rooms have been designed to let in is all you need. Furniture has been made from up-cycled pinewood packaging, and roofs are made out of Elephant Grass – a product that would otherwise be burned as waste – for thatch. But don't expect rustic standards – the certified organic cotton sheets and comfortable bed gave us the best night's sleep we'd had in a long time. The luxurious bathrooms were a treat to shower in, too. Each room comes with a private verandah to sit out on and listen to the sound of the jungle from beyond.
The Resort
Spice village is perfect for whiling away time and relaxing in nature – our days melted together and it was the sort of place we could easily have spent weeks in. Taking a guided tour around the resort is in many ways as good as a walk around Periyar itself: the resort occupies acres of land and wandering around the gardens, watching birds, monkeys and small wildlife. Seeing the organic farm in action, learning about spices and having a go at paper-making were highlights for us.
For those who want to be a bit more active, the pool is naturally filtered and chlorine free. There's an information room and nightly presentation about Periyar Tiger Reserve and all of the wildlife which can be found there. Spice Village offers the morning walks into Periyar park with the local village guides, and they can help you arrange rafting trips (as above) and other treks.
Save this post for later on Pinterest
Our Verdict
We're lucky enough to have stayed in a quite a few eco resorts and hotels that are doing good things, around the world. What we were most impressed by at Spice Village, through, was that the commitment to eco-friendliness is not an add-on, it is integrated in the philosophy of Spice Village. More than being an eco-friendly resort, Spice Village strives to be as self-sufficient as possible, in its philosophy and operation. Which is something that makes a stay there a special experience, that we'd highly recommend.
Responsible Tourism in Thekkady.
Kerala has become well known to both domestic and international tourists, and Thekkady and Periyar are one of Kerala's hotspots. As such, the pressure and impact from tourism is increasing. As more development occurs and tourist numbers increase, the space for wildlife becomes less. Here are some tips to help get the best experience from your time in Thekkady and help preserve this beautiful part of Kerala for future visitors.
Try to stay in a hotel / resort that is environmentally friendly and operates responsibly. That means recycling their waste, employing local people and sourcing local products – to name but a few things. Hint hint: try Spice Village (above)!
Avoid plastic wherever possible, and especially plastic water bottles. We saw a saddening amount of plastic water bottles in Periyar lake and in the surrounding area, much of which makes it into animals tummies. Set an example by drinking safe filtered water (we love our handy UV filter for incase you find yourself in a hotel without an RO/UV filter). Or if in doubt, ask at your accommodation for boiled water and fill up your re-usable water bottle.
Carry any rubbish/trash home with you when in the park. In general, there are very little waste facilities, make sure your rubbish does not end up on the floor by taking it back to your accommodation with you.
If you see anyone else dropping litter kindly explain the problem to them / pick it up.
Be quiet when in nature – animals often have very sensitive hearing. Making noise scares wildlife away so you (and future visitors) have much less chance of seeing it.
The best wildlife experiences are the ones enjoyed from a distance. While we respect that every individual must make their own choice, we do not support interactive wildlife experiences. That means we do not recommend visiting the elephant experiences around Periyar that offer riding, washing, bathing etc. We heard mixed views on this and that the elephants are kept in good conditions, but we know from previous experience that it's hard to know how animals are really treated. So our guideline is if you can ride it, hug it, or have a selfie with it.. steer clear.
Support local. Rural communities are under threat across India and around the world – younger generations are moving to cities for work and traditions are dying out. Do your bit to support them by buying local – staying in accommodation run by locals, eat in locally-run restaurants, buying locally made souvenirs, and even chatting with younger local people to help them with their language skills and learn about their culture.
Have you been to Periyar in Kerala? What tips would you share with others looking to travel in Kerala? Let us know in the comments below.