Trying to decide where to visit in India and which is the best India group tour for you can be overwhelming – this sprawling subcontinent has more than its share of places you'd want to experience – so to help you choose India small group tour itinerary that's right for you, here are our favourite group tours India has and a breakdown of which itineraries we love for first time and repeat visitors to India!
This post contains compensated affiliate links, and if you book a tour through one of our links, we may earn a commission. For more info please see our disclosure. Thank you for supporting Soul Travel! 
The Best India Group Tours
My first trip to India – rather than being a solo expedition – was in fact as part of a guided tour group. It turned out to be one of the best travel decisions I've made. Since then, I've gone on to solo and duo travel around India for several months over the last four years, but that first trip to India was what sealed the deal for me.
Watching the sun rise over the hazy banks of the Ganges in the holy city of Varanasi, I knew that this was just the beginning.
We've written much about travel in India, and we know from first hand experience that India can be overwhelming for first time (and repeat visitors). As a huge country / subcontinent, it can be hard to get a grasp of distances, understand what's possible within one trip, and know where to start. Especially if you're restricted to one or two weeks for your trip. After all, the last thing you want is to spend most of your time in transit!
ⓘ TIP: Planning a trip to India? Join our free India Travel Facebook group here!
With that in mind, we highly recommend taking a group tour on your first trip to India, or whenever you might find yourself short on time. Not only do group tours pack more in than you could do on your own, but they also allow to you to sit back, relax and truly enjoy your trip (rather than wrestling with the Indian Railways train booking website.. which is a story on its own!)
Our Favourite Group Tours in India
The company we are recommending in this post is G Adventures, who we've travelled with and love their travel style in general. Their India group trips are typically small-group tours which use (importantly) a local guide. Their have different styles in place suiting those who are backpacking, or those who want a bit more comfort.
We love them for the amount of public transport many of their trips include (hello local experience without the booking hassle) and also for their responsible tourism commitments through their not-for-profit division, Planeterra, that has a number of projects it supports throughout India. G Adventures also have a "Ripple Score" per tour which provides an estimate of the percentage of your money that stays and benefits the local economy.
Click here to see all G Adventures India Tours!
We've picked out some of our favourite India tour itineraries, according to different interests, preferences and price points!
Quick Reference India Group Tour Comparison Chart
| TOUR | MORE INFO / BOOK | LENGTH | MAIN PLACES VISITED | BUDGET |
| --- | --- | --- | --- | --- |
| Delhi to Kathmandu | Click to see dates and prices | 15 Days | Jaipur, Agra, Varanasi, Chitwan, Kathmandu | $$$ |
| Mysteries of India | Click to see dates and prices | 15 Days | Delhi, Bikaner, Jodhpur, Jaipur, Udaipur, Agra | $$$$ |
| Golden Triangle | Click to see dates and prices | 8 Days | Delhi, Jaipur, Agra, Fatephur Sikri | $$$ |
| Delhi to Goa (18-30's) | Click to see dates and prices | 15 Days | Delhi, Agra, Jaipur, Pushkar, Mumbai, Goa | $$ |
| Delhi to Kochi by Rail | Click to see dates and prices | 21 Days | Agra, Udaipur, Bundi, Mumbai, Goa, Kochi | $$$ |
| India Encompassed | Click to see dates and prices | 28 Days | Agra, Varanasi, Jaipur, Kochi, Alleppey, Mysore, Chennai | $$$ |
| Best of Southern India | Click to see dates and prices | 14 Days | Kochi, Thekkady, Mysore, Madurai, Pondicherry | $$$ |
| Southern India by Rail | Click to see dates and prices | 10 Days | Goa, Hampi, Mysore, Kochi | $$$ |
| Darjeeling & North East India | Click to see dates and prices | 13 Days | Delhi, Lucknow, Varanasi, Darjeeling, Kolkata | $$$ |
Pssst.. want to know our personal favourite tour? Scroll to the bottom for the "off-beat" tour of North East India.
North India Group Tour Itineraries
Many people come to India for it's flagship offerings: The Taj Mahal, the monuments and history of New Delhi, and the candy-like pink of princely Jaipur. Although they are without question some of India's finest sights, they are also the most chaotic and touristed. We recommend including some other areas of India in your trip, too, if you can, or exploring India's more natural beauty of the south.
Delhi to Kathmandu – 15 Days, Standard Comfort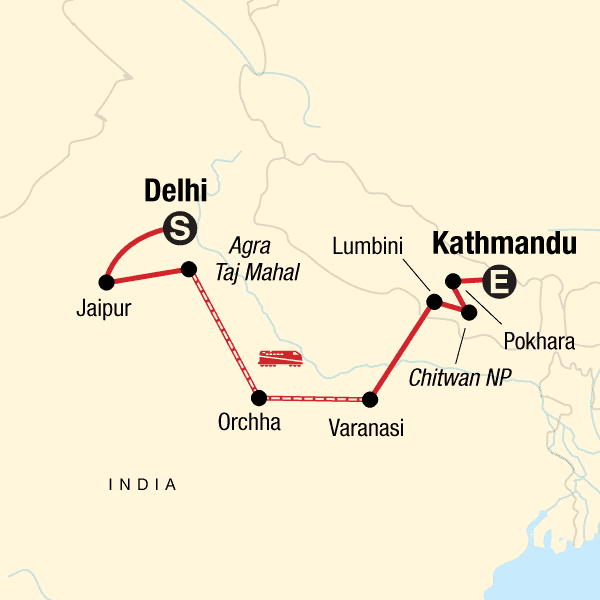 If you want to pack in both India and Nepal, this tour could be the one for you. Take in the crazy streets of Old Delhi, the Taj Mahal, beautiful Orchha with its riverside tombs and once-in-a-lifetime Varanasi before heading into Nepal to explore Chitwan National Park and Pokhara before winding up in Kathmandu. This one's definitely on our bucket list, and there's also an option to do this tour in reverse.
Click here for the latest prices and availability!
National Geographic Delhi & Rajasthan 'Mysteries of India' – 15 Days, Upgraded Comfort
This is a classic India tour itinerary that covers quintessential Rajasthan (Jaipur, Jodhpur, Jaisalmer) plus an opportunity to get off the beaten track and experience local culture in Rajasthani villages too. The trip is run by G Adventures under the National Geographic Journeys label which means upgraded accommodations, authentic local experiences, and guaranteed adventure. I bumped into a group on this trip during my stay at Chandelao Garh homestay and both the group and tour guide were amazing. The trip visits two G Adventures Planeterra not for profit projects and includes meals with local families and overnights at homestays for a more local, responsible experience.
Click here for the latest prices and availability!
Golden Triangle – Delhi, Agra, Jaipur – 8 Days, Standard Comfort
A great option for those tight on time on and on a budget is this one week trip around India's main highlights: Jaipur, Delhi and Agra with some stops off at lesser known Fatehpur Sikri, the former capital of the Mughals.
Click here for the latest prices and availability!
Combination North & South India Group Tours
18-30 Somethings Delhi to Goa – 15 Days – Basic
Perfect for backpackers and under 30's on a shoestring, this is a great value trip that takes you around North India and Rajasthan before winding south to Ahmedabad (Gujarat), Mumbai and finishing up in Goa where you can happily add on days or week to enjoy some time on the beach, a spot of yoga, or explore under your own steam.
Click here for the latest prices and availability!
Delhi to Kochi by Rail – 21 Days – Standard Comfort
There's no better way to travel India (in our humble opinion at least…) than by train. Many of my favourite memories and connections from travelling in India were made while on lengthy train journeys. Making new friends and chatting over chai passing through changing landscapes is the stuff of any slow traveller's dream. Train travel is in air conditioned sleeper cars so you don't need to worry about losing sleep. This one's for those who would rather avoid flying and go the long haul – taking in the sights of Rajasthan and Agra before heading south to Mumbai, Goa, Hampi, Mysore before winding up in Kerala just in time to float off on the backwaters… bliss!
Click here for the latest prices and availability!
India Encompassed – 28 Days – Standard Comfort
Enter the mammoth tour! Cover Delhi, Agra, Varanasi and the exotic temples of Khajuraho before heading south to Cochin to explore the highlights of Kerala, Pondicherry and Tamil Nadu. South and North India are incomparable – when it comes to food, climate, scenery, language, and lots more! If you'd like to mix swaying coconut palms, Kerala's backwaters and the once French town of Pondicherry with sailing the Ganges and looking for tigers in northern heartland of India, this trip is for you! This is a much more representative introduction to India for those who have time ?
Click here for the latest prices and availability!
South India Group Tours
Best of Southern India – 14 Days – Standard Comfort
Explore both the west and eastern sides of Southern India and take in the formerly French enclave of Pondicherry, Kerala's backwaters, Mysore's spectacular Palace and plenty more. This trip is great for nature-lovers too, with the chance to visit Thekkady (for Periyar National Park) and Mudumalai wildlife sanctuary which is well off the beaten traveller path.
Click here for the latest prices and availability!
Goa to Kochi – Southern India by Rail – 10 Days – Standard Comfort
Wind inland from coastal Goa to explore among the ruins of Hampi, to regal palaces and off-beat temples as you explore Karnataka – one of India's less visited but incredibly beautiful states. Learn about India's coffee industry on a coffee plantation as well as visiting the Tibetan Namdroling Monastery. Finish in beautiful Cochin with plenty of opportunities for exploring Kerala further!
Check rates and availability for this tour here!
Off-Beat India Group Tours
North East India & Darjeeling by Rail – 13 Days – Standard Comfort
Kolkata is one of our favourite Indian cities, yet far fewer foreign visitors make it here than Delhi and Mumbai – which we feel is reason alone to give it a try! Filled with colonial architecture, cricket pitches and yellow taxis, Kolkata is home to the literati of India as well as where the Ganges meets the ocean. This trip takes you down the Ganges through Varanasi and then up to beautiful North East India for a ride on the World Heritage-listed Darjeeling Himalayan Railway, which with its strong indigenous cultures and tea plantations a plenty, is guaranteed to give you a different taste of India.
Check dates, rates and more information for this tour here!
Like this? Pin it!
How to Choose the Best India Group Tour for You
India has a lot to offer and it can be hard to work out which trip to take when you want to just see it all! Generally speaking North and South India have different things to offer: The climate starkly sets them apart for example. In winter, Northern India gets chilly at nights while the days are filled with dry sunshine, while southern India has a humid, sub-tropical climate year round.
We strongly recommend avoiding Northern India, especially Delhi, Agra and Rajasthan during summer – April, May and June as temperatures can be searingly hot (up to 50 degrees celsius in some places) and the region becomes a dust bowl. High season and the best weather in these regions is from October to March, but you'll find the crowds then too. An alternative time to visit is during the monsoon season in August / September as the rains are refreshing, but it doesn't rain all the time.
Likewise, the beaches of Goa and Kerala get lashed by rain during summer months with peak monsoon usually running between July – October (although these days, it's changing a lot). The best time to visit South India is also during the winter (October to March) unless you like the rains.
Generally speaking, North India has more in the way of Forts, Monuments and Mughal history (although there are plenty of stunning palaces in South India too). South India wins hands down for lush jungle landscapes, paddy fields, beaches, relaxed vibes and incredible thalis served on banana leaves.
This much is certainly true: Whichever trip you pick, you're in for travel memories of a lifetime. Enjoy!
Have you travelled on a small group tour in India? What tips would you give fellow travellers? Let us know in the comments below!
Read more about Travel in India on Soul Travel:
First Time India: How to Prepare (and what to expect)!
Rajasthan: An Ethical Travel Guide
Responsible Travel in India: 7 Important Tips
ⓘ TIP: Planning a trip to India? Join our free India Travel Facebook group here!