This post may contain compensated affiliate links. More info in our disclosure here.
Why eat street food in India?
When you think of India one of the things that comes to mind is food, spices and colours. Nothing better describes India's food pallets as the celebrated Indian street food culture. Affordable and accessible to all, street food stalls in India are where you will find food connoisseurs lining up to taste and devour street foods from all the corners of India.
Street food culture is strong in India as it serves as a reason for people to socialize, taste delicacies from around 28 states of India as well as lip smacking snacks and drinks. One of the best things about street food in India is that it offers an affordable means to eat – historically this was how many people ate on a budget, and it has now has become an integral part of food culture of India.
One of the reasons people love their street food in India is also because it's freshly prepared every day (often before your eyes), plus the variety on offer is what foodie dreams are made of. Every state has their own speciality and flavours on the offer which don't seize to tease the taste buds.
You can be sure that every street food you taste has its share of history attached to its origins and ingredients used for the preparation. Food has its own importance in Indian culture and that's reflected in the diverse street food throughout the country. In this post I'll share many of my go-to favourite street foods to eat in India, and how to enjoy them safely as a traveller to India.
Save this post on Pinterest for later!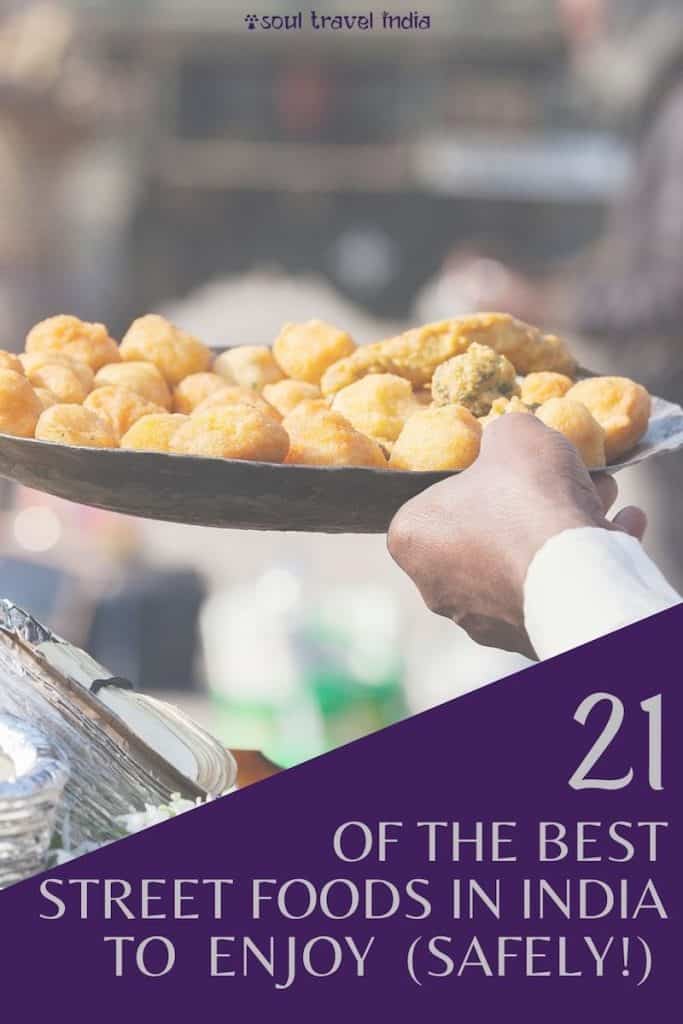 Tips for enjoying Indian street food safely
First off: Is eating street food in India safe?
How often do you hear the phrase 'Delhi belly' when people speak about Indian street food? Fortunately, it is possible to avoid getting an upset stomach while enjoying street food in India – here are some tips and answers for how to enjoy street food safely in India.
1. Food stalls that are not busy, mostly the food may have been sitting for quite sometime – avoid and choose a busier stall if you can.
2. Avoid fresh cut fruit bowls, peeled fruits and vegetable salads on the road side, as improperly washed fruits and vegetables can lead to E. coli. Unpeeled fruits and vegetables can be consumed after washing them throughly (with filtered water), but it's best to stick with fruits like oranges, bananas, papayas and fresh coconut water where you don't eat the skin.
3. Avoid eating meat at roadside food stalls as one can never rely on the source and freshness of the meat. It's better to stay clear of the temptation than getting sick. Instead choose to eat well cooked meat biryani, curries or roasted meat from restaurants with good reviews.
4. Ice candies made from shaved ice make for a perfect escape from scorching the heat but are best avoided as ice may have been stored in unclean conditions and is commonly made from tap water.
5. Pani puri's/gol gappe/puchkas are one of the most loved street food of India. These are small crispy hollow fritters which are consumed with stuffings and flavoured water, and are best avoided unless you know for sure that the water inside is filtered water (not tap water as is common).
6. Tap water: Don't drink tap water in India, instead carry a refillable bottle all the time and refill with filtered water from restaurants and hotels which usually have filtered water available. You can also filter your own water from any source – we use Water-to-Go bottles which come with carbon filters that filter out bacteria, viruses and chemicals that cause water borne diseases. If no filtered water is available then you can buy bottled water (check the seal before buying).
7. Deep-fried snacks should be consumed with some caution – scrumptious the samosas are, the oil used may have been reheated to fry the snacks (which will not result in a happy tummy).
Best Street Food Tours in India
Taking a street food tour in one of India's cities is a great way to taste Indian street food while being guided to the best stalls, have the chance to get to know more about street food in India, and most importantly make sure that you're eating stomach-friendly food.
This is your best way to avoid Delhi belly as food tour guides know the most hygenic and popular vendors, as well as providing many different street foods to try and tips for how to try it on your own.
If you've just arrived in India, or you're nervous about trying the street food, taking one of these tours, or going with a local Indian friend is the best option! Here are some of our favourite street food tours in India.
Best Street Food Dishes in India you Must Try
Vada Pav
A staple soul food from the state of Maharashtra and one of the best-loved street food in Mumbai items, Vada Pav is also famously called the common man's food. It makes for the most delicious combination of potatoes patty, which is made with fresh spices, dipped in chickpea flour and deep fried for the crunchy texture served with a choice of sweet and spicy chutneys and sliced onions. It's served in a signature soft bread called "Pav" makes for a delicious snack on the go.
Though native to Maharashtra, this delicious snack is readily available in most places throughout India. Vada Pav is best eaten from a busy roadside stall – or look up some of the top spots to get a Vada Pav in the city you're in.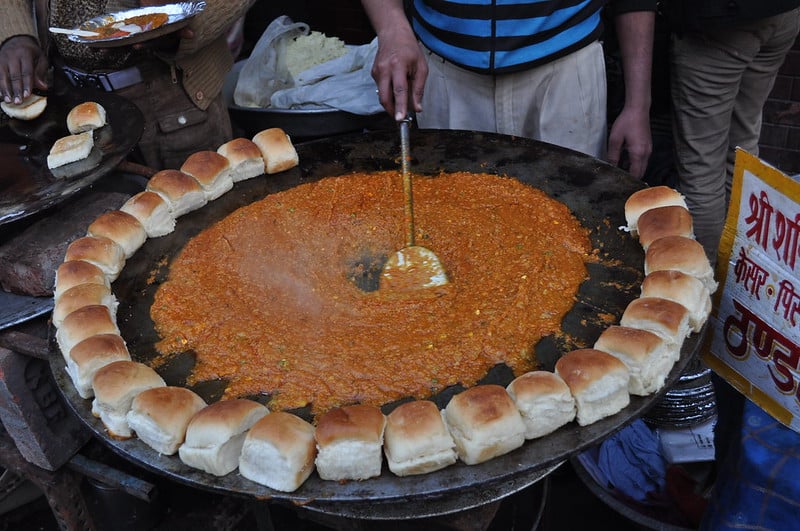 Pav Bhaji
Another iconic Mumbai street food, Pav Bhaji is probably the most delicious way that one can have combination of different vegetables all cooked into one dish. It has a history dating far back to the colonial times, when it was used as the food for the market workers, made from excess vegetables at the end of the day and mixed with masalas to make a wholesome meal.
Fast forward to today, it's prepared with three to four vegetables mixed and cooked to form a puree, with a special spice mix. It's served with soft bread rolls called "Pav", loads of butter, coriander, sliced onions and generous piece of lemon to wash the excess butter down. Found at many local street food stall, again the best bet is to consume it at a stall which is busy and looks clean.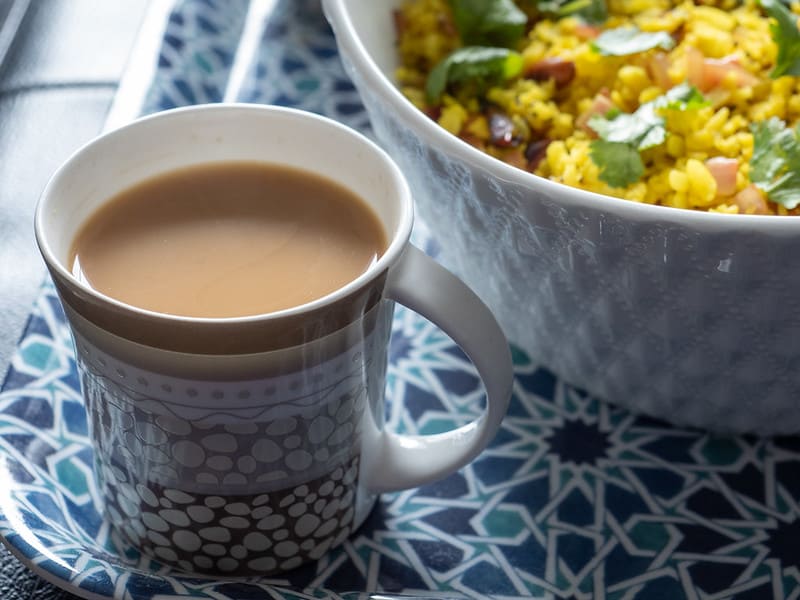 Poha
A delicious breakfast dish and snack made with flattened rice, curry leaves, spices, peanuts and onion. Usually garnished with coriander, sev (fried gram flour vermicelli) raw onions or grated coconut. Poha is found across India in different states with its own distinct taste and style of preparing it. Sold at most of the street corners, it's also a dish that's lovingly in many households each morning in India.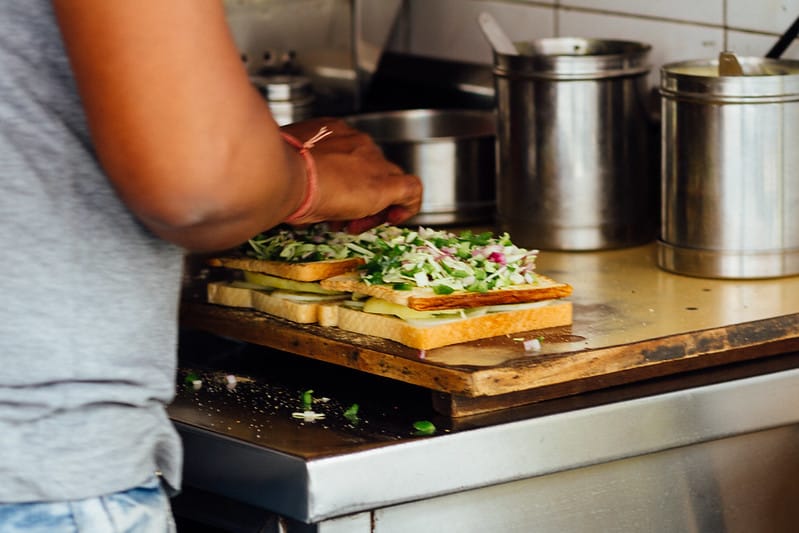 Bombay Sandwich
Another Mumbai street food favourite, the Bombay Sandwich is one of the most delicious and popular street that I grew up on. It's packed with the goodness of veggies and green chutney. Served at street stalls around the city and also restaurants, cafe's and tea stalls in India, a Bombay Sandwich is best had with a piping cup of masala chai or a glass of lassi. The sandwich is filled with tasty mix of vegetables, chutney and chat masala in either plain or toasted bread (my personal opinion is that toasted bread tastes better).
Dabeli
This famed street food is easily available on the streets of Mumbai and Gujurat. This mighty snack filled with lip smacking sweet, spicy and tangy potato filling that's served between small Indian "burger buns" (pav) toasted in butter. Its often garnished with pomegranate seeds, sev (fried gram flour vermicelli), masala peanuts (roasted with spices), coriander. A snack that fills an empty stomach and is similar to pav bhaji, but already put together for you to eat.
Misal Pav
Misal Pav is popular Mumbai street food a scrumptious dish of mixed sprouts curry, garnished with loads of chopped onions, coriander, a mix of farsan (fried gram flour savoury mix) and a piece of lemon. Served with Indian buns (Ladi Pav) it can be eaten as a snack or meal to itself.
Lassi
Lassi is a popular Indian drink amongst Indian food lovers and visitors alike. Its a yoghurt based wholesome drink prepared by blending yoghurt, sugar, spices and water topped with a dollop of generous layer of cream (malai). Lassi is available in many flavours most famous one being Mango, Strawberry, Dry fruits and Namkeen (salty) amongst others. Every city in India has its famous Lassi joints so you are never far away from one.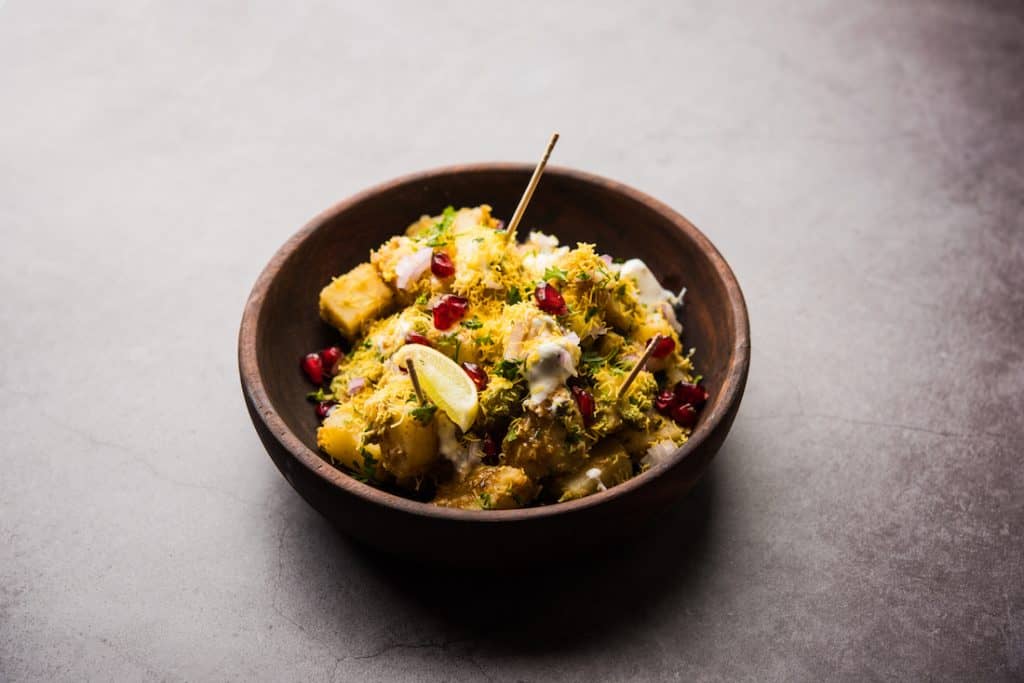 Aloo Chat / Aloo Tiki Chat
A famous Delhi & North Indian must try street food, crispy Aloo (Potato) Tikki snack is often served with choice of chutneys, curd, diced onions, spices and Coriander. It's one of delicious street food that should be on everyones' list to try in India. It suits every taste palette be it a spicy food lover or tangy served with tamarind chutney and comforting mint chutney. It tastes best with sweet curd and a sprinkle of spices.
Chole Bhature
Chole Bhature or Channa Bhatura is a much loved Punjabi dish. Well-loved by foodies throughout India (and around the world), it lives up to its reputation. Chole (Chickpeas) make a spicy and flavourful curry, served with soft and fluffy Bhature (fried leavened bread).
Chole Bhature is a burst of flavours from different spices which is tasty and filling. It can be found all across Punjab and Delhi, in restaurants, road side stalls and highway Dhaba's (roadside restaurants), and each place has their signature style and way of preparing Chole Bhature. Chole is a spicy curry and is garnished with loads of chopped onions, coriander and with a piece of lemon on the side. You can definitely request for a less spicy version at most of the places. Considered as one of India's top soul foods.
Amritsari Kulcha
Crispy and soft leavened bread stuffed with smashed potato and spices, roasted with butter and chopped garlic bits on top is the very delicious Amritsari Kulcha. It is generally served with Channa Masala (Chickpea Curry or dry) or Dal Makhani is a wholesome and authentic Punjabi meal from Amritsar. Also eaten on its own as a snack or meal loved by all as it makes a delicious treat for palate and plate. Served at the street side stall across Amritsar and also Delhi as one can find many Punjabi dishes there. But best tasted locally in Amritsar, Punjab.
Aloo Paratha
Aloo Paratha is originally from Punjab, and is another type of Indian bread, but with stuffed smashed potatoes as a filling. Its a breakfast savoury dish or snack but eaten all across India (especially the north) and can be enjoyed with butter, different chutneys, pickle and yoghurt or curd. Paratha is basically a flatbread stuffed with potato and is a quick fix for hunger pangs, popular in the streets of Punjab and Delhi's famous paranthe wali gali (a sidestreet in Old Delhi famous for its rich paranthas which feature on many Delhi food tours).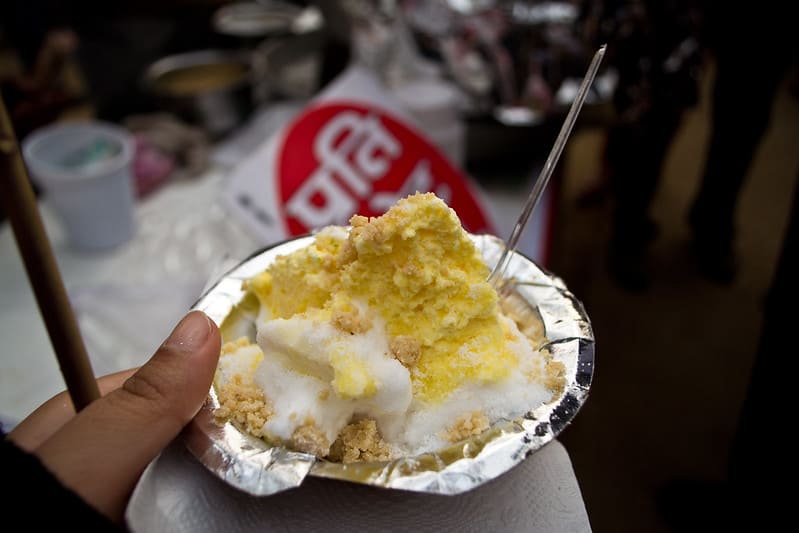 Daulat Ki Chaat
As legend has it this special dessert could only be prepared on the moonlit nights where the milk would be churned for hours and the foam separated. It is enerally made during winter times since it can get spoilt easily in the heat – hence the logic of churning milk under the moonlight when the temperatures drop at night.
Creamy milk is churned to a thick consistency, and the froth is separated in a bowl with the cream scooped delicately on top. It's topped off with pistachios, almond crumbs, sugar and cardamom. Sometimes it's also topped with light cream infused with saffron which has bits of malai (cream) which melt on your tongue leaving a buttery feeling. It is not too sweet but delightful dessert to be enjoyed during Indian winters on the streets of Delhi and Lucknow – where it is called Nimish – and generally sprinkled with rose water.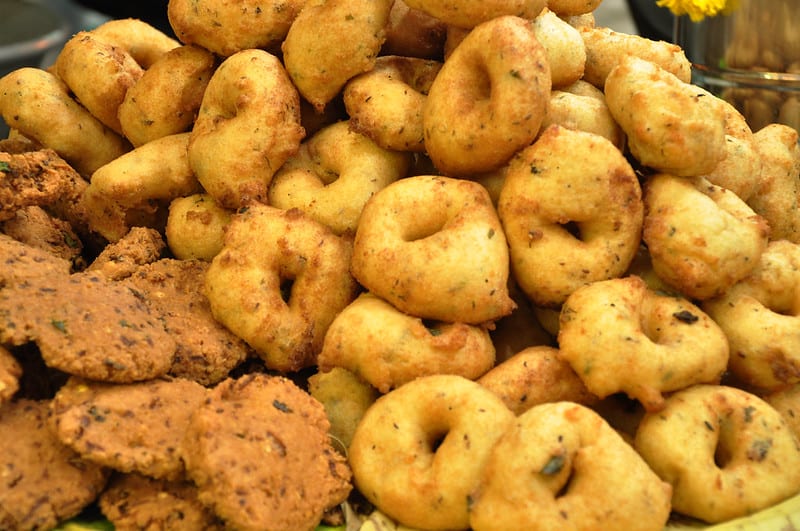 Dal Vada
Dal Vada are fritters made out of channa dal (Bengal gram). They are crunchy and full of flavour from different spices that go into preparing it and are another famous street food. They're a great gluten free and vegan snack which are usually served with coconut chutney or spicy red chilli garlic chutney. Best eaten as a evening snack – but be warned they are totally addictive and you may not be able to stop at one!
Nagori Halwa
Possibly one of the best Delhi street foods is Nagori Halwa, usually eaten as a breakfast snack. It consists of nagori poori (fried leavened bread either made from wheat or white flour) and Halwa (a sweet made from semolina).
Nagori are crispy, crumbly and small circular puri's made with semolina, ghee and white or wheat flour, with halwa (a sweet dish made with semolina) Generally the puri is stuffed with moist, sweet, soft and hot halwa cooked in ghee. This makes for a wholesome sweet treat and can also be combined with a savoury vegetable curry as an option.
Kathi Rolls
Kathi rolls are a street food speciality originating from West Bengal. They come with a variety of fillings but originally were skewered kebabs wrapped in paratha bread or roti with different sauces. Kathi rolls are found throughout India in different variants with fillings of vegetables, paneer (Indian cottage cheese) or different meat options and served with mint chutney. Yum!
Kachori
A famous Indian snack Kachori. Kachoris are basically fried bread or puff pastry with the spiced moong dal (lentil) filling. They make for delicious snacks which are served with a crumbly centre filled with curd, spices, sev (gram flour vermicelli), chutneys and garnished with coriander. Kachori comes with different variants and fillings.
Dosa
No trip to India is complete without tasting Dosa! Dosa is thin Indian pancake made from a fermented batter and has its origins in south of India. This vegan (although check if there's ghee or butter) and gluten free crepe is filled with fillings of choice if you desire or eaten plainly with variety of coconut and tomato chutneys, sambar (special South India mixed vegetable curry) Tastes best when cooked in ghee. All South Indian restaurants across India serve them fresh and delicious a healthy meal option for vegetarian lovers.
If you don't know where to start, you can never go wrong with a Masala Dosa for breakfast, lunch, dinner or any other time of day :).
Momos
Momos – originating from Tibet – have found quite an audience and fame in the Indian street food scene. They are hot and steamy rice dumplings filled with delicious vegetable stuffings or chicken and meat stuffings. They're served with chilli and creamy chutneys across northeast India and now easily available across India. Momos are served either steamed or fried (you can choose), and always make for a tasty snack.
Falooda
India's very own version of this frozen dessert has its origins in the Persian Shirazi dish called "Faloodeh". It's a yummy frozen dessert drink made with of vermicelli, rose syrup, dry fruits, milk, sweet basil seeds, jelly bits and topped off with a dollop of ice cream. It's a cooling down drink in the tropical temperatures of India. Falooda stalls can be found on the streets or restaurants across the cities of India, but you may have to ask around a bit for it.
Pani Puri
Pani Puri, gol gappa, puchka all are name for the same popular and most loved Indian street food. Crisp fried dough balls made from Semolina are made into small puri's, which are then cracked in the middle and stuffed with mashed potato's, sprouts, sweet chutney and dipped into tangy & spicy water. It's a burst of flavours in mouth and trust us you just can't stop at one! Tip for eating: Put it all in at once! Biting makes for a messy experience.
With this dish be careful to choose a "chaat stall" with decent hygiene, busy with customers and ask if they offer Bisleri pani (A mineral water brand but usually a term synonymous for filtered water) Puri. Otherwise you may inadvertently find yourself drinking tap water. This is definitely one of the must try street food dishes in India.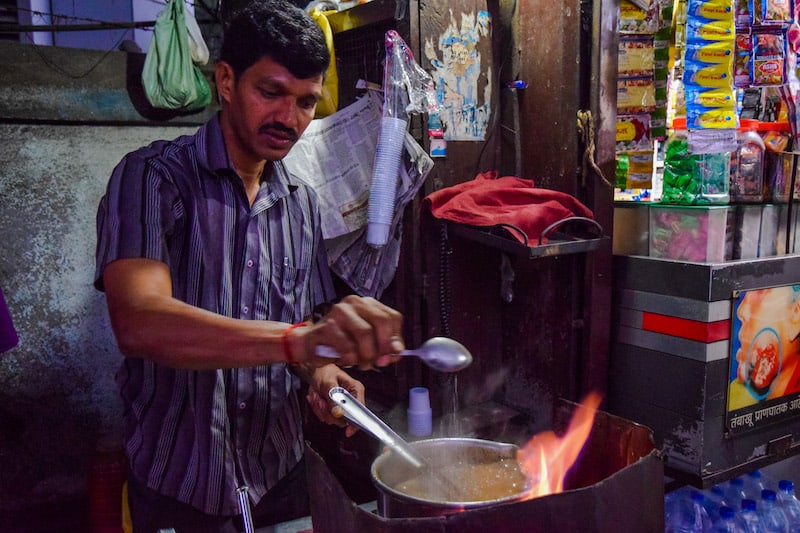 Cutting Chai
They say that India runs on Chai and there's one for every occasion. Chai is an integral part of every conversation, chai is what tea is to English people. Cutting Chai is a Mumbai term for half a cup of tea. It's basically masala chai and a half quantity that does the work. Chai is a staple must have with any roadside snacks or even just a cup of cutting chai to start your day with. With chai the best part if everywhere its freshly made and served piping hot! Get yours when you travel India.
Pin this Post for later on Pinterest!